Abstract
Comparative transcriptome analysis was used to determine the differentially expressed genes in Escherichia coli during aerosolization from liquid suspension. Isogenic mutant studies were then used to examine the potential part played by some of these genes in bacterial survival in the air. Bioaerosols were sampled after 3 min of nebulization, which aerosolized the bacteria from the liquid suspension to an aerosol chamber (A0), and after further 30 min of airborne suspension in the chamber (A30). Bacteria at A0 showed 65 differentially expressed genes (30 downregulated and 35 upregulated) as compared to the original bacteria in the nebulizer. Droplet evaporation models predicted a drop in temperature in the bioaerosols, which coincides with the change in the expression of cold shock protein genes—cspB and cspG in the bacteria. The most notable group of differentially expressed genes was sorbitol transport and metabolism genes (srlABDEMR). Other genes associated with osmotic stress, nutrient limitation, DNA damage, and other stresses were differentially expressed in the bacteria at A0. After further airborne suspension, one gene (ypfM, which encodes a hypothetical protein with unknown function) was downregulated in the bacteria at A30 as compared to those at A0. Finally, isogenic mutants with either the dps or srlA gene deleted (both genes were upregulated at A0) had lower survival than the parental strain, which is a sign of their potential ability to protect the bacteria in the air.
Access options
Buy single article
Instant access to the full article PDF.
US$ 39.95
Tax calculation will be finalised during checkout.
Subscribe to journal
Immediate online access to all issues from 2019. Subscription will auto renew annually.
US$ 119
Tax calculation will be finalised during checkout.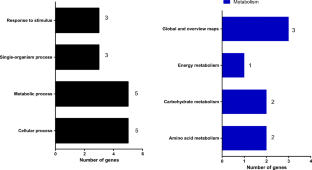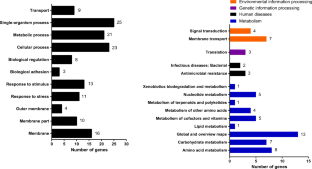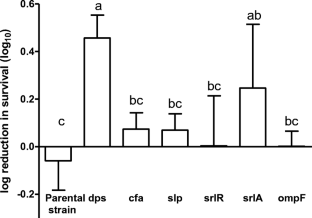 References
Aidelberg G, Towbin BD, Rothschild D, Dekel E, Bren A, Alon U (2014) Hierarchy of non-glucose sugars in Escherichia coli. BMC Syst Biol 24(8):133

Auer PL, Doerge RW (2010) Statistical design and analysis of RNA sequencing data. Genetics 185(2):405–416

Bishop RE, Leskiw BK, Hodges RS, Kay CM, Weiner JH (1998) The entericidin locus of Escherichia coli and its implications for programmed bacterial cell death. J Mol Biol 280(4):583–596

Cheung KL, Badarinarayana V, Selinger DW, Janse D, Church GM (2003) A microarray-based antibiotic screen identifies a regulatory roles for supercoiling in the osmotic stress response of Escherichia coli. Genome Res 13(2):206–215

Cox CS, Baldwin F (1967) The toxic effect of oxygen upon the aerosol survival of Escherichia coli B. J Gen Microbiol 49(1):115–117

Dunklin EW, Puck TT (1984) The lethal effect of relative humidity on air-borne bacteria. J Exp Med 87(2):87–101

Empadinhas N, da Costa MS (2008) Osmoadaptation mechanisms in prokaryotes: distribution of compatible solutes. Int Micrbiol 11(3):151–161

Etchegaray JP, Jones PG, Inouye M (1996) Differential thermoregulation of two highly homologous cold-shock genes, cspA and cspB, of Escherichia coli. Genes Cells 1(2):171–178

Fram E, Obst U (2003) Application of the fluorogenic probe technique (Taqman PCR) to the detection of Enterococcus spp. and Escherichia coli in water samples. J Microbiol Methods 52(1):123–131

Gralton J, Tovey E, McLaws ML, Rawlinson WD (2011) The role of particle size in aerosolized pathogen transmission: a review. J Inf Secur 62(1):1–13

Hess GE (1965) Effects of oxygen on aerosolized Serratia marcescens. Appl Microbiol 13(5):781–787

Higgins CF, Forman CJ, Stirling DA, Waddell L, Booth IR, May G, Bremer E (1988) A physiological role for DNA supercoiling in the osmotic regulation of gene expression in S. typhimurium and E. coli. Cell 52(4):569–584

Kanehisa M, Araki M, Goto S, Hattori M, Hirakawa M, Itoh M, Katayama T, Kawashima S, Okuda S, Tokimatsu T, Yamanishi Y (2008) KEGG for linking genomes to life and the environment. Nucleic Acids Res 36(Database issue):D480–D484

Khil PP, Camerini-Otero RD (2002) Over 1000 genes are involved in the DNA damage response of Escherichia coli. Mol Microbiol 44(1):89–105

Kim D, Langmead B, Salzberg SL (2015) HISAT: a fast spliced aligner with low memory requirements. Nat Methods 12(4):357–360

Kornberg HL (2001) Routes for fructose utilization by Escherichia coli. J Mol Microbiol Biotechnol 3(3):355–359

Krumins V, Mainelis G, Kerkhof LJ, Fennell DE (2014) Substrate dependent rRNA production in an airborne bacterium. Environ Sci Technol Lett 1(9):376–381

Lai KM, Burge HA, First MW (2004) Size and UV germicidal irradiation susceptibility of Serratia marcescens when aerosolized from different suspending media. Appl Environ Microbiol 70(4):2021–2027

Langmead B, Trapnell C, Pop M, Salzberg SL (2009) Ultrafast and memory-efficient alignment of short DNA sequences to the human genome. Genome Biol 10(3):25–34

Li B, Dewey CN (2011) RSEM: accurate transcript quantification from RNA-Seq data with or without a reference genome. BMC bioinformatics 12:323

Lighthart B, Kim J (1989) Simulation of airborne microbial droplet transport. Appl Environ Microbiol 55(9):2349–2355

Liu L, Wei J, Li Y, Ooi A (2017) Evaporation and dispersion of respiratory droplets from coughing. Indoor Air 27(1):179–190

Müller CM, Åberg A, Straseviçiene J, Emődy L, Uhlin BE, Balsalobre C (2009) Type 1 fimbriae, a colonization factor of uropathogenic Escherichia coli, are controlled by the metabolic sensor CRP-cAMP. PLoS Pathog 5(2):e1000303

Ng TW, Chan WL, Lai KM (2017) Importance of stress-response genes to the survival of airborne Escherichia coli under different levels of relative humidity. AMB Express 7:71

Parienta D, Morawska L, Johnson GR, Ristovski ZD, Hargreaves M, Mengersen K, Corbett S, Chao CYH, Katoshevski D (2011) Theoretical analysis of the motion and evaporation of exhaled respiratory droplets of mixed composition. J Aerosol Sci 42(1):1–10

Pilizota T, Shaevitz JW (2012) Fast, multiphase volume adaptation to hyperosmotic shock by Escherichia coli. PLoS One 7(4):e35205

Schwan WR, Lee JL, Lenard FA, Matthews BT, Beck MT (2002) Osmolarity and pH growth conditions regulate fim gene transcription and type 1 pilus expression in uropathogenic Escherichia coli. Infect Immun 70(3):1391–1402

Tarazona S, Garcia-Alcalde F, Dopazo J, Ferrer A, Conesa A (2011) Differential expression in RNA-seq: a matter of depth. Genome Res 21(12):2213–2223

Thomas RJ, Webber D, Hopkins R, Frost A, Laws T, Jayasekera PN, Atkins T (2011) The cell membrane as a major site of damage during aerosolization of Escherichia coli. Appl Environ Microbiol 77(3):920–925

Tucker DL, Tucker N, Conway T (2002) Gene expression profiling of the pH response in Escherichia coli. J Bacteriol 184(23):6551–6558

Uppal S, Jawali N (2015) Cyclic AMP receptor protein (CRP) regulates the expression of cspA, cspB, cspG and cspI, members of cspA family, in Escherichia coli. Arch Microbiol 197(3):497–501

Weber A, Jung K (2002) Profiling early osmostress-dependent gene expression in Escherichia coli using DNA macroarrays. J Bacteriol 184(19):5502–5507

Welsh DT (2000) Ecological significance of compatible solute accumulation by micro-organisms: from single cells to global climate. FEMS Microbiol Rev 24(3):263–290

White-Ziegler CA, Um S, Perez NM, Berns AL, Malhowski AJ, Young S (2008) Low temperature (23°C) increases expression of biofilm-, cold-shock-, and RpoS-dependent genes in Escherichia coli K-12. Microbiology 154(Pt 1):148–166

Yamanaka K, Fang L, Inouye M (1998) The CspA family in Escherichia coli: multiple gene duplication for stress adaptation. Mol Microbiol 27(2):247–255

Ye J, Fang L, Zheng H, Zhang Y, Chen J, Zhang Z, Wang L, Li S, Li R, Bolund L, Wang J (2006) WEGO: a web tool for plotting GO annotations. Nucleic Acids Res 34(Web Server):W293–W297

Yim HH, Villarejo M (1992) osmY, a new hyperosmotically inducible gene, encodes a periplasmic protein in Escherichia coli. J Bacteriol 174(11):3637–3644

Zhang YM, Rock CO (2008) Membrane lipid homeostasis in bacteria. Nat Rev Microbiol 6(3):222–233

Zhen H, Han T, Fennel DE, Mainelis G (2014) Release of free DNA by membrane-impaired bacterial aerosols due to aerosolization and air sampling. Appl Environ Microbiol 79(24):7780–7789
Funding
This study was funded by the Hong Kong University Grant Council (Ref: GRF 12218416).
Ethics declarations
Conflict of interest
The authors declare that they have no conflict of interest.
Ethical approval
This article does not contain any studies with human participants or animals performed by any of the authors.
Electronic supplementary material
About this article
Cite this article
Ng, T.W., Ip, M., Chao, C.Y.H. et al. Differential gene expression in Escherichia coli during aerosolization from liquid suspension. Appl Microbiol Biotechnol 102, 6257–6267 (2018). https://doi.org/10.1007/s00253-018-9083-5
Received:

Revised:

Accepted:

Published:

Issue Date:
Keywords
Airborne bacteria

RNA-seq

Stress response

Transcriptome analysis