Abstract
Nanotechnology has emerged as a prominent scientific discipline in the technological revolution of this millennium. The scientific community has focused on the green synthesis of metal nanoparticles as compared to physical and chemical methods due to its eco-friendly nature and high efficacy. Medicinal plants have been proven as the paramount source of various phytochemicals that can be used for the biogenic synthesis of colloidal silver and gold nanoparticles as compared to other living organisms, e.g., microbes and fungi. According to various scientific reports, the biogenic nanoparticles have shown promising potential as wound healing agents. However, not a single broad review article was present that demonstrates the wound healing application of biogenic silver and gold nanoparticles. Foreseeing the overall literature published, we for the first time intended to discuss the current trends in wound healing via biogenic silver and gold nanoparticles. Furthermore, light has been shed on the mechanistic aspects of wound healing along with futuristic discussion on the faith of biogenic silver and gold nanoparticles as potential wound healing agents.
This is a preview of subscription content, log in to check access.
Access options
Buy single article
Instant access to the full article PDF.
US$ 39.95
Price includes VAT for USA
Subscribe to journal
Immediate online access to all issues from 2019. Subscription will auto renew annually.
US$ 199
This is the net price. Taxes to be calculated in checkout.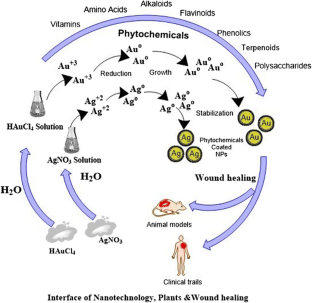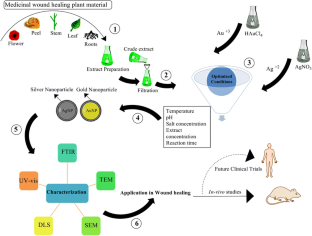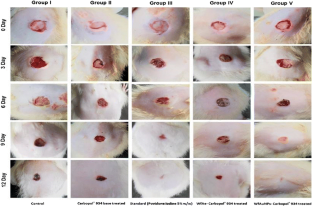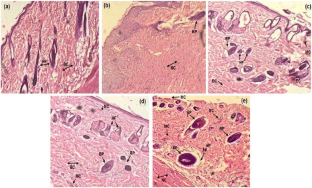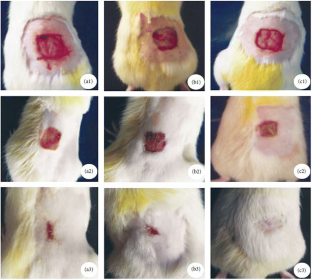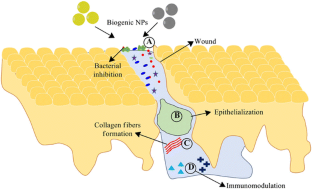 References
Ahmad K, Khalil AT, Somayya R, Khan FN, Shah AR, Ovais M, Shinwari ZK (2017) Potential antifungal activity of different honey brands from Pakistan: a quest for natural remedy. Afr J Tradit Complement Altern Med 14:18–23

Akturk O, Kismet K, Yasti AC, Kuru S, Duymus ME, Kaya F, Caydere M, Hucumenoglu S, Keskin D (2016) Collagen/gold nanoparticle nanocomposites: a potential skin wound healing biomaterial. J Biomater Appl 31:283–301

Al-Shmgani HS, Mohammed WH, Sulaiman GM, Saadoon AH (2017) Biosynthesis of silver nanoparticles from Catharanthus roseus leaf extract and assessing their antioxidant, antimicrobial, and wound-healing activities. Artif Cells Nanomed Biotechnol 45:1234–1240

Ali M, Khan T, Fatima K, Ali QUA, Ovais M, Khalil AT, Ullah I, Raza A, Shinwari ZK, Idrees M (2017) Selected hepatoprotective herbal medicines: evidence from ethnomedicinal applications, animal models, and possible mechanism of actions. Phytother Res 31:1–17

Anwar A, Ovais M, Khan A, Raza A (2017) Docetaxel loaded solid lipid nanoparticles: a novel drug delivery system. IET Nanobiotechnol 11:1–34

Appapalam ST, Panchamoorthy R (2017) Aerva lanata mediated phytofabrication of silver nanoparticles and evaluation of their antibacterial activity against wound associated bacteria. J Taiwan Inst Chem Eng 78:539–551

Arunachalam KD, Annamalai SK, Arunachalam AM, Kennedy S (2013) Green synthesis of crystalline silver nanoparticles using Indigofera aspalathoides medicinal plant extract for wound healing applications. Asian J Chem 25:311–314

Ashour AA, Raafat D, El-Gowelli HM, El-Kamel AH (2015) Green synthesis of silver nanoparticles using cranberry powder aqueous extract: characterization and antimicrobial properties. Int J Nanomedicine 10:7207–7221

Augustine R, Augustine A, Kalarikkal N, Thomas S (2016) Fabrication and characterization of biosilver nanoparticles loaded calcium pectinate nano-micro dual-porous antibacterial wound dressings. Prog Biomater 5:223–235

Awan U, Ali S, Rehman M, Zia N, Sohaila S, Ovais M, Raza A (2017) Stable and reproducible synthesis of gold nanorods for biomedical applications: a comprehensive study. IET Nanobiotechnol 12:182–190. https://doi.org/10.1049/iet-nbt.2016.0220

Ayaz M, Junaid M, Ullah F, Sadiq A, Ovais M, Ahmad W, Zeb A (2016) Chemical profiling, antimicrobial and insecticidal evaluations of Polygonum hydropiper L. BMC Complement Altern Med 16:502. https://doi.org/10.1186/s12906-016-1491-4

Ayaz M, Junaid M, Ullah F, Subhan F, Sadiq A, Ali G, Ovais M, Shahid M, Ahmad A, Wadood A, El-Shazly M, Ahmand N, Ahmad S (2017) Anti-Alzheimer's studies on β-sitosterol isolated from Polygonum hydropiper L. Front Pharmacol 8:697. https://doi.org/10.3389/fphar.2017.00697

Barabadi H, Alizadeh A, Ovais M, Ahmadi A, Shinwari Z, Muthupandian S (2017a) The efficacy of green nanoparticles against cancerous and normal cell lines: a systematic review and meta-analysis. IET Nanobiotechnol. https://doi.org/10.1049/iet-nbt.2017.0120

Barabadi H, Ovais M, Shinwari ZK, Saravanan M (2017b) Anti-cancer green bionanomaterials: present status and future prospects. Green Chem Lett Rev 10:285–314

Bartlett R, Hartle A (2013) Routine use of dexamethasone for postoperative nausea and vomiting: the case against. Anaesthesia 68:892–896

Beg M, Maji A, Mandal AK, Das S, Jha PK, Hossain M (2017) Spectroscopic investigation on interaction of biogenic, Croton bonplandianum leaves extract mediated potential bactericidal silver nanoparticles with human hemoglobin and human serum albumin. J Biomol Struct Dyn 36:711–723

Berretta M, Rinaldi L, Di Benedetto F, Lleshi A, De Re V, Facchini G, De Paoli P, Di Francia R (2016) Angiogenesis inhibitors for the treatment of hepatocellular carcinoma. Front Pharmacol 7:428. https://doi.org/10.3389/fphar.2016.00428

Berríos-Torres SI, Umscheid CA, Bratzler DW, Leas B, Stone EC, Kelz RR, Reinke CE, Morgan S, Solomkin JS, Mazuski JE, Dellinger EP, KMF I, Berbari EF, Segreti J, Parvizi J, Blanchard J, Allen G, JAJW K, Donlan R, Schecter WP, Healthcare Infection Control Practices Advisory Committee (2017) Centers for Disease Control and Prevention guideline for the prevention of surgical site infection. JAMA surgery 152:784–791

Bhagavathy S, Kancharla S (2016) Wound healing and angiogenesis of silver nanoparticle from Azadirachta indica in diabetes induced mice. Int J Herb Med 4:24–29

Bhanumathi R, Vimala K, Shanthi K, Thangaraj R, Kannan S (2017) Bioformulation of silver nanoparticles as berberine carrier cum anticancer agent against breast cancer. New J Chem 41:14466–14477

Bradley M (2017) Cost of road trauma in Australia, Summary Report, Australian Automobile Association. http://www.aaa.asn.au/storage/aaa-econ-cost-of-road-trauma-sep-2017.pdf. Accessed 11 Jan 2017

Chandran SP, Chaudhary M, Pasricha R, Ahmad A, Sastry M (2006) Synthesis of gold nanotriangles and silver nanoparticles using Aloevera plant extract. Biotechnol Prog 22:577–583

Chen LQ, Fang L, Ling J, Ding CZ, Kang B, Huang CZ (2015) Nanotoxicity of silver nanoparticles to red blood cells: size dependent adsorption, uptake, and hemolytic activity. Chem Res Toxicol 28:501–509

Cohen HB, Mosser DM (2013) Extrinsic and intrinsic control of macrophage inflammatory responses. J Leukoc Biol 94:913–919

Cullum N, Buckley HL, Dumville J, Hall J, Lamb K, Madden MT, Morley R, O'Meara SM, Saramago Goncalves PR, Soares MO, Stubbs N (2016) Wounds research for patient benefit: a 5 year programme of research. NIHR Journals Library, Southampton

Dhapte V, Kadam S, Moghe A, Pokharkar V (2014) Probing the wound healing potential of biogenic silver nanoparticles. J Wound Care 23:431–436

Dhatariya K (2013) II. Does dexamethasone-induced hyperglycaemia contribute to postoperative morbidity and mortality? Br J Anaesth 110:674–675

Elbagory AM, Meyer M, Cupido CN, Hussein AA (2017) Inhibition of bacteria associated with wound infection by biocompatible green synthesized gold nanoparticles from South African plant extracts. Nano 7:417. https://doi.org/10.3390/nano7120417

Emmanuel R, Saravanan M, Ovais M, Padmavathy S, Shinwari ZK, Prakash P (2017) Antimicrobial efficacy of drug blended biosynthesized colloidal gold nanoparticles from Justicia glauca against oral pathogens: a nanoantibiotic approach. Microb Pathog 113:295–302

Franz MG, Steed DL, Robson MC (2007) Optimizing healing of the acute wound by minimizing complications. Curr Probl Surg 44:691–763

Garg S, Chandra A, Mazumder A, Mazumder R (2014) Green synthesis of silver nanoparticles using Arnebia nobilis root extract and wound healing potential of its hydrogel. Asian J Pharm 8:95–101

Graves N, Zheng H (2014) Modelling the direct health care costs of chronic wounds in Australia. Wound Prac Res 22:20–33

Guest JF, Ayoub N, McIlwraith T, Uchegbu I, Gerrish A, Weidlich D, Vowden K, Vowden P (2015) Health economic burden that wounds impose on the National Health Service in the UK. BMJ open 5:e009283. https://doi.org/10.1136/bmjopen-2015-009283

Gummin DD, Mowry JB, Spyker DA, Brooks DE, Fraser MO, Banner W (2017) 2016 Annual Report of the American Association of Poison Control Centers' National Poison Data System (NPDS): 34th Annual Report. Clin Toxicol 55:1072–1252

Gunasekaran T, Nigusse T, Dhanaraju MD (2011) Silver nanoparticles as real topical bullets for wound healing. J Am Coll Clin Wound Spec Specialists 3:82–96

Gurtner GC, Werner S, Barrandon Y, Longaker MT (2008) Wound repair and regeneration. Nature 453:314–321

Heydarnejad MS, Rahnama S, Mobini-Dehkordi M, Yarmohammadi P, Aslnai H (2014) Sliver nanoparticles accelerate skin wound healing in mice (Mus musculus) through suppression of innate immune system. Nanomed J 1:79–87

Heyer K, Herberger K, Protz K, Glaeske G, Augustin M (2016) Epidemiology of chronic wounds in Germany: analysis of statutory health insurance data. Wound Repair Regen 24:434–442

Hutchinson J (1992) The Wound Programme Centre for Medical Education: Dundee

Jadhav K, Deore SL, Dhamecha D, Jagwani S, Jalalpure SS, Bohara RA (2018) Phytosynthesis of silver nanoparticles: characterization, biocompatibility studies and anticancer activity. ACS Biomater Sci Eng 4:892–899. https://doi.org/10.1021/acsbiomaterials.7b00707

Janis J, Harrison B (2014) Wound healing: part II. Clinical applications. Plast Reconstr Surg 133:383–392

Kanwal U, Irfan Bukhari N, Ovais M, Abass N, Hussain K, Raza A (2017) Advances in nano-delivery systems for doxorubicin: an updated insight. J Drug Target 28:1–15

Kasithevar M, Saravanan M, Prakash P, Kumar H, Ovais M, Barabadi H, Shinwari ZK (2017) Green synthesis of silver nanoparticles using Alysicarpus monilifer leaf extract and its antibacterial activity against MRSA and CoNS isolates in HIV patients. J Interdiscip Nanomed 2:131–141

Khalil AT, Ovais M, Ullah I, Ali M, Jan SA, Shinwari ZK, Maaza M (2017a) Bioinspired synthesis of pure massicot phase lead oxide nanoparticles and assessment of their biocompatibility, cytotoxicity and in-vitro biological properties. Arab J Chem. https://doi.org/10.1016/j.arabjc.2017.08.009

Khalil AT, Ovais M, Ullah I, Ali M, Khan Shinwari Z, Maaza M (2017b) Biosynthesis of iron oxide (Fe2O3) nanoparticles via aqueous extracts of Sageretia thea (Osbeck.) and their pharmacognostic properties. Green Chem Lett Rev 10:186–201

Khalil AT, Ovais M, Ullah I, Ali M, Shinwari ZK, Hassan D, Maaza M (2017c) Sageretia thea (Osbeck.) modulated biosynthesis of NiO nanoparticles and their in vitro pharmacognostic, antioxidant and cytotoxic potential. Artif Cells Nanomed Biotechnol 46:1–15. https://doi.org/10.1080/21691401.2017.1345928

Khalil AT, Ovais M, Ullah I, Ali M, Shinwari ZK, Khamlich S, Maaza M (2017d) Sageretia thea (Osbeck.) mediated synthesis of zinc oxide nanoparticles and its biological applications. Nanomed 12:1767–1789

Khalil AT, Ovais M, Ullah I, Ali M, Shinwari ZK, Maaza M (2017e) Physical properties, biological applications and biocompatibility studies on biosynthesized single phase cobalt oxide (Co3O4) nanoparticles via Sageretia thea (Osbeck.) Arab J Chem. doi. https://doi.org/10.1016/j.arabjc.2017.07.004

Khan MA, Raza A, Ovais M, Sohail MF, Ali S (2018) Current state and prospects of nano-delivery systems for sorafenib. Int J Polym Mater:1–11. https://doi.org/10.1080/00914037.2018.1429434

Kim JE, Lee J, Jang M, Kwak MH, Go J, Kho EK, Song SH, Sung JE, Lee J, Hwang DY (2015) Accelerated healing of cutaneous wounds using phytochemically stabilized gold nanoparticle deposited hydrocolloid membranes. Biomater Sci 3:509–519

Konop M, Damps T, Misicka A, Rudnicka L (2016) Certain aspects of silver and silver nanoparticles in wound care: a minireview. J Nanomater 2016:1–10. https://doi.org/10.1155/2016/7614753

Kumarasamyraja D, Swamivelmanickam M (2014) Evaluation of wound healing activity of biosynthesized silver nanoparticles from aqueous extract of Cassia auriculata L. Int J Phytopharm 5:201–209

Lau P, Bidin N, Islam S, Shukri WNBWM, Zakaria N, Musa N, Krishnan G (2017) Influence of gold nanoparticles on wound healing treatment in rat model: Photobiomodulation therapy. Lasers Surg Med 49:380–386

Lee YH, Chuang SM, Huang SC, Tan X, Liang RY, Yang GC, Chueh PJ (2017) Biocompatibility assessment of nanomaterials for environmental safety screening. Environ Toxicol 32:1170–1182

Leu JG, Chen SA, Chen HM, Wu WM, Hung CF, Yao YD, Tu CS, Liang YJ (2012) The effects of gold nanoparticles in wound healing with antioxidant epigallocatechin gallate and α-lipoic acid. Nanomedicine: NBM 8:767–775

Lian N, Li T (2016) Growth factor pathways in hypertrophic scars: molecular pathogenesis and therapeutic implications. Biomed Pharmacother 84:42–50

Martin P, Leibovich SJ (2005) Inflammatory cells during wound repair: the good, the bad and the ugly. Trends Cell Biol 15:599–607

Milaneze B, Keijok W, Jairo O, Brunelli P, Janine B, Larissa L, Adilson P, Denise E, Maria P, Moises R, Breno N (2014) The green synthesis of gold nanoparticle using extract of Virola oleifera. BMC Proc 4:29–30

Mohanta YK, Biswas K, Panda SK, Bandyopadhyay J, De D, Jayabalan R, Bastia AK, Mohanta TK (2017) Phyto-assisted synthesis of bio-functionalised silver nanoparticles and their potential anti-oxidant, anti-microbial and wound healing activities. IET Nanobiotechnol 11:1027–1034

Mukherjee S, Chowdhury D, Kotcherlakota R, Patra S (2014) Potential theranostics application of bio-synthesized silver nanoparticles (4-in-1 system). Theranostics 4:316–335

Mukherjee S, Dasari M, Priyamvada S, Kotcherlakota R, Bollu VS, Patra CR (2015) A green chemistry approach for the synthesis of gold nanoconjugates that induce the inhibition of cancer cell proliferation through induction of oxidative stress and their in vivo toxicity study. J Mater Chem B 3:3820–3830

Mukherjee S, Nethi SK, Patra CR (2017) Green synthesized gold nanoparticles for future biomedical applications. In: Jana S, Jana S (eds) Particulate technology for delivery of therapeutics. Springer, Singapore

Mukherjee S, Sushma V, Patra S, Barui AK, Bhadra MP, Sreedhar B, Patra CR (2012) Green chemistry approach for the synthesis and stabilization of biocompatible gold nanoparticles and their potential applications in cancer therapy. Nanotechnology 23:455103

Naraginti S, Kumari PL, Das RK, Sivakumar A, Patil SH, Andhalkar VV (2016) Amelioration of excision wounds by topical application of green synthesized, formulated silver and gold nanoparticles in albino Wistar rats. Mater Sci Eng C 62:293–300

Nune SK, Chanda N, Shukla R, Katti K, Kulkarni RR, Thilakavathy S, Mekapothula S, Kannan R, Katti KV (2009) Green nanotechnology from tea: phytochemicals in tea as building blocks for production of biocompatible gold nanoparticles. J Mater Chem 19:2912–2920

Nussbaum SR, Carter MJ, Fife CE, DaVanzo J, Haught R, Nusgart M, Cartwright D (2017) An economic evaluation of the impact, cost, and Medicare policy implications of chronic nonhealing wounds. Value Health 21:27–32

Ovais M, Ayaz M, Khalil AT, Shah SA, Jan MS, Raza A, Shahid M, Shinwari ZK (2018) HPLC-DAD finger printing, antioxidant, cholinesterase, and α-glucosidase inhibitory potentials of a novel plant Olax nana. BMC Complement Altern Med 18(1):1. https://doi.org/10.1186/s12906-017-2057-9

Ovais M, Khalil AT, Raza A, Khan MA, Ahmad I, Islam NU, Saravanan M, Ubaid MF, Ali M, Shinwari ZK (2016) Green synthesis of silver nanoparticles via plant extracts: beginning a new era in cancer theranostics. Nanomed 12:3157–3177

Ovais M, Nadhman A, Khalil AT, Raza A, Khuda F, Sohail MF, Islam NU, Sarwar HS, Shahnaz G, Ahmad I, Saravanan M (2017a) Biosynthesized colloidal silver and gold nanoparticles as emerging leishmanicidal agents: an insight. Nanomed 12:2807–2819

Ovais M, Raza A, Naz S, Islam NU, Khalil AT, Ali S, Khan MA, Shinwari ZK (2017b) Current state and prospects of the phytosynthesized colloidal gold nanoparticles and their applications in cancer theranostics. Appl Microbiol Biotechnol 101:3551–3565

Oyarzun-Ampuero F, Vidal A, Concha M, Morales J, Orellana S, Moreno-Villoslada I (2015) Nanoparticles for the treatment of wounds. Curr Pharm Des 21:4329–4341

Pannerselvam B, Dharmalingam Jothinathan MK, Rajenderan M, Perumal P, Pudupalayam Thangavelu K, Kim HJ, Singh V, Rangarajulu SK (2017) An in vitro study on the burn wound healing activity of cotton fabrics incorporated with phytosynthesized silver nanoparticles in male Wistar albino rats. Eur J Pharm Sci 100:187–196

Patel H, Khoury H, Girgenti D, Welner S, Yu H (2017) Burden of surgical site infections associated with select spine operations and involvement of Staphylococcus aureus. Surg Infect 18:461–473

Pivodová V, Franková J, Galandáková A, Ulrichová J (2015) In vitro AuNPs' cytotoxicity and their effect on wound healing. Nano 2:7–12. https://doi.org/10.5772/61132

Plikus MV, Guerrero-Juarez CF, Ito M, Li YR, Dedhia PH, Zheng Y, Shao M, Gay DL, Ramos R, Hsi TC, Oh JW (2017) Regeneration of fat cells from myofibroblasts during wound healing. Science 355:748–752

Pothireddy S, Kaliki A, Yegireddy M, Pagadala EP, Prasad TNVKV (2016) Evaluation of the wound healing efficacy of chemical and phytogenic silver nanoparticles. IET Nanobiotechnol 10:340–348

Qing C (2017) The molecular biology in wound healing & non-healing wound. Chin J Traumatol 20:189–193

Raghuwanshi N, Kumari P, Srivastava AK, Vashisth P, Yadav TC, Prasad R, Pruthi V (2017) Synergistic effects of Woodfordia fruticosa gold nanoparticles in preventing microbial adhesion and accelerating wound healing in Wistar albino rats in vivo. Mater Sci Eng C 80:252–262

Rigo C, Ferroni L, Tocco I, Roman M, Munivrana I, Gardin C, Cairns WR, Vindigni V, Azzena B, Barbante C, Zavan B (2013) Active silver nanoparticles for wound healing. Int J Mol Sci 14:4817–4840

Rohan (2017) Wound care market worth 22.01 billion USD by 2022. Markets and markets. https://www.marketsandmarkets.com/PressReleases/wound-care.asp Accessed 30th December 2017

Seo SB, Dananjaya SH, Nikapitiya C, Park BK, Gooneratne R, Kim TY, Lee J, Kim CH, De Zoysa M (2017) Silver nanoparticles enhance wound healing in zebrafish (Danio rerio). Fish Shellfish Immunol 68:536–545

Shankar S, Jaiswal L, Aparna RSL, Prasad RGSV, Kumar GP, Manohara CM (2015) Wound healing potential of green synthesized silver nanoparticles prepared from Lansium domesticum fruit peel extract. Mater Express 5:159–164

Shinwari Z, Khan A, Nakaike T (2003) Medicinal and other useful plants of District Swat. Pakistan Al-Aziz Communications, Peshawar 9698283218

Shinwari Z, Rehman M, Watanabe T, Yoshikawa Y (2006) Medicinal and aromatic plants of Pakistan (a pictorial guide). Kohat University of Science and Technology, Kohat, Pakistan 969-8870-00-8

Subbaiya R, Saravanan M, Priya AR, Shankar KR, Selvam M, Ovais M, Balajee R, Barabadi H (2017) Biomimetic synthesis of silver nanoparticles from Streptomyces atrovirens and their potential anticancer activity against human breast cancer cells. IET Nanobiotechnol 11:965–972

Sun X, Ni P, Wu M, Huang Y, Ye J, Xie T (2017) A clinicoepidemiological profile of chronic wounds in wound healing department in Shanghai. Int J Low Extrem Wounds 16:36–44

Tian J, Wong KK, Ho CM, Lok CN, Yu WY, Che CM, Chiu JF, Tam PK (2007) Topical delivery of silver nanoparticles promotes wound healing. ChemMedChem 2:129–136

Tsai H-W, Wang P-H, Tsui K-H (2017) Mesenchymal stem cell in wound healing and regeneration. J Chin Med Assoc doi 81:223–224. https://doi.org/10.1016/j.jcma.2017.06.011

Vanaraj S, Jabastin J, Sathiskumar S, Preethi K (2017) Production and characterization of bio-AuNPs to induce synergistic effect against multidrug resistant bacterial biofilm. J Clust Sci 28:227–244

Varga Z, rafay ali Sabzwari S, Vargova V (2017) Cardiovascular risk of nonsteroidal anti-inflammatory drugs: an under-recognized public health issue. Cureus. https://doi.org/10.7759/cureus.1144

Venkatachalam P, Sangeetha P, Geetha N, Sahi SV (2015) Phytofabrication of bioactive molecules encapsulated metallic silver nanoparticles from Cucumis sativus L. and its enhanced wound healing potential in rat model. J Nanomater 16:241–249. https://doi.org/10.1155/2015/753193

Volkova N, Yukhta M, Pavlovich O, Goltsev A (2016) Application of cryopreserved fibroblast culture with Au nanoparticles to treat burns. Nanoscale Res Lett 11:22. https://doi.org/10.1186/s11671-016-1242-y

Wang Y, Qiao Y, Wang P, Li Q, Xia C, Ju M (2017) Bio fabrication of silver nanoparticles as an effective wound healing agent in the wound care after anorectal surgery. J Photochem Photobiol B 178:457–462

Weintraub WS (2017) Safety of non-steroidal anti-inflammatory drugs. Eur Heart J 38:3293–3295

Wen L, Zeng P, Zhang L, Huang W, Wang H, Chen G (2016) Symbiosis theory-directed green synthesis of silver nanoparticles and their application in infected wound healing. Int J Nanomedicine 11:2757–2767

WiseGuyReports (2017) Global wound care market with focus on advanced wound care: industry analysis & outlook (2017–2021). https://www.wiseguyreports.com/sample-request/1615875-global-wound-care-market-with-focus-on-advanced-wound-care-industry Accessed 10 Jan 2018

Yah CS, Simate GS (2015) Nanoparticles as potential new generation broad spectrum antimicrobial agents. DARU J Pharm Sci 23:43. https://doi.org/10.1186/s40199-015-0125-6

Zohra T, Ovais M, Khalil AT, Qasim M, Ayaz M, Shinwari ZK (2018) Extraction optimization, total phenolic, flavonoid contents, HPLC-DAD analysis and diverse pharmacological evaluations of Dysphania ambrosioides (L.) Mosyakin & Clemants. Nat Prod Res:12:1–12:7
Acknowledgments
This work is funded by PAK-NORWAY Institutional Cooperation Program, PK3004, and COMSTECH-TWAS project reference number (12-198 RG/PHA/AS_C-UNESCO FR: 3240270874).
Ethics declarations
Conflict of interest
The authors declare that they have no conflict of interest.
Ethical approval
This article does not contain any studies with animals or human participants performed by any of the authors.
About this article
Cite this article
Ovais, M., Ahmad, I., Khalil, A.T. et al. Wound healing applications of biogenic colloidal silver and gold nanoparticles: recent trends and future prospects. Appl Microbiol Biotechnol 102, 4305–4318 (2018). https://doi.org/10.1007/s00253-018-8939-z
Received:

Revised:

Accepted:

Published:

Issue Date:
Keywords
Wound healing

Phytonanotechnology

Silver nanoparticles

Gold nanoparticles

Green synthesis

Nanomedicine