Abstract
Cancer is one of the most common causes of death worldwide. Extensive research has been conducted on cancer; regardless, the link between cancer and diet remains undetermined. Recent studies have emphasized the importance of miRNAs in cancer-associated pathways from the perspective of dietary modulation. We highlighted the recent data on dietary modulation of gut microbiota and miRNAs related to cancer on the basis of recently published results. The targets of miRNAs are oncogenes or tumor suppressors that mediate the progression and initiation of carcinogenesis. Different miRNAs display complex expression profiles in response to dietary manipulation. Various dietary components, such as fatty acids, resveratrol, isothiocyanate, and curcumin, have been effectively used in cancer prevention and treatment. This potency is attributed to the capability of these components to alter miRNA expression, thereby modulating the vital pathways involved in metastasis, invasion, apoptosis, tumor growth, and cell proliferation.
Access options
Buy single article
Instant access to the full article PDF.
USD 39.95
Price excludes VAT (USA)
Tax calculation will be finalised during checkout.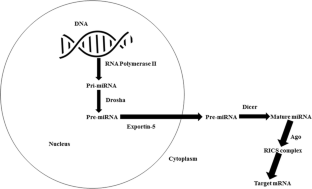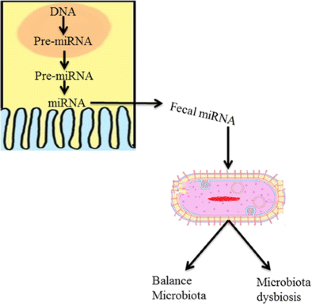 References
Ahmet MDBBJT, Plasterk RHA, Ketting R´F, Hannon GJ (2004) Processing of primary microRNAs by the microprocessor complex. Nature 432(7014):231–235

Alhasan AH, Kim DY, Daniel WL, Watson E, Meeks JJ, Thaxton CS, Mirkin CA (2012) Scanometric MicroRNA array profiling of prostate cancer markers using spherical nucleic acid-gold nanoparticle conjugates. Anal Chem 84(9):4153–4160. https://doi.org/10.1021/ac3004055.

Archambaud C, Nahori MA, Soubigou G, Bécavin C, Laval L, Lechat P, Smokvina T, Langella P, Lecuit M, Cossart P (2012) Impact of lactobacilli on orally acquired listeriosis. Proc Natl Acad Sci U S A 109(41):16684–16689. https://doi.org/10.1073/pnas.1212809109

Archambaud C, Sismeiro O, Toedling J, Soubigou G, Bécavin C, Lechat P, Lebreton A, Ciaudo C, Cossart P (2013) The intestinal microbiota interferes with the microRNA response upon oral Listeria infection. MBio 4(6):e00707–e00713. https://doi.org/10.1128/mBio.00707-13

Arndt GM, Dossey L, Cullen LM, Lai A, Druker R, Eisbacher M, Zhang C, Tran N, Fan H, Retzlaff K, Bittner A, Raponi M (2009) Characterization of global microRNA expression reveals oncogenic potential of miR-145 in metastatic colorectal cancer. BMC Cancer 9:374. https://doi.org/10.1186/1471-2407-9-374

Aykan NF (2015) Red meat and colorectal Cancer. Oncol Rev 9(1):288. https://doi.org/10.4081/oncol.2015.288

Bakken JS, Borody T, Brandt LJ, Brill JV, Demarco DC, Franzos MA, Kelly C, Khoruts A, Louie T, Martinelli LP (2011) Treating Clostridium difficile infection with fecal microbiota transplantation. Clin Gastroenterol Hepatol 9(12):1044–1049. https://doi.org/10.1016/j.cgh.2011.08.014

Blaut M (2002) Relationship of prebiotics and food to intestinal microflora. Eur J Nutr 41(1):i11–i16

Borralho PM, Simoes AE, Gomes SE, Lima RT, Carvalho T, Ferreira DM, Vasconcelos MH, Castro RE, Rodrigues CM (2011) miR-143 overexpression impairs growth of human colon carcinoma xenografts in mice with induction of apoptosis and inhibition of proliferation. PLoS One 6(8):e23787. https://doi.org/10.1371/journal.pone.0023787

Brandsma E, Houben T, Fu J, Shiri-Sverdlov R, Hofker MH (2015) The immunity-diet-microbiota axis in the development of metabolic syndrome. Curr Opin Lipidol 26(2):73–81. https://doi.org/10.1097/MOL.0000000000000154

Brown AJ, Goldsworthy SM, Barnes AA, Eilert MM, Tcheang L, Daniels D, Muir AI, Wigglesworth MJ, Kinghorn I, Fraser NJ (2003) The orphan G protein-coupled receptors GPR41 and GPR43 are activated by propionate and other short chain carboxylic acids. J Biol Chem 278(13):11312–11319

Bultman SJ (2017) Interplay between diet, gut microbiota, epigenetic events, and colorectal cancer. Mol Nutr Food Res 61(1). https://doi.org/10.1002/mnfr.201500902

Cani PD, Delzenne NM (2011) The gut microbiome as therapeutic target. Pharmacol Ther 130(2):202–212. https://doi.org/10.1016/j.pharmthera.2011.01.012

Chen JQ, Papp G, Szodoray P, Zeher M (2016) The role of microRNAs in the pathogenesis of autoimmune diseases. Autoimmun Rev 15(12):1171–1180. https://doi.org/10.1016/j.autrev.2016.09.003

Chen XM, Huang QC, Yang SL, Chu YL, Yan YH, Han L, Huang Y, Huang RY (2015a) Role of micro RNAs in the pathogenesis of rheumatoid arthritis: novel perspectives based on review of the literature. Medicine 94(31):e1326. https://doi.org/10.1097/MD.0000000000001326

Chen Z, Shi J, Yang X, Nan B, Liu Y, Wang Z (2015b) Chemical and physical characteristics and antioxidant activities of the exopolysaccharide produced by Tibetan kefir grains during milk fermentation. Int Dairy J 43(Supplement C) 43:15–21. https://doi.org/10.1016/j.idairyj.2014.10.004

Comalada M, Bailón E, de Haro O, Lara-Villoslada F, Xaus J, Zarzuelo A, Gálvez J (2007) The effects of short-chain fatty acids on colon epithelial proliferation and survival depend on the cellular phenotype. J Cancer Res Clin Oncol 133(3):211–211

Crim KC, Sanders LM, Hong MY, Taddeo SS, Turner ND, Chapkin RS, Lupton JR (2008) Upregulation of p21Waf1/Cip1 expression in vivo by butyrate administration can be chemoprotective or chemopromotive depending on the lipid component of the diet. Carcinogenesis 29(7):1415–1420. https://doi.org/10.1093/carcin/bgn144

Cummings J, Macfarlane G (1991) The control and consequences of bacterial fermentation in the human colon. J Appl Bacteriol 70(6):443–459

Cummings JH, Englyst HN (1991) What is dietary fibre? Trends Food Sci Technol 2:99–103

D'Agostini F, Mastracci L, Izzotti A, Balansky R, Pennisi TM, Steele VE, De Flora S (2009) Modulation by phenethyl isothiocyanate and budesonide of molecular and histopathologic alterations induced by environmental cigarette smoke in mice. Cancer Prev Res :1940–6207. CAPR-08-0235. doi: https://doi.org/10.1158/1940-6207.CAPR-08-0235.

Dalmasso G, Nguyen HTT, Yan Y, Laroui H, Charania MA, Ayyadurai S, Sitaraman SV, Merlin D (2011) Microbiota Modulate Host Gene Expression via MicroRNAs. PLoS One 6(4):e19293. https://doi.org/10.1371/journal.pone.0019293

Daniel H, Gholami AM, Berry D, Desmarchelier C, Hahne H, Loh G, Mondot S, Lepage P, Rothballer M, Walker A (2014) High-fat diet alters gut microbiota physiology in mice. Gut Microbes 8(2):295–308. https://doi.org/10.1038/ismej.2013.155

Davidson LA, Wang N, Shah MS, Lupton JR, Ivanov I, Chapkin RS (2009) N-3 polyunsaturated fatty acids modulate carcinogen-directed non-coding microRNA signatures in rat colon. Carcinogenesis 30(12):2077–2084. https://doi.org/10.1093/carcin/bgp245.

Davis SARCD (2014) The emerging role of microRNAs and nutrition in modulating health and disease. Annu Rev Nutr 34:305–336. https://doi.org/10.1146/annurev-nutr-071813-105729

De Filippo C, Cavalieri D, Di Paola M, Ramazzotti M, Poullet JB, Massart S, Collini S, Pieraccini G, Lionetti P (2010) Impact of diet in shaping gut microbiota revealed by a comparative study in children from Europe and rural Africa. Proc Natl Acad Sci U S A 107(33):14691–14696. https://doi.org/10.1073/pnas.1005963107

Delmas D, Rebe C, Micheau O, Athias A, Gambert P, Grazide S, Laurent G, Latruffe N, Solary E (2004) Redistribution of CD95, DR4 and DR5 in rafts accounts for the synergistic toxicity of resveratrol and death receptor ligands in colon carcinoma cells. Oncogene 23(55):8979–8986

Demehri FR, Barrett M, Teitelbaum DH (2015) Changes to the intestinal microbiome with parenteral nutrition: review of a murine model and potential clinical implications. Nutr Clin Pract 30(6):798–806. https://doi.org/10.1177/0884533615609904

Dibaise JK, Zhang H, Crowell MD, Krajmalnik-Brown R, Decker GA, Rittmann BE (2008) Gut microbiota and its possible relationship with obesity. Mayo Clin Proc 83(4):460–469. https://doi.org/10.4065/83.4.460

Dillhoff M, Liu J, Frankel W, Croce C, Bloomston M (2008) MicroRNA-21 is overexpressed in pancreatic cancer and a potential predictor of survival. J Gastrointest Surg 12(12):2171–2176. https://doi.org/10.1007/s11605-008-0584-x

Dimri M, Bommi PV, Sahasrabuddhe AA, Khandekar JD, Dimri GP (2010) Dietary omega-3 polyunsaturated fatty acids suppress expression of EZH2 in breast cancer cells. Carcinogenesis 31(3):489–495. https://doi.org/10.1093/carcin/bgp305

Elwood PC, Givens DI, Beswick AD, Fehily AM, Pickering JE, Gallacher J (2008) The survival advantage of milk and dairy consumption: an overview of evidence from cohort studies of vascular diseases, diabetes and cancer. J Am Coll Nutr 27(6):723S–734S

Ferlay J, Soerjomataram I, Dikshit R, Eser S, Mathers C, Rebelo M, Parkin DM, Forman D, Bray F (2015) Cancer incidence and mortality worldwide: sources, methods and major patterns in GLOBOCAN 2012. Int J Cancer 136(5):E359–E386. https://doi.org/10.1002/ijc.29210

Ferlay J, Steliarova-Foucher E, Lortet-Tieulent J, Rosso S, Coebergh JW, Comber H, Forman D, Bray F (2013) Cancer incidence and mortality patterns in Europe: estimates for 40 countries in 2012. Eur J Cancer 49(6):1374–1403. https://doi.org/10.1016/j.ejca.2012.12.027

Filippo CD, Cavalieri D, Paola MD, Ramazzotti M, Poullet JB, Massart S, Collini S, Pieraccini G, Lionetti P (2010) Impact of diet in shaping gut microbiota revealed by a comparative study in children from Europe and rural Africa. Proc Natl Acad Sci U S A 107(33):14691–14696. https://doi.org/10.1073/pnas.1005963107

Fleet JC, Desmet M, Johnson R, Li Y (2012) Vitamin D and cancer: a review of molecular mechanisms. Biochem J 441(1):61–76. https://doi.org/10.1042/BJ20110744

Fouad MA, Agha AM, Merzabani MM, Shouman SA (2013) Resveratrol inhibits proliferation, angiogenesis and induces apoptosis in colon cancer cells: calorie restriction is the force to the cytotoxicity. Hum Exp Toxicol 32(10):1067–1080. https://doi.org/10.1177/0960327113475679

Gabert L, Vors C, Louche-Pélissier C, Sauvinet V, Lambert-Porcheron S, Drai J, Laville M, Désage M, Michalski MC (2011) 13C tracer recovery in human stools after digestion of a fat-rich meal labelled with [1, 1, 1-13C3] tripalmitin and [1, 1, 1-13C3] triolein. Rapid Commun Mass Spectrom 25(19):2697–2703. https://doi.org/10.1002/rcm.5067

Garland CF, French CB, Baggerly LL, Heaney RP (2011) Vitamin D supplement doses and serum 25-hydroxyvitamin D in the range associated with cancer prevention. Anticancer Res 31(2):607–611

Garzon R, Pichiorri F, Palumbo T, Visentini M, Aqeilan R, Cimmino A, Wang H, Sun H, Volinia S, Alder H (2007) MicroRNA gene expression during retinoic acid-induced differentiation of human acute promyelocytic leukemia. Oncogene 26(28):4148–4157

Gaur AB, Holbeck SL, Colburn NH, Israel MA (2011) Downregulation of Pdcd4 by mir-21 facilitates glioblastoma proliferation in vivo. Neuro-Oncology 13(6):580–590. https://doi.org/10.1093/neuonc/nor033

Gavrilas LI, Ionescu C, Tudoran O, Lisencu C, Balacescu O, Miere D (2016) The role of bioactive dietary components in modulating miRNA expression in colorectal Cancer. Nutrients 8(10). https://doi.org/10.3390/nu8100590

Glenn G, Roberfroid M (1995) Dietary modulation of the human colonic microbiota: introducing the concept of prebiotics. J Nutr 125:1401–1412

Gogada R, Amadori M, Zhang H, Jones A, Verone A, Pitarresi J, Jandhyam S, Prabhu V, Black JD, Chandra D (2011) Curcumin induces Apaf-1-dependent, p21-mediated caspase activation and apoptosis. Cell Cycle 10(23):4128–4137. https://doi.org/10.4161/cc.10.23.18292

Goswami SK, Das DK (2009) Resveratrol and chemoprevention. Cancer Lett 284(1):1–6. https://doi.org/10.1016/j.canlet.2009.01.041

Guarner F, Malagelada JR (2003) Gut flora in health and disease. Lancet Lancet 361(9356):512–519

Guerville M, Boudry G (2016) Gastro-intestinal and hepatic mechanisms limiting the entry and dissemination of lipopolysaccharide into the systemic circulation. Am J Physiol Gastrointest Liver Physiol:ajpgi 00098(2016)

Hall MN, Chavarro JE, Lee I-M, Willett WC, Ma J (2008) A 22-year prospective study of fish, n-3 fatty acid intake, and colorectal cancer risk in men. Cancer Epidemiol Biomark Prev 17(5):1136–1143. https://doi.org/10.1158/1055-9965.EPI-07-2803

Hamer HM, De Preter V, Windey K, Verbeke K (2012) Functional analysis of colonic bacterial metabolism: relevant to health? Am J Physiol Gastrointest Liver Physiol 302(1):G1–G9. https://doi.org/10.1152/ajpgi.00048.2011

Han J, Lee Y, Yeom KH, Kim YK, Jin H, Kim VN (2004) The Drosha-DGCR8 complex in primary microRNA processing. Genes Dev 18(24):3016–3027. https://doi.org/10.1101/gad.1262504

Hildebrandt M, Hoffmann C, Sherrill-Mix S, Keilbaugh S, Hamady M, Chen Y, Knight R, Ahima R, Bushman F, Wu G (2009) High-fat diet determines the composition of the murine gut microbiome independently of obesity. Gastroenterol 137(5):1716–24.e1. https://doi.org/10.1053/j.gastro.2009.08.042.

Hu S, Dong TS, Dalal SR, Wu F, Bissonnette M, Kwon JH, Chang EB (2011) The microbe-derived short chain fatty acid butyrate targets miRNA-dependent p21 gene expression in human Colon Cancer. PLoS One 6(1):e16221. https://doi.org/10.1371/journal.pone.0016221

Hu Z, Chen J, Tian T, Zhou X, Gu H, Xu L, Zeng Y, Miao R, Jin G, Ma H, Chen Y, Shen H (2008) Genetic variants of miRNA sequences and non-small cell lung cancer survival. J Clin Invest 118(7):2600–2608. https://doi.org/10.1172/JCI34934

Hu Z, Dong J, Wang LE, Ma H, Liu J, Zhao Y, Tang J, Chen X, Dai J, Wei Q, Zhang C, Shen H (2012) Serum microRNA profiling and breast cancer risk: the use of miR-484/191 as endogenous controls. Carcinogenesis 33(4):828–834. https://doi.org/10.1093/carcin/bgs030

Humphreys KJ, Cobiac L, Le Leu RK, Van der Hoek MB, Michael MZ (2013) Histone deacetylase inhibition in colorectal cancer cells reveals competing roles for members of the oncogenic miR-17-92 cluster. Mol Carcinog 52(6):459–474. https://doi.org/10.1002/mc.21879

Iorio MV, Croce CM (2012) MicroRNA dysregulation in cancer: diagnostics, monitoring and therapeutics. A comprehensive review. EMBO Mol Med 4(3):143–159. https://doi.org/10.1002/emmm.201100209

Izzotti A, Larghero P, Cartiglia C, Longobardi M, Pfeffer U, Steele VE, De Flora S (2010) Modulation of microRNA expression by budesonide, phenethyl isothiocyanate and cigarette smoke in mouse liver and lung. Carcinogenesis 31(5):894–901. https://doi.org/10.1093/carcin/bgq037

Johnson SM, Gulhati P, Arrieta I, Wang X, Uchida T, Gao T, Evers BM (2009) Curcumin inhibits proliferation of colorectal carcinoma by modulating Akt/mTOR signaling. Anticancer Res 29(8):3185–3190

Julia Winter SJ, Keller S, Gregory RI, Diederichs S (2009) Many roads to maturity: microRNA biogenesis pathways and their regulation. Nat Cell Biol 11(3):228–234. https://doi.org/10.1038/ncb0309-228

Julie S, Jurenka M (2009) Anti-inflammatory properties of curcumin, a major constituent. Altern Med Rev 14(2):141–153

Kamada N, Seo S-U, Chen GY, Núñez G (2013) Role of the gut microbiota in immunity and inflammatory disease. Nat Rev Immunol 13(5):321–335. https://doi.org/10.1038/nri3430

Kumazaki M, Noguchi S, Yasui Y, Iwasaki J, Shinohara H, Yamada N, Akao Y (2013) Anti-cancer effects of naturally occurring compounds through modulation of signal transduction and miRNA expression in human colon cancer cells. J Nutr Biochem 24(11):1849–1858. https://doi.org/10.1016/j.jnutbio.2013.04.006

Kunnumakkara AB, Diagaradjane P, Guha S, Deorukhkar A, Shentu S, Aggarwal BB, Krishnan S (2008) Curcumin sensitizes human colorectal Cancer xenografts in nude mice to γ-radiation by targeting nuclear factor-κB–regulated gene products. Clin Cancer Res 14(7):2128–2136. https://doi.org/10.1158/1078-0432.

Kutay H, Bai S, Datta J, Motiwala T, Pogribny I, Frankel W, Jacob ST, Ghoshal K (2006) Downregulation of miR-122 in the rodent and human hepatocellular carcinomas. J Cell Biochem 99(3):671–678

Kwak S-H, Cho Y-M, Noh G-M, Om A-S (2014) Cancer preventive potential of kimchi lactic acid bacteria (Weissella cibaria, Lactobacillus plantarum). J Cancer Prev 19(4):253–258. https://doi.org/10.15430/JCP.2014.19.4.253

Li J, Riaz Rajoka MS, Shao D, Jiang C (2017) Strategies to increase the efficacy of using gut microbiota for the modulation of obesity. Obes Rev 18(11):1260–1271. https://doi.org/10.1111/obr.12590

Liu S, Cunha APD, Rezende RM, Cialic R, Wei Z, Bry L, Comstock LE, Gandhi R, Weiner HL (2016) The host shapes the gut microbiota via fecal microRNA. Cell Host Microbe 19(1):32–43. https://doi.org/10.1016/j.chom.2015.12.005

Liu X, Blouin JM, Santacruz A, Lan A, Andriamihaja M, Wilkanowicz S, Benetti PH, Tomé D, Sanz Y, Blachier F (2014) High-protein diet modifies colonic microbiota and luminal environment but not colonocyte metabolism in the rat model: the increased luminal bulk connection. Am J Physiol Gastrointest Liver Physiol 307(4):459–470. https://doi.org/10.1152/ajpgi.00400.2013.

Liu X, Wang Y, Hoeflinger JL, Neme BP, Jeffery EH, Miller MJ (2017) Dietary broccoli alters rat Cecal microbiota to improve glucoraphanin hydrolysis to bioactive Isothiocyanates. Nutrients 9(3):262. https://doi.org/10.3390/nu9030262

Lopez-Lazaro M (2008) Anticancer and carcinogenic properties of curcumin: considerations for its clinical development as a cancer chemopreventive and chemotherapeutic agent. Mol Nutr Food Res 52(Suppl 1):S103–S127. https://doi.org/10.1002/mnfr.200700238

Louis P, Flint HJ (2009) Diversity, metabolism and microbial ecology of butyrate-producing bacteria from the human large intestine. FEMS Microbiol Lett 294(1):1–8. https://doi.org/10.1111/j.1574-6968.2009.01514.x

Louis P, Hold GL, Flint HJ (2014) The gut microbiota, bacterial metabolites and colorectal cancer. Nat Rev Microbiol 12(10):661–672. https://doi.org/10.1038/nrmicro3344

Lu Y, Govindan R, Wang L, Liu PY, Goodgame B, Wen W, Sezhiyan A, Pfeifer J, Li YF, Hua X, Wang Y, Yang P, You M (2012) MicroRNA profiling and prediction of recurrence/relapse-free survival in stage I lung cancer. Carcinogenesis 33(5):1046–1054. https://doi.org/10.1093/carcin/bgs100

Lund EG,S, Calado A, Dahlberg JE, Kutay U (2004) Nuclear export of microRNA precursors. Science 303:95–98

Macfarlane G, Cummings J, Allison C (1986) Protein degradation by human intestinal bacteria. Microbiol 132(6):1647–1656

Macfarlane GT, Macfarlane S (2012) Bacteria, colonic fermentation, and gastrointestinal health. J AOAC Int 95(1):50–60

Macfarlane S, Macfarlane GT (2003) Regulation of short-chain fatty acid production. Proc Nutr Soc 62(1):67–72

Magee EA, Richardson CJ, Hughes R, Cummings JH (2000) Contribution of dietary protein to sulfide production in the large intestine: an in vitro and a controlled feeding study in humans. Am J Clin Nutr 72(6):1488–1494

Mansi A. Parasramka WMD, Rong Wang, Amir Abdelli, George S. Bailey, David E. Williams, Emily Ho and Roderick H. Dashwood (2012) MicroRNA profiling of carcinogen-induced rat colon tumors and the influence of dietary spinach. Mol Nutr Food Res 56:1259–1269. doi: https://doi.org/10.1002/mnfr.201200117.

Martínez I, Stegen JC, Maldonado-Gómez MX, Eren AM, Siba PM, Greenhill AR, Walter J (2015) The gut microbiota of rural Papua new Guineans: composition, diversity patterns, and ecological processes. Cell Rep 11(4):527–538. https://doi.org/10.1016/j.celrep.2015.03.049

Masotti A (2012) Interplays between gut microbiota and gene expression regulation by miRNAs. Front Cell Infect Microbiol 2(6):137. https://doi.org/10.3389/fcimb.2012.00137.

Maudet C, Mano M, Eulalio A (2014) MicroRNAs in the interaction between host and bacterial pathogens. FEBS Lett 588(22):4140–4147. https://doi.org/10.1016/j.febslet.2014.08.002

Mayr C, Bartel DP (2009) Widespread shortening of 3'UTRs by alternative cleavage and polyadenylation activates oncogenes in cancer cells. Cell 138(4):673–684. https://doi.org/10.1016/j.cell.2009.06.016

Mi L, Wang X, Govind S, Hood BL, Veenstra TD, Conrads TP, Saha DT, Goldman R, Chung FL (2007) The role of protein binding in induction of apoptosis by phenethyl isothiocyanate and sulforaphane in human non-small lung cancer cells. Cancer Res 67(13):6409–6416. https://doi.org/10.1158/0008-5472.can-07-0340

Miki T, Goto R, Fujimoto M, Okada N, Hardt W-D (2017) The bactericidal lectin RegIIIβ prolongs gut colonization and enteropathy in the streptomycin mouse model for Salmonella diarrhea. Cell Host Microbe 21(2):195–207. https://doi.org/10.1016/j.chom.2016.12.008

Murdie P (2006) MicroRNA signature predicts prognosis and progression of chronic lymphocytic leukemia. Nat Clin Prac. Oncologia 3(2):67–67

Murphy E, Cotter P, Healy S, Marques T, O'sullivan O, Fouhy F, Clarke S, O'toole P, Quigley EM, Stanton C (2010) Composition and energy harvesting capacity of the gut microbiota: relationship to diet, obesity and time in mouse models. Gut 59(12):1635–1642. https://doi.org/10.1136/gut.2010.215665

Ng EK, Tsang WP, Ng SS, Jin HC, Yu J, Li JJ, Rocken C, Ebert MP, Kwok TT, Sung JJ (2009) MicroRNA-143 targets DNA methyltransferases 3A in colorectal cancer. Br J Cancer 101(4):699–706. https://doi.org/10.1038/sj.bjc.6605195

Nowak R, Olech M, Pecio L, Oleszek W, Los R, Malm A, Rzymowska J (2014) Cytotoxic, antioxidant, antimicrobial properties and chemical composition of rose petals. J Sci Food Agric 94(3):560–567. https://doi.org/10.1002/jsfa.6294

Oostindjer M, Alexander J, Amdam GV, Andersen G, Bryan NS, Chen D, Corpet DE, De Smet S, Dragsted LO, Haug A, Karlsson AH, Kleter G, de Kok TM, Kulseng B, Milkowski AL, Martin RJ, Pajari AM, Paulsen JE, Pickova J, Rudi K, Sodring M, Weed DL, Egelandsdal B (2014) The role of red and processed meat in colorectal cancer development: a perspective. Meat Sci 97(4):583–596. https://doi.org/10.1016/j.meatsci.2014.02.011

Ou J, Carbonero F, Zoetendal EG, DeLany JP, Wang M, Newton K, Gaskins HR, O'Keefe SJ (2013) Diet, microbiota, and microbial metabolites in colon cancer risk in rural Africans and African Americans. Am J Clin Nutr 98(1):111–120. https://doi.org/10.3945/ajcn.112.056689

Peterson J, Garges S, Giovanni M, McInnes P, Wang L, Schloss JA, Bonazzi V, McEwen JE, Wetterstrand KA, Deal C (2009) The NIH human microbiome project. Genome Res 19(12):2317–2323

Piepoli A, Tavano F, Copetti M, Mazza T, Palumbo O, Panza A, di Mola FF, Pazienza V, Mazzoccoli G, Biscaglia G, Gentile A, Mastrodonato N, Carella M, Pellegrini F, di Sebastiano P, Andriulli A (2012) Mirna expression profiles identify drivers in colorectal and pancreatic cancers. PLoS One 7(3):e33663. https://doi.org/10.1371/journal.pone.0033663

Pogribny IP, Tryndyak VP, Ross SA, Beland FA (2008) Differential expression of microRNAs during hepatocarcinogenesis induced by methyl deficiency in rats. Nutr Rev 66(suppl 1):S33–S35. https://doi.org/10.1111/j.1753-4887.2008.00064.x.

Rajoka MSR, Shi J, Zhu J, Shao D, Huang Q, Yang H, Jin M (2017) Capacity of lactic acid bacteria in immunity enhancement and cancer prevention. Appl Microbiol Biotechnol 101(1):35–45. https://doi.org/10.1007/s00253-016-8005-7

Respondek F, Swanson KS, Belsito KR, Vester BM, Wagner A, Istasse L, Diez M (2008) Short-chain fructooligosaccharides influence insulin sensitivity and gene expression of fat tissue in obese dogs. J Nutr 138(9):1712–1718

Reuter S, Gupta SC, Park B, Goel A, Aggarwal BB (2011) Epigenetic changes induced by curcumin and other natural compounds. Genes Nutr 6(2):93–108. https://doi.org/10.1007/s12263-011-0222-1

Riaz Rajoka MS, Jin M, Haobin Z, Li Q, Shao D, Jiang C, Huang Q, Yang H, Shi J, Hussain N (2018) Functional characterization and biotechnological potential of exopolysaccharide produced by Lactobacillus rhamnosus strains isolated from human breast milk. LWT - Food Sci Technol 89(Supplement C):638–647 doi:https://doi.org/10.1016/j.lwt.2017.11.034

Riaz Rajoka MS, Mehwish HM, Siddiq M, Haobin Z, Zhu J, Yan L, Shao D, Xu X, Shi J (2017a) Identification, characterization, and probiotic potential of Lactobacillus rhamnosus isolated from human milk. LWT - Food Sci Technol 84(Supplement C) 84:271–280. https://doi.org/10.1016/j.lwt.2017.05.055

Riaz Rajoka MS, Shi J, Mehwish HM, Zhu J, Li Q, Shao D, Huang Q, Yang H (2017b) Interaction between diet composition and gut microbiota and its impact on gastrointestinal tract health. Food Sci Human Welln 6(3):121–130. https://doi.org/10.1016/j.fshw.2017.07.003

Rossi A, D'Urso OF, Gatto G, Poltronieri P, Ferracin M, Remondelli P, Negrini M, Caporaso MG, Bonatti S, Mallardo M (2010) Non-coding RNAs change their expression profile after retinoid induced differentiation of the promyelocytic cell line NB4. BMC Res Notes 3(1):24. https://doi.org/10.1186/1756-0500-3-24

Sanders FWB, Griffin JL (2016) De novo lipogenesis in the liver in health and disease: more than just a shunting yard for glucose. Biol Rev 91(2):452–468. https://doi.org/10.1111/brv.12178

Saud SM, Li W, Morris NL, Matter MS, Colburn NH, Kim YS, Young MR (2014) Resveratrol prevents tumorigenesis in mouse model of Kras activated sporadic colorectal cancer by suppressing oncogenic Kras expression. Carcinogenesis 35(12):2778–2786. https://doi.org/10.1093/carcin/bgu209

Schnorr SL, Candela M, Rampelli S, Centanni M, Consolandi C, Basaglia G, Turroni S, Biagi E, Peano C, Severgnini M (2014) Gut microbiome of the Hadza hunter-gatherers. Nat Commun 15;5:3654. doi: https://doi.org/10.1038/ncomms46545

Scott KP, Gratz SW, Sheridan PO, Flint HJ, Duncan SH (2013) The influence of diet on the gut microbiota. Pharmacol Res 69(1):52–60. https://doi.org/10.1016/j.phrs.2012.10.020

Shah M, Davidson L, Chapkin R (2012) Mechanistic insights into the role of microRNAs in cancer: influence of nutrient crosstalk. Front Genet 3(305). https://doi.org/10.3389/fgene.2012.00305

shahid riaz M, Shaheen T, Batool N, Saleem S, Hayat F (2015) Lactic acid bacteria as probiotic candidate and their application. J Biol Today's World 4(12):209–216. https://doi.org/10.15412/J.JBTW

Shankar V, Gouda M, Moncivaiz J, Gordon A, Reo NV, Hussein L, Paliy O (2017) Differences in gut metabolites and microbial composition and functions between Egyptian and U.S. children are consistent with their diets. Msystems 2(1):e00169–e00116. https://doi.org/10.1128/mSystems.00169-16

Singh N, Shirdel EA, Waldron L, Zhang RH, Jurisica I, Comelli EM (2012) The murine Caecal MicroRNA signature depends on the presence of the endogenous microbiota. Int J Biol Sci 8(2):171–186

Slaby O, Svoboda M, Fabian P, Smerdova T, Knoflickova D, Bednarikova M, Nenutil R, Vyzula R (2007) Altered expression of miR-21, miR-31, miR-143 and miR-145 is related to Clinicopathologic features of colorectal Cancer. Oncologia 72(5–6):397–402. https://doi.org/10.1159/000113489

Slaby O, Svoboda M, Michalek J, Vyzula R (2009) MicroRNAs in colorectal cancer: translation of molecular biology into clinical application. Mol Cancer 8:102. https://doi.org/10.1186/1476-4598-8-102

Sprong R, Schonewille A, Van der Meer R (2010) Dietary cheese whey protein protects rats against mild dextran sulfate sodium–induced colitis: Role of mucin and microbiota. J Dairy Sci 93(4):1364–1371 https://doi.org/10.3168/jds.2009-2397.

Subramaniam D, Ponnurangam S, Ramamoorthy P, Standing D, Battafarano RJ, Anant S, Sharma P (2012) Curcumin induces cell death in esophageal cancer cells through modulating Notch signaling. PLoS One 7(2):e30590. https://doi.org/10.1371/journal.pone.0030590

Sun M, Estrov Z, Ji Y, Coombes KR, Harris DH, Kurzrock R (2008) Curcumin (diferuloylmethane) alters the expression profiles of microRNAs in human pancreatic cancer cells. Mol Cancer Therapeutics 7(3):464–473. https://doi.org/10.1158/1535-7163.MCT-07-2272

Sun Y, Zuo L, Xu C, Shen T, Pan H, Zhang Z (2002) Apoptosis and differentiation induced by sodium selenite combined with all-trans retinoic acid (ATRA) in NB4 cells. Zhonghua Xue Ye Xue Za Zhi 23(12):628–630

Terao M, Fratelli M, Kurosaki M, Zanetti A, Guarnaccia V, Paroni G, Tsykin A, Lupi M, Gianni M, Goodall GJ (2011) Induction of miR-21 by Retinoic Acid in Estrogen Receptor-positive Breast Carcinoma Cells Biologicl Correlates and Molecular Targets. J Biol Chem 286(5):4027–4042. https://doi.org/10.1074/jbc.M110.184994

Tili E, Michaille J-J (2011) Resveratrol, microRNAs, inflammation, and cancer. J Nucleic Acids 2011;2011:102431. https://doi.org/10.4061/2011/102431.

Tili E, Michaille J-J, Alder H, Volinia S, Delmas D, Latruffe N, Croce CM (2010) Resveratrol modulates the levels of microRNAs targeting genes encoding tumor-suppressors and effectors of TGFβ signaling pathway in SW480 cells. Biochem Pharmacol 80(12):2057–2065

Torrisani J, Bournet B, MCd R, Bouisson M, Souque A, Escourrou J, Buscail L, Cordelier P (2009) Let-7 MicroRNA transfer in pancreatic cancer-derived cells inhibitsin vitrocell proliferation but fails to alter tumor progression. Hum Gene Ther 20:831–844. https://doi.org/10.1089/hum.2008.134

Turk HF, Barhoumi R, Chapkin RS (2012) Alteration of EGFR spatiotemporal dynamics suppresses signal transduction. PLoS One 7(6):e39682. https://doi.org/10.1371/journal.pone.0039682

Turnbaugh PJ, Bäckhed F, Fulton L, Gordon JI (2008) Diet-induced obesity is linked to marked but reversible alterations in the mouse distal gut microbiome. Cell Host Microbe 3(4):213–223. https://doi.org/10.1016/j.chom.2008.02.015

Udayappan SD, Hartstra AV, Dallinga-Thie GM, Nieuwdorp M (2014) Intestinal microbiota and faecal transplantation as treatment modality for insulin resistance and type 2 diabetes mellitus. Clin Exp Immunol 177(1):24. https://doi.org/10.1111/cei.12293。

Vanamala J, Reddivari L, Radhakrishnan S, Tarver C (2010) Resveratrol suppresses IGF-1 induced human colon cancer cell proliferation and elevates apoptosis via suppression of IGF-1R/Wnt and activation of p53 signaling pathways. BMC Cancer 10(1):238. https://doi.org/10.1186/1471-2407-10-238

Vieira AT, Teixeira MM, Martins FS (2013) The role of probiotics and prebiotics in inducing gut immunity. Front Immunol 4:445. https://doi.org/10.3389/fimmu.2013.00445

Vinciguerra M, Sgroi A, Veyrat-Durebex C, Rubbia-Brandt L, Buhler LH, Foti M (2009) Unsaturated fatty acids inhibit the expression of tumor suppressor phosphatase and tensin homolog (PTEN) via microRNA-21 up-regulation in hepatocytes. Hepatol 49(4):1176–1184. https://doi.org/10.1002/hep.22737

Walker AW, Duncan SH, Leitch ECM, Child MW, Flint HJ (2005) pH and peptide supply can radically alter bacterial populations and short-chain fatty acid ratios within microbial communities from the human colon. Appl Environ Microbiol 71(7):3692–3700

Wang T, Cai G, Qiu Y, Fei N, Zhang M, Pang X, Jia W, Cai S, Zhao L (2012) Structural segregation of gut microbiota between colorectal cancer patients and healthy volunteers. ISME j 6(2):320–329. https://doi.org/10.1038/ismej.2011.109

Wang X, Gocek E, Liu C-G, Studzinski GP (2009) MicroRNAs181 regulate the expression of p27Kip1 in human myeloid leukemia cells induced to differentiate by 1, 25-dihydroxyvitamin D3. Cell Cycle 8(5):736–741

Weiss GA, Hennet T (2017) Mechanisms and consequences of intestinal dysbiosis. Cell Mol Life Sci 74(16):2959–2977. https://doi.org/10.1007/s00018-017-2509-x

West NJ, Clark SK, Phillips RK, Hutchinson JM, Leicester RJ, Belluzzi A, Hull MA (2010) Eicosapentaenoic acid reduces rectal polyp number and size in familial adenomatous polyposis. Gut 59(7):918–925. https://doi.org/10.1136/gut.2009.200642

Whelan J, McEntee MF (2004) Dietary (n-6) PUFA and intestinal tumorigenesis. J Nutr 134(12):3421S–3426S

Winter J, Jung S, Keller S, Gregory RI, Diederichs S (2009) Many roads to maturity: microRNA biogenesis pathways and their regulation. Nat Cell Biol 11(3):228–234. https://doi.org/10.1038/ncb0309-228

WR R, SW G, SH D, G H JI, L S GD, AM J, GE L, RJ W, GG D, HJ F (2011) High-protein, reduced-carbohydrate weight-loss diets promote metabolite profiles likely to be detrimental to colonic health. Am J Clin Nutr 93(5):1062–1072. https://doi.org/10.3945/ajcn.110.002188

Wu GD, Lewis JD (2011) Linking long-term dietary patterns with gut microbial Enterotypes. Science 334(6052):105–108. https://doi.org/10.1126/science.1208344

Wu N, Yang X, Zhang R, Li J, Xiao X, Hu Y, Chen Y, Yang F, Lu N, Wang Z, Luan C, Liu Y, Wang B, Xiang C, Wang Y, Zhao F, Gao GF, Wang S, Li L, Zhang H, Zhu B (2013) Dysbiosis signature of fecal microbiota in colorectal Cancer patients. Microb Ecol 66(2):462–470. https://doi.org/10.1007/s00248-013-0245-9

Xue X, Feng T, Yao S, Wolf KJ, Liu CG, Liu X, Elson CO, Cong Y (2011) Microbiota downregulates dendritic cell expression of miR-10a, which targets IL-12/IL-23p40. J Immunol (Baltimore, Md : 1950) 187(11):5879–5886. https://doi.org/10.4049/jimmunol.1100535

Yan LX, Wu QN, Zhang Y, Li YY, Liao DZ, Hou JH, Fu J, Zeng MS, Yun JP, Wu QL (2011) Knockdown of miR-21 in human breast cancer cell lines inhibits proliferation, in vitro migration and in vivo tumor growth. Breast Cancer Res 13(1):R2. https://doi.org/10.1186/bcr2803

Yang J, Cao Y, Sun J, Zhang Y (2010) Curcumin reduces the expression of Bcl-2 by upregulating miR-15a and miR-16 in MCF-7 cells. Medical Oncol 27(4):1114–1118. https://doi.org/10.1007/s12032-009-9344-3

Yoontae Lee MK, Han J, Yeom K-H, Lee S, Baek SH, Narry Kim V (2004) MicroRNA genes are transcribed by RNA polymerase II. EMBO J 23:4051–4060. https://doi.org/10.1038/sj.emboj.7600385

Zhang L, Huang J, Yang N, Greshock J, Megraw MS, Giannakakis A, Liang S, Naylor TL, Barchetti A, Ward MR (2006) microRNAs exhibit high frequency genomic alterations in human cancer. Proc Natl Acad Sci U S A 103(24):9136–9141

Zhang X, Zhao Y, Zhang M, Pang X, Xu J, Kang C, Li M, Zhang C, Zhang Z, Zhang Y, Li X, Ning G, Zhao L (2012) Structural changes of gut microbiota during berberine-mediated prevention of obesity and insulin resistance in high-fat diet-fed rats. PLoS One 7(8):e42529. https://doi.org/10.1371/journal.pone.0042529

Zhao Y, Srivastava D (2007) A developmental view of microRNA function. Trends Biochem Sci 32(4):189–197. https://doi.org/10.1016/j.tibs.2007.02.006

Zhu Q, Gao R, Wu W, Qin H (2013) The role of gut microbiota in the pathogenesis of colorectal cancer. Tumor Biol 34(3):1285–1300. https://doi.org/10.1007/s13277-013-0684-4
Acknowledgements
This study was supported by the National Key Technology R&D Program (Grant no. 2015BAD16B02), National Natural Science Foundation of China (Grant nos. 31201408 and 31471718). Also, the Dr. Amir Hussain (Department of medicine, Xian Jiaotong University, Xi'an 710072, Shaanxi, People 's Republic of China) revised the manuscript language.
Ethics declarations
Conflict of interest
The authors declare that they have no conflicts of interest.
Ethical approval
This article does not contain any studies with human participants or animals performed by any of the authors.
About this article
Cite this article
Riaz Rajoka, M.S., Jin, M., Haobin, Z. et al. Impact of dietary compounds on cancer-related gut microbiota and microRNA. Appl Microbiol Biotechnol 102, 4291–4303 (2018). https://doi.org/10.1007/s00253-018-8935-3
Received:

Revised:

Accepted:

Published:

Issue Date:

DOI: https://doi.org/10.1007/s00253-018-8935-3
Keywords
Diet

Microbiota

miRNAs

Autoimmune disease

Cancer