Abstract
Development of alternatives to antibiotic growth promoters (AGP) used in swine production requires a better understanding of their impacts on the gut microbiota. Supplementing fermented feed (FF) in swine diets as a novel nutritional strategy to reduce the use of AGP and feed price, can positively affect the porcine gut microbiota, thereby improving pig productivities. Previous studies have noted the potential effects of FF on the shift in benefit of the swine microbiota in different regions of the gastrointestinal tract (GIT). The positive influences of FF on swine gut microbiota may be due to the beneficial effects of both pre- and probiotics. Necessarily, some methods should be adopted to properly ferment and evaluate the feed and avoid undesired problems. In this mini-review, we mainly discuss the microbiota in both fermented feed and swine gut and how FF influences swine gut microbiota.
Access options
Buy single article
Instant access to the full article PDF.
USD 39.95
Price excludes VAT (USA)
Tax calculation will be finalised during checkout.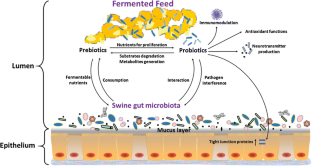 References
Amadou I, Kamara MT, Tidjani A, Foh MBK, Guo-Wei L (2010) Physicochemical and nutritional analysis of fermented soybean protein meal by Lactobacillus plantarum Lp6. World J Dairy Food Sci 5(2):114–118.

Arevalo-Villena M, Briones-Perez A, Corbo MR, Sinigaglia M, Bevilacqua A (2017) Biotechnological application of yeasts in food science: starter cultures, probiotics and enzyme production. J Appl Microbiol 123(6):1360–1372

Bird AR, Conlon MA, Christophersen CT, Topping DL (2010) Resistant starch, large bowel fermentation and a broader perspective of prebiotics and probiotics. Benef Microbes 1(4):423–431

Brestoff JR, Artis D (2013) Commensal bacteria at the interface of host metabolism and the immune system. Nat Immunol 14(7):676–684

Canibe N, Jensen BB (2003) Fermented and nonfermented liquid feed to growing pigs: effect on aspects of gastrointestinal ecology and growth performance. J Anim Sci 81(8):2019–2031

Canibe N, Jensen BB (2007) Fermented liquid feed and fermented grain to piglets—effect on gastrointestinal ecology and growth performance. Livest Sci 108(1–3):198–201

Canibe N, Jensen BB (2012) Fermented liquid feed-microbial and nutritional aspects and impact on enteric diseases in pigs. Anim Feed Sci Tech 173(1–2):17–40

Chi CH, Cho SJ (2016) Improvement of bioactivity of soybean meal by solid-state fermentation with Bacillus amyloliquefaciens versus Lactobacillus spp. and Saccharomyces cerevisiae. Lwt-Food Sci Technol 68:619–625

Demeckova V, Kelly D, Coutts AGP, Brooks PH, Campbell A (2002) The effect of fermented liquid feeding on the faecal microbiology and colostrum quality of farrowing sows. Int J Food Microbiol 79(1–2):85–97

Frese SA, Parker K, Calvert CC, Mills DA (2015) Diet shapes the gut microbiome of pigs during nursing and weaning. Microbiome 3:28

Gao PF, Ma C, Sun Z, Wang LF, Huang S, Su XQ, Xu J, Zhang HP (2017) Feed-additive probiotics accelerate yet antibiotics delay intestinal microbiota maturation in broiler chicken. Microbiome 5:91

Gibson GR, Roberfroid MB (1995) Dietary modulation of the human colonic microbiota—introducing the concept of prebiotics. J Nutr 125(6):1401–1412

Gilbert ER, Wong EA, Webb KE (2008) Board-invited review: peptide absorption and utilization: implications for animal nutrition and health. J Anim Sci 86(9):2135–2155

Han BZ, Rombouts FM, Nout MJR (2001) A Chinese fermented soybean food. Int J Food Microbiol 65(1–2):1–10

He YY, Mao CX, Wen H, Chen ZY, Lai T, Li LY, Lu W, Wu HD (2017) Influence of ad libitum feeding of piglets with Bacillus Subtilis fermented liquid feed on gut flora, luminal contents and health. Sci Rep 7:44553

Heinritz SN, Mosenthin R, Weiss E (2013) Use of pigs as a potential model for research into dietary modulation of the human gut microbiota. Nutr Res Rev 26(2):191–209

Hill C, Guarner F, Reid G, Gibson GR, Merenstein DJ, Pot B, Morelli L, Canani RB, Flint HJ, Salminen S, Calder PC, Sanders ME (2014) Expert consensus document. The international scientific association for probiotics and prebiotics consensus statement on the scope and appropriate use of the term probiotic. Nat Rev Gastroenterol Hepatol 11(8):506–514

Kiarie E, Bhandari S, Scott M, Krause DO, Nyachoti CM (2011) Growth performance and gastrointestinal microbial ecology responses of piglets receiving Saccharomyces cerevisiae fermentation products after an oral challenge with Escherichia coli (K88). J Anim Sci 89(4):1062–1078

Kiers JL, Meijer JC, Nout MJR, Rombouts FM, Nabuurs MJA, van der Meulen J (2003) Effect of fermented soya beans on diarrhoea and feed efficiency in weaned piglets. J Appl Microbiol 95(3):545–552

Kim EY, Kim YH, Rhee MH, Song JC, Lee KW, Kim KS, Lee SP, Lee IS, Park SC (2007) Selection of Lactobacillus sp. PSC101 that produces active dietary enzymes such as amylase, lipase, phytase and protease in pigs. J Gen Appl Microbiol 53(2):111–117

Kim HB, Borewicz K, White BA, Singer RS, Sreevatsan S, Tu ZJ, Isaacson RE (2011) Longitudinal investigation of the age-related bacterial diversity in the feces of commercial pigs. Vet Microbiol 153(1–2):124–133

Koh HW, Kim MS, Lee JS, Kim H, Park SJ (2015) Changes in the swine gut microbiota in response to porcine epidemic diarrhea infection. Microbes Environ 30(3):284–287

Krause DO, Easter RA, White BA, Mackie RI (1995) Effect of weaning diet on the ecology of adherent Lactobacilli in the gastrointestinal-tract of the pig. J Anim Sci 73(8):2347–2354

Lalles JP, Bosi P, Smidt H, Stokes CR (2007) Nutritional management of gut health in pigs around weaning. Proc Nutr Soc 66(2):260–268

Leser TD, Lindecrona RH, Jensen TK, Jensen BB, Moller K (2000) Changes in bacterial community structure in the colon of pigs fed different experimental diets and after infection with Brachyspira hyodysenteriae. Appl Environ Microbiol 66(8):3290–3296

Leser TD, Amenuvor JZ, Jensen TK, Lindecrona RH, Boye M, Moller K (2002) Culture-independent analysis of gut bacteria: the pig gastrointestinal tract microbiota revisited. Appl Environ Microbiol 68(2):673–690

Macfarlane GT, Steed H, Macfarlane S (2008) Bacterial metabolism and health-related effects of galactooligosaccharides and other prebiotics. J Appl Microbiol 104:305–344

Maghsood F, Mirshafiey A, Farahani MM, Modarressi MH, Jafari P, Motevaseli E (2018) Dual effects of cell free supernatants from Lactobacillus acidophilus and Lactobacillus rhamnosus GG in regulation of MMP-9 by up-regulating TIMP-1 and down-regulating CD147 in PMA-differentiated THP-1 cells. Cell J 19(4):559–568

Majumdar SK, Bose SK (1958) Mycobacillin, a new antifungal antibiotic produced by B. Subtilis. Nature 181(4602):134–135

Missotten JAM, Michiels J, Goris J, Herman L, Heyndrickx M, De Smet S, Dierick NA (2007) Screening of two probiotic products for use in fermented liquid feed. Livest Sci 108(1–3):232–235

Missotten JAM, Michiels J, Ovyn A, De Smet S, Dierick NA (2010) Fermented liquid feed for pigs. Arch Anim Nutr 64(6):437–466

Missotten JAM, Michiels J, Degroote J, De Smet S (2015) Fermented liquid feed for pigs: an ancient technique for the future. J Anim Sci Biotechnol 6:4

Moore WEC, Moore LVH, Cato EP, Wilkins TD, Kornegay ET (1987) Effect of high-fiber and high-oil diets on the fecal flora of swine. Appl Environ Microbiol 53(7):1638–1644

Mukherjee R, Chakraborty R, Dutta A (2016) Role of fermentation in improving nutritional quality of soybean meal—a review. Asian Australas J Anim Sci 29(11):1523–1529

Niba AT, Beal JD, Kudi AC, Brooks PH (2009) Bacterial fermentation in the gastrointestinal tract of non-ruminants: influence of fermented feeds and fermentable carbohydrates. Trop Anim Health Prod 41(7):1393–1407

Olstorpe M, Axelsson L, Schnurer J, Passoth V (2010) Effect of starter culture inoculation on feed hygiene and microbial population development in fermented pig feed composed of a cereal grain mix with wet wheat distillers' grain. J Appl Microbiol 108(1):129–138

Plumed-Ferrer C, von Wright A (2009) Fermented pig liquid feed: nutritional, safety and regulatory aspects. J Appl Microbiol 106(2):351–368

Price KL, Totty HR, Lee HB, Utt MD, Fitzner GE, Yoon I, Ponder MA, Escobar J (2010) Use of Saccharomyces cerevisiae fermentation product on growth performance and microbiota of weaned pigs during Salmonella infection. J Anim Sci 88(12):3896–3908

Roselli M, Pieper R, Rogel-Gaillard C, de Vries H, Bailey M, Smidt H, Lauridsen C (2017) Immunomodulating effects of probiotics for microbiota modulation, gut health and disease resistance in pigs. Anim Feed Sci Technol 233:104–119

Ruiz L, Hidalgo C, Blanco-Miguez A, Lourenco A, Sanchez B, Margolles A (2016) Tackling probiotic and gut microbiota functionality through proteomics. J Proteome 147:28–39

Sanchez B, Delgado S, Blanco-Miguez A, Lourenco A, Gueimonde M, Margolles A (2017) Probiotics, gut microbiota, and their influence on host health and disease. Mol Nutr Food Res 61(1)

Shi CY, He J, Yu J, Yu B, Mao XB, Zheng P, Huang ZQ, Chen DW (2016a) Physicochemical properties analysis and secretome of Aspergillus niger in fermented rapeseed meal. PLoS One 11(4):e0153230

Shi CY, He J, Wang JP, Yu J, Yu B, Mao XB, Zheng P, Huang ZQ, Chen DW (2016b) Effects of Aspergillus niger fermented rapeseed meal on nutrient digestibility, growth performance and serum parameters in growing pigs. Anim Sci J 87(4):557–563

Shi C, Zhang Y, Yin Y, Wang C, Lu Z, Wang F, Feng J, Wang Y (2017a) Amino acid and phosphorus digestibility of fermented corn-soybean meal mixed feed with Bacillus subtilis and Enterococcus faecium fed to pigs. J Anim Sci 95(9):3996–4004

Shi CY, Zhang Y, Lu ZQ, Wang YZ (2017b) Solid-state fermentation of corn-soybean meal mixed feed with Bacillus subtilis and Enterococcus faecium for degrading antinutritional factors and enhancing nutritional value. J Anim Sci Biotechnol 8:50

Song D, Wang F, Lu Z, Wang Y (2017) Effects of supplementing sow diets with Saccharomyces cerevisiae refermented sorghum dried distiller's grains with solubles from late gestation to weaning on the performance of sows and progeny. J Anim Sci 95:190–191

Tajima K, Ohmori H, Aminov RI, Kobashi Y, Kawashima T (2010) Fermented liquid feed enhances bacterial diversity in piglet intestine. Anaerobe 16(1):6–11

Tilocca B, Burbach K, Heyer CME, Hoelzle LE, Mosenthin R, Stefanski V, Camarinha-Silva A, Seifert J (2017) Dietary changes in nutritional studies shape the structural and functional composition of the pigs' fecal microbiome-from days to weeks. Microbiome 5:144

Urlings HAP, Mul AJ, Vantklooster AT, Bijker PGH, Vanlogtestijn JG, Vangils LGM (1993) Microbial and nutritional aspects of feeding fermented feed (poultry by-products) to pigs. Vet Quart 15(4):146–150

Valeriano VDV, Balolong MP, Kang DK (2017) Probiotic roles of Lactobacillus sp. in swine: insights from gut microbiota. J Appl Microbiol 122(3):554–567

van Winsen RL, Urlings BAP, Lipman LJA, Snijders JMA, Keuzenkamp D, Verheijden JHM, van Knapen F (2001) Effect of fermented feed on the microbial population of the gastrointestinal tracts of pigs. Appl Environ Microbiol 67(7):3071–3076

van Winsen RL, Keuzenkamp D, Urlings BAP, Lipman LJA, Snijders JAM, Verheijden JHM, van Knapen F (2002) Effect of fermented feed on shedding of Enterobacteriaceae by fattening pigs. Vet Microbiol 87(3):267–276

Wang J, Han Y, Zhao JZ, Zhou ZJ, Fan H (2017) Consuming fermented distillers' dried grains with solubles (DDGS) feed reveals a shift in the faecal microbiota of growing and fattening pigs using 454 pyrosequencing. J Integr Agric 16(4):900–910

Yin FG, Farzan A, Wang Q, Yu H, Yin YL, Hou YQ, Friendship R, Gong JS (2014) Reduction of Salmonella enterica Serovar Typhimurium DT104 infection in experimentally challenged weaned pigs fed a Lactobacillus-fermented feed. Foodborne Pathog Dis 11(8):628–634

Zhao WJ, Wang YP, Liu SY, Huang JJ, Zhai ZX, He C, Ding JM, Wang J, Wang HJ, Fan WB, Zhao JG, Meng H (2015) The dynamic distribution of porcine microbiota across different ages and gastrointestinal tract segments. PLoS One 10(2)

Zhu J, Gao M, Zhang R, Sun Z, Wang C, Yang F, Huang T, Qu S, Zhao L, Li Y (2017) Effects of soybean meal fermented by L. plantarum, B. subtilis and S. cerevisieae on growth, immune function and intestinal morphology in weaned piglets. Microb Cell Fact 16(1):191

Zheng L, Li D, Li ZL, Kang LN, Jiang YY, Liu XY, Chi YP, Li YQ, Wang JH (2017) Effects of Bacillus fermentation on the protein microstructure and anti-nutritional factors of soybean meal. Lett Appl Microbiol 65(6):520–526
Funding
This research was supported by the earmarked fund for Modern Agro-industry Technology Research System (CARS-36).
Ethics declarations
Conflict of interest
The authors declare that they have no conflict of interest.
Ethical statement
This article does not involve any studies with human participants performed by any of the authors.
About this article
Cite this article
Wang, C., Shi, C., Zhang, Y. et al. Microbiota in fermented feed and swine gut. Appl Microbiol Biotechnol 102, 2941–2948 (2018). https://doi.org/10.1007/s00253-018-8829-4
Received:

Revised:

Accepted:

Published:

Issue Date:

DOI: https://doi.org/10.1007/s00253-018-8829-4
Keywords
Fermented feed

Swine gut microbiota

Influence