Abstract
Aspergillus fumigatus is an opportunistic pathogen, the leading cause of invasive and disseminated aspergillosis in systemic immunocompromised patients, and an important cause of mortality. The aim of the present study was to adapt a pulmonary aspergillosis murine model, to determine pathodynamical parameters quantitatively, and to follow the progression of fungal infection in vivo. The nasal inoculation of Aspergillus conidia in mice previously subjected to immunosuppression with cyclophosphamide (CP) turned out to be a more suitable model than that of immunosuppressed with hydrocortisone (HC). The following parameters were found to correlate quantitatively with the progress of the infection: (i) survival rate, (ii) weight loss of mice, (iii) infected focal plaque size, (iv) hyphal density, (v) hyphal length distribution of A. fumigatus, and the (vi) the histopathological status and scores. These parameters will be essential elements for the development of antifungal drugs and therapies, and important for the investigation of the pathogenicity in different strains of A. fumigatus.
This is a preview of subscription content,
to check access.
Access this article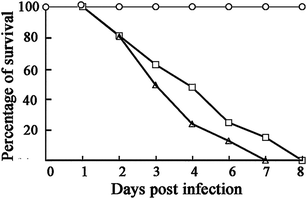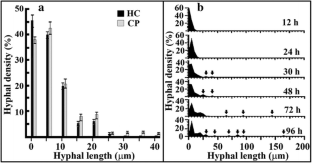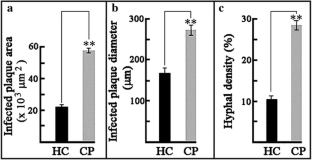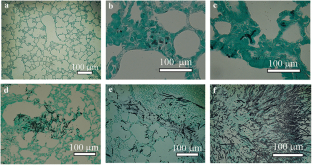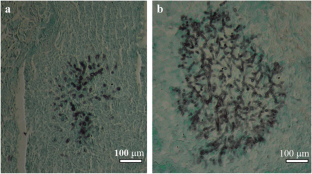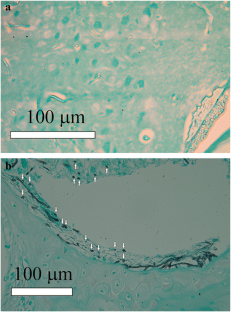 Similar content being viewed by others
References
Aslam PA, Eastridge CE, Hughes FA Jr (1971) Aspergillosis of the lung—an eighteen-year experience. Chest 59(1):28–32. https://doi.org/10.1378/chest.59.1.28

Balazs A, Pocsi I, Hamari Z, Leiter E, Emri T, Miskei M, Olah J, Toth V, Hegedus N, Prade RA, Molnar M, Pocsi I (2010) AtfA bZIP-type transcription factor regulates oxidative and osmotic stress responses in Aspergillus nidulans. Mol Gen Genomics 283(3):289–303. https://doi.org/10.1007/s00438-010-0513-z

Balloy V, Huerre M, Latge JP, Chignard M (2005) Differences in patterns of infection and inflammation for corticosteroid treatment and chemotherapy in experimental invasive pulmonary aspergillosis. Infect Immun 73(1):494–503. https://doi.org/10.1128/iai.73.1.494-503.2005

Baratt RW, Johnson GB, Ogata WN (1965) Wild-type and mutant stocks of Aspergillus nidulans. Genetics 52(1):233–246

Bassetti M, Peghin M, Vona A (2017) Challenges and solution of invasive aspergillosis in non-neutropenic patients: a review. Infect Dis Ther. https://doi.org/10.1007/s40121-017-0183-9

Berenguer J, Allende MC, Lee JW, Garrett K, Lyman C, Ali NM, Bacher J, Pizzo PA, Walsh TJ (1995) Pathogenesis of pulmonary aspergillosis. Granulocytopenia versus cyclosporine and methylprednisolone-induced immunosuppression. Am J Respir Crit Care Med 152(3):1079–1086. https://doi.org/10.1164/ajrccm.152.3.7663787

Bongomin F, Gago S, Oladele RA, Denning DW (2017) Global and multi-national prevalence of fungal diseases—estimate precision. J Fungi 3(4):57. https://doi.org/10.3390/jof3040057

Cadena J, Thompson GR 3rd, Patterson TF (2016) invasive aspergillosis: current strategies for diagnosis and management. Infect Dis Clin N Am 30(1):125–142. https://doi.org/10.1016/j.idc.2015.10.015

Carroll CS, Amankwa LN, Pinto LJ, Fuller JD, Moore MM (2016) Detection of a serum siderophore by LC-MS/MS as a potential biomarker of invasive Aspergillosis. PLoS One 11(3):e0151260. https://doi.org/10.1371/journal.pone.0151260

Chiang LY, Sheppard DC, Gravelat FN, Patterson TF, Filler SG (2008) Aspergillus fumigatus stimulates leukocyte adhesion molecules and cytokine production by endothelial cells in vitro and during invasive pulmonary disease. Infect Immun 76(8):3429–3438. https://doi.org/10.1128/iai.01510-07

Dagenais TR, Keller NP (2009) Pathogenesis of Aspergillus fumigatus in invasive aspergillosis. Clin Microbiol Rev 22(3):447–465. https://doi.org/10.1128/cmr.00055-08

Davis JM, Albert JD, Tracy KJ, Calvano SE, Lowry SF, Shires GT, Yurt RW (1991) Increased neutrophil mobilization and decreased chemotaxis during cortisol and epinephrine infusions. J Trauma 31(6):725–731. https://doi.org/10.1097/00005373-199106000-00001

Dennis CG, Greco WR, Brun Y, Youn R, Slocum HK, Bernacki RJ, Lewis R, Wiederhold N, Holland SM, Petraitiene R, Walsh TJ, Segal BH (2006) Effect of amphotericin B and micafungin combination on survival, histopathology, and fungal burden in experimental aspergillosis in the p47phox−/− mouse model of chronic granulomatous disease. Antimicrob Agents Chemother 50(2):422–427. https://doi.org/10.1128/aac.50.2.422-427.2006

Johnson G, Ferrini A, Dolan SK, Nolan T, Agrawal S, Doyle S, Bustin SA (2014) Biomarkers for invasive aspergillosis: the challenges continue. Biomark Med 8(3):429–451. https://doi.org/10.2217/bmm.13.129

Kim KS (2006) ​Microbial translocation of the blood-brain barrier. Int J Parasitol 36(5):607–614

Kwang SK (2006) Microbial translocation of the blood-brain barrier. Int J Parasitol 36(5):607–614. https://doi.org/10.1016/j.ijpara.2006.01.013

Lionakis MS, Kontoyiannis DP (2003) Glucocorticoids and invasive fungal infections. Lancet (Lond, Engl) 362(9398):1828–1838. https://doi.org/10.1016/s0140-6736(03)14904-5

Martin H, Sarsat JP, de Waziers I, Housset C, Balladur P, Beaune P, Albaladejo V, Lerche-Langrand C (2003) Induction of cytochrome P450 2B6 and 3A4 expression by phenobarbital and cyclophosphamide in cultured human liver slices. Pharm Res 20(4):557–568. https://doi.org/10.1023/A:1023234429596

Mirkov I, Zolotarevski L, Glamočlija J, Kataranovski D, Kataranovski M (2008) Experimental disseminated aspergillosis in mice: histopathological study. J Mycol Méd 18(2):75–82. https://doi.org/10.1016/j.mycmed.2008.02.001

Mirkov I, Glamoclija J, Stosic-Grujicic S, Zolotarevski L, Kataranovski D, Kataranovski M (2013) Differential strain-related tissue immune response to sublethal systemic Aspergillus fumigatus infection in mice. Acta Pathol Microbiol Immunol Scand 121(3):211–220. https://doi.org/10.1111/j.1600-0463.2012.02958.x

Morgan J, Wannemuehler KA, Marr KA, Hadley S, Kontoyiannis DP, Walsh TJ, Fridkin SK, Pappas PG, Warnock DW (2005) Incidence of invasive aspergillosis following hematopoietic stem cell and solid organ transplantation: interim results of a prospective multicenter surveillance program. Med Mycol 43(Suppl 1):S49–S58

Nadkarni T, Goel A (2005) Aspergilloma of the brain: an overview. J Postgrad Med 51(Suppl 1):S37–S41

Nagy G, Hennig GW, Petrenyi K, Kovacs L, Pocsi I, Dombradi V, Banfalvi G (2014) Time-lapse video microscopy and image analysis of adherence and growth patterns of Candida albicans strains. Appl Microbiol Biotechnol 98(11):5185–5194. https://doi.org/10.1007/s00253-014-5696-5

Nawada R, Amitani R, Tanaka E, Niimi A, Suzuki K, Murayama T, Kuze F (1996) Murine model of invasive pulmonary aspergillosis following an earlier stage, noninvasive Aspergillus infection. J Clin Microbiol 34(6):1433–1439

Ng TTC, Robson GD, Denning DW (1994) Hydrocortisone-enhanced growth of Aspergillus spp.: implications for pathogenesis. Microbiology 140(9):2475–2479. https://doi.org/10.1099/13500872-140-9-2475

Palicz Z, Gall T, Leiter E, Kollar S, Kovacs I, Miszti-Blasius K, Pocsi I, Csernoch L, Szentesi P (2016) Application of a low molecular weight antifungal protein from Penicillium chrysogenum (PAF) to treat pulmonary aspergillosis in mice. Emerg Microb Infect 5(11):e114. https://doi.org/10.1038/emi.2016.116

Paulussen C, Boulet GA, Cos P, Delputte P, Maes LJ (2014) Animal models of invasive aspergillosis for drug discovery. Drug Discov Today 19(9):1380–1386. https://doi.org/10.1016/j.drudis.2014.06.006

Petrik M, Haas H, Laverman P, Schrettl M, Franssen GF, Blatzer M, Decristoforo C (2014) 68Ga-triacetylfusarinine C and 68Ga-ferrioxamine E for Aspergillus infection imaging: uptake specificity in various microorganisms. Mol Imaging Biol 16(1):102–108. https://doi.org/10.1007/s11307-013-0654-7

Pizer SM, Johnston RE, Rogers DC, Beard DV (1987) Effective presentation of medical images on an electronic display station. Radiographics 7(6):1267–1274. https://doi.org/10.1148/radiographics.7.6.3423333

Rafferty P, Biggs BA, Crompton GK, Grant IW (1983) What happens to patients with pulmonary aspergilloma? Analysis of 23 cases. Thorax 38(8):579–583. https://doi.org/10.1136/thx.38.8.579

Roilides EKU, Venzon D, Pizzo PA, Walsh TJ (1993) Enhancement of oxidative response and damage caused by human neutrophils to Aspergillus fumigatus hyphae by granulocyte colony-stimulating factor and gamma interferon. Infect Immun 61:1185–1193

Rosenberg RS, Creviston SA, Schonfeld AJ (1982) Invasive aspergillosis complicating resection of a pulmonary aspergilloma in a nonimmunocompromised host. Am Rev Respir Dis 126(6):1113–1115. https://doi.org/10.1164/arrd.1982.126.6.1113

Saleem MA, O'Hare MJ, Reiser J, Coward RJ, Inward CD, Farren T, Xing CY, Ni L, Mathieson PW, Mundel P (2002) A conditionally immortalized human podocyte cell line demonstrating nephrin and podocin expression. J Am Soc Nephrol 13(3):630–638

Schwartz S, Thiel E (2009) Cerebral aspergillosis: tissue penetration is the key. Med Mycol 47(Suppl 1):S387–S393. https://doi.org/10.1080/13693780802537953

Stergiopoulou T, Meletiadis J, Roilides E, Kleiner DE, Schaufele R, Roden M, Harrington S, Dad L, Segal B, Walsh TJ (2007) Host-dependent patterns of tissue injury in invasive pulmonary aspergillosis. Am J Clin Pathol 127(3):349–355. https://doi.org/10.1309/UJRV9DLC11RM3G8R

Trubiano JA, Dennison AM, Morissey CO, Chua KY, Halliday CL, Chen SC, Spelman D (2016) Clinical utility of panfungal polymerase chain reaction for the diagnosis of invasive fungal disease: a single center experience. Med Mycol 54(2):138–146. https://doi.org/10.1093/mmy/myv092
Ethics declarations
Conflict of interest
The authors declare that they have no conflict of interest.
Animal and human care
Animal experiments were carried out in our Experimental Animal Facility (reg. num. III/3.-KÁT./2015) under the supervision of the Animal Care Committee, University of Debrecen. The experimental protocol was approved by the Animal Care Committee (license number 2/2014 DEMAB). Animal experiments and care of research staff against A. fumigatus inhalation conformed to the general guidelines of the protection of European Community (86/609/EEC) and special guidelines of BSL2 (200/54/EC 16. Human protection against A. fumigatus inhalation included minimizing exposure to mold spores as much as possible, using respiratory protective equipment by observing the Health Protection Agency facemask guidelines and using the standard FFP2 equivalent to N95 HEPA filter.
About this article
Cite this article
Szigeti, Z.M., Talas, L., Palicz, Z. et al. Murine model to follow hyphal development in invasive pulmonary aspergillosis. Appl Microbiol Biotechnol 102, 2817–2825 (2018). https://doi.org/10.1007/s00253-018-8800-4
Received:

Revised:

Accepted:

Published:

Issue Date:

DOI: https://doi.org/10.1007/s00253-018-8800-4
Keywords