Abstract
The poultry industry aims to improve productivity while maintaining the health and welfare of flocks. Pathogen control has been achieved through biosecurity, vaccinations and the use of antibiotics. However, the emergence of antibiotic resistance, in animal and human pathogens, has prompted researchers and chicken growers alike to seek alternative approaches. The use of new and emerging approaches to combat pathogen activity including nanotechnology, in particular, silver nanoparticles (NPs), has been found to not only eradicate pathogenic bacteria but also include issues of toxicity and bioaccumulation effects. Other novel metal nanoparticles could provide this pathogen reducing property with a more tailored and biocompatible nanomaterial for the model used, something our study represents. This study investigated the benefits of nanomaterial delivery mechanisms coupled with important health constituents using selenium as a biocompatible metal to minimise toxicity properties. Selenium NPs were compared to two common forms of bulk selenium macronutrients already used in the poultry industry. An intermediate concentration of selenium nanoparticles (0.9 mg/kg) demonstrated the best performance, improving the gut health by increasing the abundance of beneficial bacteria, such as Lactobacillus and Faecalibacterium, and short-chain fatty acids (SCFAs), in particular butyric acid. SCFAs are metabolites produced by the intestinal tract and are used as an energy source for colonic cells and other important bodily functions. Selenium nanoparticles had no significant effect on live weight gain or abundance of potentially pathogenic bacteria.
Access options
Buy single article
Instant access to the full article PDF.
US$ 39.95
Tax calculation will be finalised during checkout.
Subscribe to journal
Immediate online access to all issues from 2019. Subscription will auto renew annually.
US$ 119
Tax calculation will be finalised during checkout.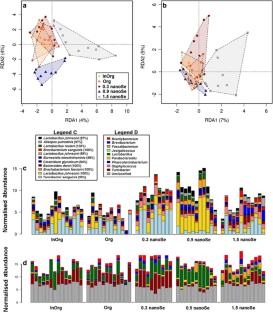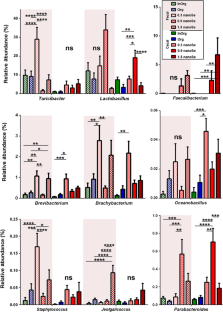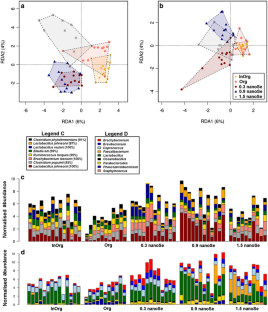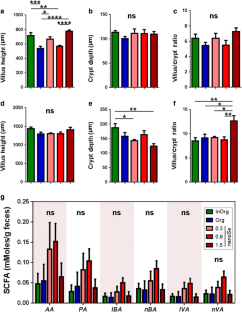 References
Altschul SF, Madden TL, Schaffer AA, Zhang J, Zhang Z, Miller W, Lipman DJ (1997) Gapped BLAST and PSI-BLAST: a new generation of protein database search programs. Nucleic Acids Res 25(17):3389–3402. https://doi.org/10.1093/nar/25.17.3389

Asarat M, Vasiljevic T, Apostolopoulos V, Donkor O (2015) Short chain fatty acids regulate secretion of IL-8 from human intestinal epithelial cell lines in vitro. Immunol Investig 44(7):678–693. https://doi.org/10.3109/08820139.2015.1085389

Ashelford KE, Chuzhanova NA, Fry JC, Jones AJ, Weightman AJ (2005) At least 1 in 20 16S rRNA sequence records currently held in public repositories is estimated to contain substantial anomalies. Appl Environ Microbiol 71(12):7724–7736. https://doi.org/10.1128/AEM.71.12.7724-7736.2005

Bosshard PP, Zbinden R, Altwegg M (2002) Turicibacter sanguinis gen. nov., sp. nov., a novel anaerobic, Gram-positive bacterium. Int J Syst Evol Microbiol 52(Pt 4):1263–1266. https://doi.org/10.1099/00207713-52-4-1263

Brandt-Kjelsen A, Govasmark E, Haug A, Salbu B (2014) Turnover of Se in adequately fed chickens using Se-75 as a tracer. J Anim Physiol Anim Nutr 98(3):547–558. https://doi.org/10.1111/jpn.12111

Cai SJ, Wu CX, Gong LM, Song T, Wu H, Zhang LY (2012) Effects of nano-selenium on performance, meat quality, immune function, oxidation resistance, and tissue selenium content in broilers. Poult Sci 91(10):2532–2539. https://doi.org/10.3382/ps.2012-02160

Caporaso JG, Kuczynski J, Stombaugh J, Bittinger K, Bushman FD, Costello EK, Fierer N, Pena AG, Goodrich JK, Gordon JI, Huttley GA, Kelley ST, Knights D, Koenig JE, Ley RE, Lozupone CA, McDonald D, Muegge BD, Pirrung M, Reeder J, Sevinsky JR, Turnbaugh PJ, Walters WA, Widmann J, Yatsunenko T, Zaneveld J, Knight R (2010) QIIME allows analysis of high-throughput community sequencing data. Nat Methods 7(5):335–336. https://doi.org/10.1038/nmeth.f.303

Chapman J, Weir E, Regan F (2010) Period four metal nanoparticles on the inhibition of biofouling. Colloids Surf B Biointerfaces 78(2):208–216. https://doi.org/10.1016/j.colsurfb.2010.03.002

Chen H, Langer R (1998) Oral particulate delivery: status and future trends. Adv Drug Deliv Rev 34(2):339–350. https://doi.org/10.1016/S0169-409X(98)00047-7

den Besten G, van Eunen K, Groen AK, Venema K, Reijngoud D-J, Bakker BM (2013) The role of short-chain fatty acids in the interplay between diet, gut microbiota, and host energy metabolism. J Lipid Res 54(9):2325–2340. https://doi.org/10.1194/jlr.R036012

DeSantis TZ, Hugenholtz P, Larsen N, Rojas M, Brodie EL, Keller K, Huber T, Dalevi D, Hu P, Andersen GL (2006) Greengenes, a chimera-checked 16S rRNA gene database and workbench compatible with ARB. Appl Environ Microbiol 72(7):5069–5072. https://doi.org/10.1128/AEM.03006-05

Edgar RC (2010) Search and clustering orders of magnitude faster than BLAST. Bioinformatics 26(19):2460–2461. https://doi.org/10.1093/bioinformatics/btq461

Emaneini M, Beigverdi R, van Leeuwen WB, Rahdar H, Karami-Zarandi M, Hosseinkhani F, Jabalameli F (2017) Prevalence of methicillin-resistant Staphylococcus aureus isolated from burn patients: a systematic review and meta-analysis. J Glob Antimicrob Resist. https://doi.org/10.1016/j.jgar.2017.10.015

Fadrosh DW, Ma B, Gajer P, Sengamalay N, Ott S, Brotman RM, Ravel J (2014) An improved dual-indexing approach for multiplexed 16S rRNA gene sequencing on the Illumina MiSeq platform. Microbiome 2(1):1–6

Florence AT, Hillery AM, Hussain N, Jani PU (1995) Nanoparticles as carriers for oral peptide absorption: studies on particle uptake and fate. J Control Release 36(1):39–46. https://doi.org/10.1016/0168-3659(95)00059-H

Gangadoo S, Stanley D, Hughes RJ, Moore RJ, Chapman J (2016) Nanoparticles in feed: progress and prospects in poultry research. Trends Food Sci Technol 58:115–126. https://doi.org/10.1016/j.tifs.2016.10.013

Gangadoo S, Stanley D, Hughes RJ, Moore RJ, Chapman J (2017) The synthesis and characterisation of highly stable and reproducible selenium nanoparticles. Inorg and Nano-Met Chem 47(11):1568–1776. https://doi.org/10.1080/24701556.2017.1357611

Gholami-Ahangaran M, Zia-Jahromi N (2012) Effect of nanosilver on blood parameters in chickens having aflatoxicosis. Toxicol Ind Health 30(2):192–196. https://doi.org/10.1177/0748233712452611

Goverse G, Molenaar R, Macia L, Tan J, Erkelens MN, Konijn T, Knippenberg M, Cook EC, Hanekamp D, Veldhoen M, Hartog A, Roeselers G, Mackay CR, Mebius RE (2017) Diet-derived short chain fatty acids stimulate intestinal epithelial cells to induce mucosal tolerogenic dendritic cells. J Immunol 198(5):2172–2181. https://doi.org/10.4049/jimmunol.1600165

Hamer HM, Jonkers D, Venema K, Vanhoutvin S, Troost FJ, Brummer RJ (2008) Review article: the role of butyrate on colonic function. Aliment Pharmacol Ther 27(2):104–119. https://doi.org/10.1111/j.1365-2036.2007.03562.x

Huda-Faujan N, Abdulamir AS, Fatimah AB, Anas OM, Shuhaimi M, Yazid AM, Loong YY (2010) The impact of the level of the intestinal short chain fatty acids in inflammatory bowel disease patients versus healthy subjects. Open Biochem J 4:53–58. https://doi.org/10.2174/1874091X01004010053

Jennifer M, Maciej W (2013) Nanoparticle technology as a double-edged sword: cytotoxic, genotoxic and epigenetic effects on living cells. J Biomater Nanobiotechnol 4(01):53–63. https://doi.org/10.4236/jbnb.2013.41008

Kelly CJ, Zheng L, Campbell EL, Saeedi B, Scholz CC, Bayless AJ, Wilson KE, Glover LE, Kominsky DJ, Magnuson A, Weir TL, Ehrentraut SF, Pickel C, Kuhn KA, Lanis JM, Nguyen V, Taylor CT, Colgan SP (2015) Crosstalk between microbiota-derived short-chain fatty acids and intestinal epithelial HIF augments tissue barrier function. Cell Host Microbe 17(5):662–671. https://doi.org/10.1016/j.chom.2015.03.005

Lim YF, de Loubens C, Love RJ, Lentle RG, Janssen PW (2015) Flow and mixing by small intestine villi. Food Funct 6(6):1787–1795. https://doi.org/10.1039/C5FO00285K

Maathuis FJ (2009) Physiological functions of mineral macronutrients. Curr Opin Plant Biol 12(3):250–258. https://doi.org/10.1016/j.pbi.2009.04.003

Macia L, Tan J, Vieira AT, Leach K, Stanley D, Luong S, Maruya M, Ian McKenzie C, Hijikata A, Wong C, Binge L, Thorburn AN, Chevalier N, Ang C, Marino E, Robert R, Offermanns S, Teixeira MM, Moore RJ, Flavell RA, Fagarasan S, Mackay CR (2015) Metabolite-sensing receptors GPR43 and GPR109A facilitate dietary fibre-induced gut homeostasis through regulation of the inflammasome. Nat Commun 6(6734):1–15

Marino E, Richards JL, McLeod KH, Stanley D, Yap YA, Knight J, McKenzie C, Kranich J, Oliveira AC, Rossello FJ, Krishnamurthy B, Nefzger CM, Macia L, Thorburn A, Baxter AG, Morahan G, Wong LH, Polo JM, Moore RJ, Lockett TJ, Clarke JM, Topping DL, Harrison LC, Mackay CR (2017) Gut microbial metabolites limit the frequency of autoimmune T cells and protect against type 1 diabetes. Nat Immunol 18(5):552–562. https://doi.org/10.1038/ni.3713

Miquel S, Martin R, Rossi O, Bermudez-Humaran LG, Chatel JM, Sokol H, Thomas M, Wells JM, Langella P (2013) Faecalibacterium prausnitzii and human intestinal health. Curr Opin Microbiol 16(3):255–261. https://doi.org/10.1016/j.mib.2013.06.003

Mohiuddin A (1964) The jejunal villi of the adult white rat during fat absorption. Acta Anat (Basel) 59(3):201–211. https://doi.org/10.1159/000142619

Obeng AS, Rickard H, Ndi O, Sexton M, Barton M (2012) Antibiotic resistance, phylogenetic grouping and virulence potential of Escherichia coli isolated from the faeces of intensively farmed and free range poultry. Vet Microbiol 154(3–4):305–315. https://doi.org/10.1016/j.vetmic.2011.07.010

Pal S, Tak YK, Song JM (2007) Does the antibacterial activity of silver nanoparticles depend on the shape of the nanoparticle? A study of the gram-negative bacterium Escherichia coli. Appl Environ Microbiol 73(6):1712–1720. https://doi.org/10.1128/AEM.02218-06

Park JH, Kotani T, Konno T, Setiawan J, Kitamura Y, Imada S, Usui Y, Hatano N, Shinohara M, Saito Y, Murata Y, Matozaki T (2016) Promotion of intestinal epithelial cell turnover by commensal bacteria: role of short-chain fatty acids. PLoS One 11(5):1–22

Peters RJ, Rivera ZH, van Bemmel G, Marvin HJ, Weigel S, Bouwmeester H (2014) Development and validation of single particle ICP-MS for sizing and quantitative determination of nano-silver in chicken meat. Anal Bioanal Chem 406(16):3875–3885. https://doi.org/10.1007/s00216-013-7571-0

Rai M, Yadav A, Gade A (2009) Silver nanoparticles as a new generation of antimicrobials. Biotechnol Adv 27(1):76–83. https://doi.org/10.1016/j.biotechadv.2008.09.002

Rehman HU, Vahjen W, Awad WA, Zentek J (2007) Indigenous bacteria and bacterial metabolic products in the gastrointestinal tract of broiler chickens. Arch Anim Nutr 61(5):319–335. https://doi.org/10.1080/17450390701556817

Rios-Covian D, Ruas-Madiedo P, Margolles A, Gueimonde M, de Los Reyes-Gavilan CG, Salazar N (2016) Intestinal short chain fatty acids and their link with diet and human health. Front Microbiol 7(185):1–9

Roume H, Muller EE, Cordes T, Renaut J, Hiller K, Wilmes P (2013) A biomolecular isolation framework for eco-systems biology. ISME J 7(1):110–121. https://doi.org/10.1038/ismej.2012.72

Sanders E, Ashworth C (1961) A study of particulate intestinal absorption and hepatocellular uptake: use of polystyrene latex particles. Exp Cell Res 22:137–145. https://doi.org/10.1016/0014-4827(61)90092-1

Sittiya J, Yamauchi K, Takata K (2016) Effect of replacing corn with whole-grain paddy rice and brown rice in broiler diets on growth performance and intestinal morphology. J Anim Physiol Anim Nutr (Berl) 100(2):381–390. https://doi.org/10.1111/jpn.12357

Speich M, Pineau A, Ballereau F (2001) Minerals, trace elements and related biological variables in athletes and during physical activity. Clin Chim Acta 312(1–2):1–11. https://doi.org/10.1016/S0009-8981(01)00598-8

Stanley D, Geier MS, Chen H, Hughes RJ, Moore RJ (2015) Comparison of fecal and cecal microbiotas reveals qualitative similarities but quantitative differences. BMC Microbiol 15(1):1–11

Sun Y, O'Riordan MX (2013) Regulation of bacterial pathogenesis by intestinal short-chain fatty acids. Adv Appl Microbiol 85:93–118. https://doi.org/10.1016/B978-0-12-407672-3.00003-4

Thorburn AN, McKenzie CI, Shen S, Stanley D, Macia L, Mason LJ, Roberts LK, Wong CHY, Shim R, Robert R, Chevalier N, Tan JK, Mariño E, Moore RJ, Wong L, McConville MJ, Tull DL, Wood LG, Murphy VA, Mattes J, Gibson PR, Mackay CR (2015) Evidence that asthma is a developmental origin disease influenced by maternal diet and bacterial metabolites. Nat Commun 6(7320):1–13

Underwood MA (2014) Intestinal dysbiosis: novel mechanisms by which gut microbes trigger and prevent disease. Prev Med 65:133–137. https://doi.org/10.1016/j.ypmed.2014.05.010

Vieira de Souza F, Roque R, Silva Moreira JL, Resende de Souza M, Nicoli JR, Neumann E, Cantini Nunes A (2012) Transfer of antibiotic resistance determinants between lactobacilli isolates from the gastrointestinal tract of chicken. Benef Microbes 3(2):137–144. https://doi.org/10.3920/BM2011.0058

Zakrzewski M, Proietti C, Ellis JJ, Hasan S, Brion MJ, Berger B, Krause L (2016) Calypso: a user-friendly web-server for mining and visualizing microbiome-environment interactions. Bioinformatics 33(5):782–783

Zarei M, Jamnejad A, Khajehali E (2014) Antibacterial effect of silver nanoparticles against four foodborne pathogens. Jundishapur J Microbiol 7(1):1–4

Zhou X, Wang Y (2011) Influence of dietary nano elemental selenium on growth performance, tissue selenium distribution, meat quality, and glutathione peroxidase activity in Guangxi Yellow chicken. Poult Sci 90(3):680–686. https://doi.org/10.3382/ps.2010-00977
Acknowledgements
We wish to acknowledge and appreciate the help provided by Jason Bell in all aspects of high performance computing. We also thank Giselle Weegenaar, Judy Couper, Stephen Baldwin and Ingrid Christensen for their assistance in the animal trial and molecular methods. DS is an ARC DECRA fellow.
Funding
This research was funded by the Poultry CRC, established under the Australian Government's Cooperative Research Centres Program.
Ethics declarations
Conflict of interest
The authors declare that they have no conflict of interest.
Ethical approval
Animal ethics approvals were obtained from the Animal Ethics Committee at Central Queensland University with the approval number A15/07-333.
Electronic supplementary material
About this article
Cite this article
Gangadoo, S., Dinev, I., Chapman, J. et al. Selenium nanoparticles in poultry feed modify gut microbiota and increase abundance of Faecalibacterium prausnitzii . Appl Microbiol Biotechnol 102, 1455–1466 (2018). https://doi.org/10.1007/s00253-017-8688-4
Received:

Revised:

Accepted:

Published:

Issue Date:
Keywords
Intestinal microbiota

Selenium

Nanoparticles

Faecalibacterium prausnitzii