Abstract
Despite the reason that genus Acinetobacter works as a grave human pathogen, very few numbers of researches have been done so that term it as a pathogen in respect to fish. As per the current study, isolation of three pathogenic bacterial strains was carried out from infected blunt snout bream (Megalobrama amblycephala Yih), from a farm in Yixing city, Jiangsu province, China, which displayed symptoms like tail-rot, shedding scales and ascites in addition to gentle ulceration on the entire body regardless of size and sex of fish. Taking into account the bases of morphology, varied biochemical tests, 16S rDNA segment and rpoB gene sequence analysis, in addition to phylogenetic study, the pathogenic bacteria was identified as A. pittii. Recursive infectivity experiment validated their pathogenicity. Pathological modifications of blunt snout bream infected with A. pittii were taken into observation. Confirmation of the pathogenicity was additionally made by infectivity studies of zebra fish (Brachydanio rerio) and nematode (Caenorhabditis elegans). The drug resistance of these isolates was also scrutinized. All isolates, recognized as multiple drug resistant strains, showcased resistance to clindamycin, streptomycin, vancomycin, cephalosporins, ampicillin, piperacillin, and trimethoprim-sulfamethoxazole, while showcasing sensitivity to norfloxacin, gentamicin, amikacin, and imipenem. Multi-locus sequence typing of these A. pittii isolates brought to light a new clonal lineage of Acinetobacter leading to fish septicemia outbreaks together with indicating that Acinetobacter stains with the new sequence type 839 may be the dominant clone. This is the first report dealing with the infection caused by A. pittii in fish that suggests that A. pittii has a prospective threat to be encountered by freshwater fish farming in addition to causing human clinical infections.
Access options
Buy single article
Instant access to the full article PDF.
US$ 39.95
Tax calculation will be finalised during checkout.
Subscribe to journal
Immediate online access to all issues from 2019. Subscription will auto renew annually.
US$ 119
Tax calculation will be finalised during checkout.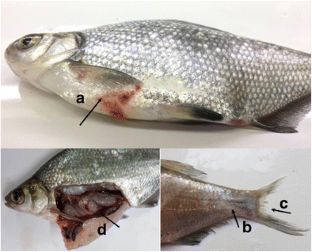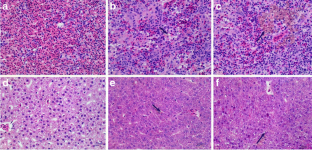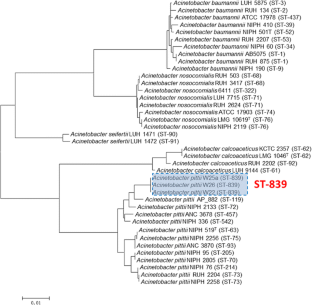 References
(CLSI) CaLSI (2006a) Methods for antimicrobial dilution and disk susceptibility testing of infrequently isolated or fastidious bacteria. CLSI document M49-A 1-56238-612-3. Clinical and Laboratory Standards Institute, Wayne

(CLSI) CaLSI (2006b) Methods for antimicrobial disk susceptibility testing of bacteria isolated from aquatic animals. Approved guideline CLSI document M42-A 1-56238-611-5. Clinical and Laboratory Standards Institute, Wayne

Adékambi T, Drancourt M, Raoult D (2009) The rpoB gene as a tool for clinical microbiologists. Trends Microbiol 17:9. doi:10.1016/j.tim.2008.09.008

Agerso Y, Petersen A (2007) The tetracycline resistance determinant Tet 39 and the sulphonamide resistance gene sulII are common among resistant Acinetobacter spp. isolated from integrated fish farms in Thailand. J Antimicrob Chemother 59(1):23–27. doi:10.1093/jac/dkl419

Álvarez-Buylla A, Culebras E, Picazo JJ (2012) Identification of Acinetobacter species: is Bruker biotyper MALDI-TOF mass spectrometry a good alternative to molecular techniques? Infect Genet Evol 12(2):345–349. doi:10.1016/j.meegid.2012.01.002

Bergogne-Bérézin ETK (1996) Acinetobacter spp. as nosocomial pathogens: microbiological, clinical, and epidemiological features. Clin Microbiol Rev 9(2):148–165

Brahmi S, Touati A, Cadiere A, Djahmi N, Pantel A, Sotto A, Lavigne JP, Dunyach-Remy C (2016) First description of two sequence type 2 Acinetobacter baumannii isolates carrying OXA-23 carbapenemase in Pagellus acarne fished from the Mediterranean Sea near Bejaia, Algeria. Antimicrob Agents Chemother 60(4):2513–2515. doi:10.1128/AAC.02384-15

Delong EF (1992) Archaea in coastal marine environments. Proc Natl Acad Sci U S A 89(12):5 Acinetobacter baumannii MLST database. Accessed 16.05.06

Diancourt L, Passet V, Nemec A, Dijkshoorn L, Brisse S (2010) The population structure of Acinetobacter baumannii: expanding multiresistant clones from an ancestral susceptible genetic pool. PLoS One 5(4):e10034. doi:10.1371/journal.pone.0010034

Gao Z, Wei L, Liu H, Zeng C, Xiaolian L, Yi S, Wang W (2012) Transcriptome analysis and SSR/SNP markers information of the blunt snout bream (Megalobrama amblycephala). PLoS One 7(8):e42637. doi:10.1371/journal.pone.0042637

Gerner-Smidt P, Tjernberg I, Ursing J (1991) Reliability of phenotypic tests for identification of Acinetobacter species. J Clin Microbiol 29(2):277–282

Gu T, Lu C, Chen H (1997) Acinetobacter baumannii, a novel pathogen of acute epidemic in mandarin fish (Siniperca chuatsi). Microbiology 2:104–106

Gu DX, Hu YJ, Zhou HW, Zhang R, Chen GX (2015) Substitutions of Ser83Leu in gyrA and Ser80Leu in parC associated with quinolone resistance in Acinetobacter pittii. Microb Drug Resist 21(3):345–351. doi:10.1089/mdr.2014.0057

Gundi VAKB, Dijkshoorn L, Burignat S, Raoult D, La Scola B (2009) Validation of partial rpoB gene sequence analysis for the identification of clinically important and emerging Acinetobacter species. Microbiology 155(7):2333–2341. doi:10.1099/mic.0.026054-0

Jacobs AC, Thompson MG, Black CC, Kessler JL, Clark LP, McQueary CN, Gancz HY, Corey BW, Moon JK, Si Y, Owen MT, Hallock JD, Kwak YI, Summers A, Li CZ, Rasko DA, Penwell WF, Honnold CL, Wise MC, Waterman PE, Lesho EP, Stewart RL, Actis LA, Palys TJ, Craft DW, Zurawski DV (2014) AB5075, a highly virulent isolate of Acinetobacter baumannii, as a model strain for the evaluation of pathogenesis and antimicrobial treatments. MBio 5(3):e01076–e01014. doi:10.1128/mBio.01076-14

Janda JM, Abbott SL (2007) 16S rRNA gene sequencing for bacterial identification in the diagnostic laboratory: pluses, perils, and pitfalls. J Clin Microbiol 45(9):2761–2764. doi:10.1128/jcm.01228-07

Kaase M, Szabados F, Pfennigwerth N, Anders A, Geis G, Pranada AB, Rossler S, Lang U, Gatermann SG (2014) Description of the metallo-beta-lactamase GIM-1 in Acinetobacter pittii. J Antimicrob Chemother 69(1):81–84. doi:10.1093/jac/dkt325

Kamolvit W, Derrington P, Paterson DL, Sidjabata HE (2015) A case of IMP-4-, OXA-421-, OXA-96-, and CARB-2-producing Acinetobacter pittii sequence type 119 in Australia. J Clin Microbiol 53(2):727–730. doi:10.1128/JCM.02726-14

Karah N, Haldorsen B, Hegstad K, Simonsen GS, Sundsfjord A, Samuelsen O (2011) Species identification and molecular characterization of Acinetobacter spp. blood culture isolates from Norway. J Antimicrob Chemother 66(4):738–744. doi:10.1093/jac/dkq521

Kim YO, Kim WJ, Choi SH, Kim DS, Kim DW, Lee JS, Kong HJ, Nam BH, Kim BS, Lee SJ, Park HS, Chae SH (2011) Genome sequence of Acinetobacter sp. strain P8-3-8, isolated from Fistularia commersonii in Vietnam. J Bacteriol 193(16):4288–4289. doi:10.1128/JB.05333-11

Kim YO, Heo YL, Kim HK, Nam BH, Kong HJ, Kim DG, Kim WJ, Kim BS, Jee YJ, Lee SJ (2012) Gene cloning and characterization of a cold-adapted esterase from Acinetobacter venetianus V28. J Microbiol Biotechnol 22(9):1245–1252

Kozińska A, Paździor E, Pękala A, Niemczuk W (2014) Acinetobacter johnsonii and Acinetobacter lwoffii - the emerging fish pathogens. B VET I PULAWY 58(2):193–199. doi:10.2478/bvip-2014-0029

Lee MJ, Jang SJ, Li XM, Park G, Kook JK, Kim MJ, Chang YH, Shin JH, Kim SH, Kim DM, Kang SH, Moon DS (2014) Comparison of rpoB gene sequencing, 16S rRNA gene sequencing, gyrB multiplex PCR, and the VITEK2 system for identification of Acinetobacter clinical isolates. Diagn Microbiol Infect Dis 78(1):29–34. doi:10.1016/j.diagmicrobio.2013.07.013

Maslunka C, Gurtler V, Seviour RJ (2015) The impact of horizontal gene transfer on targeting the internal transcribed spacer region (ITS) to identify Acinetobacter junii strains. J Appl Microbiol 118(6):1435–1443. doi:10.1111/jam.12800

Montealegre MC, Maya JJ, Correa A, Espinal P, Mojica MF, Ruiz SJ, Rosso F, Vila J, Quinn JP, Villegas MV (2012) First identification of OXA-72 carbapenemase from Acinetobacter pittii in Colombia. Antimicrob Agents Chemother 56(7):3996–3998. doi:10.1128/aac.05628-11

Nemec A, Krizova L, Maixnerova M, van der Reijden TJK, Deschaght P, Passet V, Vaneechoutte M, Brisse S, Dijkshoorn L (2011) Genotypic and phenotypic characterization of the Acinetobacter calcoaceticus–Acinetobacter baumannii complex with the proposal of Acinetobacter pittii sp. nov. (formerly Acinetobacter genomic species 3) and Acinetobacter nosocomialis sp. nov. (formerly Acinetobacter genomic species 13TU). Res Microbiol 162(4):393–404. doi:10.1016/j.resmic.2011.02.006

Nemec A, Krizova L, Maixnerova M, Sedo O, Brisse S, Higgins PG (2015) Acinetobacter seifertii sp. nov., a member of the Acinetobacter calcoaceticus-Acinetobacter baumannii complex isolated from human clinical specimens. Int J Syst Evol Microbiol 65(Pt 3):934–942. doi:10.1099/ijs.0.000043

Pagano M, Poirel L, Martins AF, Rozales FP, Zavascki AP, Barth AL, Nordmann P (2015) Emergence of NDM-1-producing Acinetobacter pittii in Brazil. Int J Antimicrob Agents 45(4):444–445. doi:10.1016/j.ijantimicag.2014.12.011

Pang MD, Lin XQ, Hu M, Li J, Lu CP, Liu YJ (2012) Tetrahymena: an alternative model host for evaluating virulence of Aeromonas strains. PLoS One 7(11):e48922. doi:10.1371/journal.pone.0048922

Pang M, Jiang J, Xie X, Wu Y, Dong Y, Kwok AH, Zhang W, Yao H, Lu C, Leung FC, Liu Y (2015) Novel insights into the pathogenicity of epidemic Aeromonas hydrophila ST251 clones from comparative genomics. Sci Rep 5:9833. doi:10.1038/srep09833

Park YK, Jung SI, Park KH, Kim SH, Ko KS (2012) Characteristics of carbapenem-resistant Acinetobacter spp. other than Acinetobacter baumannii in South Korea. Int J Antimicrob Agents 39(1):81–85. doi:10.1016/j.ijantimicag.2011.08.006

Rauta PR, Kumar K, Sahoo PK (2011) Emerging new multi-drug resistant bacterial pathogen, A. baumannii associated with snakehead eye infection. Curr Sci 101:548–553

Reed LJ, Muench L (1938) A simple method of estimating fifty percent endpoints. Am J Trop Med Hyg 27:493–497

Roca I, Mosqueda N, Altun B, Espinal P, Akova M, Vila J (2014) Molecular characterization of NDM-1-producing Acinetobacter pittii isolated from Turkey in 2006. J Antimicrob Chemother 69(12):3437–3438. doi:10.1093/jac/dku306

Russo TA, Luke NR, Beanan JM, Olson R, Sauberan SL, MacDonald U, Schultz LW, Umland TC, Campagnari AA (2010) The K1 capsular polysaccharide of Acinetobacter baumannii strain 307-0294 is a major virulence factor. Infect Immun 78(9):3993–4000. doi:10.1128/iai.00366-10

Sung JY, Koo SH, Kim S, Kwon GC (2015) Emergence of Acinetobacter pittii harboring New Delhi metallo-beta-lactamase genes in Daejeon, Korea. Ann Lab Med 35(5):531–534. doi:10.3343/alm.2015.35.5.531

Tjernberg I, Ursing J (1989) Clinical strains of Acinetobacter classified by DNA-DNA hybridization. Acta Pathol Acta Histochem 97(7):595–605

Wang X, Chen T, Yu R, Lü X, Zong Z (2013) Acinetobacter pittii and Acinetobacter nosocomialis among clinical isolates of the Acinetobacter calcoaceticus-baumannii complex in Sichuan, China. Diagn Microbiol Infect Dis 76(3):392–395. doi:10.1016/j.diagmicrobio.2013.03.020

Wang J, Ruan Z, Feng Y, Fu Y, Jiang Y, Wang H, Yu Y (2014) Species distribution of clinical Acinetobacter isolates revealed by different identification techniques. PLoS One 9(8):7. doi:10.1371/journal.pone.0104882.t001

Wisplinghoff H, Edmond MB, Pfaller MA, Jones RN, Wenzel RP, Seifert H (2000) Nosocomial bloodstream infections caused by Acinetobacter species in United States hospitals: clinical features, molecular epidemiology, and antimicrobial susceptibility. Clin Infect Dis 31(3):690–697. doi:10.1086/314040

Xia L, Xiong D, Gu Z, Xu Z, Chen C, Xie J, Xu P (2008) Recovery of Acinetobacter baumannii from diseased channel catfish (Ictalurus punctatus) in China. Aquaculture 284(1–4):285–288. doi:10.1016/j.aquaculture.2008.07.038

Zhan Y, Yan Y, Zhang W, Yu H, Chen M, Lu W, Ping S, Peng Z, Yuan M, Zhou Z, Elmerich C, Lin M (2011) Genome sequence of Acinetobacter calcoaceticus PHEA-2, isolated from industry wastewater. J Bacteriol 193(10):2672–2673. doi:10.1128/jb.00261-11

Zong Z, Zhang X (2013) blaNDM-1-carrying Acinetobacter johnsonii detected in hospital sewage. J Antimicrob Chemother 68(5):1007–1010. doi:10.1093/jac/dks505
Acknowledgments
We thank for Prof. Lu Chengping and Prof. Liu Yongjie at Nanjing Agricultural University for generously providing the A. hydrophila J-1 strain. We thank for Prof. Dr. Sun at State Key Laboratory of Agricultural Microbiology, Huazhong Agricultural University for generously providing the C. elegans N2 strain.
Ethics declarations
Funding
This study was funded by grants from the Fundamental Research Funds for the Central Universities [52902-0900206088] and the Natural Science Foundation of Hubei Province [2014CKB504].
Conflict of interest
The authors declare that they have no conflict of interest.
Ethical approval
Animal ethics approval for the present project was obtained from the Animal Ethics Committee of Huazhong Agricultural University.
About this article
Cite this article
Li, J., Cao, J., Wang, X. et al. Acinetobacter pittii, an emerging new multi-drug resistant fish pathogen isolated from diseased blunt snout bream (Megalobrama amblycephala Yih) in China. Appl Microbiol Biotechnol 101, 6459–6471 (2017). https://doi.org/10.1007/s00253-017-8392-4
Received:

Revised:

Accepted:

Published:

Issue Date:
Keywords
Acinetobacter pittii

Blunt snout bream

Pathogenic

Bioassay

Drug susceptibility

Multi-locus sequence typing