Abstract
Intertidal mangrove wetlands are of great economic and ecological importance. The regular influence of tides has led to the microbial communities in these wetlands differing significantly from those in other habitats. In this study, we investigated the microbiomes of the two largest mangrove wetlands in Hainan Island, China, which have different levels of anthropogenic protection. Soil samples were collected from the root zone of 13 mangrove species. The microbial composition, including key functional groups, was assessed using Illumina sequencing. Bioinformatics analysis showed that there was a significant difference in the microbiomes between the protected Bamen Bay and the unprotected Dongzhai Bay. The overall microbiome was assigned into 78 phyla and Proteobacteria was the most abundant phylum at both sites. In the protected wetland, there were fewer marine-related microbial communities, such as sulfate-reducing bacteria, and more terrestrial-related communities, such as Verrucomicrobia methanotrophs. We also observed distinct microbial compositions among the different mangrove species at the protected site. Our data suggest that the different microbiomes of the two mangrove wetlands are the result of a complex interaction of the different environmental variables at the two sites.
This is a preview of subscription content, log in to check access.
Access options
Buy single article
Instant access to the full article PDF.
US$ 39.95
Price includes VAT for USA
Subscribe to journal
Immediate online access to all issues from 2019. Subscription will auto renew annually.
US$ 199
This is the net price. Taxes to be calculated in checkout.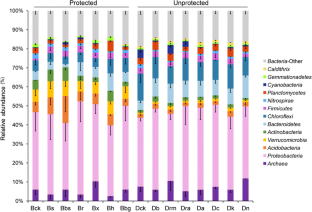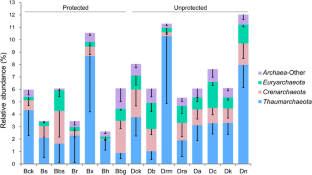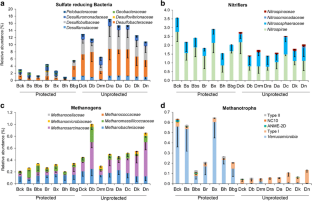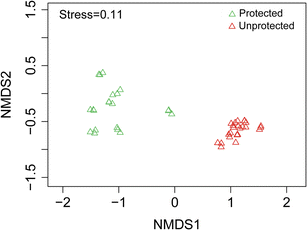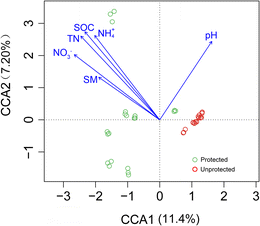 References
Amaral-Zettler L, Artigas LF, Baross J, Bharathi L, Boetius A, Chandramohan D, Herndl G, Kogure K, Neal P, Pedrós-Alió C (2010) A global census of marine microbes. In: McIntyre A (ed) Life in the world's oceans: diversity, distribution and abundance. Blackwell Publishing Ltd, Oxford, pp 223–245

Bae HS, Holmes ME, Chanton JP, Reddy KR, Ogram A (2015) Distribution, activities, and interactions of methanogens and sulfate-reducing prokaryotes in the Florida Everglades. Appl Environ Microbiol 81:7431–7442. doi:10.1128/AEM.01583-15

Bai SJ, Li JW, He ZL, Van Nostrand JD, Tian Y, Lin GH, Zhou JZ, Zheng TL (2013) GeoChip-based analysis of the functional gene diversity and metabolic potential of soil microbial communities of mangroves. Appl Environ Microbiol 97:7035–7048. doi:10.1007/s00253-012-4496-z

Basak P, Pramanik A, Sengupta S, Nag S, Bhattacharyya A, Roy D, Pattanayak R, Ghosh A, Chattopadhyay D, Bhattacharyya M (2016) Bacterial diversity assessment of pristine mangrove microbial community from Dhulibhashani, Sundarbans using 16S rRNA gene tag sequencing. Genomics data 7:76–78. doi:10.1016/j.gdata.2015.11.030

Berg G, Smalla K (2009) Plant species and soil type cooperatively shape the structure and function of microbial communities in the rhizosphere. FEMS Microbiol Ecol 68:1–13. doi:10.1111/j.1574-6941.2009.00654.x 1-13

Blumenberg M, Seifert R, Reitner J, Pape T, Michaelis W (2004) Membrane lipid patterns typify distinct anaerobic methanotrophic consortia. Proc Natl Acad Sci U S A 101:11111–11116. doi:10.1073/pnas.0401188101

Bragina A, Berg C, Berg G (2015) The core microbiome bonds the Alpine bog vegetation to a transkingdom metacommunity. Mol Ecol 24:4795–4807. doi:10.1111/mec.13342

Caporaso J, Lauber CL, Walters WA, Berg-Lyons D, Huntley J, Fierer N, Owens SM, Betley J, Fraser L, Bauer M (2012) Ultra-high-throughput microbial community analysis on the Illumina HiSeq and MiSeq platforms. ISME J 6:1621–1624. doi:10.1038/ismej.2012.8

Carey CJ, Beman JM, Eviner VT, Malmstrom CM, Hart SC (2015) Soil microbial community structure is unaltered by plant invasion, vegetation clipping, and nitrogen fertilization in experimental semi-arid grasslands. Front Microbiol 6:466. doi:10.3389/fmicb.2015.00466

Castle SC, Lekberg Y, Affleck D, Cleveland CC (2016) Soil abiotic and biotic controls on plant performance during primary succession in a glacial landscape. J Ecol. doi:10.1111/1365-2745.12615

Chen Q, Zhao Q, Li J, Jian S, Ren H (2016) Mangrove succession enriches the sediment microbial community in South China. Sci Rep 6:27468. doi:10.1038/srep27468

Contosta AR, Frey SD, Cooper AB (2015) Soil microbial communities vary as much over time as with chronic warming and nitrogen additions. Soil Biol Biochem 88:19–24. doi:10.1016/j.soilbio.2015.04.013

Coolon JD, Jones KL, Todd TC, Blair JM, Herman MA (2013) Long-term nitrogen amendment alters the diversity and assemblage of soil bacterial communities in tallgrass prairie. PLoS One 8(6):e67884. doi:10.1371/journal.pone.0067884

R Core Team (2015) R: a language and environment for statistical computing Foundation for Statistical Computing, Vienna, Austria. URL https://www.R-project.org/

Das S, De M, Ganguly D, Maiti TK, Mukherjee A, Jana TK, De TK (2012) Depth integrated microbial community and physico-chemical properties in mangrove soil of Sundarban, India. Adv Microbiol 2:234. doi:10.4236/aim.2012.23028

Deng Y, Cui XY, Hernández M, Dumont MG (2014) Microbial diversity in hummock and hollow soils of three wetlands on the Qinghai-Tibetan Plateau revealed by 16S rRNA pyrosequencing. PLoS One 9(7):e103115. doi:10.1371/journal.pone.0103115

Dos Santos HF, Cury JC, Do Carmo FL, Dos Santos AL, Tiedje J, Van Elsas JD, Peixoto RS (2011) Mangrove bacterial diversity and the impact of oil contamination revealed by pyrosequencing: bacterial proxies for oil pollution. PLoS One 6(3):e16943. doi:10.1371/journal.pone.0016943

Ettwig KF, Butler MK, Le Paslier D, Pelletier E, Mangenot S, Kuypers MM, Schreiber F, Dutilh BE, Zedelius J, De Beer D (2010) Nitrite-driven anaerobic methane oxidation by oxygenic bacteria. Nature 464:543–548. doi:10.1038/nature08883

Fry JC, Parkes RJ, Cragg BA, Weightman AJ, Webster G (2008) Prokaryotic biodiversity and activity in the deep subseafloor biosphere. FEMS Microbiol Ecol 66:181–196. doi:10.1111/j.1574-6941.2008.00566.x

Gomes NM, Flocco CG, Costa R, Junca H, Vilchez R, Pieper DH, Krögerrecklenfort E, Paranhos R, Mendonça-Hagler LS, Smalla K (2010) Mangrove microniches determine the structural and functional diversity of enriched petroleum hydrocarbon-degrading consortia. FEMS Microbiol Ecol 74:276–290. doi:10.1111/j.1574-6941.2010.00962.x 276-290

Grayston SJ, Wang S, Campbell CD, Edwards AC (1998) Selective influence of plant species on microbial diversity in the rhizosphere. Soil Biol Biochem 30:369–378. doi:10.1016/S0038-0717(97)00124-7

Guo JL, Qin YY, Zhu YJ, Guo ZH, Wu GJ (2014) Correlation between mangrove species distribution and soil environmental factors at Qinglan Harbour, Hainan Province, China. Forest Res 27:149–157 (In Chinese)

Hanan EJ, Schimel JP, Dowdy K, D'Antonio CM (2016) Effects of substrate supply, pH, and char on net nitrogen mineralization and nitrification along a wildfire-structured age gradient in chaparral. Soil Biol Biochem 95:87–99. doi:10.1016/j.soilbio.2015.12.017

Jiang XT, Peng X, Deng GH, Sheng HF, Wang Y, Zhou HW, Tam NF (2013) Illumina sequencing of 16S rRNA tag revealed spatial variations of bacterial communities in a mangrove wetland. Microb Ecol 66(1):96–104. doi:10.1007/s00248-013-0238-8

Jing HM, Cheung SY, Zhou Z, Wu C, Nagarajan S, Liu HB (2016) Spatial variations of the methanogenic communities in the sediments of tropical mangroves. Plos One 11(9):e0161065. doi:10.1371/journal.pone.0161065

Kaiser K, Wemheuer B, Korolkow V, Wemheuer F, Nacke H, Schöning I, Schrumpf M, Daniel R (2016) Driving forces of soil bacterial community structure, diversity, and function in temperate grasslands and forests. Sci Rep 6. doi:10.1038/srep33696

Kim BS, Kim BK, Lee JH, Kim M, Lim YW, Chun J (2008) Rapid phylogenetic dissection of prokaryotic community structure in tidal flat using pyrosequencing. J Microbiol 46(4):357–363. doi:10.1007/s12275-008-0071-9

Lauber CL, Hamady M, Knight R, Fierer N (2009) Pyrosequencing-based assessment of soil pH as a predictor of soil bacterial community structure at the continental scale. Appl Environ Microbiol 75:5111–5120. doi:10.1128/AEM.00335-09

Mebius LJ (1960) A rapid method for the determination of organic carbon in soil. Anal Chim Acta 22:120–124

Oksanen J, Kindt R, Legendre P, O'Hara B, Stevens MH, Oksanen MJ, Suggests MS (2015) Vegan: community ecology package. R package version 2.3-0. http://CRAN.R-project.org/package=vegan

Orcutt BN, Sylvan JB, Knab NJ, Edwards KJ (2011) Microbial ecology of the dark ocean above, at, and below the seafloor. Microbiol Mol Biol Rev 75:361–422. doi:10.1128/MMBR.00039-10

Ozuolmez D, Na H, Lever MA, Kjeldsen KU, Jørgensen BB, Plugge CM (2015) Methanogenic archaea and sulfate reducing bacteria co-cultured on acetate: teamwork or coexistence? Front Microbiol 6:492. doi:10.3389/fmicb.2015.00492

Pires AC, Cleary DR, Almeida A, Cunha Â, Dealtry S, Mendonça-Hagler LS, Smalla K, Gomes NM (2012) Denaturing gradient gel electrophoresis and barcoded pyrosequencing reveal unprecedented archaeal diversity in mangrove sediment and rhizosphere samples. Appl Environ Microbiol 78:5520–5528. doi:10.1128/AEM.00386-12

Prasse CE, Baldwin AH, Yarwood SA (2015) Site history and edaphic features override the influence of plant species on microbial communities in restored tidal freshwater wetlands. Appl Environ Microbiol 81:3482–3491. doi:10.1128/AEM.00038-15

Shade A, Handelsman J (2012) Beyond the Venn diagram: the hunt for a core microbiome. Environ Microbiol 14:4–12. doi:10.1111/j.1462-2920.2011.02585.x

Smalla K, Wieland G, Buchner A, Zock A, Parzy J, Kaiser S, Roskot N, Heuer H, Berg G (2001) Bulk and rhizosphere soil bacterial communities studied by denaturing gradient gel electrophoresis: plant-dependent enrichment and seasonal shifts revealed. Appl Environ Microbiol 67:4742–4751. doi:10.1128/AEM.67.10.4742-4751.2001

Tian HT, Cao LL, WangP XJ, He YS (2013) Distribution and ecological evaluation of heavy metals in multi-medium of the Dongzhai Harbor. Mar Sci Bull 2:008

Tkacz A, Cheema J, Chandra G, Grant A, Poole PS (2015) Stability and succession of the rhizosphere microbiota depends upon plant type and soil composition. ISME J 9:2349–2359. doi:10.1038/ismej.2015.41

Wang Q, Garrity GM, Tiedje JM, Cole JR (2007) Naive Bayesian classifier for rapid assignment of rRNA sequences into the new bacterial taxonomy. Appl Environ Microbiol 73:5261–5267. doi:10.1128/AEM.00062-07

Wang Y, Sheng HF, He Y, Wu JY, Jiang YX, Tam NFY, Zhou HW (2012) Comparison of the levels of bacterial diversity in freshwater, intertidal wetland, and marine sediments by using millions of Illumina tags. Appl Environ Microbiol 78:8264–8271. doi:10.1128/AEM.01821-12

Weiss C, Weiss J, Boy J, Iskandar I, Mikutta R, Guggenberger G (2016) Soil organic carbon stocks in estuarine and marine mangrove ecosystems are driven by nutrient colimitation of P and N. Ecol Evol 6:5043–5056. doi:10.1002/ece3.2258

Wietz M, Wemheuer B, Simon H, Giebel HA, Seibt MA, Daniel R, Brinkhoff T, Simon M (2015) Bacterial community dynamics during polysaccharide degradation at contrasting sites in the southern and Atlantic oceans. Environ Microbiol 17:3822–3831. doi:10.1111/1462-2920.12842

Yuen SH, Pollard AG (1953) Determination of nitrogen in soil and plant materials: use of boric acid in the micro-Kjeldahl method. J Sci Food Agr 4:490–496

Yun J, Ju Y, Deng Y, Zhang H (2014) Bacterial community structure in two permafrost wetlands on the Tibetan Plateau and Sanjiang Plain, China. Microb Ecol 68:360–369. doi:10.1007/s00248-014-0415-4

Yun JL, Zhang HX, Deng YC, Wang YF (2015) Aerobic methanotroph diversity in Sanjiang wetland, Northeast China. Microb Ecol 69(3):567–576. doi:10.1007/s00248-014-0506-2

Zhalnina K, Dias R, de Quadros PD, Davis-Richardson A, Camargo FO, Clark IM, McGrath SP, Hirsch PR, Triplett EW (2015) Soil pH determines microbial diversity and composition in the park grass experiment. Microb Ecol 69:395–406. doi:10.1007/s00248-014-0530-2

Zhang QM, Sui SZ (2001) Mangrove wetland resources and its protection in China. J Nat Resourc 16:28–36 (In Chinese)

Zhang SP, Liao SA, Yu XY, Lu HW, Xian JA, Guo H, Wang AL, Xie J (2015) Microbial diversity of mangrove sediment in Shenzhen Bay and gene cloning, characterization of an isolated phytase-producing strain of SPC09 B. cereus. Appl Microbiol Biotechnol 99:5339–5350. doi:10.1007/s00253-015-6405-8

Zheng DZ, Liao BW, Zheng SF, Xu DG, Han Z (1995) The law for vertical structure and succession dynamic of mangrove in Qinglan Harbour, Hainan Island. J Forest Res 8:152–158 (In Chinese)

Zinger L, Amaral-Zettler LA, Fuhrman JA, Horner-Devine MC, Huse SM, Welch DM, Martiny JH, Sogin M, Boetius A, Ramette A (2011) Global patterns of bacterial beta-diversity in seafloor and seawater ecosystems. PLoS One 6:e24570. doi:10.1371/journal.pone.0024570
Acknowledgements
We thank professor Wenbin Du from the Institute of Microbiology, Chinese Academy of Sciences, for valuable suggestions in English writing and language editing.
Ethics declarations
Funding
This study was funded by the National Natural Science Foundation of China (grant nos. 31500447 and 41401075), the Open Project of Key Laboratory of Environmental Biotechnology, Research Center for Eco-Environmental Sciences, Chinese Academy of Sciences (grant no. kf2016007), the Strategic Priority Research Program of Chinese Academy of Sciences B (grant no. XDB15040102), and the Natural Science Foundation of Jiangsu Province, China (grant no. BK20140923).
Conflict of interest
All authors declare that they have no conflict of interest.
Ethical approval
This article does not contain any studies with human participants or animals performed by any of the authors.
Electronic supplementary material
About this article
Cite this article
Yun, J., Deng, Y. & Zhang, H. Anthropogenic protection alters the microbiome in intertidal mangrove wetlands in Hainan Island. Appl Microbiol Biotechnol 101, 6241–6252 (2017). https://doi.org/10.1007/s00253-017-8342-1
Received:

Revised:

Accepted:

Published:

Issue Date:
Keywords
Hainan Island

Mangrove wetland

Microbiome

Functional group

Environmental variable