Abstract
Crude glycerol is an ideal feedstock for bioproduction of 1,3-propanediol (1,3-PDO) while pure culture always shows low substrate tolerance and limited productivity. In this study, an anaerobic microbial consortium for conversion of crude glycerol was selected and its 1,3-PDO production capacity was evaluated. The consortium was obtained from anaerobic activated sludge by 19 serial transfers and mainly consisted of 94.64% Clostridiaceae and 4.47% Peptostreptococcaceae. The consortium adapted well with high glycerol concentration of 120 g/L as well as wide substrate concentration fluctuation from 15 to 80 g/L, producing 60.61 and 82.66 g/L 1,3-PDO in the batch and fed-batch fermentation, with the productivity of 3.79 and 3.06 g/(L∙h), respectively, which are among the best results published so far. Furthermore, mini consortia isolated by serial dilution exhibited similar microbial composition but gradually decreasing tolerance to crude glycerol. Four randomly selected Clostridium butyricum displayed different substrate tolerance and insufficient 1,3-PDO production capacity. This work demonstrated that the high adaptation to crude glycerol of the consortium was the collaborative effort of different individuals.
Access options
Buy single article
Instant access to the full article PDF.
USD 39.95
Price excludes VAT (USA)
Tax calculation will be finalised during checkout.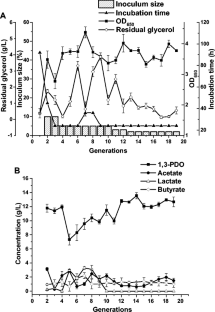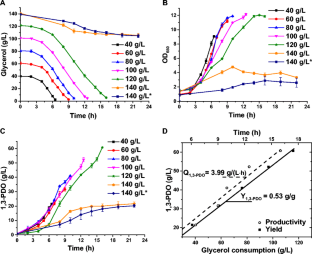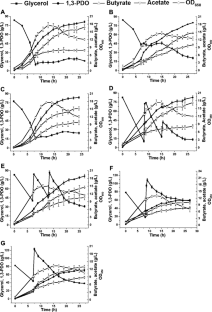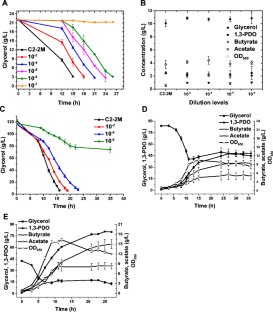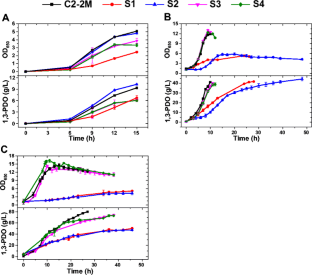 References
Adav SS, Lee DJ, Wang A, Ren N (2009) Functional consortium for hydrogen production from cellobiose: concentration-to-extinction approach. Bioresour Technol 100:2546–2550

Appels L, Baeyens J, Degrève J, Dewil R (2008) Principles and potential of the anaerobic digestion of waste-activated sludge. Prog Energ Combust 34:755–781

Ayoub M, Abdullah AZ (2012) Critical review on the current scenario and significance of crude glycerol resulting from biodiesel industry towards more sustainable renewable energy industry. Renew Sust Energ Rev 16:2671–2686

Biebl H (1991) Glycerol fermentation of 1,3-propanediol by Clostridium butyricum. Measurement of product inhibition by use of a pH-auxostat. Appl Microbiol Biotechnol 35:701–705

Brenner K, You L, Arnold FH (2008) Engineering microbial consortia: a new frontier in synthetic biology. Trends Biotechnol 26:483–489

Celinska E (2012) Klebsiella spp as a 1, 3-propanediol producer: the metabolic engineering approach. Crit Rev Biotechnol 32:274–288

Chatzifragkou A, Dietz D, Komaitis M, Zeng AP, Papanikolaou S (2010) Effect of biodiesel-derived waste glycerol impurities on biomass and 1,3-propanediol production of Clostridium butyricum VPI 1718. Biotechnol Bioeng 107:76–84

Chatzifragkou A, Aggelis G, Komaitis M, Zeng AP, Papanikolaou S (2011a) Impact of anaerobiosis strategy and bioreactor geometry on the biochemical response of Clostridium butyricum VPI 1718 during 1,3-propanediol fermentation. Bioresour Technol 102:10625–10632

Chatzifragkou A, Papanikolaou S, Dietz D, Doulgeraki AI, Nychas GJ, Zeng AP (2011b) Production of 1,3-propanediol by Clostridium butyricum growing on biodiesel-derived crude glycerol through a non-sterilized fermentation process. Appl Microbiol Biotechnol 91:101–112

Dietz D, Zeng AP (2014) Efficient production of 1,3-propanediol from fermentation of crude glycerol with mixed cultures in a simple medium. Bioprocess Biosyst Eng 37:225–233

Dobson R, Gray V, Rumbold K (2012) Microbial utilization of crude glycerol for the production of value-added products. J Ind Microbiol Biot 39:217–226

Forney LJ, Liu WT, Guckert JB, Kumagai Y, Namkung E, Nishihara T, Larson RJ (2001) Structure of microbial communities in activated sludge: potential implications for assessing the biodegradability of chemicals. Ecotox Environ Safe 49:40–53

Ghosh PK, Philip L (2004) Atrazine degradation in anaerobic environment by a mixed microbial consortium. Water Res 38:2276–2283

Hao J, Lin R, Zheng Z, Sun Y, Liu D (2008) 3-Hydroxypropionaldehyde guided glycerol feeding strategy in aerobic 1,3-propanediol production by Klebsiella pneumoniae. J Ind Microbiol Biot 35:1615–1624

Hays SG, Patrick WG, Ziesack M, Oxman N, Silver PA (2015) Better together: engineering and application of microbial symbioses. Curr Opin Biotechnol 36:40–49

Himmi EH, Bories A, Barbirato F (1999) Nutrient requirements for glycerol conversion to 1,3-propanediol by Clostridium butyricum. Bioresour Technol 67:123–128

Hirschmann S, Baganz K, Koschik I, Vorlop K-D (2005) Development of an integrated bioconversion process for the production of 1,3-propanediol from raw glycerol waters. Landbauforsch Völkenrode (FAL Agricultural Research) 55:261–267

Jiang LL, Liu HF, Mu Y, Sun YQ, Xiu ZL (2016a) High tolerance to glycerol and high production of 1,3-propanediol in batch fermentations by microbial consortium from marine sludge. Eng Life Sci. doi:10.1002/elsc.201600215

Jiang LL, Zhou JJ, Wang XD, Sun YQ, Xiu ZL (2016b) Progress in chemicals production by microbial consortia. Chin J Biotechnol 32:1496–1506

Jiménez DJ, Dini-Andreote F, Van Elsas JD (2014) Metataxonomic profiling and prediction of functional behaviour of wheat straw degrading microbial consortia. Biotechnol Biofuels 7:1

Johnson A (1987) The control of fed-batch fermentation processes—a survey. Automatica 23:691–705

Kleerebezem R, van Loosdrecht MC (2007) Mixed culture biotechnology for bioenergy production. Curr Opin Biotechnol 18:207–212

Lee J, Lee SY, Park S, Middelberg APJ (1999) Control of fed-batch fermentations. Biotechnol Adv 17:29–48

Lee CS, Aroua MK, Daud WMAW, Cognet P, Pérès-Lucchese Y, Fabre PL, Reynes O, Latapie L (2015) A review: conversion of bioglycerol into 1,3-propanediol via biological and chemical method. Renew Sust Energ Rev 42:963–972

Li C, Lesnik KL, Liu H (2013) Microbial conversion of waste glycerol from biodiesel production into value-added products. Energies 6:4739–4768

Liu HJ, Zhang DJ, Xu YH, Mu Y, Sun YQ, Xiu ZL (2007) Microbial production of 1,3-propanediol from glycerol by Klebsiella pneumoniae under micro-aerobic conditions up to a pilot scale. Biotechnol Lett 29:1281–1285

Liu H, Xu Y, Zheng Z, Liu D (2010) 1,3-Propanediol and its copolymers: research, development and industrialization. Biotechnol J 5:1137–1148

Liu B, Christiansen K, Parnas R, Xu Z, Li B (2013) Optimizing the production of hydrogen and 1,3-propanediol in anaerobic fermentation of biodiesel glycerol. Int J Hydrogen Energ 38:3196–3205

Metsoviti M, Paraskevaidi K, Koutinas A, Zeng AP, Papanikolaou S (2012) Production of 1,3-propanediol, 2,3-butanediol and ethanol by a newly isolated Klebsiella oxytoca strain growing on biodiesel-derived glycerol based media. Process Biochem 47:1872–1882

Moon C, Ahn JH, Kim SW, Sang BI, Um Y (2010) Effect of biodiesel-derived raw glycerol on 1,3-propanediol production by different microorganisms. Appl Biochem Biotechnol 161:502–510

Moscoviz R, Trably E, Bernet N (2016) Consistent 1,3-propanediol production from glycerol in mixed culture fermentation over a wide range of pH. Biotechnol Biofuels 9:32

Mu Y, Teng H, Zhang DJ, Wang W, Xiu ZL (2006) Microbial production of 1,3-propanediol by Klebsiella pneumoniae using crude glycerol from biodiesel preparations. Biotechnol Lett 28:1755–1759

Myszka K, Leja K, Olejnik-Schmidt AK, Czaczyk K (2012) Isolation process of industrially useful Clostridium bifermentans from natural samples. J Biosci Bioeng 113:631–633

Navarrete-Bolaños JL (2012) Improving traditional fermented beverages: how to evolve from spontaneous to directed fermentation. Eng Life Sci 12:410–418

Papanikolaou S, Fick M, Aggelis G (2004) The effect of raw glycerol concentration on the production of 1,3-propanediol by Clostridium butyricum. J Chem Technol Biot 79:1189–1196

Petitdemange E, Dürr C, Andaloussi S, Raval G (1995) Fermentation of raw glycerol to 1,3-propanediol by new strains of Clostridium butyricum.. J Ind Microbiol Biot 15:498–502

Rehman A, Saman WRG, Nomura N, Sato S, Matsumura M (2008) Pre-treatment and utilization of raw glycerol from sunflower oil biodiesel for growth and 1,3-propanediol production by Clostridium butyricum. J Chem Technol Biotechnol 83:1072–1080

Reimann A, Biebl H (1996) Production of 1, 3-propanediol by Clostridium butyricum DSM 5431 and product tolerant mutants in fed-batch culture: feeding strategy for glycerol and ammonium. Biotechnol Lett 18:827–832

Ringel AK, Wilkens E, Hortig D, Willke T, Vorlop KD (2012) An improved screening method for microorganisms able to convert crude glycerol to 1,3-propanediol and to tolerate high product concentrations. Appl Microbiol Biotechnol 93:1049–1056

Sabra W, Dietz D, Tjahjasari D, Zeng AP (2010) Biosystems analysis and engineering of microbial consortia for industrial biotechnology. Eng Life Sci 10:407–421

Saint-Amans S, Perlot P, Goma G, Soucaille P (1994) High production of 1,3-propanediol from glycerol by Clostridium butyricum VPI 3266 in a simply controlled fed-batch system. Biotechnol Lett 16:831–836

Samul D, Leja K, Grajek W (2014) Impurities of crude glycerol and their effect on metabolite production. Ann Microbiol 64:891–898

Sasi Jyothsna TS, Tushar L, Sasikala C, Ramana CV (2016) Paraclostridium benzoelyticum gen. nov. sp. nov., isolated from marine sediment and reclassification of Clostridium bifermentans as Paraclostridium bifermentans comb. nov. Proposal of a new genus Paeniclostridium gen. nov. to accommodate Clostridium sordellii and Clostridium ghonii. Int J Syst Evol Microbiol 66:1268–1274

Selembo PA, Perez JM, Lloyd WA, Logan BE (2009) Enhanced hydrogen and 1,3-propanediol production from glycerol by fermentation using mixed cultures. Biotechnol Bioeng 104:1098–1106

Sun YQ, Qi WT, Teng H, Xiu ZL, Zeng AP (2008) Mathematical modeling of glycerol fermentation by Klebsiella pneumoniae: concerning both enzyme-catalytic reductive pathway and transport of glycerol and 1,3-propanediol across cell membrane. Biochem Eng J 38:22–32

Varrone C, Heggeset TM, Le SB, Haugen T, Markussen S, Skiadas IV, Gavala HN (2015) Comparison of different strategies for selection/adaptation of mixed microbial cultures able to ferment crude glycerol derived from second-generation biodiesel. Biomed Res Int:2015

Wang JF, Xiu ZL, Fan SD (2001) Determination of glycerin concentration during the fermentation of glycerin to 1, 3-propanediol. Ind Microbiol 31:33–35

Wang A, Gao L, Ren N, Xu J, Liu C, Lee DJ (2010) Enrichment strategy to select functional consortium from mixed cultures: consortium from rumen liquor for simultaneous cellulose degradation and hydrogen production. Int J Hydrogen Energ 35:13413–13418

Wilkens E, Ringel AK, Hortig D, Willke T, Vorlop KD (2012) High-level production of 1,3-propanediol from crude glycerol by Clostridium butyricum AKR102a. Appl Microbiol Biotechnol 93:1057–1063

Willke T, Vorlop K (2008) Biotransformation of glycerol into 1,3-propanediol. Eur J Lipid Sci Tech 110:831–840

Yang F, Hanna MA, Sun R (2012) Value-added uses for crude glycerol—a byproduct of biodiesel production. Biotechnol biofuels 5:1

Zhang Q, Tian M, Tang L, Li H, Li W, Zhang J, Zhang H, Mao Z (2013) Exploration of the key microbes involved in the cellulolytic activity of a microbial consortium by serial dilution. Bioresour Technol 132:395–400

Zhu C, Chen B, Fang B (2013) Pretreatment of raw glycerol with activated carbon for 1,3-propanediol production by Clostridium butyricum. Eng Life Sci 13:376–384
Acknowledgments
This work was supported by the National Natural Science Foundation of China (Grant No. 21476042).
Ethics declarations
Conflict of interest
The authors declare that they have no conflict of interest.
Ethical approval
This article does not contain any studies with human participants or animals performed by any of the authors.
Electronic supplementary material
About this article
Cite this article
Zhou, JJ., Shen, JT., Jiang, LL. et al. Selection and characterization of an anaerobic microbial consortium with high adaptation to crude glycerol for 1,3-propanediol production. Appl Microbiol Biotechnol 101, 5985–5996 (2017). https://doi.org/10.1007/s00253-017-8311-8
Received:

Revised:

Accepted:

Published:

Issue Date:

DOI: https://doi.org/10.1007/s00253-017-8311-8
Keywords
Microbial consortium

Crude glycerol

1,3-Propanediol

Mini consortium

Clostridium butyricum