Abstract
Paenibacillus sp. 598K produces cycloisomaltooligosaccharides (cyclodextrans) from starch even in the absence of dextran. Cycloisomaltooligosaccharide glucanotransferase synthesizes cycloisomaltooligosaccharides exclusively from an α-(1 → 6)-consecutive glucose chain consisting of at least four molecules. Starch is not a substrate of this enzyme. Therefore, we predicted that the bacterium possesses another enzyme system for extending α-(1 → 6)-linked glucoses from starch, which can be used as the substrate for cycloisomaltooligosaccharide glucanotransferase, and identified the transglucosylation enzyme Ps6GT31A. We purified Ps6GT31A from the bacterial culture supernatant, cloned its corresponding gene, and characterized the recombinant enzyme. Ps6GT31A belongs to glycoside hydrolase family 31, and it liberates glucose from the non-reducing end of the substrate in the following order of activity: α-(1 → 4)-> α-(1 → 2)- > α-(1 → 3)- > α-(1 → 6)-glucobiose and maltopentaose > maltotetraose > maltotriose > maltose. Ps6GT31A catalyzes both hydrolysis and transglucosylation. The resulting transglucosylation compounds were analyzed by high-performance liquid chromatography and mass spectrometry. Analysis of the initial products by 13C nuclear magnetic resonance spectroscopy revealed that Ps6GT31A had a strong α-(1 → 4) to α-(1 → 6) transglucosylation activity. Ps6GT31A elongated α-(1 → 6)-linked glucooligosaccharide to at least a degree of polymerization of 10 through a successive transglucosylation reaction. Eventually, cycloisomaltooligosaccharide glucanotransferase creates cycloisomaltooligosaccharides using the transglucosylation products generated by Ps6GT31A as the substrates. Our data suggest that Ps6GT31A is the key enzyme to synthesize α-(1 → 6)-glucan for cycloisomaltooligosaccharide production in dextran-free environments.
This is a preview of subscription content, log in to check access.
Access options
Buy single article
Instant access to the full article PDF.
US$ 39.95
Price includes VAT for USA
Subscribe to journal
Immediate online access to all issues from 2019. Subscription will auto renew annually.
US$ 199
This is the net price. Taxes to be calculated in checkout.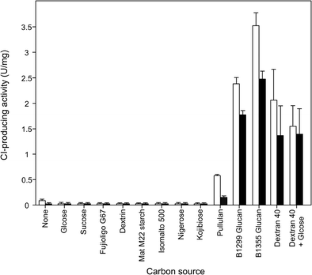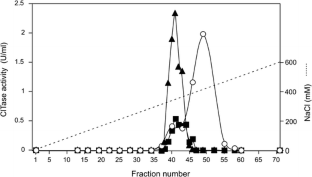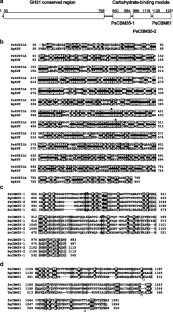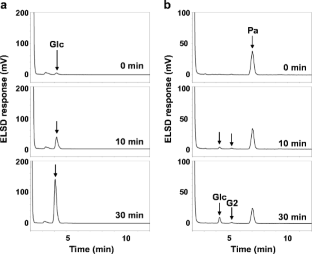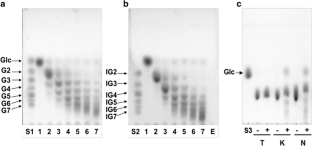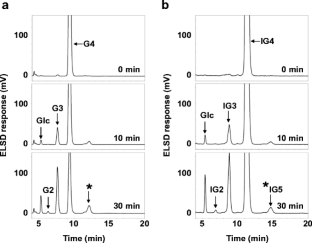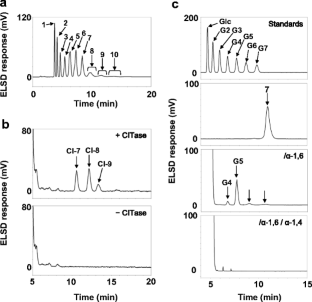 References
Aga H, Maruta K, Yamamoto T, Kubota M, Fukuda S, Kurimoto M, Tsujisaka Y (2002) Cloning and sequencing of the genes encoding cyclic tetrasaccharide-synthesizing enzymes from Bacillus globisporus C11. Biosci Biotechnol Biochem 66:1057–1068

Bolam DN, Xie H, Pell G, Hogg D, Galbraith G, Henrissat B, Gilbert HJ (2004) X4 modules represent a new family of carbohydrate-binding modules that display novel properties. J Biol Chem 279:22953–22963

Brison Y, Pijning T, Malbert Y, Fabre É, Mourey L, Morel S, Potocki-Véronèse G, Monsan P, Tranier S, Remaud-Siméon M, Dijkstra BW (2012) Functional and structural characterization of α-(1 → 2) branching sucrase derived from DSR-E glucansucrase. J Biol Chem 287:7915–7924

Cid M, Pedersen HL, Kaneko S, Coutinho PM, Henrissat B, Willats WG, Boraston AB (2010) Recognition of the helical structure of β-1,4-galactan by a new family of carbohydrate-binding modules. J Biol Chem 285:35999–36009

Côté GL, Robyt JF (1982) Isolation and partial characterization of an extracellular glucansucrase from Leuconostoc mesenteroides NRRL B-1355 that synthesizes an alternating (1 → 6), (1 → 3)-α-D-glucan. Carbohydr Res 101:57–74

Ernst HA, Lo Leggio L, Willemoës M, Leonard G, Blum P, Larsen S (2006) Structure of the Sulfolobus solfataricus α-glucosidase: implications for domain conservation and substrate recognition in GH31. J Mol Biol 358:1106–1124

Funane K, Terasawa K, Mizuno Y, Ono H, Miyagi T, Gibu S, Tokashiki T, Kawabata Y, Kim YM, Kimura A, Kobayashi M (2007) A novel cyclic isomaltooligosaccharide (cycloisomaltodecaose, CI-10) produced by Bacillus circulans T-3040 displays remarkable inclusion ability compared with cyclodextrins. J Biotechnol 130:189–192

Funane K, Terasawa K, Mizuno Y, Ono H, Gibu S, Tokashiki T, Kawabata Y, Kim YM, Kimura A, Kobayashi M (2008) Isolation of Bacillus and Paenibacillus bacterial strains that produce large molecules of cyclic isomaltooligosaccharides. Biosci Biotechnol Biochem 72:3277–3280

Funane K, Ichinose H, Araki M, Suzuki R, Kimura K, Fujimoto Z, Kobayashi M, Kimura A (2014) Evidence for cycloisomaltooligosaccharide production from starch by Bacillus circulans T-3040. Appl Microbiol Biotechnol 98:3947–3954

Ichinose H, Yoshida M, Kotake T, Kuno A, Igarashi K, Tsumuraya Y, Samejima M, Hirabayashi J, Kobayashi H, Kaneko S (2005) An exo-β-1,3-galactanase having a novel β-1,3-galactan-binding module from Phanerochaete chrysosporium. J Biol Chem 280:25820–25829

Jina CY, Zhang DD, Oguma T, Qian SX (1996) Studies on novel cyclodextrans: inclusion of C60 and C70. J Inclus Phenom Mol 24:301–310

Kato N, Suyama S, Shirokane M, Kato M, Kobayashi T, Tsukagoshi N (2002) Novel α-glucosidase from Aspergillus nidulans with strong transglycosylation activity. Appl Environ Microbiol 68:1250–1256

Kim YK, Kitaoka M, Hayashi K, Kim CH, Côté GL (2003) A synergistic reaction mechanism of a cycloalternan-forming enzyme and a D-glucosyltransferase for the production of cycloalternan in Bacillus sp. NRRL B-21195. Carbohydr Res 338:2213–2220

Kobayashi M, Funane K, Oguma T (1995) Inhibition of dextran and mutan synthesis by cycloisomaltooligosaccharides. Biosci Biotechnol Biochem 59:1861–1865

Larkin MA, Blackshields G, Brown NP, Chenna R, McGettigan PA, McWilliam H, Valentin F, Wallace IM, Wilm A, Lopez R, Thompson JD, Gibson TJ, Higgins DG (2007) Clustal W and Clustal X version 2.0. Bioinformatics 23:2947–2948

Larsbrink J, Izumi A, Ibatullin FM, Nakhai A, Gilbert HJ, Davies GJ, Brumer H (2011) Structural and enzymatic characterization of a glycoside hydrolase family 31 α-xylosidase from Cellvibrio japonicus involved in xyloglucan saccharification. Biochem J 436:567–580

Larsbrink J, Izumi A, Hemsworth GR, Davies GJ, Brumer H (2012) Structural enzymology of Cellvibrio japonicus Agd31B protein reveals α-transglucosylase activity in glycoside hydrolase family 31. J Biol Chem 287:43288–43299

Leemhuis H, Pijning T, Dobruchowska JM, Van Leeuwen SS, Kralj S, Dijkstra BW, Dijkhuizen L (2013) Glucansucrases: three-dimensional structures, reactions, mechanism, α-glucan analysis and their implications in biotechnology and food applications. J Biotechnol 163:250–272

Lombard V, Golaconda Ramulu H, Drula E, Coutinho PM, Henrissat B (2014) The carbohydrate-active enzymes database (CAZy) in 2013. Nucleic Acids Res 42:D490–D495

Monsan P, Bozonnet S, Albenne C, Joucla G, Willemot R, Remaud-Siméon M (2001) Homopolysaccharides from lactic acid bacteria. Int Dairy J 11:675–685

Naessens M, Cerdobbel A, Soetaert W, Vandamme EJ (2005) Dextran dextrinase and dextran of Gluconobacter oxydans. J Ind Microbiol Biotechnol 32:323–334

Nishimoto T, Aga H, Mukai K, Hashimoto T, Watanabe H, Kubota M, Fukuda S, Kurimoto M, Tsujisaka Y (2002) Purification and characterization of glucosyltransferase and glucanotransferase involved in the production of cyclic tetrasaccharide in Bacillus globisporus C11. Biosci Biotechnol Biochem 66:1806–1818

Oguma T, Horiuchi T, Kobayashi M (1993) Novel cyclic dextrins, cycloisomaltooligosaccharides, from Bacillus sp. T-3040 culture. Biosci Biotechnol Biochem 57:1225–1227

Oguma T, Tobe K, Kobayashi M (1994) Purification and properties of a novel enzyme from Bacillus spp. T-3040, which catalyzes the conversion of dextran to cyclic isomaltooligosaccharides. FEBS Lett 345:135–138

Oguma T, Kitao S, Kobayashi M (2014) Purification and characterization of cycloisomaltooligosaccharide glucanotransferase and cloning of cit from Bacillus circulans U-155. J Appl Glycosci 61:93–97

Ota M, Okamoto T, Wakabayashi H (2009) Action of transglucosidase from Aspergillus niger on maltoheptaose and [U-13C] maltose. Carbohydr Res 344:460–465

Sankpal NV, Joshi AP, Sainkar SR, Kulkarni BD (2001) Production of dextran by Rhizopus sp. immobilized on porous cellulose support. Process Biochem 37:395–403

Solovyev V, Salamov A (2011) Automatic annotation of microbial genomes and metagenomics sequences. In: Li RW (ed) Metagenomics and its applications in agriculture, biomedicine and environmental studies. Nova Science Publishers, Hauppauge, pp 61–78

Suzuki R, Terasawa K, Kimura K, Fujimoto Z, Momma M, Kobayashi M, Kimura A, Funane K (2012) Biochemical characterization of a novel cycloisomaltooligosaccharide glucanotransferase from Paenibacillus sp. 598 K. Biochim Biophys Acta 1824:919–924

Suzuki N, Fujimoto Z, Kim YM, Momma M, Kishine N, Suzuki R, Suzuki S, Kitamura S, Kobayashi M, Kimura A, Funane K (2014) Structural elucidation of the cyclization mechanism of α-1,6-glucan by Bacillus circulans T-3040 cycloisomaltooligosaccharide glucanotransferase. J Biol Chem 289:12040–12051

Suzuki R, Suzuki N, Fujimoto Z, Momma M, Kimura K, Kitamura S, Kimura A, Funane K (2015) Molecular engineering of cycloisomaltooligosaccharide glucanotransferase from Bacillus circulans T-3040: structural determinants for the reaction product size and reactivity. Biochem J 467:259–270

Torino MI, Font de Valdez G, Mozzi F (2015) Biopolymers from lactic acid bacteria. Novel applications in foods and beverages. Front Microbiol 6:834
Acknowledgements
We thank Dr. H. Ono and his staff for NMR measurements and Dr. M. Kameyama and her staff for MS measurements. We also thank Dr. M. Kobayashi for his gift of the glucans from L. mesenteroides NRRL B-1299 and B-1355. The authors would like to thank Enago (www.enago.jp) for the English language review.
Ethics declarations
Funding
This study was supported in part by the Program for Promotion of Basic and Applied Researches Innovations in Bio-oriented Industry (BRAIN, Japan); the Science and Technology Research Promotion Program for Agriculture, Forestry, Fisheries, and Food Industry; and JSPS KAKENHI Grant Number 26450133. The NARO Bio-oriented Technology Research Advancement Institution (BRAIN) provided funding to A.K., K.F., and Z.F. under grant number 25000A. The Agriculture, Forestry and Fisheries Research Council (AFFRC) provided funding to A.K. and K.F. under grant number 26062B. The Japan Society for the Promotion of Science (JSPS) provided funding to K.F. under grant number 26450133.
Conflict of interest
The authors declare that they have no competing interests.
Ethical approval
This article does not describe any studies on human participants or animals performed by any of the authors.
Electronic supplementary material
About this article
Cite this article
Ichinose, H., Suzuki, R., Miyazaki, T. et al. Paenibacillus sp. 598K 6-α-glucosyltransferase is essential for cycloisomaltooligosaccharide synthesis from α-(1 → 4)-glucan. Appl Microbiol Biotechnol 101, 4115–4128 (2017). https://doi.org/10.1007/s00253-017-8174-z
Received:

Revised:

Accepted:

Published:

Issue Date:
Keywords
Cycloisomaltooligosaccharide

6-α-Glucosyltransferase

Glycoside hydrolase family 31

Paenibacillus sp. 598K

Starch