Abstract
The dominant filamentous bacteria associated with bulking incidents in Japanese activated sludge plants with nutrient removal were identified and their quantitative correlations with sludge settleability were assessed, with the aim of controlling bulking incidents by specifically suppressing bacterial growth. Fluorescence in situ hybridization (FISH) analyses using existing oligonucleotide FISH probes indicated that the presence of Eikelboom type 1851 filamentous bacteria belonging to the phylum Chloroflexi is correlated with biomass settleability in the municipal wastewater treatment plants examined. Real-time quantitative PCR (qPCR) assays developed in this study also showed a linear correlation between type 1851 filament members and sludge settleability, with the exception of some winter samples. The real-time qPCR assays and 16S ribosomal RNA gene amplicon sequencing to reveal the microbial community of activated sludge showed that the abundance of type 1851 at 200 mL g−1 of sludge volume index was estimated to be about 1.9% of the total microbial cells. The abundance of type 1851 served as a bulking indicator in plants where type 1851 was dominant.
Access options
Buy single article
Instant access to the full article PDF.
US$ 39.95
Tax calculation will be finalised during checkout.
Subscribe to journal
Immediate online access to all issues from 2019. Subscription will auto renew annually.
US$ 119
Tax calculation will be finalised during checkout.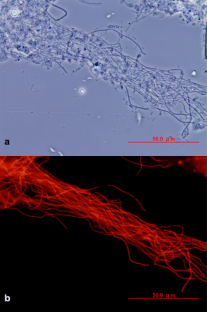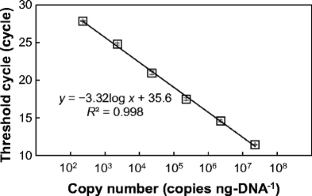 References
Asvapathanagul P, Olson BH, Gedalanga PB, Hashemi A, Huang Z, La J (2015) Identification and quantification of Thiothrix eikelboomii using qPCR for early detection of bulking incidents in a full-scale water reclamation plant. Appl Microbiol Biotechnol 99(9):4045–4057. doi:10.1007/s00253-014-6230-5

Beer MJ, Seviour EM, Kong Y, Cunningham M, Seviour RJ, Blackall LL (2002) Phylogeny of the filamentous bacterium Eikelboom type 1851, and design and application of a 16S rRNA targeted oligonucleotide probe for its fluorescence in situ identification in activated sludge. FEMS Microbiol Lett 207(2):179–183. doi:10.1111/j.1574-6968.2002.tb11048.x

Björnsson L, Hugenholtz P, Tyson GW, Blackall LL (2002) Filamentous Chloroflexi are abundant in wastewater treatment processes with biological nutrient removal. Microbiol 148(8):2309–2318. doi:10.1099/00221287-148-8-2309

Caporaso JG, Kuczynski J, Stombaugh J, Bittinger K, Bushman FD, Costello EK, Fierer N, Pena AG, Goodrich JK, Gordon JI (2010) QIIME allows analysis of high-throughput community sequencing data. Nat Methods 7(5):335–336. doi:10.1038/nmeth.f.303

Daims H, Stoecker K, Wagner M (2005) Fluorescence in situ hybridization for the detection of prokaryotes. In: Osborn AM, Smith CJ (eds) Molecular microbial ecology. Taylor & Francis, New York, pp 213–240

dos Santos LA, Ferreira V, Neto MM, Pereira MA, Mota M, Nicolau A (2015) Study of 16 Portuguese activated sludge systems based on filamentous bacteria populations and their relationships with environmental parameters. Appl Microbiol Biotechnol 99(12):5307–5316. doi:10.1007/s00253-015-6393-8

Giegerich R, Meyer F, Schleiermacher C (1996) GeneFisher-software support for the detection of postulated genes. Proc Int Conf Intell Syst Mol Biol 4:68–77

Haas BJ, Gevers D, Earl AM, Feldgarden M, Ward DV, Giannoukos G, Ciulla D, Tabbaa D, Highlander SK, Sodergren E (2011) Chimeric 16S rRNA sequence formation and detection in Sanger and 454-pyrosequenced PCR amplicons. Genome Res 21(3):494–504. doi:10.1101/gr.112730.110

Hugenholtz P, Tyson GW, Webb RI, Wagner AM, Blackall LL (2001) Investigation of candidate division TM7, a recently recognized major lineage of the domain Bacteria with no known pure-culture representatives. Appl Environ Microbiol 67(1):411–419. doi:10.1128/AEM.67.1.411-419.2001

Jenkins D, Richard M, Daigger G (2004) Manual on the causes and control of activated sludge bulking and other solids separation problems. IWA Publishing, London

Kohno T, Sei K, Mori K (2002) Characterization of type 1851 organism isolated from activated sludge samples. Water Sci Technol 46(1–2):111–114

Kragelund C, Levantesi C, Borger A, Thelen K, Eikelboom D, Tandoi V, Kong Y, van der Waarde J, Krooneman J, Rossetti S, Thomsen TR, Nielsen PH (2007) Identity, abundance and ecophysiology of filamentous Chloroflexi species present in activated sludge treatment plants. FEMS Microbiol Ecol 59(3):671–682. doi:10.1111/j.1574-6941.2006.00251.x

Kragelund C, Thomsen TR, Mielczarek AT, Nielsen PH (2011) Eikelboom's morphotype 0803 in activated sludge belongs to the genus Caldilinea in the phylum Chloroflexi. FEMS Microbiol Ecol 76(3):451–462. doi:10.1111/j.1574-6941.2011.01065.x

Kumari SS, Marrengane Z, Bux F (2009) Application of quantitative RT-PCR to determine the distribution of Microthrix parvicella in full-scale activated sludge treatment systems. Appl Microbiol Biotechnol 83(6):1135–1141. doi:10.1007/s00253-009-2013-9

Lane DJ (1991) 16S/23S rRNA sequencing. In: Stackebrandt E, Goodfellow M (eds) Nucleic acid techniques in bacterial systematics. John Wiley and Sons, New York, pp 115–175

Loy A, Arnold R, Tischler P, Rattei T, Wagner M, Horn M (2008) probeCheck—a central resource for evaluating oligonucleotide probe coverage and specificity. Environ Microbiol 10(10):2894–2898. doi:10.1111/j.1462-2920.2008.01706.x

Ludwig W, Strunk O, Westram R, Richter L, Meier H, Buchner A, Lai T, Steppi S, Jobb G, Förster W (2004) ARB: a software environment for sequence data. Nucleic Acids Res 32(4):1363–1371. doi:10.1093/nar/gkh293

Manz W, Amann R, Ludwig W, Wagner M, Schleifer K-H (1992) Phylogenetic oligodeoxynucleotide probes for the major subclasses of proteobacteria: problems and solutions. Syst Appl Microbiol 15(4):593–600. doi:10.1016/S0723-2020(11)80121-9

Martins AM, Pagilla K, Heijnen JJ, van Loosdrecht MC (2004) Filamentous bulking sludge—a critical review. Water Res 38(4):793–817. doi:10.1016/j.watres.2003.11.005

Meier H, Amann R, Ludwig W, Schleifer KH (1999) Specific oligonucleotide probes for in situ detection of a major group of gram-positive bacteria with low DNA G+ C content. Syst Appl Microbiol 22(2):186–196. doi:10.1016/S0723-2020(99)80065-4

Mielczarek AT, Kragelund C, Eriksen PS, Nielsen PH (2012) Population dynamics of filamentous bacteria in Danish wastewater treatment plants with nutrient removal. Water Res 46(12):3781–3795. doi:10.1016/j.watres.2012.04.009

Müller E, Schade M, Lemmer H (2007) Filamentous scum bacteria in activated sludge plants: detection and identification quality by conventional activated sludge microscopy versus fluorescence in situ hybridization. Water Environ Res 79(11):2274–2286

Neef A (1997) Anwendung der in situ Einzelzell-Identifizierung von Bakterien zur Populationsanalyse in komplexen mikrobiellen Biozönosen. Technical University of Munich, Germany, PhD dissertation

Neef A, Amann R, Schlesner H, Schleifer K-H (1998) Monitoring a widespread bacterial group: in situ detection of planctomycetes with 16S rRNA-targeted probes. Microbiol 144(12):3257–3266. doi:10.1099/00221287-144-12-3257

Nielsen PH, Daims H, Lemmer H (2009) FISH handbook for biological wastewater treatment: identification and quantification of microorganisms in activated sludge and biofilms by FISH. IWA Publishing, London

Nittami T, McIlroy S, Seviour EM, Schroeder S, Seviour R (2009) Candidatus Monilibacter spp., common bulking filaments inactivated sludge, are members of Cluster III Defluviicoccus. Syst Appl Microbiol 32(7):480–489. doi:10.1016/j.syapm.2009.07.003

Nittami T, Speirs L, Fukuda J, Watanabe M, Seviour RJ (2014) Fluorescence in situ hybridization probes targeting members of the phylum Candidatus Saccharibacteria falsely target Eikelboom type 1851 filaments and other Chloroflexi members. Environ Microbiol Rep 6(6):611–617. doi:10.1111/1758-2229.12172

Petrovski S, Dyson ZA, Quill ES, McIlroy SJ, Tillett D, Seviour RJ (2011) An examination of the mechanisms for stable foam formation in activated sludge systems. Water Res 45(5):2146–2154. doi:10.1016/j.watres.2010.12.026

Reeder J, Knight R (2010) Rapid denoising of pyrosequencing amplicon data: exploiting the rank-abundance distribution. Nat Methods 7(9):668. doi:10.1038/nmeth0910-668b

Schuler AJ, Jassby D (2007) Filament content threshold for activated sludge bulking: artifact or reality? Water Res 41(19):4349–4356. doi:10.1016/j.watres.2007.06.021

Seviour RJ, Nielsen PH (2010) Microbial ecology of activated sludge. IWA Publishing, London

Sezgin M, Jenkins D, Parker DS (1978) A unified theory of filamentous activated sludge bulking. J Water Pollut Control Fed 50:362–381

Speirs L, Nittami T, McIlroy S, Schroeder S, Seviour RJ (2009) Filamentous bacterium Eikelboom type 0092 in activated sludge plants in Australia is a member of the phylum Chloroflexi. Appl Environ Microbiol 75(8):2446–2452. doi:10.1128/AEM.02310-08

Speirs LB, McIlroy SJ, Petrovski S, Seviour RJ (2011) The activated sludge bulking filament Eikelboom morphotype 0914 is a member of the Chloroflexi. Environ Microbiol Rep 3(2):159–165. doi:10.1111/j.1758-2229.2010.00201.x

Suenaga H, Liu R, Shiramasa Y, Kanagawa T (2005) Novel approach to quantitative detection of specific rRNA in a microbial community, using catalytic DNA. Appl Environ Microbiol 71(8):4879–4884. doi:10.1128/AEM.71.8.4879-4884.2005

Vervaeren H, De Wilde K, Matthys J, Boon N, Raskin L, Verstraete W (2005) Quantification of an Eikelboom type 021N bulking event with fluorescence in situ hybridization and real-time PCR. Appl Microbiol Biotechnol 68(5):695–704. doi:10.1007/s00253-005-1963-9

Větrovský T, Baldrian P (2013) The variability of the 16S rRNA gene in bacterial genomes and its consequences for bacterial community analyses. PLoS One 8(2):e57923. doi:10.1371/journal.pone.0057923

Wanner J (1994) Activated sludge: bulking and foaming control. CRC Press, Boca Raton

Wanner J, Kragelund C, Nielsen PH (2010) Microbiology of bulking. In: Seviour R, Nielsen PH (eds) Microbial ecology of activated sludge. IWA Publishing, London, pp 191–214

Weller R, Glöckner F, Amann R (2000) 16S rRNA-targeted oligonucleotide probes for the in situ detection of members of the phylum Cytophaga-Flavobacterium-Bacteroides. Syst Appl Microbiol 23(1):107–114. doi:10.1016/S0723-2020(00)80051-X

Whelan JA, Russell NB, Whelan MA (2003) A method for the absolute quantification of cDNA using real-time PCR. J Immun Methods 278(1–2):261–269

Yoon D-N, Park S-J, Kim S-J, Jeon CO, Chae J-C, Rhee S-K (2010) Isolation, characterization, and abundance of filamentous members of Caldilineae in activated sludge. J Microbiol 48(3):275–283. doi:10.1007/s12275-010-9366-8
Acknowledgements
The authors thank the Environmental Planning Bureau of the Yokohama City Government for providing the activated sludge and operational data for the wastewater treatment plants.
Ethics declarations
This article does not contain any studies with human participants or animals performed by any of the authors. Informed consent was obtained from all individual participants included in the study.
Conflict of interest
The authors declare that they have no conflict of interest.
Funding
This research was supported by the Japan Society for the Promotion of Science (JSPS) KAKENHI Grant Numbers 23710087 and 15H02838. The authors also thank the Yokohama Academic Foundation for partial support of this study.
About this article
Cite this article
Nittami, T., Speirs, L.B.M., Yamada, T. et al. Quantification of Chloroflexi Eikelboom morphotype 1851 for prediction and control of bulking events in municipal activated sludge plants in Japan. Appl Microbiol Biotechnol 101, 3861–3869 (2017). https://doi.org/10.1007/s00253-016-8077-4
Received:

Revised:

Accepted:

Published:

Issue Date:
Keywords
Amplicon sequence

Fluorescence in situ hybridization (FISH)

Type 1851/Kouleothrix

Real-time qPCR

Sludge volume index (SVI)