Abstract
Pectin was modified by oxidation with sodium periodate at molar ratios of 2.5, 5, 10, 15 and 20 mol% and reductive amination with tyramine and sodium cyanoborohydride afterwards. Concentration of tyramine groups within modified pectin ranged from 54.5 to 538 μmol/g of dry pectin while concentration of ionizable groups ranged from 3.0 to 4.0 mmol/g of dry polymer compared to 1.5 mmol/g before modification due to the introduction of amino group. All tyramine-pectins showed exceptional gelling properties and could form hydrogel both by cross-linking of carboxyl groups with calcium or by cross-linking phenol groups with peroxidase in the presence of hydrogen peroxide. These hydrogels were tested as carriers for soybean hull peroxidase (SHP) immobilization within microbeads formed in an emulsion based enzymatic polymerization reaction. SHP immobilized within tyramine-pectin microbeads had an increased thermal and organic solvent stability compared to the soluble enzyme. Immobilized SHP was more active in acidic pH region and had slightly decreased K m value of 2.61 mM compared to the soluble enzyme. After 7 cycles of repeated use in batch reactor for pyrogallol oxidation microbeads, immobilized SHP retained half of the initial activity.
Access options
Buy single article
Instant access to the full article PDF.
US$ 39.95
Tax calculation will be finalised during checkout.
Subscribe to journal
Immediate online access to all issues from 2019. Subscription will auto renew annually.
US$ 119
Tax calculation will be finalised during checkout.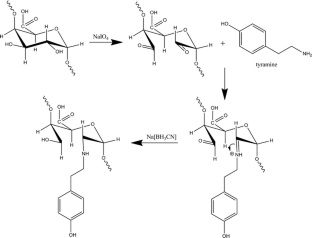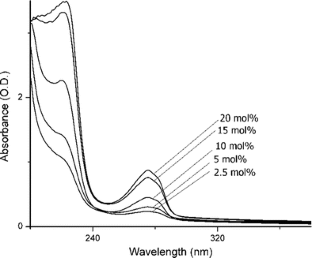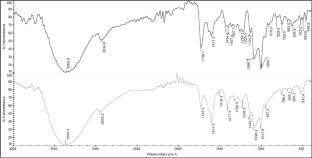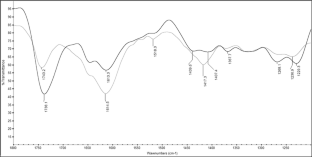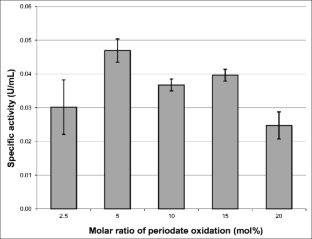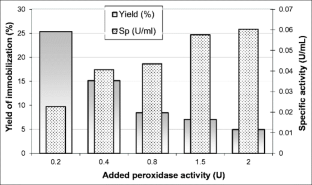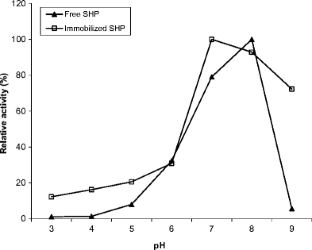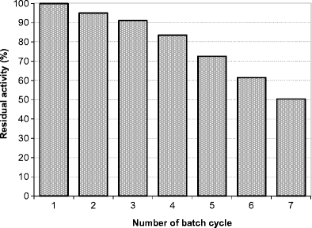 References
Baldwin AD, Kiick KL (2010) Polysaccharide-modified synthetic polymeric biomaterials Biopolymers. vol 94, p 128–40

Boateng JS, Matthews KH, Stevens HN, Eccleston GM (2008) Wound healing dressings and drug delivery systems: a review. J Pharm Sci 97(8):2892–2923

Bodalo A, Bastida J, Maximo MF, Montiel MC, Gomez M, Murcia MD (2008) A comparative study of free and immobilized soybean and horseradish peroxidases for 4-chlorophenol removal: protective effects of immobilization. Bioprocess Biosyst Eng 31(6):587–593

Costas L, Bosio VE, Pandey A, Castro GR (2008) Effects of organic solvents on immobilized lipase in pectin microspheres. Appl Biochem Biotechnol 151(2–3):578–586

Cowan DA, Lafuente RF (2011) Enhancing the functional properties of thermophilic enzymes by chemical modification and immobilization. Enzym Microb Technol 49(4):326–346

Cruz-Silva R, Romero-Garcia J, Angulo-Sanchez JL, Ledezma-Perez A, Arias-Marin E, Moggio I, Flores-Loyola E (2005) Template-free enzymatic synthesis of electrically conducting polyaniline using soybean peroxidase. Eur Polym J 41(5):1129–1135

Donald Taylor VG, Weinstein SM, Reyes E, Pupo-Araya AR, Rauck R (2010) Fentanyl pectin nasal spray in breakthrough cancer pain. J Support Oncol 8(4):184–190

Flock C, Bassi A, Gijzen M (1999) Removal of aqueous phenol and 2-chlorophenol with purified soybean peroxidase and raw soybean hulls. J Chem Technol Biotechnol 74(4):303–309

Ghaemmaghami F, Alemzadeh I, Motamed S (2010) Seed coat soybean peroxidase: extraction and biocatalytic properties determination Iranian. J Chem Eng 7:28–38

Gomez CG, Rinaudo M, Villar MA (2007) Oxidation of sodium alginate and characterization of the oxidized derivatives. Carbohydr Polym 67(3):296–304

Hoffman AS (2012) Hydrogels for biomedical applications. Adv Drug Deliv Rev 64:18–23

Jana S, Gandhi A, Sen KK, Basu S (2011) Natural polymers and their application in drug delivery and biomedical field. J Pharm Sci Technol 1(1):16–27

Kamal JK, Behere DV (2002) Thermal and conformational stability of seed coat soybean peroxidase. Biochemistry 41(29):9034–9042

Katav T, Liu L, Traitel T, Goldbart R, Wolfson M, Kost J (2008) Modified pectin-based carrier for gene delivery: cellular barriers in gene delivery course. J Control Release 130(2):183–191

Lakshmi MC, Raghavarao KSMS (2011) Downstream processing of soy hull peroxidase employing reverse micellar extraction. Biotechnol Bioprocess Eng 15(6):937–945

Liu J, Liu H, Zhang Y, Qiu L, Su F, Li F, Su Z, Li J (2007) A simple preparation method of crystals of soybean hull peroxidase. Appl Microbiol Biotechnol 74(1):249–255

Luppi B, Bigucci F, Abruzzo A, Corace G, Cerchiara T, Zecchi V (2010) Freeze-dried chitosan/pectin nasal inserts for antipsychotic drug delivery. Eur J Pharm Biopharm 75(3):381–387

Malviya PSR (2011) Sources of pectin, extraction and its applications in pharmaceutical industry—an overview. Indian J Nat Prod Resour 2(1):10–18

Matto M, Husain Q (2006) Entrapment of porous and stable concanavalin A-peroxidase complex into hybrid calcium alginate-pectin gel. J Chem Technol Biotechnol 81(7):1316–1323

Monsoor MA, Kalapathy U, Proctor A (2001) Improved method for determination of pectin degree of esterification by diffuse reflectance Fourier transform infrared spectroscopy. J Agric Food Chem 49(6):2756–2760

Mukhiddinov ZK, Khalikov DK, Abdusamiev FT, Avloev CC (2000) Isolation and structural characterization of a pectin homo and ramnogalacturonan. Talanta 53(1):171–176

Munarin F, Petrini P, Tanzi MC, Barbosa MA, Granja PL (2012a) Biofunctional chemically modified pectin for cell delivery. Soft Matter 8(17):4731–4739

Munarin F, Tanzi MC, Petrini P (2012b) Advances in biomedical applications of pectin gels. Int J Biol Macromol 51(4):681–689

Munir IZ, Dordick JS (2000) Soybean peroxidase as an effective bromination catalyst*. Enzym Microb Technol 26(5–6):337–341

Munjeri O, Collett JH, Fell JT (1997) Amidated pectin hydrogel beads for colonic drug delivery—an in vitro study. Drug Deliv 4(3):207–211

Ogushi Y, Sakai S, Kawakami K (2009) Phenolic hydroxy groups incorporated for the peroxidase-catalyzed gelation of a carboxymethylcellulose support: cellular adhesion and proliferation. Macromol Biosci 9(3):262–267

Opanasopit P, Apirakaramwong A, Ngawhirunpat T, Rojanarata T, Ruktanonchai U (2008) Development and characterization of pectinate micro/nanoparticles for gene delivery. AAPS Pharm Sci Tech 9(1):67–74

Portenoy RK, Burton AW, Gabrail N, Taylor D, Fentanyl Pectin Nasal Spray 043 Study G (2010) A multicenter, placebo-controlled, double-blind, multiple-crossover study of fentanyl pectin nasal spray (FPNS) in the treatment of breakthrough cancer pain. Pain 151(3):617–624

Prodanovic O, Prokopijevic M, Spasojevic D, Stojanovic Z, Radotic K, Knezevic-Jugovic ZD, Prodanovic R (2012) Improved covalent immobilization of horseradish peroxidase on macroporous glycidyl methacrylate-based copolymers. Appl Biochem Biotechnol 168(5):1288–1301

Prodanovic O, Spasojevic D, Prokopijevic M, Radotic K, Markovic N, Blazic M, Prodanovic R (2015) Tyramine modified alginates via periodate oxidation for peroxidase induced hydrogel formation and immobilization. React Funct Polym 93:77–83

Prokopijevic M, Prodanovic O, Spasojevic D, Stojanovic Z, Radotic K, Prodanovic R (2014) Soybean hull peroxidase immobilization on macroporous glycidyl methacrylates with different surface characteristics. Bioprocess Biosyst Eng 37(5):799–804

Ridley BL, O'Neill MA, Mohnen D (2001) Pectins: structure, biosynthesis, and oligogalacturonide-related signaling. Phytochem 57:929–967

Sakai S, Kawakami K (2007) Synthesis and characterization of both ionically and enzymatically cross-linkable alginate. Acta Biomater 3(4):495–501

Siddiqui SA, Dwivedi A, Singh PK, Hasan T, Jain S, Sundaraganesan N, Saleem H, Misra N (2009) Vibrational dynamics and potential energy distribution of two well-known neurotransmitter receptors: tyramine and dopamine hydrochloride. J Theor Comput Chem 8(3):433–450

Takei T, Sugihara K, Ijima H, Kawakami K (2011) In situ gellable sugar beet pectin via enzyme-catalyzed coupling reaction of feruloyl groups for biomedical applications. J Biosci Bioeng 112(5):491–494

Trivedi UJ, Bassi AS, Zhu JX (2006) Investigation of phenol removal using sol-gel/alginate immobilized soybean seed hull peroxidase. Can J Chem Eng 84(2):239–247
Ethics declarations
Conflict of interest
The authors declare that they have no competing interests.
Ethical approval
This article does not contain any studies with human participants or animals performed by any of the authors.
Funding
This study was funded by project no. ON173017 and project no. ON172049 granted from the Ministry of Education, Science and Technological Development of Republic of Serbia.
Electronic supplementary material
About this article
Cite this article
Prokopijevic, M., Prodanovic, O., Spasojevic, D. et al. Tyramine-modified pectins via periodate oxidation for soybean hull peroxidase induced hydrogel formation and immobilization. Appl Microbiol Biotechnol 101, 2281–2290 (2017). https://doi.org/10.1007/s00253-016-8002-x
Received:

Revised:

Accepted:

Published:

Issue Date:
Keywords
Pectin modification

Hydrogels

Soybean hull peroxidase

Enzyme immobilization