Abstract
Water generated during oil exploration is chemically complex and contains high concentrations of ammonium and, in some cases, high salinity. The most common way to remove ammonium from effluent is a biological process, which can be performed by different routes and different groups of microorganisms. However, the presence of salts in the effluents could be an inhibiting factor for biological processes, interfering directly with treatment. This study aimed to evaluate changes in the profile of a microbial community involved in the process of ammonium removal when subjected to a gradual increase of salt (NaCl), in which the complete inhibition of the ammonium removal process occurred at 125 g L−1 NaCl. During the sludge acclimatization process, samples were collected and submitted to denaturing gradient gel electrophoresis (DGGE) and massive sequencing of the 16S ribosomal RNA (rRNA) genes. As the salt concentration increased in the reactor, a change in the microbial community was observed by the DGGE band profiles. As a result, there was a reduction in the presence of bacterial populations, and an increase in archaeal populations was found. The sequencing data suggested that ammonium removal in the reactor was carried out by different metabolic routes by autotrophic nitrifying bacteria, such as Nitrosococcus, Nitrosomonas, Nitrosovibrio, Nitrospira, and Nitrococcus; ammonium-oxidizing archaea Candidatus nitrosoarchaeum; ANAMMOX microorganisms, such as Candidatus brocadia, Candidatus kuenenia, and Candidatus scalindua; and microorganisms with the potential to be heterotrophic nitrifying, such as Paracoccus spp., Pseudomonas spp., Bacillus spp., Marinobacter sp., and Alcaligenes spp.
Access options
Buy single article
Instant access to the full article PDF.
US$ 39.95
Tax calculation will be finalised during checkout.
Subscribe to journal
Immediate online access to all issues from 2019. Subscription will auto renew annually.
US$ 119
Tax calculation will be finalised during checkout.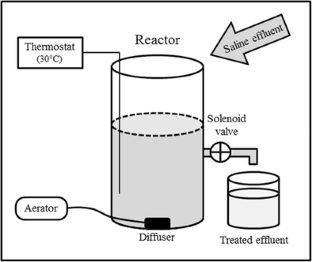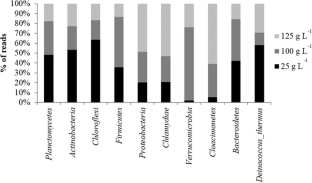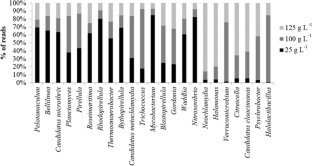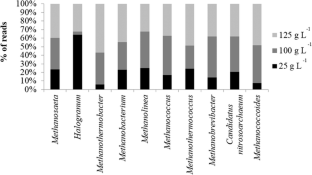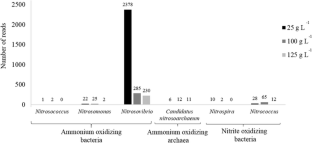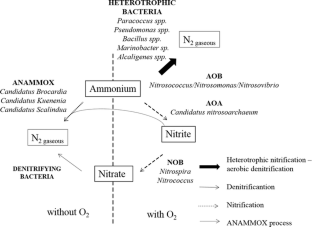 References
APHA (1998) American Public Health Association. Standard methods for the examination of water and wastewater. 20th ed. American Public Health Association, Washington, DC, USA, 1998.

Aydin S, Shahi A, Ozbayram EG, Ince B, Ince O (2015) Use of PCR-DGGE based molecular methods to assessment of microbial diversity during anaerobic treatment of antibiotic combinations. Bioresour Technol 192:735–740

Bassin JP, Kleerebezem R, Muyzer G, Rosado AS, van Loosdrecht MCM, Dezotti M (2012) Effect of different salt adaptation strategies on the microbial diversity activity, and settling of nitrifying sludge in sequencing batch reactors. Appl Microbiol Biotechnol 93(3):1281–1294

Campos JL, Mosquera-Corral A, Sánchez M, Méndez R, Lema JM (2002) Nitrification in saline wastewater with high concentration in an activated sludge unit. Water Res 36(10):2555–2560

Casamayor EO, Schäfer H, Bañeras L, Pedrós-Alió C, Muyzer G (2000) Identification of and spatio-temporal differences between microbial assemblages from two neighboring sulfurous lakes: comparison by microscopy and denaturing gradient gel electrophoresis. Appl Environ Microbiol 66(2):499–508

Chen M, Wang W, Feng Y, Zhu X, Zhou H, Tan Z, Li X (2014) Impact resistance of different factors on removal by heterotrophic nitrification-aerobic denitrification bacterium Aeromonas sp. HN-02. Bioresour Technol 167:456–461

Cortés-Lorenzo C, Rodríguez-Díaz M, Sipkema D, Juárez-Jiménez B, Rodelas B, Smidt H, González-López J (2015) Effect of salinity on nitrification efficiency and structure of ammonia-oxidizing bacterial communities in a submerged fixed bed bioreactor. Chem Eng J 266:233–240

Costa AM (2014) Avaliação da influência da salinidade na nitrificação biológica. Dissertação de mestrado em Tecnologia de Processos Químicos e Bioquímicos, Escola de Química da Universidade Federal do Rio de Janeiro.

Cui HL, Yang X, Gao X, Xu XW (2011) Halogranum gelatinilyticum sp. nov. and Halogranum amylolyticum sp. nov., isolated from a marine solar saltern, and emended description of the genus Halogranum. Int J Syst Evol Microbiol 61:911–915

Dalmacija B, Karlovic E, Tamas Z, Miskovic D (1996) Purification of high salinity wastewater by activated sludge process. Water Res 30(2):295–298

DeSantis TZ, Hugenholtz P, Larsen N, Rojas M, Brodie EL, Keller K, Huber T, Dalevi D, Hu P, Andersen GL (2006) Greengenes, a chimera-checked 16S rRNA gene database and workbench compatible with ARB. Appl Environ Microbiol 72(7):5069–5072

Dong X, Reddy GB (2010) Soil bacterial communities in constructed wetlands treated with swine wastewater using PCR-DGGE technique. Bioresour Technol 101(4):1175–1182

Fu Z, Zhao J (2015) Impact of quinolone on activity and microbial culture of partial nitrification process. Bioresour Technol 197:113–119

Ghai R, Pašić L, Fernández AB, Martin-Cuadrado AB, Mizuno CM, McMahon KD, Papke RT, Stepanauskas R, Rodriguez-Brito R, Rohwer F, Sánchez-Porro C, Ventosa A, Rodríguez-Valera F (2011) New abundant microbial groups in aquatic hypersaline environments. Sci Rep 1:135

Good IJ (1953) The population frequencies of species and the estimation of population parameters. Biomet 40(3/4):237–264

Guo Y, Zhou X, Li Y, Li K, Wang C, Liu J, Yan D, Liu Y, Yang D, Xing J (2013) Heterotrophic nitrification and aerobic denitrification by a novel Halomonas campisalis. Biotechnol Lett 35(12):2045–2049

Hammer Ø, Harper DAT, Ryan PD (2001) Past: paleontological statistics software package for education and data analysis. Palaeontol Electron 4(1):9

Hatzenpichler R, Lebedeva EV, Spieck E, Stoecker K, Richter A, Daims H, Wagner M (2008) A moderately thermophilic ammonia-oxidizing crenarchaeote from a hot spring. Proc Natl Acad Sci U S A 105:2134–2139

Heuer H, Krsek M, Baker P, Smalla K, Wellington EMH (1997) Analysis of actinomycete communities by specific amplification of genes encoding 16S rRNA and gel-electrophoretic separation in denaturing gradients. Appl Environ Microbiol 63(8):3233–3241

Hiroyuki I, Yuji S, Yoichi K, Satoshi H, Akiyoshi O, Hideki H (2002) Pelotomaculum thermopropionicum gen. nov., sp. nov., an anaerobic, thermophilic, syntrophic propionate-oxidizing bacterium. Int J Syst Evol Microbiol 52(5):1729–1735

Hobson T (2009) Activated sludge—evaluating and controlling your process, Seventh edn. Hobson's Choice Press, Kansas, EUA

Joo HS, Hirai M, Shoda M (2005) Characteristics of ammonium removal by heterotrophic nitrification–aerobic denitrification by Alcaligenes faecalis. J Biosci Bioeng 100(2):184–191

Juretschko S, Loy A, Lehner A, Wagner M (2002) The microbial community composition of a nitrifying-denitrifying activated sludge from an industrial sewage treatment plant analyzed by the full-cycle rRNA approach. Syst Appl Microbiol 25(1):84–99

Könneke M, Bernhard AE, de la Torre JR, Walker CB, Waterbury JB, Stahl DA (2005) Isolation of an autotrophic ammonia-oxidizing marine archaeon. Nature 437(7058):543–546. doi:10.1038/nature03911

Kowalchuk GA, Stephen JR, De Boer W, Prosser J, Embley TM, Woldendorp JW (1997) Analysis of ammonia-oxidizing bacteria of the beta subdivision of the class Proteobacteria in coastal sand dunes by denaturing gradient gel electrophoresis and sequencing of PCR amplified 16S ribosomal DNA fragments. Appl Environ Microb 63:1489–1497

Lam P, Jensen MM, Lavik G, McGinnis DF, Muller B, Schubert CJ, Amann R, Thamdrup B, Kuypers MM (2007) Linking crenarchaeal and bacterial nitrification to anammox in the Black Sea. Proc Natl Acad Sci U S A 104:7104–7109

Lemos LN, Fulthorpe RR, Triplett EW, Roesch LF (2011) Rethinking microbial diversity analysis in the high throughput sequencing era. J Microbiol Methods 86(1):42–51

Levantesi C, Rossetti S, Thelen K, Kragelund C, Krooneman J, Eikelboom D, Nielsen PH, Tandoi V (2006) Phylogeny, physiology and distribution of 'Candidatus Microthrix calida', a new Microthrix species isolated from industrial activated sludge wastewater treatment plants. Environ Microbiol 8(9):1552–1563

Liang Y, Li D, Zhang X, Zeng H, Yang Z, Cui S, Zhang J (2015) Stability and nitrite-oxidizing bacteria community structure in different high-rate CANON reactors. Bioresour 175:189–194

Limpiyakorn T, Fürhacker M, Haberl R, Chodanon T, Srithep P, Sonthiphand P (2013) AmoA-encoding Archaea in wastewater treatment plants: a review. Appl Microbiol Biotechnol 97(4):1425–1439

Madigan TM, Martinko JM, Parker J (2010). Brock biology of microorganisms, Prentice Hall, 12ª ed., New York.

Mcllroy SJ, Saunders AM, Albertsen M, Nierychlo M, Mcilroy B, Hansen AA, Karst SM, Nielsen JL, Nielsen PH (2015) MiDAS: The field guide to the microbes of activated sludge. Database (Oxford) 2015:bav062.

Measures JC (1975) Role of amino acids in osmoregulation of nonhalophilic bacteria. Nature 257:398–400

Mori K, Iino T, Suzuki KI, Yamaguchi K, Kamagata Y (2012) Aceticlastic and NaCl-requiring methanogen "Methanosaeta pelagica" sp. nov., isolated from marine tidal flat sediment. Appl Environ Microbiol 78(9):3416–3423

Moussa MS, Sumanasekera DU, Ibrahim SH, Lubberding HJ, Hooijmans CM, Gijzen HJ, van Loosdrecht MCM (2006) Long term effects of salt on activity, population struture ond floc characteristics in enriched bacterial cultures of nitrifiers. Water Res 40(7):1377–1388

Mulder A, Vandegraaf AA, Robertson LA, Kuenen JG (1995) Anaerobic ammonium oxidation discovered in a denitrifying fluidized-bed reactor. FEMS Microbiol Ecol 16:177–183

Muyzer G, Wall EC, Uitterlinden AG (1993) Profiling of complex microbial populations by denaturing gradient gel electrophoresis analysis of polymerase chain reaction-amplified genes coding for 16S rRNA. Appl Environ Microbiol 59(3):695–700

Muβmann M, Brito I, Pitcher A, Damsté JSS, Hatzenpichler R, Richter A, Nielsen JL, Nielsen PH, Müller A, Daims H, Wagner M, Head IM (2011) Thaumarchaeotes abundant in refinery nitrifying sludges express amoA but are not obligate autotrophic ammonium oxidizers. Proc Natl Acad Sci 108(40):16771–16776

Narihiro T, Nobu MK, Kim N-K, Kamagata Y, Liu W-T (2015) The nexus of syntrophy-associated microbiota in anaerobic digestion revealed by long-term enrichment and community survey. Environmental Biotechnology 17(5):1707–1720

Neef A, Amann R, Schlesner H, Schleifer KH (1998) Monitoring a widespread bacterial group: in situ detection of Planctomycetes with 16S rRNA-targeted probes. Microbiology 144(12):3257–3266

Oren A (2002) Diversity of halophilic microorganisms: environments, phylogeny, physiology, and applications. J Ind Microbiol Biotechnol 28:56–63

Pelletier E, Kreimeyer A, Bocs S, Rouy Z, Gyapay G, Chouari R, Rivière D, Ganesan A, Daegelen P, Sghir A, Cohen GN, Médigue C, Weissenbach J, Le Paslier D (2008) 'Candidatus cloacamonas acidaminovorans': genome sequence reconstruction pro- vides a first glimpse of a new bacterial division. J Bacteriol 190:2572–2579

Pronk MA, Bassin JP, Kreuk MK, Kleerebezem R, Van Loosdrecht MCM (2014) Evaluating the main and side effects of high salinity on aerobic granular sludge. Appl Microbiol Biotechnol 98(3):1339–1348

Reinbold KA, Pescitelli SM (1982) Effects of exposure to ammonium on sensitive life stages of aquatic organisms. Project Report, Contract No. 68–01-5832, Illinois: Illinois Natural History Survey, Champaign, IL.

Robertson LA, Kuenen JG (1983) Thiosphaera pantotropha gen. nov., sp. nov., a facultatively anaerobic, facultatively autotrophic sulfur bacterium. J Gen Microbiol 129:2847–2855

Schill N, van Gulik WM, Voisard D, von Stockar U (1996) Continuous cultures limited by a gaseous substrate: development of a simple, unstructured mathematical model and experimental verification with Methanobacterium thermoautotrophicum. Biotechnol Bioeng 51(6):645–658

She Z, Zhao L, Zhang X, Jin C, Guo L, Yang S, Zhao Y, Gao M (2016) Partial nitrification and denitrification in a sequencing batch reactor treating high-salinity wastewater. Chem Eng J 288:207–215

Silva CC, Jesus EC, Torres APR, Sousa MP, Santiago VMJ, Oliveira VM (2010) Investigation of bacterial diversity in membrane bioreactor and conventional activated sludge processes from petroleum refineries using phylogenetic and statistical approaches. J Microbiol Biotechnol 20(3):447–459

Spang A, Hatzenpichler R, Brochier-Armanet C, Rattei T, Tischler P, Spieck E, Streit W, Stahl DA, Wagner M, Schleper C (2010) Distinct gene set in two different lineages of ammonia-oxidizing archaea supports the phylum Thaumarchaeota. Trends Microbiol 18:331–340

Stephenson MT (1992) Components of produced water: a compilation of industry studies. J Petrol Technol 44(5):548–603

Tibbetts PJC, Buchanan IT, Gawel LJ, Large R (1992) A comprehensive determination of produced water composition. In: Ray JP, Engelhardt FR (eds) Produced water: technological environmental issues and solutions. Plenum Press, New York, pp. 97–112

Uygur A, Kargi F (2004) Salt inhibition on biological nutrient removal from saline wastewater in a sequencing batch reactor. Enzyme Microb Tech 34(3–4):313–318

Venter JC, Remington K, Heidelberg JF, Halpern AL, Rusch D, Eisen JA, Wu D, Paulsen I, Nelson KE, Nelson W, Fouts DE, Levy S, Knap AH, Lomas MW, Nealson K, White O, Peterson J, Hoffman J, Parsons R, Baden-Tillson H, Pfannkoch C, Rogers YH, Smith HO (2004) Environmental genome shotgun sequencing of the Sargasso Sea. Science 304(5667):66–74

Ventosa A, Nieto JJ, Oren A (1998) Biology of moderately halophilic aerobic bacteria. Microbiol Mol Biol Rev 62(2):504–544

Ventosa A, Yanhe M, Galinski E, Grant W, Oren A (2010) Halophiles 2010: life in saline environments. Meeting review. Appl Environ Microbiol 76(21):6971–6981

Verstrae W, Alexande M (1972) Heterotrophic nitrification by Arthrobacter sp. J Bacteriol 110(3):955–961

Wang Z, Luo G, Li J, Chen SY, Li Y, Li WT, Li AM (2016) Response of performance and ammonia oxidizing bacteria community to high salinity stress in membrane bioreactor with elevated ammonia loading. Bioresour Technol 216:714–721

Yang XP, Wang SM, Zhang DW, Zhou LX (2011) Isolation and nitrogen removal characteristics of an aerobic heterotrophic nitrifying-denitrifying bacterium, Bacillus subtilis A1. Bioresour Technol 102(2):854–862

Yao S, Ni J, Ma T, Li C (2013) Heterotrophic nitrification and aerobic denitrification at low temperature by a newly isolated bacterium, Acinetobacter sp. HA2. Bioresour Technol 139:80–86

Zeng RJ, Lemaire R, Yuan Z, Keller J (2003) Simultaneous nitrification, denitrification, and phosphorus removal in a lab-scale sequencing batch reactor. Biotechnol Bioeng 84(2):170–178

Zhang X, Qu Y, Ma Q, Zhang Z, Li D, Wang J, Shen W, Shen E, Zhou J (2015) Illumina MiSeq sequencing reveals diverse microbial communities of activated sludge systems stimulated by different aromatics for indigo biosynthesis from indole. PLoS One 10(4):e0125732

Zhang J, Wu P, Hao B, Yu Z (2011) Heterotrophic nitrification and aerobic denitrification by the bacterium Pseudomonas stutzeri YZN-001. Bioresour Technol 102(21):9866–9869

Zhao Y, Park HD, Park JH, Zhang F, Chen C, Li X, Zhao D, Zhao F (2016) Effect of different salinity adaptation on the performance and microbial community in a sequencing batch reactor. Bioresour Technol 216:808–816
Acknowledgments
The authors are grateful to PETROBRAS for the financial support and FAPEMIG, CNPq and CAPES for the scholarships grants.
Ethics declarations
Funding
This study was funded by PETROBRAS (grant number 8603-4600391375).
Conflict of interest
The authors declare that they have no conflict of interest.
Ethical approval
This article does not contain any studies with human participants or animals performed by any of the authors.
Additional information
Larissa Quartaroli and Lívia C. Fidélis Silva contributed equally to this work.
Electronic supplementary material
About this article
Cite this article
Quartaroli, L., Silva, L.C.F., Silva, C.M. et al. Ammonium removal from high-salinity oilfield-produced water: assessing the microbial community dynamics at increasing salt concentrations. Appl Microbiol Biotechnol 101, 859–870 (2017). https://doi.org/10.1007/s00253-016-7902-0
Received:

Revised:

Accepted:

Published:

Issue Date:
Keywords
Microbial diversity

Nitrification

Heterotrophic nitrification

16S rRNA gene survey