Abstract
We evaluated the inhibitory effects of the probiotic Lactobacillus species on different phases of Candida albicans biofilm development. Quantification of biofilm growth and ultrastructural analyses were performed on C. albicans biofilms treated with Lactobacillus rhamnosus, Lactobacillus casei, and Lactobacillus acidophilus planktonic cell suspensions as well as their supernatants. Planktonic lactobacilli induced a significant reduction (p < 0.05) in the number of biofilm cells (25.5–61.8 %) depending on the probiotic strain and the biofilm phase. L. rhamnosus supernatants had no significant effect on the mature biofilm (p > 0.05), but significantly reduced the early stages of Candida biofilm formation (p < 0.01). Microscopic analyses revealed that L. rhamnosus suspensions reduced Candida hyphal differentiation, leading to a predominance of budding growth. All lactobacilli negatively impacted C. albicans yeast-to-hyphae differentiation and biofilm formation. The inhibitory effects of the probiotic Lactobacillus on C. albicans entailed both cell-cell interactions and secretion of exometabolites that may impact on pathogenic attributes associated with C. albicans colonization on host surfaces and yeast filamentation. This study clarifies, for the first time, the mechanics of how Lactobacillus species may antagonize C. albicans host colonization. Our data elucidate the inhibitory mechanisms that define the probiotic candicidal activity of lactobacilli, thus supporting their utility as an adjunctive therapeutic mode against mucosal candidal infections.
This is a preview of subscription content, log in to check access.
Access options
Buy single article
Instant access to the full article PDF.
US$ 39.95
Tax calculation will be finalised during checkout.
Subscribe to journal
Immediate online access to all issues from 2019. Subscription will auto renew annually.
US$ 119
Tax calculation will be finalised during checkout.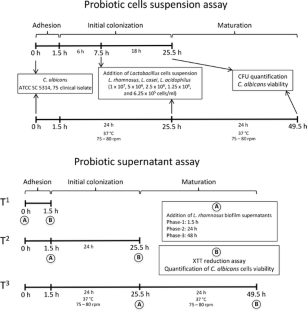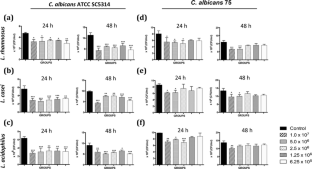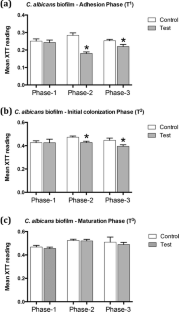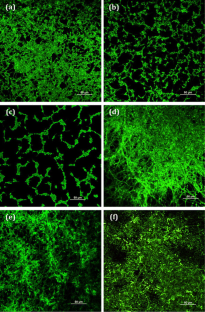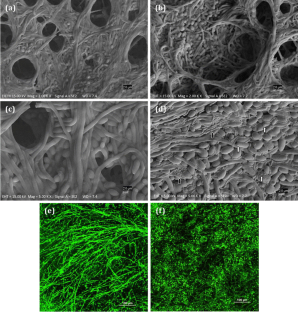 References
Alcazar-Fuoli L, Mellado E (2014) Current status of antifungal resistance and its impact on clinical practice. Br J Haematol 166(4):471–484. doi:10.1111/bjh.12896

Anderson JM, Soll DR (1986) Differences in actin localization during bud and hypha formation in the yeast Candida albicans. J Gen Microbiol 132(7):2035–2047. doi:10.1099/00221287-132-7-2035

Arendrup MC (2010) Epidemiology of invasive candidiasis. Curr Opin Crit Care 16(5):445–452. doi:10.1097/MCC.0b013e32833e84d2

Atanassova M, Choiset Y, Dalgalarrondo M, Chobert JM, Dousset X, Ivanova I, Haertle T (2003) Isolation and partial biochemical characterization of a proteinaceous anti-bacteria and anti-yeast compound produced by Lactobacillus paracasei subsp. paracasei strain M3. Int J Food Microbiol 87(1–2):63–73. doi:10.1016/S0168-1605(03)00054-0

Bandara HM, Cheung BP, Watt RM, Jin LJ, Samaranayake LP (2013) Secretory products of Escherichia coli biofilm modulate Candida biofilm formation and hyphal development. J Investig Clin Dent 4(3):186–199. doi:10.1111/jicd.12048

Ceresa C, Tessarolo F, Caola I, Nollo G, Cavallo M, Rinaldi M, Fracchia L (2015) Inhibition of Candida albicans adhesion on medical-grade silicone by a Lactobacillus-derived biosurfactant. J Appl Microbiol 118(5):1116–1125. doi:10.1111/jam.12760

Chew SY, Cheah YK, Seow HF, Sandai D, Than LT (2015a) In vitro modulation of probiotic bacteria on the biofilm of Candida glabrata. Anaerobe 34:132–138. doi:10.1016/j.anaerobe.2015.05.009

Chew SY, Cheah YK, Seow HF, Sandai D, Than LT (2015b) Probiotic Lactobacillus rhamnosus GR-1 and Lactobacillus reuteri RC-14 exhibit strong antifungal effects against vulvovaginal candidiasis-causing Candida glabrata isolates. J Appl Microbiol 118:1180–1190. doi:10.1111/jam.12772

Coleman JJ, Okoli I, Tegos GP, Holson EB, Wagner FF, Hamblin MR, Mylonakis E (2010) Characterization of plant-derived saponin natural products against Candida albicans. ACS Chem Biol 5(3):321–332. doi:10.1021/cb900243b

Ericson JE, Benjamin DK Jr (2014) Fluconazole prophylaxis for prevention of invasive candidiasis in infants. Curr Opin Pediatr 26(2):151–156. doi:10.1097/MOP.0000000000000060

Falagas ME, Betsi GI, Athanasiou S (2006) Probiotics for prevention of recurrent vulvovaginal candidiasis: a review. J Antimicrob Chemother 58(2):266–272. doi:10.1093/jac/dkl246

Fidan I, Kalkanci A, Yesilyurt E, Yalcin B, Erdal B, Kustimur S, Imir T (2009) Effects of Saccharomyces boulardii on cytokine secretion from intraepithelial lymphocytes infected by Escherichia coli and Candida albicans. Mycoses 52(1):29–34. doi:10.1111/j.1439-0507.2008.01545.x

Hasslof P, Hedberg M, Twetman S, Stecksen-Blicks C (2010) Growth inhibition of oral mutans streptococci and Candida by commercial probiotic lactobacilli—an in vitro study. BMC Oral Health 10:18. doi:10.1186/1472-6831-10-18

Hatakka K, Ahola AJ, Yli-Knuuttila H, Richardson M, Poussa T, Meurman JH, Korpela R (2007) Probiotics reduce the prevalence of oral Candida in the elderly—a randomized controlled trial. J Dent Res 86(2):125–130

Hu H, Merenstein DJ, Wang C, Hamilton PR, Blackmon ML, Chen H, Calderone RA, Li D (2013) Impact of eating probiotic yogurt on colonization by Candida species of the oral and vaginal mucosa in HIV-infected and HIV-uninfected women. Mycopathologia 176(3–4):175–181. doi:10.1007/s11046-013-9678-4

Ishikawa KH, Mayer MP, Miyazima TY, Matsubara VH, Silva EG, Paula CR, Campos TT, Nakamae AE (2014) A multispecies probiotic reduces oral Candida colonization in denture wearers. J Prosthodont 24(3):194–199. doi:10.1111/jopr.12198

Jin Y, Zhang T, Samaranayake YH, Fang HH, Yip HK, Samaranayake LP (2005) The use of new probes and stains for improved assessment of cell viability and extracellular polymeric substances in Candida albicans biofilms. Mycopathologia 159(3):353–360. doi:10.1007/s11046-004-6987-7

Jones T, Federspiel NA, Chibana H, Dungan J, Kalman S, Magee BB, Newport G, Thorstenson YR, Agabian N, Magee PT, Davis RW, Scherer S (2004) The diploid genome sequence of Candida albicans. Proc Natl Acad Sci U S A 101(19):7329–7334. doi:10.1073/pnas.0401648101

Kheradmand E, Rafii F, Yazdi MH, Sepahi AA, Shahverdi AR, Oveisi MR (2014) The antimicrobial effects of selenium nanoparticle-enriched probiotics and their fermented broth against Candida albicans. Daru 22:48. doi:10.1186/2008-2231-22-48

Kohler GA, Assefa S, Reid G (2012) Probiotic interference of Lactobacillus rhamnosus GR-1 and Lactobacillus reuteri RC-14 with the opportunistic fungal pathogen Candida albicans. Infect Dis Obstet Gynecol 2012:636474. doi:10.1155/2012/636474

Kovachev SM, Vatcheva-Dobrevska RS (2015) Local probiotic therapy for vaginal Candida albicans infections. Probiotics Antimicrob Proteins 7(1):38–44. doi:10.1007/s12602-014-9176-0

Kraft-Bodi E, Jorgensen MR, Keller MK, Kragelund C, Twetman S (2015) Effect of probiotic bacteria on oral Candida in frail elderly. J Dent Res 94(9):181–186. doi:10.1177/0022034515595950

Kucharikova S, Tournu H, Lagrou K, Van Dijck P, Bujdakova H (2011) Detailed comparison of Candida albicans and Candida glabrata biofilms under different conditions and their susceptibility to caspofungin and anidulafungin. J Med Microbiol 60:1261–1269. doi:10.1099/jmm.0.032037-0

Li D, Li Q, Liu C, Lin M, Li X, Xiao X, Zhu Z, Gong Q, Zhou H (2014) Efficacy and safety of probiotics in the treatment of Candida-associated stomatitis. Mycoses 57(3):141–146. doi:10.1111/myc.12116

Li H, Liu L, Zhang S, Cui W, Lv J (2012) Identification of antifungal compounds produced by Lactobacillus casei AST18. Curr Microbiol 65(2):156–161. doi:10.1007/s00284-012-0135-2

Maldonado-Barragan A, Caballero-Guerrero B, Lucena-Padros H, Ruiz-Barba JL (2013) Induction of bacteriocin production by coculture is widespread among plantaricin-producing Lactobacillus plantarum strains with different regulatory operons. Food Microbiol 33(1):40–47. doi:10.1016/j.fm.2012.08.009

Matsubara VH, Bandara HM, Mayer MP, Samaranayake LP (2016) Probiotics as antifungals in mucosal candidiasis. Clin Infect Dis. doi:10.1093/cid/ciw038

Matsubara VH, Silva EG, Paula CR, Ishikawa KH, Nakamae AE (2012) Treatment with probiotics in experimental oral colonization by Candida albicans in murine model (DBA/2). Oral Dis 18(3):260–264. doi:10.1111/j.1601-0825.2011.01868.x

Mendonça FH, Santos SS, Faria Ida S, Silva CRG e, AO J, MV L (2012) Effects of probiotic bacteria on Candida presence and IgA anti-Candida in the oral cavity of elderly. Braz Dent J 23(5):534–538. doi:10.1590/S0103-64402012000500011

Meurman JH (2005) Probiotics: do they have a role in oral medicine and dentistry? Eur J Oral Sci 113(3):188–196

Miller MB, Bassler BL (2001) Quorum sensing in bacteria. Annu Rev Microbiol 55:165–199. doi:10.1146/annurev.micro.55.1.165

Murzyn A, Krasowska A, Stefanowicz P, Dziadkowiec D, Lukaszewicz M (2010) Capric acid secreted by S. boulardii inhibits C. albicans filamentous growth, adhesion and biofilm formation. PLoS One 5(8):e12050. doi:10.1371/journal.pone.0012050

Nett JE (2014) Future directions for anti-biofilm therapeutics targeting Candida. Expert Rev Anti-Infect Ther 12(3):375–382. doi:10.1586/14787210.2014.885838

Orsi CF, Sabia C, Ardizzoni A, Colombari B, Neglia RG, Peppoloni S, Morace G, Blasi E (2014) Inhibitory effects of different lactobacilli on Candida albicans hyphal formation and biofilm development. J Biol Regul Homeost Agents 28(4):743–752

Pappas PG (2014) Antifungal clinical trials and guidelines: what we know and do not know. Cold Spring Harb Perspect Med 4(11):a019745. doi:10.1101/cshperspect.a019745

Parolin C, Marangoni A, Laghi L, Foschi C, Nahui Palomino RA, Calonghi N, Cevenini R, Vitali B (2015) Isolation of vaginal lactobacilli and characterization of anti-Candida activity. PLoS One 10(6):e0131220. doi:10.1371/journal.pone.0131220

Polke M, Hube B, Jacobsen ID (2015) Candida survival strategies. Adv Appl Microbiol 91:139–235. doi:10.1016/bs.aambs.2014.12.002

Rizzello CG, Filannino P, Di Cagno R, Calasso M, Gobbetti M (2014) Quorum-sensing regulation of constitutive plantaricin by Lactobacillus plantarum strains under a model system for vegetables and fruits. Appl Environ Microbiol 80(2):777–787. doi:10.1128/AEM.03224-13

Rodrigues L, Banat IM, Teixeira J, Oliveira R (2006a) Biosurfactants: potential applications in medicine. J Antimicrob Chemother 57(4):609–618. doi:10.1093/jac/dkl024

Rodrigues LR, Teixeira JA, van der Mei HC, Oliveira R (2006b) Physicochemical and functional characterization of a biosurfactant produced by Lactococcus lactis 53. Colloids Surf B Biointerfaces 49(1):79–86. doi:10.1016/j.colsurfb.2006.03.003

Roy A, Chaudhuri J, Sarkar D, Ghosh P, Chakraborty S (2014) Role of enteric supplementation of probiotics on late-onset sepsis by Candida species in preterm low birth weight neonates: a randomized, double blind, placebo-controlled trial. N Am J Med Sci 6(1):50–57. doi:10.4103/1947-2714.125870

Ryu EH, Yang EJ, Woo ER, Chang HC (2014) Purification and characterization of antifungal compounds from Lactobacillus plantarum HD1 isolated from kimchi. Food Microbiol 41:19–26. doi:10.1016/j.fm.2014.01.011

Samaranayake LP (2012) Essential microbiology for dentistry, 4th edn. Churchill Livingstone, Edinburgh

Samaranayake LP, Cheung LK, Samaranayake YH (2002) Candidiasis and other fungal diseases of the mouth. Dermatol Ther 15:252–270. doi:10.1046/j.1529-8019.2002.01533.x

Sanguinetti M, Posteraro B, Lass-Florl C (2015) Antifungal drug resistance among Candida species: mechanisms and clinical impact. Mycoses 58(Suppl 2):2–13. doi:10.1111/myc.12330

Sardi JC, Scorzoni L, Bernardi T, Fusco-Almeida AM, Mendes Giannini MJ (2013) Candida species: current epidemiology, pathogenicity, biofilm formation, natural antifungal products and new therapeutic options. J Med Microbiol 62(Pt 1):10–24. doi:10.1099/jmm.0.045054-0

Servin AL, Coconnier MH (2003) Adhesion of probiotic strains to the intestinal mucosa and interaction with pathogens. Best Pract Res Clin Gastroenterol 17(5):741–754. doi:10.1016/S1521-6918(03)00052-0

Sherry L, Jose A, Murray C, Williams C, Jones B, Millington O, Bagg J, Ramage G (2012) Carbohydrate derived fulvic acid: an in vitro investigation of a novel membrane active antiseptic agent against Candida albicans biofilms. Front Microbiol 3:116. doi:10.3389/fmicb.2012.00116

Simark-Mattsson C, Jonsson R, Emilson CG, Roos K (2009) Final pH affects the interference capacity of naturally occurring oral Lactobacillus strains against mutans streptococci. Arch Oral Biol 54(6):602–607. doi:10.1016/j.archoralbio.2009.03.005

Strus M, Kucharska A, Kukla G, Brzychczy-Wloch M, Maresz K, Heczko PB (2005) The in vitro activity of vaginal Lactobacillus with probiotic properties against Candida. Infect Dis Obstet Gynecol 13(2):69–75

Taff HT, Mitchell KF, Edward JA, Andes DR (2013) Mechanisms of Candida biofilm drug resistance. Future Microbiol 8(10):1325–1337. doi:10.2217/fmb.13.101

Verdenelli MC, Coman MM, Cecchini C, Silvi S, Orpianesi C, Cresci A (2014) Evaluation of antipathogenic activity and adherence properties of human Lactobacillus strains for vaginal formulations. J Appl Microbiol 116(5):1297–1307. doi:10.1111/jam.12459

Vilela SF, Barbosa JO, Rossoni RD, Santos JD, Prata MC, Anbinder AL, Jorge AO, Junqueira JC (2015) Lactobacillus acidophilus ATCC 4356 inhibits biofilm formation by C. albicans and attenuates the experimental candidiasis in Galleria mellonella. Virulence 6(1):29–39. doi:10.4161/21505594.2014.981486

Wang H, Yan Y, Wang J, Zhang H, Qi W (2012) Production and characterization of antifungal compounds produced by Lactobacillus plantarum IMAU10014. PLoS One 7(1):e29452. doi:10.1371/journal.pone.0029452

Zakaria Gomaa E (2013) Antimicrobial and anti-adhesive properties of biosurfactant produced by lactobacilli isolates, biofilm formation and aggregation ability. J Gen Appl Microbiol 59(6):425–436. doi:10.2323/jgam.59.425
Acknowledgments
The authors thank Carol Tran for the technical support with the scanning electron microscope and the Coordination for the Improvement of Higher Education Personnel (CAPES) Foundation for supporting Victor H. Matsubara.
Ethics declarations
Conflict of interest
The authors declare that they have no conflict of interest.
Ethical approval
This article does not contain any studies with human participants or animals performed by any of the authors.
About this article
Cite this article
Matsubara, V.H., Wang, Y., Bandara, H.M.H.N. et al. Probiotic lactobacilli inhibit early stages of Candida albicans biofilm development by reducing their growth, cell adhesion, and filamentation. Appl Microbiol Biotechnol 100, 6415–6426 (2016). https://doi.org/10.1007/s00253-016-7527-3
Received:

Revised:

Accepted:

Published:

Issue Date:
Keywords
Biofilm

Candida albicans

Candidiasis

Lactobacillus

Probiotics