Abstract
As food safety advances, there is a great need to maintain, distribute, and provide high-quality food to a much broader consumer base. There is also an ever-growing "arms race" between pathogens and humans as food manufacturers. The human microbiome is a collective organ of microbes that have found community niches while associating with their host and other microorganisms. Humans play an important role in modifying the environment of these organisms through their life choices, especially through individual diet. The composition of an individual's diet influences the digestive system—an ecosystem with the greatest number and largest diversity of organisms currently known. Organisms living on and within food have the potential to be either friends or foes to the consumer. Maintenance of this system can have multiple benefits, but lack of maintenance can lead to a host of chronic and preventable diseases. Overall, this dynamic system is influenced by intense competition from food-borne pathogens, lifestyle, overall diet, and presiding host-associated microbiota.
Access options
Buy single article
Instant access to the full article PDF.
US$ 39.95
Tax calculation will be finalised during checkout.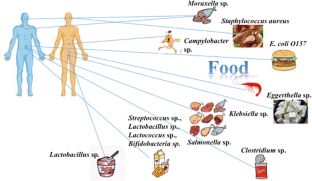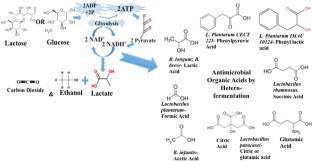 References
Adams M, Mitchell R (2002) Fermentation and pathogen control: a risk assessment approach. Int J Food Microbiol 79:75–83

Altekruse SF, Stern NJ, Fields PI, Swerdlow DL (1999) Campylobacter jejuni—an emerging foodborne pathogen. Emerg Infect Dis 5:28–35

Argyri AA, Zoumpopoulou G, Karatzas KA, Tsakalidou E, Nychas GJ, Panagou EZ, Tassou CC (2013) Selection of potential probiotic lactic acid bacteria from fermented olives by in vitro tests. Food Microbiol 33:282–291

Auclair J, Frappier M, Millette M (2015) Lactobacillus acidophilus CL1285, Lactobacillus casei LBC80R, and Lactobacillus rhamnosus CLR2 (Bio-K): characterization, manufacture, mechanisms of action, and quality control of a specific probiotic combination for primary prevention of Clostridium difficile infection. Clin Infect Dis 60:S135–S143

Aydin F, Atabay HI, Akan M (2001) The isolation and characterization of Campylobacter jejuni subsp. jejuni from domestic geese (Anser anser). J Appl Microbiol 90:637–642

Bacciarini LN, Boerlin P, Straub R, Frey J, Grone A (2003) Immunohistochemical localization of Clostridium perfringens β2-toxin in the gastrointestinal tract of horses. Vet Pathol 40:376–381

Backhed F (2011) Programming of host metabolism by the gut microbiota. Ann Nutr Metab 58:44–52

Bai L, Guo Y, Lan R, Dong Y, Wang W, Hu Y, Gan X, Yan S, Fu P, Pei X, Xu J, Liu X, Li F (2015) Genotypic characterization of Shiga toxin-producing Escherichia coli O157:H7 isolates in food products from China between 2005 and 2010. Food Control 50:209–214

Barbosa MS, Todorov SD, Ivanova IV, Belguesmia Y, Choiset Y, Rabesona H, Chobert J-M, Haertle T, Franco BDGM (2016) Characterization of a two-peptide plantaricin produced by Lactobacillus plantarum MBSa4 isolated from Brazilian salami. Food Control 60:103–112

Bartosch S, Fite A, Macfarlane GT, Mcmurdo MET (2004) Characterization of bacterial communities in feces from healthy elderly volunteers and hospitalized elderly patients by using real-time PCR and effects of antibiotic treatment on the fecal microbiota. Appl Environ Microbiol 70:3575–3581

Bedani R, Pauly-Silveira ND, Roselino MN, de Valdez GF, Rossi EA (2010) Effect of fermented soy product on the fecal microbiota of rats fed on a beef-based animal diet. J Sci Food Agric 90:233–238

Bennett SD, Walsh KA, Gould LH (2013) Foodborne disease outbreaks caused by Bacillus cereus, Clostridium perfringens, and Staphylococcus aureus—United States, 1998–2008. Clin. Infect Dis 57:425–433

Bennik M, Van Overbeek W, Smid E, Gorris L (1999) Biopreservation in modified atmosphere stored mungbean sprouts: the use of vegetable associated bacteriocinogenic lactic acid bacteria to control the growth of Listeria monocytogenes. Lett Appl Microbiol 28:226–232

Benno Y, Endo K, Mizutani T, Namba Y, Komori T, Mitsuoka T (1989) Comparsion of fecal microflora of elderly persons in rural and urban areas of Japan. Appl Environ Microbiol 55:1100–1105

Berg AM, Kelly CP, Farraye FA (2012) Clostridium difficile infection in the inflammatory bowel disease patient. Inflamm Bowel Dis 19:194–204

Bergonier D, Sobral D, Febler AT, Jacquet E, Gilbert FB, Schwarz S, Treilles M, Bouloc P, Pourcel C, Vergnaud G (2014) Staphylococcus aureus from 152 cases of bovine, ovine and caprine mastitis investigated by multiple-locus variable number of tandem repeat analysis (MLVA). Vet Res 45:97

Berry ED, Wells JE (2010) Escherichia coli O157:H7: recent advances in research on occurrence, transmission, and control in cattle and the production environment. Adv Food Nut Res 60:67–117

Biagi E, Nylund L, Candela M, Ostan R, Bucci L, Pini E, Nikkila J, Monti D, Satokari R, Franceschi C, Brigidi P, De Vos W (2010) Through ageing, and beyond: gut microbiota and inflammatory status in seniors and centenarians. PLoS ONE 5:e10667

Biotechnology and Food Safety: proceedings of the Second International Symposium. 2014. Elsevier https://books.google.com/books?hl=en&lr=&id=d4qjBQAAQBAJ&pgis=1.

Bogaert D, Keijser B, Huse S, Rossen J, Veenhoven R, van Gils E, Bruin J, Montijn R, Bonten M, Sanders E (2011) Variability and diversity of nasopharyngeal microbiota in children: a metagenomic analysis. PLoS One 6:e17035

Bolotin A, Quinquis B, Renault P, Sorokin A, Ehrlich SD, Kulakauskas S, Lapidus A, Goltsman E, Mazur M, Pusch GD, Fonstein M, Overbeek R, Kyprides N, Purnelle B, Prozzi D, Ngui K, Masuy D, Hancy F, Burteau S, Boutry M, Delcour J, Goffeau A, Hols P (2004) Complete sequence and comparative genome analysis of the dairy bacterium Streptococcus thermophilus. Nat Biotechnol 22:1554–1558

Bostanci N, Belibasakis GN (2012) Porphyromonas gingivalis: an invasive and evasive opportunistic oral pathogen. FEMS Microbiol Lett 333:1–9

Bourdichon F, Casaregola S, Farrokh C, Frisvad JC, Gerds ML, Hammes WP, Harnett J, Huys G, Laulund S, Ouwehand A, Powell IB, Prajapati JB, Seto Y, Ter Schure E, Van Boven A, Vankerckhoven V, Zgoda A, Tuijtelaars S, Hansen EB (2012) Food fermentations: microorganisms with technological beneficial use. Int J Food Microbiol 154:87–97

Bovee-Oudenhoven IM, ten Bruggencate SJ, Lettink-Wissink ML, van der Meer R (2003) Dietary fructo-oligosaccharides and lactulose inhibit intestinal colonisation but stimulate translocation of Salmonella in rats. Gut 52:1572–1578

Bowey E, Adlercreutz H, Rowland I (2003) Metabolism of isoflavones and lignans by the gut microflora: a study in germ-free and human flora associated rats. Food Chem Toxicol 41:631–636

Brown K, DeCoffe D, Molcan E, Gibson DL (2012) Diet-induced dysbiosis of the intestinal microbiota and the effects on immunity and disease. Nutrients 4:1095–1119

Bungay AAC, de Los Reyes CS, Estacio MJ (2005) The zoonotic potential of campylobacteriosis and its implications to human health. Philippine J Sci 134:69–77

Caminero A, Herran AR, Nistal E, Perez-Andres J, Vaquero L, Vivas S, Ruiz de Morales JM, Albillos SM, Casqueiro J (2014) Diversity of the cultivable human gut microbiome involved in gluten metabolism: isolation of microorganisms with potential interest for coeliac disease. FEMS Microbiol Ecol 88:309–319

Carbonero F, Gaskins HR (2013) Sulfate-reducing bacteria in the human gut microbiome. Encyclopedia of Metagenomics:617–619

Cardona F, Andrés-Lacueva C, Tulipani S, Tinahones FJ, Queipo-Ortuno MI (2013) Benefits of polyphenols on gut microbiota and implications in human health. J Nutr Biochem 24:1415–1422

Carriere J, Bretin A, Barnich N, Nguyen HTT (2015) Crohn's disease-associated adherent-invasive Escherichia coli induce secretion of exosomes with pro-inflammatory activity by intestinal epithelial cells. Gastroenterology 148:S-710

Casaburi A, Piombino P, Nychas G-J, Villani F, Ercolini D (2015) Bacterial populations and the volatilome associated to meat spoilage. Food Microbiol 45:83–102

Casaburi A, Di Martino V, Ferranti P, Picariello L, Villani F (2016) Technological properties and bacteriocins production by Lactobacillus curvatus 54M16 and its use as starter culture for fermented sausage manufacture. Food Control 59:31–45

Chakchouk-Mtibaa A, Elleuch L, Smaoui S, Najah S, Sellem I, Abdelkafi S, Mellouli L (2014) An antilisterial bacteriocin BacFL31 produced by Enterococcus faecium FL31 with a novel structure containing hydroxyproline residues. Anaerobe 27:1–6

Charalampopoulos D, Wang R, Pandiella SS, Webb C (2002) Application of cereals and cereal components in functional foods: a review. Int J Food Microbiol 79:131–141

Chauret C (2011) Survival and control of Escherichia coli O157:H7 in foods, beverages, soil and water. Virulence 2:593–601

Chiang BL, Sheih YH, Wang LH, Liao CK, Gill HS (2000) Enhancing immunity by dietary consumption of a probiotic lactic acid bacterium (Bifidobacterium lactis HN019): optimization and definition of cellular immune responses. Eur J Clin Nutr 54:849–855

Chou LS, Weimer B (1999) Isolation and characterization of acid- and bile-tolerant isolates from strains of Lactobacillus acidophilus. J Dairy Sci 82:23–31

Clemente JC, Ursell LK, Parfrey LW, Knight R (2012) The impact of the gut microbiota on human health: an integrative view. Cell 148:1258–1270

Cornejo-Juarez P, Vilar-Compte D, Perez-Jimenez C, Namendys-Silva SA, Sandoval-Hernandez S, Volkow-Fernandez P (2015) The impact of hospital-acquired infections with multidrug-resistant bacteria in an oncology intensive care unit. Int J Infect Dis 31:31–34

Cossart P (2011) Illuminating the landscape of host-pathogen interactions with the bacterium Listeria monocytogenes. Proc Nat Acad Sci USA 108:19484–19491

Croxen MA, Finlay BB (2010) Molecular mechanisms of Escherichia coli pathogenicity. Nat. Rev Microbiol 8:26–38

Croxen MA, Law RJ, Scholz R, Keeney KM, Wlodarska M, Finlay BB (2013) Recent advances in understanding enteric pathogenic Escherichia coli. Clin Microbiol Rev 26:822–880

Dahlsten E, Lindstrom M, Korkeala H (2015) Mechanisms of food processing and storage-related stress tolerance in Clostridium botulinum. Res Microbiol 166:344–352

David LA, Maurice CF, Carmody RN, Gootenberg DB, Button JE, Wolfe BE, Ling AV, Devlin AS, Varma Y, Fischbach MA, Biddinger SB, Dutton RJ, Turnbaugh PJ (2014) Diet rapidly and reproducibly alters the human gut microbiome. Nature 505:559–563

De Filippo C, Cavalieri D, Di Paola M, Ramazzotti M, Poullet JB, Massart S, Collini S, Pieraccini G, Lionetti P (2010) Impact of diet in shaping gut microbiota revealed by a comparative study in children from Europe and rural Africa. Proc Natl Acad Sci U S A 107:14691–14696

de Kraker MEA, Davey PG, Grundmann H (2011) Mortality and hospital stay associated with resistant Staphylococcus aureus and Escherichia coli bacteremia: estimating the burden of antibiotic resistance in Europe. PLoS Med 8:e1001104

de La Serre CB, Ellis CL, Lee J, Hartman AL, Rutledge JC, Raybould HE (2010) Propensity to high-fat diet-induced obesity in rats is associated with changes in the gut microbiota and gut inflammation. Am J Physiol Gastrointest Liver Physiol 299:G440–G448

de Vrese M, Schrezenmeir J (2008) Probiotics, prebiotics, and synbiotics. Adv Biochem Eng Biotechnol 111:1–66

de Vrese M, Laue C, Offick B, Soeth E, Repenning F, Thob A, Schrezenmeir J (2015) A combination of acid lactase from Aspergillus oryzae and yogurt bacteria improves lactose digestion in lactose maldigesters synergistically: a randomized, controlled, double-blind cross-over trial. Clin Nutr 34:394–399

Derrien M, van Hylckama VJET (2015) Fate, activity, and impact of ingested bacteria within the human gut microbiota. Trends Microbiol 23:354–366

Dong H, Rowland I, Tuohy KM, Thomas LV, Yaqoob P (2010) Selective effects of Lactobacillus casei shirota on T cell activation, natural killer cell activity and cytokine production. Clin Exp Immunol 161:378–388

Douillard FP, de Vos WM (2014) Functional genomics of lactic acid bacteria: from food to health. Microb Cell Factories S8. doi:10.1186/1475-2859-13-S1-S8

Douillard FP, Ribbera A, Jarvinen HM, Kant R, Pietila TE, Randazzo C, Paulin L, Laine PK, Caggia C, von Ossowski I, Reunanen J, Satokari R, Salminen S, Palva A, de Vos WM (2013) Comparative genomic and functional analysis of Lactobacillus casei and Lactobacillus rhamnosus strains marketed as probiotics. Appl Environ Microbiol 79:1923–1933

Doulgeraki AI, Ercolini D, Villani F, Nychas GJ (2012) Spoilage microbiota associated to the storage of raw meat in different conditions. Int J Food Microbiol 157:130–141

Doyle MP, Erickson MC, Alali W, Cannon J, Deng X, Ortega Y, Smith MA, Zhao T (2015) The food industry's current and future role in preventing microbial foodborne illness within the United States. Clin Infect Dis 61:252–259

Dykes GA, Sampathkumar B, Korber DR (2003) Planktonic or biofilm growth effects survival, hydrophobicity and protein expression patterns of a pathogenic Campylobacter jejuni strain. Int J Food Microbiol 89:1–10

Eckburg PB, Bik EM, Bernstein CN, Purdom E, Dethlefsen L, Sargent M, Gill SR, Nelson KE, Relman DA (2005) Diversity of the human intestinal microbial flora. Science 308:1635–1638

El-Demerdash M, Abdien H, Mansour D, Elfeil W, Abdallah MS (2014) Protective efficacy of synbiotics in the prevention of Salmonella typhimurium in chickens. Global Anim Sci J 2:78–85

Erturk-Hasdemir D, Kasper DL (2013) Resident commensals shaping immunity. Curr Opin Immunol 25:450–455

Estrada-Garcia T, Navarro-Garcia F (2012) Enteroaggregative Escherichia coli pathotype: a genetically heterogeneous emerging foodborne enteropathogen. FEMS Immunol Med Microbiol 66:281–298

Evans CT, Safdar N (2015) Current trends in the epidemiology and outcomes of Clostridium difficile infection. Clin Infect Dis 60(Suppl 2):S66–S71

Food Safety and Inspection Service, USDA (2015). FSIS-2014 Recall Summary. Data Collection and Reports. 24 Mar

Frank DN, Feazel LM, Bessesen MT, Price CS, Janoff EN, Pace NR (2010) The human nasal microbiota and Staphylococcus aureus carriage. PLoS One 5:e10598. doi:10.1371/journal.pone.0010598

Freitag NE, Port GC, Miner MD (2009) Listeria monocytogenes—from saprophyte to intracellular pathogen. Nat Rev Microbiol 7:623–628

Garcia AB, Vigre H, Josefsen MH (2015) Towards the production of reliable quantitative microbiological data for risk assessment: direct quantification of Campylobacter in naturally infected chicken fecal samples using selective culture and real-time PCR. Food Control 55:133–140

García-Cañas V, Simó C, Herrero M, Ibáñez E, Cifuentes A (2012) Present and future challenges in food analysis: foodomics. Anal Chem 84:10150–10159

Gharst G, Oyarzabal OA, Hussain SK (2013) Review of current methodologies to isolate and identify Campylobacter spp. from foods. J Microbiol Methods 95:84–92

Gibson GR, Probert HM, Loo JV, Rastall RA, Roberfroid MB (2004) Dietary modulation of the human colonic microbiota: updating the concept of prebiotics. Nutr Res Rev 17:259–275

Gilchrist MJ, Greko C, Wallinga DB, Beran GW, Riley DG, Thorne PS (2007) The potential role of concentrated animal feeding operations in infectious disease epidemics and antibiotic resistance. Environ Health Perspect 115:313–316

Gill HS, Rutherfurd KJ, Cross ML (2001) Dietary probiotic supplementation enhances natural killer cell activity in the elderly: an investigation of age-related immunological changes. J Clin Immunol 21:264–271

Goerges S, Aigner U, Silakowski B, Scherer S (2006) Inhibition of Listeria monocytogenes by food-borne yeasts. Appl Environ Microbiol 72:313–318

Guandalini S (2011) Probiotics for prevention and treatment of diarrhea. J Clin Gastroenterol 45:S149–S153

Guran HS, Vural A, Erkan ME (2014) The prevalence and molecular typing of Clostridium perfringens in ground beef and sheep meats. J Verbr Lebensm 9:121–128

Hadimli HH, Erganis O, Sayin Z, Aras Z (2012) Toxinotyping of Clostridium perfringens isolates by ELISA and PCR from lambs suspected of enterotoxemia. Turkish J Vet Anim Sci 36:409–415

Hamon M, Bierne H, Cossart P (2006) Listeria monocytogenes: a multifaceted model. Nat Rev Microbiol 4:423–434

Hatoum R, Labrie S, Fliss I (2012) Identification and partial characterization of antilisterial compounds produced by dairy yeasts. Probiotics Antimicrob Prot 5:8–17

Hattori M, Taylor TD (2009) The human intestinal microbiome: a new frontier of human biology. DNA Res 16:1–12

Helms M, Simonsen J, Molbak K (2004) Quinolone resistance is associated with increased risk of invasive illness or death during infection with Salmonella serotype typhimurium. J Infect Dis 190:1652–1654

Holzapfel WH, Wood BJB (2014) Introduction to the LAB in Lactic acid bacteria: biodiversity and taxonomy by Holzapfel WH, Wood BJB (Eds), pp 1–12, ISBN: 9781444333831, Willy press

Hooton TM (2012) Uncomplicated urinary tract infection. N Engl J Med 366:1028–1037

Hopkins M, Sharp R, Macfarlane G (2001) Age and disease related changes in intestinal bacterial populations assessed by cell culture, 16S rRNA abundance, and community cellular fatty acid profiles. Gut 48:198–205

Hsiao WWL, Li KL, Liu Z, Jones C, Fraser-Liggett CM, Fouad AF (2012) Microbial transformation from normal oral microbiota to acute endodontic infections. BMC Genomics 13:345

Huang H, Brooks BW, Lowman R, Carrillo CD (2015) Campylobacter species in animal, food, and environmental sources, and relevant testing programs in Canada. Can J Microbiol 61:701–721

Iyer R, Tomar SK, Maheswari TU, Singh R (2010) Streptococcus thermophilus strains: multifunctional lactic acid bacteria. Inter Dairy J 20:133–141

Jacob ME, Callaway TR, Nagaraja TG (2009) Dietary interactions and interventions affecting Escherichia coli O157 colonization and shedding in cattle. Foodborne Pathog Dis 6:785–792

Jacobs DM, Gaudier E, van Duynhoven J, Vaughan EE (2009) Non-digestible food ingredients, colonic microbiota and the impact on gut health and immunity: a role for metabolomics. Curr Drug Metab 10:41–45

Jakobsson HE, Jernberg C, Andersson AF, Sjolund-Karlsson M, Jansson JK, Engstrand L (2010) Short-term antibiotic treatment has differing long-term impacts on the human throat and gut microbiome. PLoS One 5:e9836

Jeffery IB, O'toole PW (2013) Diet-microbiota interactions and their implications for healthy living. Nutrients 5:234–252

Kailasapathy K, Chin J (2000) Survival and therapeutic potential of probiotic organisms with reference to Lactobacillus acidophilus and Bifidobacterium spp. Immunol Cell Biol 78:80–88

Kanjee U, Houry WA (2013) Mechanisms of acid resistance in Escherichia coli. Annu Rev Microbiol 67:65–81

Kaur N, Chen CC, Luther J, Kao JY (2011) Intestinal dysbiosis in inflammatory bowel disease. Gut Microbes 2:211–216

Kiers J, Meijer JC, Nout MJR, Rombouts FM, Nabuurs MJA, Van Der Meulen J (2003) Effect of fermented soya beans on diarrhoea and feed efficiency in weaned piglets. J Appl Microbiol 95:545–552

Kim J, Jung MY, Chang YH, Kim S, Kim SJ, Park YH (2007) Probiotic properties of Lactobacillus and Bifidobacterium strains isolated from porcine gastrointestinal tract. Appl Microbiol Biotechnol 74:1103–1111

Kim JY, Young JA, Gunther NW, Lee JL (2014) Inhibition of Salmonella by bacteriocin-producing lactic acid bacteria derived from U.S. kimchi and broiler chicken. J Food Safety 35:1–12

Klaenhammer TR, Kleerebezem M, Kopp MV, Rescigno M (2012) The impact of probiotics and prebiotics on the immune system. Nat Rev Immunol 12:728–734

Koreen L, Ramaswamy SV, Graviss EA, Naidich S, Musser JM, Kreiswirth BN (2004) Spa typing method for discriminating among Staphylococcus aureus isolates: implications for use of a single marker to detect genetic micro- and macrovariation. J Clin Microbiol 42:792–799

Krych L, Hansen CHF, Hansen AK, van den Berg FWJ, Nielsen DS (2013) Quantitatively different, yet qualitatively alike: a meta-analysis of the mouse core gut microbiome with a view towards the human gut microbiome. PLoS ONE 8:e62578

Kurakawa T, Ogata K, Matsuda K, Tsuji H, Kubota H, Takada T, Kado Y, Asahara T, Takahashi T, Nomoto K (2015a) Diversity of intestinal Clostridium coccoides group in the Japanese population, as demonstrated by reverse transcription-quantitative PCR. PLoS One 10:e0126226

Kurakawa T, Ogata K, Tsuji H, Kado Y, Takahashi T, Kida Y, Ito M, Okada N, Nomoto K (2015b) Establishment of a sensitive system for analysis of human vaginal microbiota on the basis of rRNA-targeted reverse transcription-quantitative PCR. J Microbiol Methods 111:93–104

Larsen N, Vogensen FK, van den Berg FW, Nielsen DS, Andreasen AS, Pedersen BK, Al-Soud WA, Sorensen SJ, Hansen LH, Jakobsen M (2010) Gut microbiota in human adults with type 2 diabetes differs from non-diabetic adults. PLoS ONE 5:e9085

Le Chatelier E, Nielsen T, Qin J, Prifti E, Hildebrand F, Falony G, Almeida M, Arumugam M, Batto JM, Kennedy S, Leonard P, Li J, Burgdorf K, Grarup N, Jørgensen T, Brandslund I, Nielsen HB, Juncker AS, Bertalan M, Levenez F, Pons N, Rasmussen S, Sunagawa S, Tap J, Tims S, Zoetendal EG, Brunak S, Clément K, Dore J, Kleerebezem M, Kristiansen K, Renault P, Sicheritz-Ponten T, de Vos WM, Zucker JD, Raes J, Hansen T, Bork P, Wang J, Ehrlich SD, Pedersen O (2013) Richness of human gut microbiome correlates with metabolic markers. Nature 500:541–546

Le Loir Y, Baron F, Gautier M (2003) Staphylococcus aureus and food poisoning. Genet Mol Res 2:63–76

Leahy SC, Higgins DG, Fitzgerald GF, Van Sinderen D (2005) Getting better with Bifidobacteria. J Appl Microbiol 98:1303–1315

Lee HY, Chai LC, Pui CF, Mustafa S, Cheah YK, Nishibuchi M, Radu S (2013) Formation of biofilm by Listeria monocytogenes ATCC 19112 at different incubation temperatures and concentrations of sodium chloride. Brazilian J Microbiol 44:51–55

Leverentz B, Conway WS, Janisiewicz W, Abadias M, Kurtzman CP, Camp MJ (2006) Biocontrol of the food-borne pathogens Listeria monocytogenes and Salmonella enterica serovar poona on fresh-cut apples with naturally occurring bacterial and yeast antagonists. Appl Environ Microbiol 72:1135–1140

Levri KM, Ketvertis K, Deramo M, Merenstein JH, D'Amico F (2005) Do probiotics reduce adult lactose intolerance? A systematic review. J Fam Pract 54:613–620

Ley RE, Peterson DA, Gordon JI (2006) Ecological and evolutionary forces shaping microbial diversity in the human intestine. Cell 124:837–848

Li J, Zhang W, Wang C, Yu Q, Dai R, Pei X (2012) Lactococcus lactis expressing food-grade β-galactosidase alleviates lactose intolerance symptoms in post-weaning Balb/c mice. Appl Microbiol Biotechnol 96:1499–1506

Li J, Jia H, Cai X, Zhong H, Feng Q, Sunagawa S, Arumugam M, Kultima JR, Prifti E, Nielsen T, Juncker AS, Manichanh C, Chen B, Zhang W, Levenez F, Wang J, Xu X, Xiao L, Liang S, Zhang D, Zhang Z, Chen W, Zhao H, Al-Aama JY, Edris S, Yang H, Wang J, Hansen T, Nielsen HB, Brunak S, Kristiansen K, Guarner F, Pedersen O, Dore J, Ehrlich SD, Bork P, Wang J (2014) An integrated catalog of reference genes in the human gut microbiome. Nat Biotechnol 32:834–841

Liato V, Labrie S, Viel C, Benali M, Aider M (2015) Study of the combined effect of electro-activated solutions and heat treatment on the destruction of spores of Clostridium sporogenes and Geobacillus stearothermophilus in model solution and vegetable puree. Anaerobe 35(Pt B):11–21

Lin CS, Chang CJ, Lu CC, Martel J, Ojcius DM, Ko YF, Young JD, Lai HC (2014) Impact of the gut microbiota, prebiotics, and probiotics on human health and disease. Biomed J 37:259–268

Lindstrom M, Heikinheimo A, Lahti P, Korkeala H (2011) Novel insights into the epidemiology of Clostridium perfringens type A food poisoning. Food Microbiol 28:192–198

Ling Z, Liu X, Chen X, Zhu H, Nelson KE, Xia Y, Li L, Xiang C (2011) Diversity of cervicovaginal microbiota associated with female lower genital tract infections. Microb Ecol 61:704–714

Looney WJ, Narita M, Muhlemann K (2009) Stenotrophomonas maltophilia: an emerging opportunist human pathogen. Lancet Infect Dis 9:312–323

Lu K, Abo RP, Schlieper KA, Graffam ME, Levine S, Wishnok JS, Swenberg JA, Tannenbaum SR, Fox JG (2014) Arsenic exposure perturbs the gut microbiome and its metabolic profile in mice: an integrated metagenomics and metabolomics analysis. Environ Health Perspect 122:284–291

Ma K, Maeda T, You H, Shirai Y (2014) Open fermentative production of L-lactic acid with high optical purity by thermophilic Bacillus coagulans using excess sludge as nutrient. Bioresour Technol 151:28–35

Mahenthiralingam E, Baldwin A, Drevinek P, Vanlaere E, Vandamme P, LiPuma JJ, Dowson CG (2006) Multilocus sequence typing breathes life into a microbial metagenome. PLoS One 1:e17

Maiden MCJ (2006) Multilocus sequence typing of bacteria. Annu Rev Microbiol 60:561–588

Majowicz SE, Scallan E, Jones-Bitton A, Sargeant JM, Stapleton J, Angulo FJ, Yeung DH, Kirk MD (2014) Global incidence of human shiga toxin-producing Escherichia coli infections and deaths: a systematic review and knowledge synthesis. Foodborne Pathog Dis 11:447–455

Makarova KS, Koonin EV (2006) Evolutionary genomics of lactic acid bacteria. J Bacteriol 189:1199–1208

Malinen E, Rinttila T, Kajander K, Matto J, Kassinen A, Krogius L, Saarela M, Korpela R, Palva A (2005) Analysis of the fecal microbiota of irritable bowel syndrome patients and healthy controls with real-time PCR. Am J Gastroenterology 100:373–382

Marlow G, Ellett S, Ferguson IR, Zhu S, Karunasinghe N, Jesuthasan AC, Han DY, Fraser AG, Ferguson LR (2013) Transcriptomics to study the effect of a mediterranean-inspired diet on inflammation in Crohn's disease patients. Hum Genomics 7:24

Martín R, Langa S, Reviriego C, Jimínez E, Marín ML, Xaus J, Fernandez L, Rodríguez JM (2003) Human milk is a source of lactic acid bacteria for the infant gut. J Pediatr 143:754–758

Martinez-Medina M, Aldeguer X, Gonzalez-Huix F, Acero D, Garcia-Gil LJ (2006) Abnormal microbiota composition in the ileocolonic mucosa of Crohn's disease patients as revealed by polymerase chain reaction-denaturing gradient gel electrophoresis. Inflamm Bowel Dis 12:1136–1145

Matijasic BB, Obermajer T, Lipoglavsek L, Grabnar I, Avgustin G, Rogelj I (2014) Association of dietary type with fecal microbiota in vegetarians and omnivores in Slovenia. Eur J Nutr 53:1051–1064

Matto J, Fonden R, Tolvanen T, von Wright A, Vilpponen-Salmela T, Satokari R, Saarela M (2006) Intestinal survival and persistence of probiotic Lactobacillus and Bifidobacterium strains administered in triple-strain yoghurt. Int Dairy J 16:1174–1118

Mauldin PD, Salgado CD, Hansen IS, Durup DT, Bosso JA (2010) Attributable hospital cost and length of stay associated with health care-associated infections caused by antibiotic-resistant gram-negative bacteria. Antimicrob Agents Chemother 54:109–115

McFarland LV (2015) From yaks to yogurt: the history, development, and current use of probiotics. Clin Infect Dis 60(Suppl 2):S85–S90

Miwa N, Masuda T, Terai K, Kawamura A, Otani K, Miyamoto H (1999) Bacteriological investigation of an outbreak of Clostridium perfringens food poisoning caused by Japanese food without animal protein. Int J Food Microbiol 49:103–106

Moretro T, Langsrud S (2004) Listeria monocytogenes: biofilm formation and persistence in food-processing environments. Biofilms 1:107–121

Murillo N, Raoult D (2013) Skin microbiota: overview and role in the skin diseases acne vulgaris and rosacea. Future Microbiol 8:209–222

Murphy TF, Parameswaran GI (2009) Moraxella catarrhalis, a human respiratory tract pathogen. Clin Infect Dis 49:124–131

Nakayama J, Hoshiko H, Fukuda M, Tanaka H, Sakamoto N, Tanaka S, Ohue K, Sakai K, Sonomoto K (2007) Molecular monitoring of bacterial community structure in long-aged nukadoko: pickling bed of fermented rice bran dominated by slow-growing lactobacilli. J Biosci Bioeng 104:481–489

Nes IF, Johnsborg O (2004) Exploration of antimicrobial potential in LAB by genomics. Curr Opin Biotechnol 15:100–104

Nicholson JK, Holmes E, Kinross J, Burcelin R, Gibson G, Jia W, Pettersson S (2012) Host-gut microbiota metabolic interactions. Science 336:1262–1267

Nishio, Y., E. Noguchi, S. Ito, E. Ichikawa, Y. Umebayashi, F. Otsuka, and T. Arinami (2001) Mutation and association analysis of the interferon regulatory factor 2 gene (IRF2) with atopic dermatitis. Journal of Human Genetics: 664–67. Web

Noor R, Hasan Md F, Munna MS, Rahman MM (2015) Demonstration of virulent genes within Listeria and Klebsiella isolates contaminating the export quality frozen shrimps. Int Aquat Res 7:157–161

Nutrition Center for Food Safety and Applied. 2015. Laboratory methods—BAM: diarrheagenic Escherichia coli. Center for Food Safety and Applied Nutrition. http://www.fda.gov/food/foodscienceresearch/laboratorymethods/ucm070080.htm

O'Keefe, Stephen (2008) Nutrition and colonic health: the critical role of the microbiota. Curr Opin Gastroenterol: 51-58

O'Loughlin JL, Samuelson DR, Braundmeier-Fleming AG, White BA, Haldorson GJ, Stone JB, Lessmann JJ, Eucker TP, Konkel ME (2015) The intestinal microbiota influences Campylobacter jejuni colonization and extraintestinal dissemination in mice. Appl Environ Microbiol 81:4642–4650

Ogura Y, Ooka T, Iguchi A, Toh H, Asadulghani M, Oshima K, Kodama T, Abe H, Nakayama K, Kurokawa K, Tobe T, Hattori M, Hayashi T (2009) Comparative genomics reveal the mechanism of the parallel evolution of O157 and non-O157 enterohemorrhagic Escherichia coli. Proc Nat Acad Sci USA 106:17939–17944

Olaoye OA (2011) Meat: an overview of its composition, biochemical changes and associated microbial agents. Int Food Res J 18:877–885

Oliver SP, Patel DA, Callaway TR, Torrence ME (2009) ASAS centennial paper: developments and future outlook for preharvest food safety. J Anim Sci 87:419–4437

Olszak T, An D, Zeissig S, Vera MP, Richter R, Franke A, Glickman JN, Siebert R, Baron RM, Kasper DL, Blumberg RS (2012) Microbial exposure dung early life has persistent effects on natural killer T cell function. Science 336:489–493

Onda T, Yanagida F, Tsuji M, Shinohara T, Yokotsuka K (2003) Production and purification of a bacteriocin peptide produced by Lactococcus sp. strain GM005, isolated from miso-paste. Int J Food Microbiol 87:153–159

Ono H, Nishio S, Tsurii J, Kawamoto T, Sonomoto K, Nakayama J (2015) Effects of Japanese pepper and red pepper on the microbial community during nukadoko fermentation. Biosci Microbiota Food Health 34: 1–9.

Ortega E, Abriouel H, Lucas R, Galvez A (2010) Multiple roles of Staphylococcus aureus enterotoxins: pathogenicity, superantigenic activity, and correlation to antibiotic resistance. Toxins 2:2117–2131

Packey CD, Sartor RB (2009) Commensal bacteria, traditional and opportunistic pathogens, dysbiosis and bacterial killing in inflammatory bowel diseases. Curr Opin Infect Dis 22:292–301

Palaria A, Johnson-Kanda I, O'sullivan DJ (2012) Effect of a synbiotic yogurt on levels of fecal Bifidobacteria, Clostridia, and Enterobacteria. Appl Environ Microbiol 78:933–940

Park KY, Jeong JK, Lee YE, Daily JW 3rd (2014) Health benefits of kimchi (Korean fermented vegetables) as a probiotic food. J Med Food 17:6–20

Parkhill J, Wren BW, Mungall K, Ketley JM (2000) The genome sequence of the food-borne pathogen Campylobacter jejuni reveals hypervariable sequences. Nature 403:665–668

Patel R, DuPont HL (2015) New approaches for bacteriotherapy: prebiotics, new-generation probiotics, and synbiotics. Clin Infect Dis 60(Suppl 2):S108–S121

Pearce RA, Wallace FM, Call JE, Dudley RL, Oser A (2003) Prevalence of Campylobacter within a swine slaughter and processing facility. J Food Prot 66:1550–1556

Pielsticker C, Glunder G, Rautenschlein S (2012) Colonization properties of Campylobacter jejuni in chickens. Eur J Microbiol Immuno 2:61–65

Purim K, Bordignon G, Queiroz-Telles F (2005) Fungal infection of the feet in soccer players and non-athlete individuals. Rev Iberoam Micol 22:34–38

Qaisrani SN, van Krimpen MM, Kwakkel RP, Verstegen MWA, Hendriks WH (2015) Diet structure, butyric acid, and fermentable carbohydrates influence growth performance, gut morphology, and cecal fermentation characteristics in broilers. Poultry Sci 94:2152–2164

Rhee S, Lee JE, Lee CH (2011) Importance of lactic acid bacteria in asian fermented foods. Microb Cell Factories 10:S5

Rinttila T, Lyra A, Krogius-Kurikka L, Palva A (2011) Real-time PCR analysis of enteric pathogens from fecal samples of irritable bowel syndrome subjects. Gut Pathog 3:6

Robinson CJ, Bohannan BJM, Young VB (2010) From structure to function: the ecology of host-associated microbial communities. Microbiol Mol Biol Rev 74:453–476

Rodriguez E, Calzada J, Arques J, Rodriguez JM, Nunez M, Medina M (2005) Antimicrobial activity of pediocin-producing Lactococcus lactis on Listeria monocytogenes, Staphylococcus aureus and Escherichia coli O157:H7 in cheese. Int Dairy J 15:51–57

Rodriguez-Beltran J, Tourret J, Tenaillon O, Lopez E, Bourdelier E, Costas C, Matic I, Denamur E, Blazquez J (2015) High recombinant frequency in extraintestinal pathogenic Escherichia coli strains. Mol Biol Evol 32:1708–1716

Rodriguez-Pazo N, Vazquez-Araujo L, Perez-Rodríguez N, Cortes-Dieguez S, Dominguez JM (2013) Cell-free supernatants obtained from fermentation of cheese whey hydrolyzates and phenylpyruvic acid by Lactobacillus plantarum as a source of antimicrobial compounds, bacteriocins, and natural aromas. Appl Biochem Biotechnol 171:1042–1060

Rosales RS, Churchward CP, Schnee C, Sachse K, Lysnyansky I, Catania S, Iob L, Ayling RD, Nicholas RAJ (2015) Global multilocus sequence typing analysis of Mycoplasma bovis isolates reveals two main population clusters. J Clin Microbiol 53:789–794

Rosendale DI, Maddox IS, Miles MC, Rodier M, Skinner M, Sutherland J (2008) High-throughput microbial bioassays to screen potential New Zealand functional food ingredients intended to manage the growth of probiotic and pathogenic gut bacteria. Int J Food Sci Technol 43:2257–2267

Rupnik M, Wilcox MH, Gerding DN (2009) Clostridium difficile infection: new developments in epidemiology and pathogenesis. Nat Rev Micro 7:526–536

Saez-Lara MJ, Gomez-Llorente C, Plaza-Diaz J, Gil A (2015) The role of probiotic lactic acid bacteria and Bifidobacteria in the prevention and treatment of inflammatory bowel disease and other related diseases: a systematic review of randomized human clinical trials Biomed Res Int Article ID 505878

Sahin O, Kassem II, Shen Z, Lin J, Rajashekara G, Zhang Q (2015) Campylobacter in poultry: ecology and potential interventions. Avian Dis 59:185–200

Sakaridis I, Soultos N, Dovas CI, Papavergou E, Ambrosiadis I, Koidis P (2012) Lactic acid bacteria from chicken carcasses with inhibitory activity against Salmonella spp. and Listeria monocytogenes. Czech J Food Sci 18:62–66

Sanders ME, Guarner F, Guerrant R, Holt PR, Quigley EM, Sartor RB, Sherman PM, Mayer EA (2013) An update on the use and investigation of probiotics in health and disease. Gut 62:787–796

Satin M (2008) Food alert!: the ultimate sourcebook for food safety. 2nd ed. New York, NY

Scallan E, Hoekstra RM, Angulo FJ, Tauxe RV, Widdowson MA, Roy SL, Jones JL, Griffin PM (2011) Foodborne illness acquired in the United States—major pathogens. Emerg Infect Dis 17:7–15

Scanlan PD, Shanahan F, Clune Y, Collins JK, O'sullivan GC, O'riordan M, Holmes E, Wang Y, Marchesi JR (2008) Culture-independent analysis of the gut microbiota in colorectal cancer and polyposis. Environ Microbiol 10:789–798

Schroeter J, Klaenhammer T (2009) Genomics of lactic acid bacteria. FEMS Microbiol Lett 292:1–6

Shim J (2013) Gut microbiota in inflammatory bowel disease. Pediatr Gastroenterol Hepatol Nutr 16(1):17–21

Simpson PJ, Ross RP, Fitzgerald GF, Stanton C (2004) Bifidobacterium psychraerophilum sp. nov. and Aeriscardovia aeriphila gen. nov., sp. nov., isolated from a porcine caecum. Int J Syst Evol Microbiol 54:401–406

Singh OV, Nagaraj NS, Gabani P (2011) Systems biology: integrating '-omics'-oriented approaches to determine foodborne microbial toxins. Handbook of systems toxicology. Ed. Casciano DA and Sahu SC. Wily Press, ISBN 978–0–470-68401-6

Sobel J (2008) Botulism. Clin Infect Dis 41:1167–1173

Song SJ, Lauber C, Costello EK, Lozupone CA, Humphrey G, Berg-Lyons D, Caporaso JG, Knights D, Clemente JC, Nakielny S, Gordon JI, Fierer N, Knight R (2013) Cohabiting family members share microbiota with one another and with their dogs. E Life 2:e00458

Spor A, Koren O, Ley R (2011) Unravelling the effects of the environment and host genotype on the gut microbiome. Nat Rev Microbiol 9:279–290

Spratt BG (1999) Multilocus sequence typing: molecular typing of bacterial pathogens in an era of rapid DNA sequencing and the internet. Curr Opin Microbiol 2:312–316

Srimark N, Khunajakr N (2015) Characterization of the bacteriocin-like substance from Lactococcus lactis subsp. lactis WX153 against swine pathogen Streptococcus suis. J Health Res 29:259–267

Stanley D, Wu SB, Rodgers N, Swick RA, Moore RJ (2014) Differential responses of cecal microbiota to fishmeal, Eimeria and Clostridium perfringens in a necrotic enteritis challenge model in chickens. PLoS One 9:e104739

Stecher B, Hardt WD (2011) Mechanisms controlling pathogen colonization of the gut. Curr Opin Microbiol 14:82–91

Stenfors ALP, Fagerlund A, Granum PE (2008) From soil to gut: Bacillus cereus and its food poisoning toxins. FEMS Microbiol Rev 32:579–606

Stewart EJ (2012) Growing unculturable bacteria. J Bacteriol 194:4151–4160

Suo C, Yin Y, Wang X, Lou X, Song D, Wang X, Gu Q (2012) Effects of Lactobacillus plantarum ZJ316 on pig growth and pork quality. BMC Vet Res 8:89

Suskovic J, Kos B, Goreta J, Matosic S (2001) Role of lactic acid bacteria and Bifidobacteria in synbiotic effect. Food Technol Biotechnol 39:227–235

Taylor AD, Yu Q, Chen S, Homola J, Jiang S (2005) Comparison of E. coli O157:H7 preparation methods used for detection with surface plasmon resonance sensor. Sensors Actuators B: Chem 107:202–208

Teh AHT, Lee SM, Dykes GA (2014) Does Campylobacter jejuni form biofilm in food-related environments? Appl Environ Microbiol 80:5154–5160

Tejero-Sarinena S, Barlow J, Costabile A, Gibson GR, Rowland I (2012) In vitro evaluation of the antimicrobial activity of a range of probiotics against pathogens: evidence for the effects of organic acids. Anaerobe 18:530–538

Titilawo Y, Obi L, Okoh A (2015) Occurrence of virulence gene signatures associated with diarrhoeagenic and non-diarrhoeagenic pathovars of Escherichia coli isolates from some selected rivers in south-western Nigeria. BMC Microbiol 15:204

Todd ECD, Greig JD, Bartleson CA, Michaels BS (2008) Outbreaks where food workers have been implicated in the spread of foodborne disease. Part 4. Infective doses and pathogen carriage. J Food Prot 71:2239–2373

Tulini FL, Hymery N, Haertle T, Le Blay G, De Martinis EC (2015) Screening for antimicrobial and proteolytic activities of lactic acid bacteria isolated from cow, buffalo and goat milk and cheeses marketed in the southeast region of Brazil. J Dairy Res, 1–10. doi:10.1017/S0022029915000606

Vaishampayan PA, Kuehl JV, Froula JL, Morgan JL, Ochman H, Francino MP (2010) Comparative metagenomics and population dynamics of the gut microbiota in mother and infant. Genome Biol Evol 2:53–66

Vandamme P, De Bruyne K, Pot B (2014) Phylogenetics and systematics in lactic acid bacteria: biodiversity and taxonomy. In: Holzapfel, WH, Wood BJB (eds), pp 31–44, ISBN: 9781444333831, Willy Press

Varsaki A, Murphy C, Barczynska A, Jordan K, Carroll C (2015) The acid adaptive tolerance response in Campylobacter jejuni induces a global response, as suggested by proteomics and microarrays. Microbial Biotechnol 8:974–988

Waters AE, Contente-Cuomo T, Buchhagen J, Liu CM, Watson L, Pearce K, Foster JT, Bowers J, Driebe EM, Engelthaler DM, Keim PS, Price LB (2011) Multidrug-resistant Staphylococcus aureus in US meat and poultry. Clin Infect Dis 52:1227–1230

Wisener LV, Sargeant JM, O'Connor AM, Faires MC, Glass-Kaastra SK (2015) The use of direct-fed microbials to reduce shedding of Escherichia coli O157 in beef cattle: a systematic review and meta-analysis. Zoonoses Pub Health 62:75–89

Woappi Y, Gabani P, Singh OV (2013) Emergence of antibiotic-producing microorganisms in residential versus recreational microenvironments. Br Microbiol Res J 3:280–294

Woappi Y, Gabani P, Singh A, Singh OV (2014) Antibiotrophs: the complexity of antibiotic-subsisting and antibiotic-resistant microorganisms. Crit Rev Microbiol. doi:10.3109/1040841X.2013.875982

Wollowski I, Rechkemmer G, Beatrice BL (2001) Protective role of probiotics and prebiotics in colon cancer. Am J Clin Nutr 73:451S–455S

Wu GD, Chen J, Hoffmann C, Bittinger K, Chen Y-Y, Keilbaugh SA, Bewtra M, Knights D, Walters WA, Knight R, Sinha R, Gilroy E, Gupta K, Baldassano R, Nessel L, Li H, Bushman FD, Lewis JD (2011) Linking long-term dietary patterns with gut microbial enterotypes. Science 334:105–108

Xu J (2006) Microbial ecology in the age of genomics and metagenomics: concepts, tools, and recent advances. Mol Ecol 15:1713–1731

Yatsunenko T, Rey FE, Manary MJ, Trehan I, Dominguez-Bello MG, Contreras M, Magris M, Hidalgo G, Baldassano RN, Anokhin AP, Heath AC, Warner B, Reeder J, Kuczynski J, Caporaso JG, Lozupone CA, Lauber C, Clemente JC, Knights D, Knight R, Gordon JI (2012) Human gut microbiome viewed across age and geography. Nature 486:222–227

Zalan Z, Hudacek J, Stetina J, Chumchalova J, Halasz A (2009) Production of organic acids by Lactobacillus strains in three different media. Eur Food Res Technol 230:395–404

Zhang C, Zhang M, Wang S, Han R, Cao Y, Hua W, Mao Y, Zhang X, Pang X, Wei C, Zhao G, Chen Y, Zhao L (2009) Interactions between gut microbiota, host genetics and diet relevant to development of metabolic syndromes in mice. ISME J 4:232–241

Zhang X, Zhang S, Shi Y, Shen F, Wang H (2014) A new high phenyl lactic acid-yielding Lactobacillus plantarum IMAU10124 and a comparative analysis of lactate dehydrogenase gene. FEMS Microbiol Lett 356:89–96

Zimmer J, Lange B, Frick JS, Sauer H, Zimmermann K, Schwiertz A, Rusch K, Klosterhalfen S, Enck P (2012) A vegan or vegetarian diet substantially alters the human colonic faecal microbiota. Eur J Clin Nutr 66:53–60
Acknowledgments
The authors are thankful for the institutional assistance. The authors also acknowledge the valuable studies conducted in this field not being cited in this article due to space limitation.
Ethics declarations
Conflict of interest
The authors declare that they have no conflict of interest.
Human and animal rights and informed consent
This article does not contain any studies with human participants or animals performed by any of the authors.
About this article
Cite this article
Josephs-Spaulding, J., Beeler, E. & Singh, O.V. Human microbiome versus food-borne pathogens: friend or foe. Appl Microbiol Biotechnol 100, 4845–4863 (2016). https://doi.org/10.1007/s00253-016-7523-7
Received:

Revised:

Accepted:

Published:

Issue Date:
Keywords
Microbiome

Human

Food

Diet

Nutrition

Pathogen

Probiotic