Potential applications of insect symbionts in biotechnology
Abstract
Symbiotic interactions between insects and microorganisms are widespread in nature and are often the source of ecological innovations. In addition to supplementing their host with essential nutrients, microbial symbionts can produce enzymes that help degrade their food source as well as small molecules that defend against pathogens, parasites, and predators. As such, the study of insect ecology and symbiosis represents an important source of chemical compounds and enzymes with potential biotechnological value. In addition, the knowledge on insect symbiosis can provide novel avenues for the control of agricultural pest insects and vectors of human diseases, through targeted manipulation of the symbionts or the host-symbiont associations. Here, we discuss different insect-microbe interactions that can be exploited for insect pest and human disease control, as well as in human medicine and industrial processes. Our aim is to raise awareness that insect symbionts can be interesting sources of biotechnological applications and that knowledge on insect ecology can guide targeted efforts to discover microorganisms of applied value.
Keywords
Symbiosis 
Mutualism 
Paratransgenesis 
Incompatible insect technique 
Biotechnology 
Introduction
Insects engage in a remarkable array of symbiotic interactions with microorganisms, which range from parasitic to mutualistic relationships. Among mutualisms, most of the best described associations are based on nutritional or defensive services provided by the symbionts to their hosts. In defensive interactions, the microorganisms protect their host against pathogens, parasites, parasitoids, or predators, often through the production of antimicrobial compounds or toxins (Flórez et al. 2015), whereas in nutritional mutualisms, they provide nutrients such as amino acids and vitamins or digestive enzymes that aid in the degradation of fastidious dietary polymers or the detoxification of noxious secondary metabolites (Douglas 2009). Mutualistic relationships have played a major role in the evolution of insects, allowing them to exploit ecological niches that would have otherwise remained inaccessible (Sudakaran et al. 2015).
From a biotechnological perspective, symbiotic microorganisms constitute promising and mostly untapped sources for potential applications in medicine, bioremediation, industrial processes, and agriculture. As with free-living microbes, the efficiency of metabolites and enzymes produced by symbionts has been optimized for over millions of years by natural selection. In contrast to their free-living counterparts, however, symbiotic products have been tested for their efficacy in a eukaryotic host, increasing the chances of successful applications by humans due to the reduced risk of harmful side effects. In general, the knowledge on host-microbe interactions can be exploited in two different ways for biotechnological use (Fig.
1
): (1) by targeting or utilizing symbiotic interactions to control agricultural pests or vector-borne diseases or to improve the health of economical important insects such as honeybees and (2) by the application of symbiont-produced compounds such as small bioactive molecules or enzymes for pharmaceutical use or industrial processes.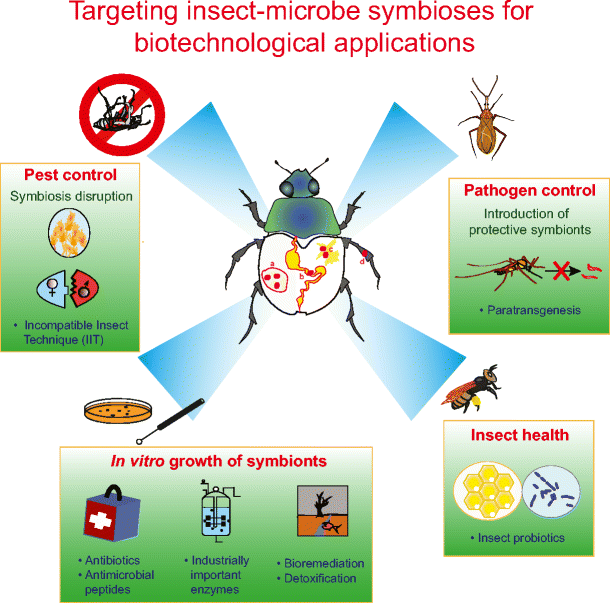 There is an accumulating body of research and review articles that have touched on insect symbiosis as biotechnological resources (Douglas 2007; Chaves et al. 2009; Jurkevitch 2011; Crotti et al. 2012; Ramadhar et al. 2014). However, we believe that the present minireview finds its value in providing a comprehensive overview of contexts in which insect symbiosis research may yield biotechnologically exploitable results, thereby bridging the areas of symbiosis research and biotechnology and raising awareness that the knowledge on insect ecology and symbiosis allows to target particular systems that are promising sources of biotechnologically interesting symbionts.
Conclusions
Insect symbionts constitute a rich and mostly untapped source of bioactive small molecules as well as digestive enzymes of potential biotechnological value. Even though their exploitation is currently hampered by the unculturability of most symbionts, advances in culturing techniques as well as genomic and genetic tools for the identification and heterologous expression of genes of interest may overcome this hurdle. Furthermore, a large diversity of facultative associates is experimentally and/or genetically tractable and could be of more immediate applied value. In addition to exploiting their metabolic capabilities, insect symbionts can be used to promote insect health as well as to target and control agricultural pest insects and vectors of medically important human diseases in an environmentally friendly way. Overall, increasing research efforts in the areas of insect ecology and symbiosis not only promise to uncover interesting new symbiotic alliances but may also prove valuable in the continued effort to find new sources of biotechnologically important molecules and enzymes. Specifically, targeted searches for compounds with particular applied value (e.g., antibiotics, detoxifying enzymes, cellulases, lipases, etc.) may benefit from being guided by the knowledge on host-symbiont ecology, which has the potential to predict particularly promising systems for exploration.
Notes
Acknowledgments
We thank two anonymous reviewers for insightful comments on the manuscript, and we gratefully acknowledge financial support from the Max Planck Society (AB, SS, HS, and MK) and the German Science Foundation (MK, DFG KA2846/2-1). Open access funding provided by Max Planck Society (or associated institution if applicable).
Compliance with ethical standards
Conflict of interest
The authors declare that they have no competing interests.
Copyright information
© The Author(s) 2015
Open Access This article is distributed under the terms of the Creative Commons Attribution 4.0 International License (http://creativecommons.org/licenses/by/4.0/), which permits unrestricted use, distribution, and reproduction in any medium, provided you give appropriate credit to the original author(s) and the source, provide a link to the Creative Commons license, and indicate if changes were made.