Abstract
Methanogens define the archaeal communities involved in anaerobic digestion. Recently, non-methanogen archaeal populations have been unexpectedly identified in anaerobic digestion processes. To gain insight into the ecophysiology of these uncharacterized archaeal populations, for the first time, a phylogenetic analysis was performed on a collection of non-methanogen archaeal 16S rRNA gene sequences from anaerobic digesters of broad geographic distribution, revealing a distinct clade formed by these sequences in subgroup 6 of the Miscellaneous Crenarchaeotal Group in the newly proposed archaeal phylum Bathyarchaeota. This exclusive phylogenetic assemblage enabled the development of a real-time quantitative PCR (qPCR) assay specifically targeting these non-methanogen archaeal populations in anaerobic digestion. Application of the qPCR assay in continuous anaerobic digesters indicated that these archaeal populations were minor constituents of the archaeal communities, and the abundance of these populations remained relatively constant irrespective of process perturbations. Analysis of the archaeal populations in methanogenic communities further revealed the co-occurrence of these non-methanogen archaea with acetoclastic methanogens. Nevertheless, the low abundance of non-methanogen archaea as compared with acetoclastic methanogens suggests that the non-methanogen archaeal populations were not major players in animal waste-fed methanogenic processes investigated in this study and the functions of these archaeal populations remain to be identified.
Access options
Buy single article
Instant access to the full article PDF.
US$ 39.95
Tax calculation will be finalised during checkout.
Subscribe to journal
Immediate online access to all issues from 2019. Subscription will auto renew annually.
US$ 119
Tax calculation will be finalised during checkout.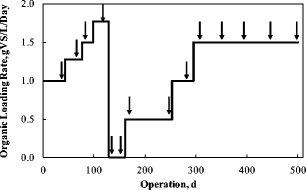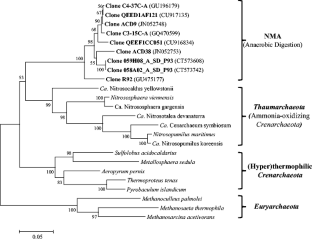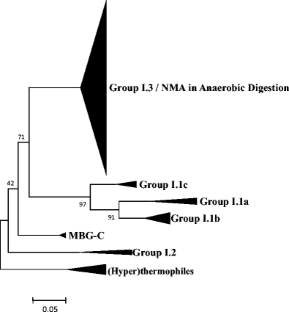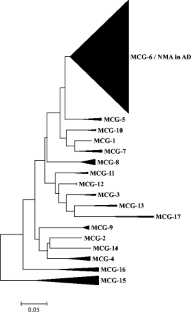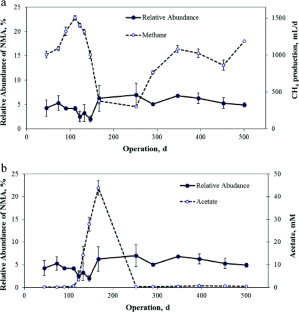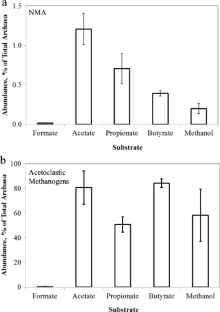 References
Acharya BK, Pathak H, Mohana S, Shouche Y, Singh V, Madamwar D (2011) Kinetic modelling and microbial community assessment of anaerobic biphasic fixed film bioreactor treating distillery spent wash. Water Res 45:4248–4259

Balk M, Weijma J, Stams AJM (2002) Thermotoga lettingae sp. nov., a novel thermophilic, methanol-degrading bacterium isolated from a thermophilic anaerobic reactor. Int J Syst Evol Microbiol 52:1361–1368

Brochier-Armanet C, Boussau B, Gribaldo S, Forterre P (2008) Mesophilic crenarchaeota: proposal for a third archaeal phylum, the thaumarchaeota. Nat Rev Microbiol 6:245–252

Chen S, Zamudio Cañas EM, Zhang Y, Zhu Z, He Q (2012) Impact of substrate overloading on archaeal populations in anaerobic digestion of animal waste. J Appl Microbiol 113:1371–1379

Chen S, Zhu Z, Park J, Zhang Z, He Q (2014) Development of Methanoculleus-specific real-time quantitative PCR assay for assessing methanogen communities in anaerobic digestion. J Appl Microbiol 116:1474–1481

Chouari R, Le Paslier D, Daegelen P, Ginestet P, Weissenbach J, Sghir A (2005) Novel predominant archaeal and bacterial groups revealed by molecular analysis of an anaerobic sludge digester. Environ Microbiol 7:1104–1115

Cole JR, Wang Q, Cardenas E, Fish J, Chai B, Farris RJ, Kulam-Syed-Mohideen AS, McGarrell DM, Marsh T, Garrity GM, Tiedje JM (2009) The ribosomal database project: improved alignments and new tools for rRNA analysis. Nucleic Acids Res 37:141–145

Collins G, O'Connor L, Mahony T, Gieseke A, de Beer D, O'Flaherty V (2005) Distribution, localization, and phylogeny of abundant populations of crenarchaeota in anaerobic granular sludge. Appl Environ Microbiol 71:7523–7527

DeLong EF (1998) Everything in moderation: archaea as 'non-extremophiles'. Curr Opin Genet Dev 8:649–654

Demirel B, Scherer P, Yenigun O, Onay TT (2010) Production of methane and hydrogen from biomass through conventional and high-rate anaerobic digestion processes. Crit Rev Environ Sci Technol 40:116–146

Enright A-M, McGrath V, Gill D, Collins G, O'Flaherty V (2009) Effect of seed sludge and operation conditions on performance and archaeal community structure of low-temperature anaerobic solvent-degrading bioreactors. Syst Appl Microbiol 32:65–79

Florencio L, Field JA, Lettinga G (1994) Importance of cobalt for individual trophic groups in an anaerobic methanol-degrading consortium. Appl Environ Microbiol 60:227–234

Francis CA, Roberts KJ, Beman JM, Santoro AE, Oakley BB (2005) Ubiquity and diversity of ammonia-oxidizing archaea in water columns and sediments of the ocean. Proc Natl Acad Sci U S A 102:14683–14688

Gómez E, Martin JF, Michel FC (2011) Effects of organic loading rate on reactor performance and archaeal community structure in mesophilic anaerobic digesters treating municipal sewage sludge. Waste Manag Res 29:1117–1123

He Q, Sanford RA (2002) Induction characteristics of reductive dehalogenation in the ortho-halophenol-respiring bacterium, anaeromyxobacter dehalogenans. Biodegradation 13:307–316

He Q, Sanford RA (2004) Acetate threshold concentrations suggest varying energy requirements during anaerobic respiration by anaeromyxobacter dehalogenans. Appl Environ Microbiol 70:6940–6943

Inagaki F, Suzuki M, Takai K, Oida H, Sakamoto T, Aoki K, Nealson KH, Horikoshi K (2003) Microbial communities associated with geological horizons in coastal subseafloor sediments from the Sea of Okhotsk. Appl Environ Microbiol 69:7224–7235

Kubo K, Lloyd KG, Biddle J F, Amann R, Teske A, Knittel K (2012) Archaea of the miscellaneous crenarchaeotal group are abundant, diverse and widespread in marine sediments. ISME J 6:1949–1965

Levén L, Eriksson ARB, Schnürer A (2007) Effect of process temperature on bacterial and archaeal communities in two methanogenic bioreactors treating organic household waste. FEMS Microbiol Ecol 59:683–693

Lloyd KG, Schreiber L, Petersen DG, Kjeldsen KU, Lever MA, Steen AD, Stepanauskas R, Richter M, Kleindienst S, Lenk S, Schramm A, Jorgensen BB (2013) Predominant archaea in marine sediments degrade detrital proteins. Nature 496:215–218

Meng J, Xu J, Qin D, He Y, Xiao X, Wang F (2014) Genetic and functional properties of uncultivated MCG archaea assessed by metagenome and gene expression analyses. ISME J 8:650–659

Narihiro T, Sekiguchi Y (2011) Oligonucleotide primers, probes and molecular methods for the environmental monitoring of methanogenic archaea. Microb Biotechnol 4:585–602

Nicol GW, Schleper C (2006) Ammonia-oxidising crenarchaeota: important players in the nitrogen cycle? Trends Microbiol 14:207–212

Nunoura T, Takaki Y, Kakuta J, Nishi S, Sugahara J, Kazama H, Chee G-J, Hattori M, Kanai A, Atomi H, Takai K, Takami H (2010) Insights into the evolution of archaea and eukaryotic protein modifier systems revealed by the genome of a novel archaeal group. Nucleic Acids Res 39:3204–3223

Ochsenreiter T, Selezi D, Quaiser A, Bonch-Osmolovskaya L, Schleper C (2003) Diversity and abundance of crenarchaeota in terrestrial habitats studied by 16S RNA surveys and real time PCR. Environ Microbiol 5:787–797

Pester M, Schleper C, Wagner M (2011) The Thaumarchaeota: an emerging view of their phylogeny and ecophysiology. Curr Opin Microbiol 14:300–306

Riviere D, Desvignes V, Pelletier E, Chaussonnerie S, Guermazi S, Weissenbach J, Li T, Camacho P, Sghir A (2009) Towards the definition of a core of microorganisms involved in anaerobic digestion of sludge. ISME J 3:700–714

Schauer-Gimenez AE, Zitomer DH, Maki JS, Struble CA (2010) Bioaugmentation for improved recovery of anaerobic digesters after toxicant exposure. Water Res 44:3555–3564

Schink B (1997) Energetics of syntrophic cooperation in methanogenic degradation. Microbiol Mol Biol Rev 61:262–280

Siggins A, Enright A-M, O'Flaherty V (2011) Low-temperature (7 °C) anaerobic treatment of a trichloroethylene-contaminated wastewater: microbial community development. Water Res 45:4035–4046

Stahl DA, de la Torre JR (2012) Physiology and diversity of ammonia-oxidizing archaea. Annu Rev Microbiol 66:83–101

Tamura K, Dudley J, Nei M, Kumar S (2007) MEGA4: molecular evolutionary genetics analysis (MEGA) software version 4.0. Mol Biol Evol 24:1596–1599

Wolin EA, Wolin MJ, Wolfe RS (1963) Formation of methane by bacterial extracts. J Biol Chem 238:2882–2886

Yenigün O, Demirel B (2013) Ammonia inhibition in anaerobic digestion: a review. Process Biochem 48:901–911

Yu Y, Lee C, Kim J, Hwang S (2005) Group-specific primer and probe sets to detect methanogenic communities using quantitative real-time polymerase chain reaction. Biotechnol Bioeng 89:670–679

Zhang Y, He Q (2013) Characterization of bacterial diversity in drinking water by pyrosequencing. Water Sci Technol Water Supply 13:358–367

Zhang Y, Zamudio Cañas EM, Zhu Z, Linville JL, Chen S, He Q (2011) Robustness of archaeal populations in anaerobic co-digestion of dairy and poultry wastes. Bioresour Technol 102:779–785

Zhu Z, Hsueh MK, He Q (2011) Enhancing biomethanation of municipal waste sludge with grease trap waste as a co-substrate. Renew Energy 36:1802–1807
Acknowledgments
This work was partly supported by the Science Alliance—Tennessee Center of Excellence and a US Environmental Protection Agency Grant SU834318. SC was supported by Institute for a Secure and Sustainable Environment at the University of Tennessee, Knoxville.
Conflict of interest
The authors declare that they have no competing interests.
Electronic supplementary material
Below is the link to the electronic supplementary material.
About this article
Cite this article
Chen, S., He, Q. Distinctive non-methanogen archaeal populations in anaerobic digestion. Appl Microbiol Biotechnol 100, 419–430 (2016). https://doi.org/10.1007/s00253-015-6951-0
Received:

Revised:

Accepted:

Published:

Issue Date:
Keywords
Methanogen

Crenarchaeota
Thaumarchaeota
Bathyarchaeota

Miscellaneous Crenarchaeotal Group