Abstract
Biofilms in drinking water distribution systems (DWDSs) could cause several types of problems, such as the deterioration of water quality, corrosion of pipe walls, and potential proliferation of opportunistic pathogens. In this study, ten biofilm samples from different pipe materials, including ductile cast iron pipe (DCIP), gray cast iron pipe (GCIP), galvanized steel pipe (GSP), stainless steel clad pipe (SSCP), and polyvinyl chloride (PVC), were collected from an actual DWDS to investigate the effect of pipe material on bacterial community. Real-time quantitative polymerase chain reaction (qPCR) and culture-based method were used to quantify bacteria. 454 pyrosequencing was used for bacterial community analysis. The results showed that the numbers of total bacteria and culturable heterotrophic bacteria from iron pipes were higher than that in PVC, while the numbers of Shigella and vibrios were low in biofilms from iron pipes. Bacterial community analysis showed that Hyphomicrobium or Desulfovibrio were the predominant microorganism in iron pipes, whereas Sphingomonas or Pseudomonas were dominant in other types of pipe. This study revealed differences in bacterial communities in biofilms among different pipe materials, and the results were useful for pipeline material selection in DWDSs.
Access options
Buy single article
Instant access to the full article PDF.
USD 39.95
Price excludes VAT (USA)
Tax calculation will be finalised during checkout.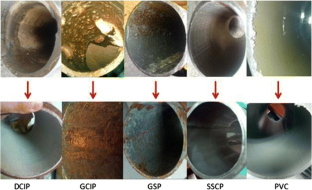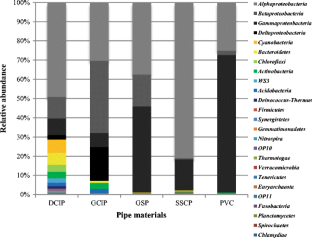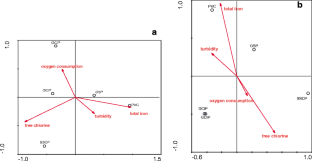 References
Allion A, Lassiaz S, Peguet L, Boillot P, Jacques S (2011) A long term study on biofilm development in drinking water distribution system: comparison of stainless steel grades with commonly used materials. Revue de Métallurgie 108(4):259–268

An Y-J, Kampbell DH, Peter Breidenbach G (2002) Escherichia coli and total coliforms in water and sediments at lake marinas. Environ Pollut 120(3):771–778

APHA (2012) Standard methods for the examination of water and wastewater. American Public Health Association, Washington, DC

Ashbolt NJ, Schoen ME, Soller JA, Roser DJ (2010) Predicting pathogen risks to aid beach management: the real value of quantitative microbial risk assessment (QMRA). Water Res 44(16):4692–4703

Bartie C, Venter SN, Nel LH (2003) Identification methods for Legionella from environmental samples. Water Res 37(6):1362–1370

Batté M, Appenzeller BMR, Grandjean D, Fass S, Gauthier V (2003) Biofilms in drinking water distribution systems. Rev Environ Sci Bio 2(2–4):147–168

Bereschenko LA, Stams AJM, Euverink GJW, van Loosdrecht MCM (2010) Biofilm formation on reverse osmosis membranes is initiated and dominated by Sphingomonas spp. Appl Environ Microbiol 76(8):2623–2632

Berry D, Xi C, Raskin L (2006) Microbial ecology of drinking water distribution systems. Curr Opin Biotechnol 17(3):297–302

Buse HY, Schoen ME, Ashbolt NJ (2012) Legionellae in engineered systems and use of quantitative microbial risk assessment to predict exposure. Water Res 46(4):921–933

Camper A, Burr M, Ellis B, Butterfield P, Abernathy C (1999) Development and structure of drinking water biofilms and techniques for their study. J Appl Microbiol 85(supplement): 1–12

Cerrato JM, Falkinham Iii JO, Dietrich AM, Knocke WR, McKinney CW (2010) Manganese-oxidizing and -reducing microorganisms isolated from biofilms in chlorinated drinking water systems. Water Res 44(13):3935–3945

Cole JR, Wang Q, Cardenas E, Fish J, Chai B (2009) The ribosomal database project: improved alignments and new tools for rRNA analysis. Nucleic Acids Res 37:D141–D145

Douterelo I, Boxall JB, Deines P, Sekar R, Fish KE (2014a) Methodological approaches for studying the microbial ecology of drinking water distribution systems. Water Res 65(15):134–156

Douterelo I, Husband S, Boxall JB (2014b) The bacteriological composition of biomass recovered by flushing an operational drinking water distribution system. Water Res 54(0):100–114

Douterelo I, Sharpe RL, Boxall JB (2013) Influence of hydraulic regimes on bacterial community structure and composition in an experimental drinking water distribution system. Water Res 47(2):503–516

Gagnon GA, Rand JL, O'Leary KC, Rygel AC, Chauret C (2005) Disinfectant efficacy of chlorite and chlorine dioxide in drinking water biofilms. Water Res 39(9):1809–1817

Garrity GM, Brenner DJ, Krieg NR, Staley JT (2005) Bergey's manual of systematic bacteriology. Springer Science & Business Media, Inc., New York

Gomez-Alvarez V, Revetta RP, Santo Domingo JW (2012) Metagenomic analyses of drinking water receiving different disinfection treatments. Appl Environ Microbiol 78(17):6095–6102

Hu BL, Rush D, van der Biezen E, Zheng P, van Mullekom M (2011) New anaerobic, ammonium-oxidizing community enriched from peat soil. Appl Environ Microbiol 77(3):966–971

Hu BL, Shen LD, Lian X, Zhu Q, Liu S (2014) Evidence for nitrite-dependent anaerobic methane oxidation as a previously overlooked microbial methane sink in wetlands. Proc Natl Acad Sci U S A 111(12):4495–4500

Hu BL, Shen LD, Zheng P, Hu AH, Chen TT (2012) Distribution and diversity of anaerobic ammonium-oxidizing bacteria in the sediments of the Qiantang River. Env Microbiol Rep 4(5):540–547

Jang HJ, Choi YJ, Ka JO (2011) Effects of diverse water pipe materials on bacterial communities and water quality in the annular reactor. J Microbiol Biotechn 21(2):115–123

Lane DJ, Weisburg WG, Barns SM (1991) 16S ribosomal DNA amplification for phylogenetic study. J Bacteriol 173(2):697–703

Lehtola MJ, Laxander M, Miettinen IT, Hirvonen A, Vartiainen T (2006) The effects of changing water flow velocity on the formation of biofilms and water quality in pilot distribution system consisting of copper or polyethylene pipes. Water Res 40(11):2151–2160

Liu G, Bakker GL, Li S, Vreeburg JH, Verberk JQ (2014) Pyrosequencing reveals bacterial communities in unchlorinated drinking water distribution system: an integral study of bulk water, suspended solids, loose deposits, and pipe wall biofilm. Environ Sci Technol 48(10):5467–5476

Liu G, Verberk JQJC, Van Dijk JC (2013) Bacteriology of drinking water distribution systems: an integral and multidimensional review. Appl Microbiol Biotechnol 97(21):9265–9276

Marciano-Cabral F, Jamerson M, Kaneshiro ES (2010) Free-living amoebae, Legionella and Mycobacterium in tap water supplied by a municipal drinking water utility in the USA. J Water Health 8(1):71–82

Martiny AC, Albrechtsen HJ, Arvin E, Molin S (2005) Identification of bacteria in biofilm and bulk water samples from a nonchlorinated model drinking water distribution system: detection of a large nitrite-oxidizing population associated with Nitrospira spp. Appl Environ Microbiol 71(12):8611–8617

Mašić A, Bengtsson J, Christensson M (2010) Measuring and modeling the oxygen profile in a nitrifying moving bed biofilm reactor. Math Biosci 227(1):1–11

Muyzer G, de Waal EC, Uitterlinden AG (1993) Profiling of complex microbial populations by denaturing gradient gel electrophoresis analysis of polymerase chain reaction-amplified genes coding for 16S rRNA. Appl Environ Microbiol 59(3):695–700

Navarro-Noya YE, Suarez-Arriaga MC, Rojas-Valdes A, Montoya-Ciriaco NM, Gomez-Acata S (2013) Pyrosequencing analysis of the bacterial community in drinking water wells. Microb Ecol 66(1):19–29

Nawrocki J, Raczyk-Stanislawiak U, Swietlik J, Olejnik A, Sroka MJ (2010) Corrosion in a distribution system: steady water and its composition. Water Res 44(6):1863–1872

Neden DG, Jones RJ, Smith JR, Kirmeyer GJ, Foust GW (1992) Comparing chlorination and chloramination for controlling bacterial regrowth. J Am Water Works Ass 84(7):80–88

Ning Y-F, Chen Y-P, Shen Y, Zeng N, Liu S-Y (2014) A new approach for estimating aerobic–anaerobic biofilm structure in wastewater treatment via dissolved oxygen microdistribution. Chem Eng J 255(0):171–177

Niquette P, Servais P, Savoir R (2000) Impacts of pipe materials on densities of fixed bacterial biomass in a drinking water distribution system. Water Res 34(6):1952–1956

Park SK, Hu JY (2010) Interaction between phosphorus and biodegradable organic carbon on drinking water biofilm subject to chlorination. J Appl Microbiol 108(6):2077–2087

Rainha VL, Fonseca ITE (1997) Kinetic studies on the SRB influenced corrosion of steel: a first approach. Corros Sci 39(4):807–813

Reasoner DJ, Geldreich EE (1985) A new medium for the enumeration and subculture of bacteria from potable water. Appl Environ Microbiol 49:1–7

Revetta RP, Gomez-Alvarez V, Gerke TL, Curioso C, Santo Domingo JW (2013) Establishment and early succession of bacterial communities in monochloramine-treated drinking water biofilms. FEMS Microbiol Ecol 86(3):1–11

Richardson LL, Castenholz RW (1987) Diel movements of the cyanobacterium Oscillatoria terebriformisin a sulfide-rich hot spring mat. Appl Environ Microbiol 53(9):2142–2150

Ridgway HF, Olson BH (1981) Scanning electron microscope evidence for bacterial colonization of a drinking-water distribution system. Appl Environ Microbiol 41(1):274–287

Schloss PD, Handelsman J (2005) Introducing DOTUR, a computer program for defining operational taxonomic units and estimating species richness. Appl Environ Microbiol 71(3):1501–1506

Simoes LC, Simoes M, Vieira MJ (2010) Influence of the diversity of bacterial isolates from drinking water on resistance of biofilms to disinfection. Appl Environ Microbiol 76(19):6673–6679

Sun WJ, Liu WJ, Cui LF, Zhang ML, Wang B (2013) Characterization and identification of a chlorine-resistant bacterium, Sphingomonas TS001, from a model drinking water distribution system. Sci Total Environ 458:169–175

Thayanukul P, Kurisu F, Kasuga I, Furumai H (2013) Evaluation of microbial regrowth potential by assimilable organic carbon in various reclaimed water and distribution systems. Water Res 47(1):225–232

Van Nevel S, De Roy K, Boon N (2013) Bacterial invasion potential in water is determined by nutrient availability and the indigenous community. FEMS Microbiol Ecol 85(3):593–603

Wang H, Masters S, Edwards MA, Falkinham 3rd JO, Pruden A (2014) Effect of disinfectant, water age, and pipe materials on bacterial and eukaryotic community structure in drinking water biofilm. Environ Sci Technol 48(3):1426–1435

Wang H, Pryor MA, Edwards MA, Falkinham JO, Pruden A (2013) Effect of GAC pre-treatment and disinfectant on microbial community structure and opportunistic pathogen occurrence. Water Res 47(15):5760–5772

White DC, Sutton SD, Ringelberg DB (1996) The genus Sphingomonas: physiology and ecology. Curr Opin Biotechnol 7(3):301–306

Williams TC, Froelich B, Oliver JD (2013) A new culture-based method for the improved identification of Vibrio vulnificus from environmental samples, reducing the need for molecular confirmation. J Microbiol Methods 93(3):277–283

Wu M, Qian Y, Boyd JM, Leavey S, Hrudey SE (2014) Identification of tobacco-specific nitrosamines as disinfection byproducts in chloraminated water. Environ Sci Technol 48(3):1828–1834

Xue Z, Seo Y (2013) Impact of chlorine disinfection on redistribution of cell clusters from biofilms. Environ Sci Technol 47(3):1365–1372

Yadav TC, Khardenavis AA, Kapley A (2014) Shifts in microbial community in response to dissolved oxygen levels in activated sludge. Bioresour Technol 165(0):257–264

Yang F, Shi B, Bai Y, Sun H, Lytle DA (2014) Effect of sulfate on the transformation of corrosion scale composition and bacterial community in cast iron water distribution pipes. Water Res 59(0):46–57

Zacheus OM, Lehtola MJ, Korhonen LK, Martikainen PJ (2001) Soft deposits, the key site for microbial growth in drinking water distribution networks. Water Res 35(7):1757–1765

Zeng DN, Fan ZY, Chi L, Wang X, Qu WD (2013) Analysis of the bacterial communities associated with different drinking water treatment processes. World J Microb Biot 29(9):1573–1584

Zhang J, Jin H, Hu J, Yuan Z, Shi W (2014) Antimicrobial resistance of Shigella spp. from humans in shanghai, China, 2004–2011. Diagn Micr and Infec Dis 78(3):282–286

Zhu Y, Wang H, Li X, Hu C, Yang M (2014) Characterization of biofilm and corrosion of cast iron pipes in drinking water distribution system with UV/Cl2 disinfection. Water Res 60(0):174–181
Acknowledgments
This work was supported by the National Key Technology R&D Program (no. 2012BAJ25B07).
The ethical statement
The authors declare that they have no conflict of interest. This article does not contain any studies with human participants or animals performed by any of the authors. Informed consent was obtained from all individual participants included in the study.
Electronic supplementary material
Below is the link to the electronic supplementary material.
About this article
Cite this article
Ren, H., Wang, W., Liu, Y. et al. Pyrosequencing analysis of bacterial communities in biofilms from different pipe materials in a city drinking water distribution system of East China. Appl Microbiol Biotechnol 99, 10713–10724 (2015). https://doi.org/10.1007/s00253-015-6885-6
Received:

Accepted:

Published:

Issue Date:

DOI: https://doi.org/10.1007/s00253-015-6885-6
Keywords