Abstract
The paper describes the preparation of new probiotic formulations based on chitosan-coated alginate microcapsules containing three different probiotic strains, Lactobacillus plantarum PBS067, Lactobacillus rhamnosus PBS070, and Bifidobacterium animalis subsp. lactis PBS075 taken individually and as a mixture of them. The effects of microencapsulation on the viability of the strains in conditions simulating the gastrointestinal tract and under industrial processes conditions were studied. In addition, an evaluation of their probiotic properties was also investigated by in vitro tests on the human intestinal cell line HT-29 to explore the effect of microencapsulation on health beneficial effect of the considered strains. Non-encapsulated cells were completely destroyed when exposed to simulated gastric juice and other stress conditions, while encapsulated cells exhibited a significantly higher resistance to artificial intestinal juice and heat and osmotic treatment. Moreover, in this study, the effect of the various microencapsulated probiotic strain formulations was compared with analogous formulations also containing the β-glucan Pleuran. The microencapsulation effectively protected the selected bacteria, as single strain and as a mixture of the three strains in both the formulations with and without Pleuran, from simulating gastrointestinal tract and industrial process conditions in delivering the viable cells without any significant adverse effect on their functionalities. The comparative study of the immunomodulatory properties of each single strain and the mixture of the three strains revealed a synergistic effect of the probiotic mixture, but no appreciable difference between the two kinds of formulations could be detected, as the effect of Pleuran is covered by the higher potential of the probiotic strains.
Access options
Buy single article
Instant access to the full article PDF.
USD 39.95
Price excludes VAT (USA)
Tax calculation will be finalised during checkout.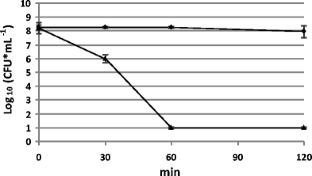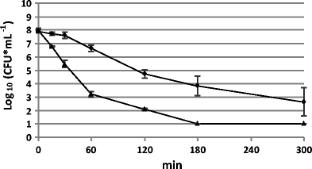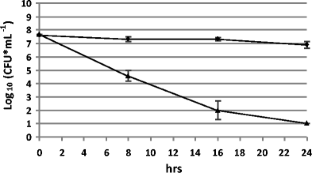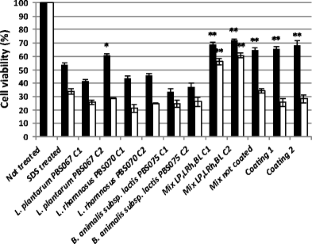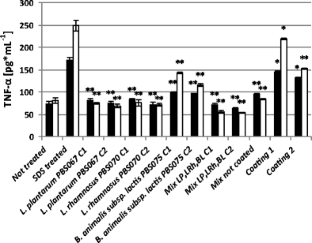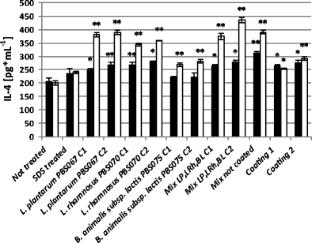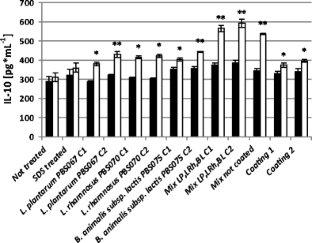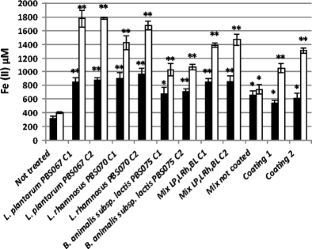 References
Adhikari K, Mustapha A, Grun IU, Fernando L (2000) Viability of microincapsulated bifidobacteria in set yogurt during refrigerated storage. J Diary Sci 83:1946–1951

Amaretti A, di Nunzio M, Pompei A, Raimondi S, Rossi M, Bordoni A (2013) Antioxidant properties of potentially probiotic bacteria: in vitro and in vivo activities. Appl Microbiol Biotechnol 97:809–817

Benzie IF, Strain JJ (1996) The ferric reducing ability of plasma (FRAP) as a measure of antioxidant power: the FRAP assay. Anal Biochem 239:70–76

Bobek P, Nosalova V, Cerna S (2001) Effect of Pleuran (β-glucan from Pleurotus ostreatus) in diet or drinking fluid on colitis in rats. Nahrung/Food 45(5):360–363

Charalampopoulos D, Wang R, Pandiella SS, Webb C (2002) Application of cereals and cereal components in functional foods: a review. Int J Food Microbiol 79:1–2

Chavarri M, Maranon I, Ares R, Ibanez FC, Marzo F, del Carmen Villaran M (2010) Microencapsulation of a probiotic and prebiotic in alginate-chitosan capsules improves survival in simulated gastro-intestinal conditions. Int J Food Microbiol 142(1–2):185–189

Cook MT, Tzortzis G, Charalampopoulos D, Khutoryanskiy VV (2011) Production and evaluation of dry alginate-chitosan microcapsules as an enteric delivery vehicle for probiotic bacteria. Biomacromolecules 12(7):2838–2840

Cook MT, Tzortzis G, Khutoryanskiy VV, Charalampopoulos D (2013) Layer-by-layer coating of alginate matrices with chitosan-alginate for the improved survival and targeted delivery of probiotic bacteria after oral administration. J Mater Chem B 1(1):52–60

Corcoran BM, Stanton C, Fitzgerald GF, Ross RP (2005) Survival of probiotic lactobacilli in acidic environments is enhanced in the presence of metabolizable sugars. Appl Environ Microbiol 71(6):3060–3067

De Gulio B, Orlando P, Barba G, Coppola R, De Rosa M, Sada A, De Prisco PP, Nazaro F (2005) Use of alginate and cryo-protective sugars to improve the viability of lactic acid bacteria after freezing and freeze-drying. World J Microbiol Biotechnol 21(5):739–746

Floch MH (2005) Use of diet and probiotic therapy in the irritable bowel syndrome—analysis of the literature. J Clin Gastroenterol 39(4):S243–S246

Foligne B, Daniel C, Pot B (2013) Probiotics from research to market: the possibilities, risks and challenges. Curr Opin Microbiol 16(3):284–292

Food and Agriculture Organization/World Health Organization (2001) Health and nutritional properties of probiotics in food including powder milk with live lactic acid bacteria

Gbassi GK, Vandamme T, Ennahar S, Marchioni E (2009) Microencapsulation of Lactobacillus plantarum in an alginate matrix coated with whey proteins. Int J Food Microbiol 129(1):103–105

Godward SE, Kailasapathy K (2003) Viability and survival of free, encapsulated and co-encapsulated probiotic bacteria in yogurt. Milk Sci Int 58:396–399

Gueimonde M, Salminen S (2005) Microbiota of intestine. Probiotics. In: Caballero B (ed) Encyclopedia of Human Nutrition, Secondth edn. Elsevier, Oxford, pp 244–251

Kanmani P, Kumar RS, Yuvaraj N, Paari KA, Pattukumar V, Arul V (2011) Cryopreservation and microencapsulation of a probiotic in alginate-chitosan capsules improves survival in simulated gastrointestinal conditions. Biotechnol Bioprocess Eng 16(6):1106–1114

Kim SJ, Cho SY, Kim SH, Song OJ, Shin IS, Cha DS, Park HJ (2008) Effect of microencapsulation on viability and other characteristics in Lactobacillus acidophilus ATCC 43121. Food Sci Technol 41:493–500

Krasaekoopt W, Bhandari B, Deeth H (2004) The influence of coating materials on some properties of alginate beads and survivability of microencapsulated probiotic bacteria. Int Dairy 14(8):737–743

Lin MY, Yen CL (1999) Antioxidative ability of lactic acid bacteria. J Agric Food Chem 47:1460–1466

Lin J, Yu W, Liu X, Xie H, Wang W, Ma X (2008) In vitro and in vivo characterization of alginate-chitosan-alginate-artificial microcapsules for therapeutic oral delivery of live bacterial cells. J Biosci Bioeng 105:660–665

Majtan J, Kumar P, Koller J, Dragunova J, Gabriz J (2009) Induction of Metalloproteinase 9 Secretion from Human Keratinocytes by Pleuran (beta-Glucan from Pleurotus ostreatus). Zeitschrift Fur Naturforschung Section C-a. J Biosci 64(7–8):597–600

Martinsen A, Skjakbraek G, Smidsrod O (1989) Alginate as immobilization material. Correlation between chemical and physical-properties of alginate gel beads. Biotechnol Bioeng 33(1):79–89

Nazzaro F, Orlando P, Fratianni F, Coppola R (2012) Microencapsulation in food science and biotechnology. Curr Opin Biotechnol 23(2):182–186

Nissen L, Chingwaru W, Sgorbati B, Biavati B, Cencic A (2009) Gut health promoting activity of new putative probiotic/protective Lactobacillus spp. strains: a functional study in the small intestinal cell model. Int J Food Microbiol 135(3):288–294

Presti I, D'Orazio G, Labra M, La Ferla B, Mezzasalma V, Bizzaro G, Giardina S, Michelotti A, Tursi F, Vassallo M, Di Gennaro P (2015) Evaluation of the probiotic properties of new Lactobacillus and Bifidobacterium strains and their in vitro effect. Appl Microbiol Biotecnol. doi:10.1007/s00253-015-6482-8

Priya AJ, Vijayalakshmi SP, Raichui AM (2011) Enhanced survival of probiotic Lactobacillus acidophilus by encapsulation with nanostructured polyelectrolyte layers through layer-by-layer approach. J Agric Food Chem 59(21):11838–11845

Robles Alonso V, Guarner F (2013) Linking the gut microbiota to human health. J Nutr 109(Suppl):S21–S26

Rop O, Mlcek J, Jurikova T (2009) Beta-glucans in higher fungi and their health effects. Nut Rev 67(11):624–631

Serna-Cock L, Vallejo-Castillo V (2013) Probiotic encapsulation. Afr J Microbiol Res 7(40):4743–4753

Sheu TY, Marshall RT (1993) Microentrapment of lactobacilli in calcium alginate gels. J Food Sci 58(3):557–561

Spyropoulos BG, Misiakos EP, Fotiadis C, Stoidis CN (2011) Antioxidant properties of probiotics and their protective effects in the pathogenesis of radiation-induced enteritis and colitis. Dig Dis Sci 56:285–294

Sultana K, Godward G, Reynolds N, Arumugaswamy R, Peiris P, Kailasapathy K (2000) Encapsulation of probiotic bacteria with alginate-starch and evaluation of survival in simulated gastrointestinal conditions and in yogurt. Int J Food Microbiol 62(1–2):47–55

Topping DL, Bird AR, Fukushima M (2003) Resistant starch as a prebiotic and synbiotic: state of the art. Proc Nutr Soc 62(01):171–176

Walter J (2008) Ecological role of lactobacilli in the gastrointestinal tract: implications for fundamental and biomedical research. Appl Environ Microbiol 74(16):4985–4996
Acknowledgments
We thank the PROBIOPLUS4FOOD Project ID 30221122 from Italian Ministry of Research (MIUR) and Lombardy Region for financial support.
Ethical statement
This article does not contain any studies with human participants or animals performed by any of the authors.
Conflict of interest
The authors of the paper declare that they have no conflict of interest.
About this article
Cite this article
D'Orazio, G., Di Gennaro, P., Boccarusso, M. et al. Microencapsulation of new probiotic formulations for gastrointestinal delivery: in vitro study to assess viability and biological properties. Appl Microbiol Biotechnol 99, 9779–9789 (2015). https://doi.org/10.1007/s00253-015-6853-1
Received:

Revised:

Accepted:

Published:

Issue Date:

DOI: https://doi.org/10.1007/s00253-015-6853-1
Keywords