Abstract
Carotenoids prevent different degenerative diseases and improve human health. Microalgae are commercially exploited for carotenoids, including astaxanthin and β-carotene. Two commercially important microalgae, Dunaliella salina and Tetraselmis suecica, were treated with plant hormones salicylic acid (SA) and methyl jasmonate (MJ), or by UV-C radiation (T. suecica only) and a combination thereof. Significant increases in total carotenoids were found for D. salina and T. suecica after treatment with MJ (10 μmol/L) and SA (70–250 μmol/L), respectively. T. suecica also had significant increases in total carotenoids following UV-C radiation compared to control cultures. Among the carotenoids, lutein was the highest induced carotenoid. A combination of these two treatments also showed a significant increase in total carotenoids and lutein for T. suecica, when compared to controls. Plant hormones and UV-C radiation may be useful tools for increasing carotenoid accumulation in green microalgae although the responses are species- and dose-specific and should be trialed in medium to large scale to explore commercial production.
This is a preview of subscription content, log in to check access.
Access options
Buy single article
Instant access to the full article PDF.
US$ 39.95
Price includes VAT for USA
Subscribe to journal
Immediate online access to all issues from 2019. Subscription will auto renew annually.
US$ 199
This is the net price. Taxes to be calculated in checkout.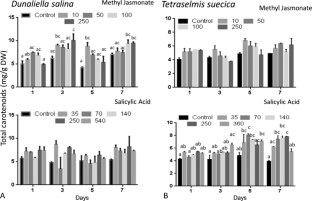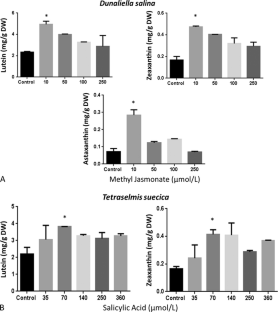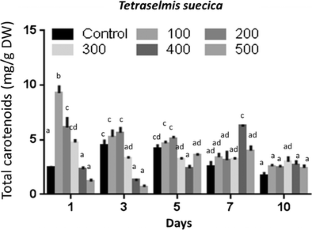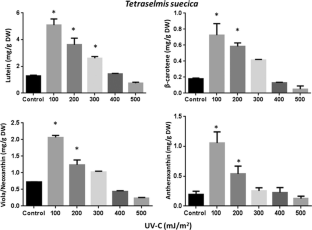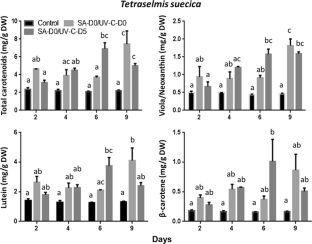 References
Abd El-Baky H, El Baz FK, El-Baroty GS (2004) Production of antioxidant by the green alga Dunaliella salina. Int J Agric Biol 6(1):49–57

Ahmed F, Fanning K, Netzel M, Turner W, Li Y, Schenk PM (2014) Profiling of carotenoids and antioxidant capacity of microalgae from subtropical coastal and brackish waters. Food Chem 165:300–306

Böhm F, Edge R, Truscott G (2012) Interactions of dietary carotenoids with activated (singlet) oxygen and free radicals: potential effects for human health. Mol Nutr Food Res 56(2):205–216

Borowitzka MA (2013) High-value products from microalgae-their development and commercialisation. J Appl Phycol 25(3):1–14

Borowitzka MA, Borowitzka LJ, Kessly D (1990) Effects of salinity increase on carotenoid accumulation in the green alga Dunaliella salina. J App Phyc 2:111–119

Chini Zitelli G, Rodolfi L, Biondi N, Tredici MR (2006) Productivity and photosynthetic efficiency of outdoor cultures of Tetraselmis suecica in annular columns. Aquaculture 261:932–943

Cordero BF, Obraztsova I, Couso I, Leon R, Vargas MA, Rodriguez H (2011) Enhancement of lutein production in Chlorella sorokiniana (chlorophyta) by improvement of culture conditions and random mutagenesis. Mar Drugs 9:1607–1624

Czerpak R, Bajguz A, Gromek M, Kozłowska G, Nowak I (2002) Activity of salicylic acid on the growth and biochemism of Chlorella vulgaris Beijerinck. Acta Physiol Plant 24(1):45–52

Czerpak R, Piotrowska A, Szulecka K (2006) Jasmonic acid affects changes in the growth and some components content in alga Chlorella vulgaris. Acta Physiol Plant 28(3):195–203

Del Campo JA, Moreno J, Rodriguez H, Vargas MA, Rivas J, Guerrero MG (1999) Carotenoid content of chlorophycean microalgae: factors determining lutein accumulation in Muriellopsis sp. (Chlorophyta). J Biotechnol 76:51–59

Demmig-Adams B (1990) Carotenoids and photoprotection: a role for the xanthophylls zeaxanthin. Biochim Biophys Acta 1020:1–24

Döhler G, Drebes G, Lohmann M (1997) Effect of UV-A and UV-B radiation on pigments, free amino acids and adenylate content of Dunaliella tertiolecta. J Photochem Photobiol 40:126–131

Duong VT, Li Y, Nowak E, Schenk PM (2012) Microalgae isolation and selection for prospective biodiesel production. Energies 5:1835–1849

Fedina IS, Benderliev KM (2000) Response of Scenedesmus incrassatulus to salt stress as affected by methyl jasmonate. Biol Plant 43(4):625–627

Fernandez-Sevilla JM, Acien Fernandez FG, Molina Grima E (2010) Biotechnological production of lutein and its applications. Appl Microbiol Biotechnol 86(1):27–40

Fitzgerald KC, O'Reilly ÉJ, Fondell E, Falcone GJ, McCullough ML, Park Y, Kolonel LN, Ascheria A (2013) Intakes of vitamin C and carotenoids and risk of amyotrophic lateral sclerosis: pooled results from 5 cohort studies. Ann Neurol 73:236–245

Fu W, Paglia G, Magnusdottir M, Steinarsdottir E, Gudmundsson S, Palsson B (2014) Effects of abiotic stressors on lutein production in the green microalga Dunaliella salina. Micro Cell Fact 13(1):3

Fung IP (2005) Elicitation of astaxanthin biosynthesis in darkheterotrophic cultures of Chlorella zofingiensis. PhD thesis, The University of Hong Kong, Hong Kong

Jung S (2004) Effect of chlorophyll reduction in Arabidopsis thaliana by methyl jasmonate or norflurazon on antioxidant systems. Plant Phys Biochem 42:225–231

Gao Z, Meng C, Zhang X, Xu D, Zhao Y, Wang Y (2012a) Differential expression of carotenogenic genes, associated changes on astaxanthin production and photosynthesis features induced by JA in H. pluvialis. PLoS One 7(8):e42243

Gao Z, Meng C, Zhang X, Xu D, Miao X, Wang Y (2012b) Induction of salicylic acid (SA) on transcriptional expression of eight carotenoid genes and astaxanthin biosynthesis in Haematococcus pluvialis. Enzym Microb Technol 51(4):225–230

Guedes AC, Amaro HM, Malcata FX (2011) Microalgae as sources of carotenoids. Mar Drugs 9(4):625–644

Huang JJ-H, Cheung PC-K (2011) +UVA treatment increases the degree of unsaturation in microalgal fatty acids and total carotenoid content in Nitzschia closterium (Bacillariophyceae) and Isochrysis zhangjiangensis (Chrysophyceae). Food Chem 129(3):783–791

Ibañez E, Cifuentes A (2013) Benefits of using algae as natural sources of functional ingredients. J Sci Food Agric 93(4):703–709

Jahns P, Holzwarth AR (2012) The role of the xanthophyll cycle and of lutein in photoprotection of photosystem II. Biochim Biophys Acta 1817:182–193

Jin E, Feth B, Melis A (2003) A mutant of the green alga Dunaliella salina constitutively accumulates zeaxanthin under all growth conditions. Biotechnol Bioeng 81:115–124

Lim DKY, Garg S, Timmins M, Zhang ESB, Thomas-Hall SR, Schuhmann H, Li Y, Schenk PM (2012) Isolation and evaluation of oil-producing microalgae from subtropical coastal and brackish waters. PLoS ONE 7:e40751

Liu LH, Zabaras D, Bennett LE, Aguas P, Woonton BW (2009) Effects of UV-C, red light and sun light on the carotenoid content and physical qualities of tomatoes during post-harvest storage. Food Chem 115:495–500

Lu Y, Jiang P, Liu S, Gan Q, Cui H, Qin S (2010) Methyl jasmona te- or gibberellins A3-induced astaxanthin biosynthesis is associated with up-regulation of transcription of beta-carotene ketolase genes (bkts) in microalga Haematococcus pluvialis. Bioresour Technol 101(16):6468–6474

Maeda H, Hosokawa M, Sashima T, Funayama K, Miyashita K (2005) Fucoxanthin from edible seaweed, Undaria pinnatifida, shows antiobesity effect through UCP1 expression in white adipose tissues. Biochem Biophys Res Commun 332(2):392–397

Mogedas B, Casal C, Forján E, Vílchez C (2009) β-Carotene production enhancement by UV-A radiation in Dunaliella bardawil cultivated in laboratory reactors. J Biosci Bioeng 108(1):47–51

Pérez-López P, González-García S, Ulloa RG, Sineiro J, Feijoo G, Moreira MT (2014) Life cycle assessment of the production of bioactive compounds from Tetraselmis suecica at pilot scale. J Clean Prod 64:323–331

Raman V, Ravi S (2011) Effect of salicylic acid and methyl jasmonate on antioxidant systems of Haematococcus pluvialis. Acta Physiol Plant 33(3):1043–1049

Rao MV, Paliyath G, Ormrod DP, Murr DP, Watkins CB (1997) Influence of salicylic acid on H2O2 production, oxidative stress and H2O2 metabolizing enzymes. Plant Phys 115:137–149

Salguero A, Leon R, Mariotti A, de la Morena B, Vega JM, Vilchez C (2005) UV-A mediated induction of carotenoid biosynthesis in Dunaliella bardawil with retention of cell viability. Appl Microbiol Biotechnol 66(5):506–511

Schalch W, Cohn W, Barker FM, Köpcke W, Mellerio J, Bird AC, Robson AG, Fitzke FF, van Kuijk FJGM (2007) Xanthophyll biosynthesis in the human retina during supplementation with lutein or zeaxanthin - the LUXEA (Lutein Xanthophyll Eye Accumulation) study. Arch Biochem Biophys 458(2):128–135

Sharma K, Li Y, Schenk PM (2014) UV-C-mediated lipid induction and settling, a step change towards economical microalgal biodiesel production. Green Chem 16:3539

Sies H, Stahl W (2005) New horizons in carotenoid research. In: Packer L, Obermüller-Jevic U, Kraemer K, Sies H (eds) Carotenoids and retinoids: molecular aspects and health issues. AOCS Press, Urbana, pp 315–320

Stahl W, Sies H (2012) Photoprotection by dietary carotenoids: Concept, mechanisms, evidence and future development. Mol Nutr Food Res 56(2):287–95

Wang CY, Chen CT, Wang SY (2009) Changes of flavonoid content and antioxidant capacity in blueberries after illumination with UV-C. Food Chem 117:426–431
Acknowledgments
The authors wish to thank the Australian Research Council and Meat & Livestock Australia for financial support and Dr. Kalpesh Sharma for useful advice on UV-C treatments.
Funding
This study was funded by Meat and Livestock Australia (B.NBP.0695), the Australian Research Council (LP0990558), and an Australian Postgraduate Award (to FA).
Conflict of interest
The authors declare that they have no conflict of interest.
Electronic supplementary material
Below is the link to the electronic supplementary material.
About this article
Cite this article
Ahmed, F., Fanning, K., Netzel, M. et al. Induced carotenoid accumulation in Dunaliella salina and Tetraselmis suecica by plant hormones and UV-C radiation. Appl Microbiol Biotechnol 99, 9407–9416 (2015). https://doi.org/10.1007/s00253-015-6792-x
Received:

Revised:

Accepted:

Published:

Issue Date:
Keywords
Carotenoids

Methyl jasmonate

Microalgae

Salicylic acid

UV-C radiation