Abstract
A novel TaqMan-based multiplex real-time PCR method combined with propidium monoazide (PMA) treatment was firstly developed for the simultaneous quantification of viable Vibrio parahaemolyticus and Listeria monocytogenes in raw shrimp. The optimization of PMA concentration showed that 100 μM was considered optimal to effectively inhibit 108 CFU/mL dead cells of both bacteria. The high specificity of this method was confirmed on tests using 96 target and non-target strains. The optimized assay could detect as low as 101–102 CFU/g of each strain on the artificially contaminated shrimp, and its amplification efficiencies were up to 100 and 106 % for V. parahaemolyticus and L. monocytogenes, respectively. Furthermore, this assay has been successfully applied to describe the behavior of these two pathogens in raw shrimps stored at 4 °C. In conclusion, this PMA TaqMan-based multiplex real-time PCR technique, where the whole procedure takes less than 5 h, provides an effective and rapid tool for monitoring contamination of viable V. parahaemolyticus and L. monocytogenes in seafood, improving seafood safety and protecting public health.
Access options
Buy single article
Instant access to the full article PDF.
US$ 39.95
Tax calculation will be finalised during checkout.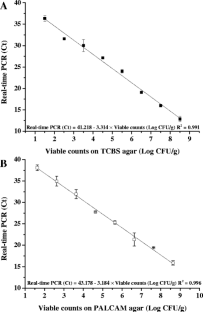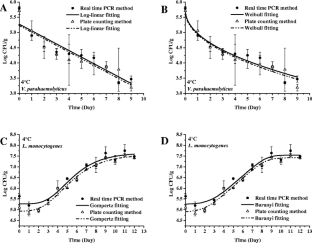 References
Ahmed OM, Pangloli P, Hwang C-A, Svetlana Zivanovic WT, D'Souza D, Ann Draughon F (2015) The occurrence of Listeria monocytogenes in retail ready-to-eat meat and poultry products related to the levels of acetate and lactate in the products. Food Control 52:43–48

Amagliani G, Brandi G, Schiavano GF (2012) Incidence and role of Salmonella in seafood safety. Food Res Int 45:780–788

Baranyi J, Roberts T (1994) A dynamic approach to predicting bacterial growth in food. Int J Food Microbiol 23:277–294

Barbau-Piednoir E, Mahillon J, Pillyser J, Coucke W, Roosens NH, Botteldoorn N (2014) Evaluation of viability-qPCR detection system on viable and dead Salmonella serovar Enteritidis. J Microbiol Methods 103:131–137

Dong QL, Barker GC, Gorris LGM, Song XY, Tian MS, Malakar PK (2015) Status and future of quantitative microbial risk assessment in China. Trends Food Sci Technol 42:70–80

Elizaquível P, Aznar R (2008) A multiplex RTi-PCR reaction for simultaneous detection of Escherichia coli O157:H7, Salmonella spp. and Staphylococcus aureus on fresh, minimally processed vegetables. Food Microbiol 25:705–713

Elizaquível P, Sánchez G, Aznar R (2012) Quantitative detection of viable foodborne E. coli O157:H7, Listeria monocytogenes and Salmonella in fresh-cut vegetables combining propidium monoazide and real-time PCR. Food Control 25:704–708

Embarek PKB (1994) Presence, detection and growth of Listeria monocytogenes in seafoods: a review. Int J Food Microbiol 23:17–34

Feng P (2007) Rapid methods for the detection of foodborne pathogens: current and next-generation technologies. In: Doyle MP, Beuchat LR, Montville TJ (eds) Food microbiology, 3rd edn. ASM Press, Washington, D.C., pp 911–934

Garrido A, Chapela MJ, Román B, Fajardo P, Lago J, Vieites JM, Cabado AG (2013) A new multiplex real-time PCR developed method for Salmonella spp. and Listeria monocytogenes detection in food and environmental samples. Food Control 30:76–85

González D, Vitas AI, Díez-Leturia M, García-Jalón I (2013) Listeria monocytogenes and ready-to-eat seafood in Spain: study of prevalence and temperatures at retail. Food Microbiol 36:374–378

Hayrapetyan H, Hazeleger WC, Beumer RR (2012) Inhibition of Listeria monocytogenes by pomegranate (Punica granatum) peel extract in meat paté at different temperatures. Food Control 23:66–72

ISO (1998) In Microbiology of food and animal feeding stuffs-Horizontal method for the detection and enumeration of Listeria monocytogenes-Part 2: enumeration method. ISO 11290–02

ISO (1999) In Microbiology of food and animal feeding stuffs-horizontal method for the enumeration of coagulase-positive staphylococci (Staphylococcus aureus and other species)—Part 1: technique using Bairde Parker agar medium. Geneva, Switzerland: International Organization For Standardization, ISO 6 888–1:1999

ISO (2007) In Microbiology of food and animal feeding stuffs-horizontal method for the detection of potentially enteropathogenic Vibrio spp.-Part 1 (1st ed.). Detection of Vibrio parahaemolyticus and Vibrio cholerae, Vol. 21872–1:pp. 19

Josefsen MH, Lofstrom C, Hansen TB, Christensen LS, Olsen JE, Hoorfar J (2010) Rapid quantification of viable Campylobacter bacteria on chicken carcasses, using real-time PCR and propidium monoazide treatment, as a tool for quantitative risk assessment. Appl Environ Microbiol 73:8028–8031

Kathariou S (2002) Listeria monocytogenes virulence and pathogenicity, a food safety perspective. J Food Prot 65:1811–1829

Kim HJ, Lee HJ, Lee KH, Cho JC (2012) Simultaneous detection of Pathogenic Vibrio species using multiplex real-time PCR. Food Control 23:491–498

Klein D, Janda P, Steinborn R, Müller M, Salmons B, Günzburg WH (1999) Proviral load determination of different feline immunodeficiency virus isolates using real-time polymerase chain reaction: influence of mismatches on quantification. Electrophoresis 20:291–299

Kramer M, Obermajer N, Matijasic BB, Rogelj I, Kmetec V (2009) Quantification of live and dead probiotic bacteria in lyophilised product by real-time PCR and by flow cytometry. Appl Microbiol Biotechnol 84:1137–1147

Liao C, Peng ZY, Li JB, Cui XW, Zhang ZH, Malakar PK, Zhang WJ, Pan YJ, Zhao Y (2015) Simultaneous construction of PCR-DGGE-based predictive models of Listeria monocytogenes and Vibrio parahaemolyticus on cooked shrimps. Lett Appl Microbiol 60:210–216

Lin T, Wang JJ, Li JB, Liao C, Pan YJ, Zhao Y (2013) Use of acidic electrolyzed water ice for preserving the quality of shrimp. J Agric Food Chem 61:8695–8702

Liu YR, Mustapha A (2014) Detection of viable Escherichia coli O157:H7 in ground beef by propidium monoazide real-time PCR. Int J Food Microbiol 170:48–54

Løvdal T, Befring Hovd M, Björkblom B, Møller SG (2011) Propidium monoazide combined with real-time quantitative PCR underestimates heat-killed Listeria innocua. J Microbiol Methods 85:164–169

Luo JF, Lin WT, Guo Y (2010) Method to detect only viable cells in microbial ecology. Appl Microbiol Biotechnol 86:377–384

Ma K, Deng Y, Bai Y, Xu DX, Chen EN, Wu HJ, Li BM, Gao LJ (2014) Rapid and simultaneous detection of Salmonella, Shigella, and Staphylococcus aureus in fresh pork using a multiplex real-time PCR assay based on immunomagnetic separation. Food Control 42:87–93

Macé S, Mamlouk K, Chipchakova S, Prévost H, Joffraud JJ, Dalgaard P, Pilet MF, Dousset X (2013) Development of a rapid real-time PCR method as a tool to quantify viable Photobacterium phosphoreum bacteria in Salmon (Salmo salar) steaks. Appl Environ Microbiol 79:2612–2619

McLauchlin J, Mitchell RT, Smerdon WJ, Jewell K (2004) Listeria monocytogenes and listeriosis: a review of hazard characterisation for use in microbiological risk assessment of foods. Int J Food Microbiol 92:15–33

Nocker A, Cheung Camper C-YAK (2006) Comparison of propidium monoazide with ethidium monoazide for differentiation of live vs. dead bacteria by selective removal of DNA from dead cells. J Microbiol Methods 67:310–320

Nocker A, Sossa KE, Camper AK (2007) Molecular monitoring of disinfection efficacy using propidium monoazide in combination with quantitative PCR. J Microbiol Methods 70:252–260

Nordstrom JL, Vickery MCL, Blackstone GM, Murray SL, DePaola A (2007) Development of a multiplex real-time PCR assay with an internal amplification control for the detection of total and pathogenic Vibrio parahaemolyticus bacteria in oysters. Appl Environ Microbiol 73:5840–5847

Norhana MNW, Poole SE, Deeth HC, Dykes GA (2010) Prevalence, persistence and control of Salmonella and Listeria in shrimp and shrimp products: a review. Food Control 21:343–361

Oliver JD, Kaper JB (2001) Vibrio species. In: Doyle MP, Beuchat LR, Montville TJ (eds) Food microbiology: fundamentals and frontiers. ASM Press, Washington, USA

Omiccioli E, Amagliani G, Brandi G, Magnani M (2009) A new platform for Real-Time PCR detection of Salmonella spp., Listeria monocytogenes and Escherichia coli O157 in milk. Food Microbiol 26:615–622

Pan Y, Breidt F (2007) Enumeration of viable Listeria monocytogenes cells by real-time PCR with propidium monoazide and ethidium monoazide in the presence of dead cells. Appl Environ Microbiol 73:8028–8031

Parveen S, DaSilva L, DePaola A, Bowers J, White C, Munasinghe KA, Brohawn K, Mudoh M, Tamplin M (2013) Development and validation of a predictive model for the growth of Vibrio parahaemolyticus in post-harvest shellstock oysters. Int J Food Microbiol 161:1–6

Peleg M, Cole MB (1998) Reinterpretation of microbial survival curves. Crit Rev Food Sci Nutr 38:353–380

Reichert-Schwillinsky F, Pin C, Dzieciol M, Wagner M, Hein I (2009) Stress- and growth rate-related differences between plate count and real-time PCR data during growth of Listeria monocytogenes. Appl Environ Microbiol 75:2132–2138

Rudi K, Moen B, Drømtorp SM, Holck AL (2005) Use of ethidium monoazide and PCR in combination for quantification of viable and dead cells in complex samples. Appl Environ Microbiol 71:1018–1024

Salam KW, El-Fadel M, Barbour EK, Saikaly PE (2014) A propidium monoazide-quantitative PCR method for the detection and quantification of viable Enterococcus faecalis in large-volume samples of marine waters. Appl Microbiol Biotechnol 98:8707–8718

Schnetzinger F, Pan YW, Nocker A (2013) Use of propidium monoazide and increased amplicon length reduce false-positive signals in quantitative PCR for bioburden analysis. Appl Microbiol Biotechnol 97:2153–2162

Su YC, Liu C (2007) Vibrio parahaemolyticus: a concern of seafood safety. Food Microbiol 24:549–558

Wang JJ, Sun WS, Jin MT, Liu HQ, Zhang WJ, Sun XH, Pan YJ, Zhao Y (2014) Fate of Vibrio parahaemolyticus on shrimp after acidic electrolyzed water treatment. Int J Food Microbiol 179:50–56

Willenburg E, Divol B (2012) Quantitative PCR: an appropriate tool to detect viable but not culturable Brettanomyces bruxellensis in wine. Int J Food Microbiol 160:131–136

Wolffs PFG, Glencross K, Norling B, Griffiths MW (2007) Simultaneous quantification of pathogenic Campylobacter and Salmonella in chicken rinse fluid by a flotation and real-time multiplex PCR procedure. Int J Food Microbiol 117:50–54

Xiao LL, Zhang ZH, Sun XH, Pan YJ, Zhao Y (2015) Development of a quantitative real-time PCR assay for viable Salmonella spp. without enrichment. Food Control 57:185–189

Xiong R, Xie G, Edmondson AS, Sheard MA (1999) A mathematical model for bacterial inactivation. Int J Food Microbiol 46:45–55

Xu DF, Wang YL, Sun LJ, Liu HM, Li JR (2013) Inhibitory activity of a novel antibacterial peptide AMPNT-6 from Bacillus subtilis against Vibrio parahaemolyticus in shrimp. Food Control 30:58–61

Yáñez MA, Nocker A, Soria-Soria E, Múrtula R, Martínez L, Catalán V (2011) Quantification of viable Legionella pneumophila cells using propidium monoazide combined with quantitative PCR. J Microbiol Methods 85:124–130

Ye KP, Wang HH, Zhang XX, Jiang Y, Xu XL, Zhou GH (2013) Development and validation of a molecular predictive model to describe the growth of Listeria monocytogenes in vacuum- packaged chilled pork. Food Control 32:246–254

Ye KP, Wang HH, Jiang Y, Xu XL, Cao JX, Zhou GH (2014) Development of interspecific competition models for the growth of Listeria monocytogenes and Lactobacillus on vacuum-packaged chilled pork by quantitative real-time PCR. Food Res Int 64:626–633

Zhang ZH, Xiao LL, Lou Y, Jin MT, Liao C, Malakar PK, Pan YJ, Zhao Y (2015) Development of a multiplex real-time PCR method for simultaneous detection of Vibrio parahaemolyticus, Listeria monocytogenes and Salmonella spp. in raw shrimp. Food Control 51:31–36

Zhu RG, Li TP, Jia YF, Song LF (2012) Quantitative study of viable Vibrio parahaemolyticus cells in raw seafood using propidium monoazide in combination with quantitative PCR. J Microbiol Methods 90:262–266

Zwietering MH, Jongenburger I, Rombouts FM, Van't RK (1990) Modeling of the bacterial growth curve. Appl Environ Microbiol 56:1875–1881
Acknowledgments
This research was supported by the National Natural Science Foundation of China (31271870), the project of Science and Technology Commission of Shanghai Municipality (14DZ1205100, 14320502100, 12391901300), Key Project of Shanghai Agriculture Prosperity through Science and Technology (Grant: 2014, 3–5; 2015, 4–8), and Cross-discipline project (B5201120040). Pradeep Malakar was supported by the Biotechnology and Biological Sciences Research Council (BBSRC) of the UK.
Conflict of interest
The authors declare that they have no conflict of interests.
Additional information
Zhaohuan Zhang and Haiquan Liu contributed equally to this work.
About this article
Cite this article
Zhang, Z., Liu, H., Lou, Y. et al. Quantifying viable Vibrio parahaemolyticus and Listeria monocytogenes simultaneously in raw shrimp. Appl Microbiol Biotechnol 99, 6451–6462 (2015). https://doi.org/10.1007/s00253-015-6715-x
Received:

Revised:

Accepted:

Published:

Issue Date:
Keywords
TaqMan-based multiplex real-time PCR

Propidium monoazide

Viable foodborne pathogens

Vibrio parahaemolyticus
Listeria monocytogenes

Raw shrimp