Abstract
The Lavandula genus, which includes lavender (Lavandula angustifolia) and lavandin (L. angustifolia × Lavandula latifolia), is cultivated worldwide for its essential oils, which find applications in perfumes, cosmetics, food processing and, more recently, in aromatherapy products. The chemical composition of lavender and lavandin essential oils, usually produced by steam distillation from the flowering stems, is characterized by the presence of terpenes (e.g. linalool and linalyl acetate) and terpenoids (e.g. 1,8-cineole), which are mainly responsible for their characteristic flavour and their biological and therapeutic properties. Lavender and lavandin distilled straws, the by-products of oil extraction, were traditionally used for soil replenishment or converted to a fuel source. They are mineral- and carbon-rich plant residues and, therefore, a cheap, readily available source of valuable substances of industrial interest, especially aroma and antioxidants (e.g. terpenoids, lactones and phenolic compounds including coumarin, herniarin, α-bisabolol, rosmarinic and chlorogenic acids). Accordingly, recent studies have emphasized the possible uses of lavender and lavandin straws in fermentative or enzymatic processes involving various microorganisms, especially filamentous fungi, for the production of antimicrobials, antioxidants and other bioproducts with pharmaceutical and cosmetic activities, opening up new challenging perspectives in white biotechnology applications.
Access options
Buy single article
Instant access to the full article PDF.
US$ 39.95
Tax calculation will be finalised during checkout.
Subscribe to journal
Immediate online access to all issues from 2019. Subscription will auto renew annually.
US$ 119
Tax calculation will be finalised during checkout.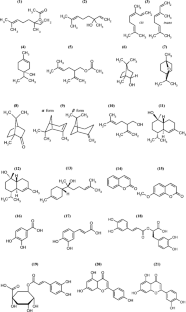 References
Altagirone SC, Ossi CR, Oggi AP, Aneletti FOR, Iorgio PG, Atali N, Runetti MB, Iello FBA, Iantelli MP (2000) Flavonoids apigenin and quercetin inhibit melanoma growth and metastatic potential. Int J Cancer 87:595–600

Angioni A, Barra A, Coroneo V, Dessi S, Cabras P (2006) Chemical composition, seasonal variability, and antifungal activity of Lavandula stoechas L. ssp. stoechas essential oils from stem/leaves and flowers. J Agric Food Chem 54:4364–4370

Araújo KCF, de MB Costa EM, Pazini F, Campos Valadares M, de Oliveira V (2013) Bioconversion of quercetin and rutin and the cytotoxicity activities of the transformed products. Food Chem Toxicol 51:93–96

Areias FM, Valentão P, Andrade PB, Moreira MM, Amaral J, Seabra RM (2000) HPLC/DAD analysis of phenolic compounds from lavender and its application to quality control. J Liq Chromatogr Relat Technol 23:2563–2572

Bakkali F, Averbeck S, Averbeck D, Idaomar M (2008) Biological effects of essential oils: a review. Food Chem Toxicol 46:446–475

Barter G (2003) Interestingly, adding lavender straw to the barley increases its effectiveness. New Sci 179:61–61

Bienvenu F (1995) Lavender growing for oil production. Agricultural notes, AG0450. State of Victoria, Department of Primary industries. http://platypuscountry.org.au/fileadmin/bombala/registrations/business/Lavender/Growinglavenderforoil.pdf. Accessed 27 Nov 2014

Blažeković B, Vladimir-Knežević S, Brantner A, Štefan MB (2010) Evaluation of antioxidant potential of Lavandula x intermedia Emeric ex loisel. 'Budrovka': a comparative study with L. Angustifolia mill. Molecules 15:5971–5987

Boeckelmann L (2008) Monoterpene production and regulation in lavenders (Lavandula angustifolia and Lavandula x intermedia). Master of Science Dissertation, University of British Columbia (Okanagan, Canada)

Bombarda I, Dupuy N, Le Van Da J-P, Gaydou EM (2008) Comparative chemometric analyses of geographic origins and compositions of lavandin var. Grosso essential oils by mid infrared spectroscopy and gas chromatography. Anal Chim Acta 613:31–39

Bonnin E, Brunel M, Gouy Y, Lesage-Meessen L, Asther M, Thibault J-F (2001) Aspergillus niger I-1472 and Pycnoporus cinnabarinus MUCL39533, selected for the biotransformation of ferulic to vanillin, are also able to produce cell wall polysaccharide-degrading enzymes and feruloyl esterases. Enzym Microb Technol 28:70–80

Buranov AU, Mazza G (2008) Lignin in straw of herbaceous crops. Ind Crop Prod 28:237–259

Cavanagh HM, Wilkinson JM (2002) Biological activities of lavender essential oil. Phytother Res 16:301–308

Cerpa MG, Mato RB, Cocero MJ (2008) Modeling steam distillation of essential oils: application to lavandin super oil. AIChE J 54:909–917

Chailan C (2013) Production et marchés des huiles essentielles de lavandes et lavandins. Les synthèses de FranceAgrimer.http://www.franceagrimer.fr/content/download/26324/221437/file/Synth%C3%A8se%20PPAM%20n%C2%B01%20-%20Juin%202013.pdf. Accessed 27 Nov 2014

Chen W, Vermaak I, Viljoen A (2013) Camphor: a fumigant during the black death and a coveted fragrant wood in ancient Egypt and Babylon: a review. Molecules 18:5434–5454

Chu CJ, Kemper KJ (2001) Lavender (Lavandula spp.). Longwood Herbal Task Force. 1-32. http://jonnsaromatherapy.com/pdf/Chu_Lavender_Pediatric_Education_and_Research_2001.pdf. Accessed 27 Nov 2014

Claeson P, Zygmunt P, Högestätt ED (1991) Calcium antagonistic properties of the sesquiterpene τ-cadinol: a comparison with nimodipine in the isolated rat aorta. Pharmacol Toxicol 69:173–177

Couturier M, Haon M, Coutinho PM, Henrissat B, Lesage-Meessen L, Berrin J-G (2011) Podospora anserina hemicellulases potentiate the Trichoderma reesei secretome for saccharification of lignocellulosic biomass. Appl Environ Microbiol 77:237–246

Danh LT, Han LN, Triet NDA, Zhao J, Mammucari R, Foster N (2013) Comparison of chemical composition, antioxidant and antimicrobial activity of lavender (Lavandula angustifolia L.) essential oils extracted by supercritical CO2, hexane and hydrodistillation. Food Bioprocess Technol 6:3481–3489

Daramwar PP, Rincy R, Niloferjahan S, Krithika R, Gulati A, Yadav A, Sharma R, Thulasiram HV (2012) Transformation of (±)-lavandulol and (±)-tetrahydrolavandulol by a fungal strain Rhizopus oryzae. Bioresour Technol 115:70–74

Davis PJ, Miski M (1987) Microbial enzymatic transformations of chrysanthemol, lavandulol and analogous alcohols to acids. EP Patent 0258666A2

Denny EFK (2002) Distillation of the lavender type oils: theory and practice. In: Lis-Balchin M (ed) Lavender: the genus Lavandula. Taylor &Francis Inc, London, pp 101–116

Denys JC, Renaud ENC, Simon JE (2002) Comparative study of essential oil quantity and composition from ten cultivars of organically grown lavender and lavandin. In: Lis-Balchin M (ed) Lavender: the genus Lavandula. Taylor &Francis Inc, London, pp 232–242

Devaux JF (1988) Procédé de traitement des lavandes et lavandins et produits issus de ce procédé. FR Patent 2629374A1

Di Sotto A, Mazzanti G, Carbone F, Hrelia P, Maffei F (2011) Genotoxicity of lavender oil, linalyl acetate, and linalool on human lymphocytes in vitro. Environ Mol Mutagen 52:69–71

Djilani A, Dicko A (2012) The therapeutic benefits of essential oils, In: Nutrition, well-being and health, Bouayed J (ed), ISBN: 978-953-51-0125-3, InTech, Available from http://www.intechopen.com/books/nutrition-well-being-and-health/the-therapeutic-benefits-of-essential-oils. Accessed 26 November 2014

Erbas S, Baydar H (2008) Effects of harvest time and drying temperature on essential oil content and composition in lavandin (Lavandula × intermedia Emerice × Loisel). Turk J Field Crops 13:24–31

Erden E, Ucar MC, Kaymaz Y, Kasikara N, Pazarlioglu NK (2009) New and different lignocellulosic materials from Turkey for laccase and manganese peroxidase production by Trametes versicolor. Eng Life Sci 9:60–65

Estrada Alvarado I, Navarro D, Record E, Mi A, Asther M, Lesage-Meessen L (2003) Fungal biotransformation of p-coumaric acid into caffeic acid by Pycnoporus cinnabarinus: an alternative for producing a strong natural antioxidant. World J Microbiol Biotechnol 19:157–160

Falkoski DL, Guimarães VM, Nicolau de Amleida M, Alfenas AC, Colodette JL, Tavares de Rezende S (2012) Characterization of cellulolytic extract from Pycnoporus sanguineus PF-2 and its application in biomass saccharification. Appl Biochem Biotechnol 166:1586–1603

García-Carnelli C, Rodríguez P, Heinzen H, Menéndez P (2014) Influence of culture conditions on the biotransformation of (+)-limonene by Aspergillus niger. Z Naturforsch 69c:61–67

Geng W, Huang T, Jin Y, Song J, Chang H-M, Jameel H (2014) Comparison of sodium carbonate-oxygen and sodium hydroxide-oxygen pretreatments on the chemical composition and enzymatic saccharification of wheat straw. Bioresour Technol 161:63–68

Gliszczynska A, Bonikowski R, Kula J, Wawrzenczyk C, Ciolak K (2011) Chemomicrobial synthesis of (R)-and (S)-lavandulol. Tetrahedron Lett 52:4461–4463

Guillen MD, Cabo N (1996) Characterisation of the essential oils of some cultivated aromatic plants of industrial interest. J Sci Food Agric 70:359–363

Haeser K, Schwab W, Wenk HH (2006) Technically produced dihydrocoumarin. WO Patent 2006015811A3

Harborne JB, Williams CA (2002) Phytochemistry of the genus Lavandula. In: Lis-Balchin M (ed) Lavender. The Genus Lavandula. Taylor &Francis Inc, London, pp 87–97

Hasan B, Sueleyman (2009) Scent composition of essential oil, concrete, absolute and hydrosol from lavandin (Lavandula x intermedia Emeric ex Loisel). J Essent Oil Bear Plant 12:131–136

Herraiz-Peñalver D, Angeles Cases M, Varela F, Navarrete P, Sánchez-Vioque R, Usano-Alemany J (2013) Chemical characterization of Lavandula latifolia Medik, essential oil from Spanish wild populations. Biochem Syst Ecol 46:59–68

Ho CL, Liao PC, Wang EI, Su YC (2011) Composition and antifungal activities of the leaf essential oil of Neolitsea parvigemma from Taiwan. Nat Prod Commun 6:1357–1360

Iriti M, Colnaghi G, Chemat F, Smadja J, Faoro F, Visinoni F (2006) Histo-cytochemistry and scanning electron microscopy of lavender glandular trichomes following conventional and microwave-assisted hydrodistillation of essential oils: a comparative study. Flavour Frag J 21:704–712

Ivanova LG, Chipiga AP, Naidenova VP (1977) Lactones from lavender oil production wastes. Chem Nat Comp 13:98–99

Jassim SAA, Naji MA (2003) Novel antiviral agents: a medicinal plant perspective. J Appl Microbiol 95:412–427

Kaloustian J, Pauli AM, Pastor J (2000) Chemical and thermal analysis of the biopolymers in the lavandin. J Appl Polym Sci 77:1629–1641

Kamatou GPP, Viljoen AM (2010) A review of the application and pharmacological properties of α-bisabolol and α-bisabolol-rich oils. J Am Oil Chem Soc 87:1–7

Kara N, Baydar H (2013) Determination of lavender and lavandin cultivars (Lavandula sp.) containing high quality essential oil in Isparta, Turkey. Turk J Field Crops 18:58–65

Khomova TV, Gusakova SD, Glushenkova AI, Shlyapnikova AP (1984) Composition of the waxes from the production wastes of lavender and sage oils. Chem Nat Comp 20:669–674

Kovacheva E, Georgiev M, Pashova S, Angelova M, Ilieva M (2006) Radical quenching by rosmarinic acid from Lavandula vera MM cell culture. Z Naturforsch C 61:517–520

Lalande B (1984) Lavender, lavandin and other French oils. Perfumer Flavorist 9:117–121

Lammerink J, Wallace AR, Porter NG (1989) Effects of harvest time and postharvest drying on oil from lavandin (Lavandula × intermedia). N Z J Crop Hortic Sci 17:315–326

Lesage-Meessen L, Lomascolo A, Bonnin E, Thibault J-F, Buleon A, Roller M, Asther M, Record E, Colonna Ceccaldi B, Asther M (2002) A biotechnological process involving filamentous fungi to produce natural crystalline vanillin from maize bran. Appl Biochem Biotechnol 102–103:141–153

Lis-Balchin M (2002) Lavender. The genus Lavandula. In: Lis-Balchin M (ed) Taylor & Francis Inc, London

Lis-Balchin M, Hart S (1999) Studies on the mode of action of the essential oil of lavender (Lavandula angustifolia P. Miller). Phytother Res 13:540–542

Lomascolo A, Stentelaire C, Lesage-Meessen L, Asther M (1999) Basidiomycetes as new biotechnological agents to generate natural aromatic flavours for the food industry. Trends Biotechnol 17:282–289

Lorentz C, Dulac A, Pencreac'h G, Ergan F, Richomme P, Soultani-Vigneron S (2010) Lipase-catalyzed synthesis of two new antioxidants: 4-O- and 3-O-palmitoyl chlorogenic acids. Biotechnol Lett 32:1955–1960

Marumoto S, Miyazawa M (2011) Microbial reduction of coumarin, psoralen, and xanthyletin by Glomerella cingulata. Tetrahedron 67:495–500

Meza JC, Sigoillot J-C, Lomascolo A, Navarro D, Auria R (2006) New process for fungal delignification of sugar-cane bagasse and simultaneous production of laccase in a vapor phase bioreactor. J Agric Food Chem 54:3852–3858

Molina G, Pinheiro DM, Pimentel MR, dos Sanros R, Pastore GM (2013) Monoterpene bioconversion for the production of aroma compounds by fungi isolated from Brazilian fruits. Food Sci Biotechnol 22:999–1006

Moon T, Cavanagh HMA, Wilkinson JM (2007) Antifungal activity of Australian grown Lavandula spp. Essential oils against Aspergillus nidulans, Trichophyton mentagrophytes, Leptosphaeria maculans and Sclerotinia sclerotiorum. J Essent Oil Res 19:171–175

Muňoz-Bertomeu J, Arrillaga I, Segura J (2007) Essential oil variation within and among natural populations of Lavandula latifolia and its relation to their ecological areas. Biochem Syst Ecol 35:479–488

Naëf R, Morris AF (1992) Lavender-lavandin: a comparison. Revista Ital. EPPOS, numero speciale, 364-377

Nigam S, Rao JV, Jayashree BS (2013) Microbial biotransformation—a novel approach for modification on coumarin substrates. Indian J Biotechnol 12:379–385

Noma Y, Asakawa Y (2010) Biotransformation of monoterpenoids by microorganisms, insects, and mammals. In: Hüsnü Can Baser K, Buchbauer G (eds) Handbook of essential oils: science, technology, and applications. Taylor & Francis Group, Boca Raton, pp 585–736

Pandey RP, Malla S, Simkhada D, Kim BG, Sohng JK (2013) Production of 3-o-xylosyl quercetin in Escherichia coli. Appl Microbiol Biotechnol 97:1889–1901

Papnov GY, Malakov PY, Minkov MI, Tomova KN (1983) Technology of isolation of aromatic and biologic-active compounds from Rosa damascena and Lavandula vera waste left after extraction and distillation. Riechstoffe Aromen Körperpflegemittel Kosmetika 4:92–93

Parejo I, Viladomat F, Bastida J, Rosas-Romero A, Flerlage N, Burillo J, Codina C (2002) Comparison between the radical scavenging activity and antioxidant activity of six distilled and nondistilled Mediterranean herbs and aromatic plants. J Agric Food Chem 50:6882–6890

Pereira Machado M, Nara Ciotta M, Deschamps C, Zanette F, Côcco LC, Biasi LA (2013) Propagação in vitro et caracterização química do óleo essencial de Lavandula augustifolia cultivada no Sul do Brasil. Cienc Rural 43:283–289

Périno-Issatier S, Ginies C, Cravotto G, Chemat F (2013) A comparison of essential oils obtained from lavandin via different extraction processes: ultrasound, microwave, turbohydrodistillation, steam and hydrodistillation. J Chromatogr A 1305:41–47

Petersen M, Simmonds MSJ (2003) Molecules of interest: rosmarinic acid. Phytochemistry 62:121–125

Ravalason H, Herpoel-Gimbert I, Record E, Bertaud F, Grisel S, de Weert S, van den Hondel CAMJJ, Asther M, Petit-Conil M, Sigoillot JC (2009) Fusion of a family 1 carbohydrate binding module of Aspergillus niger to the Pycnoporus cinnabarinus laccase for efficient softwood kraft pulp biobleaching. J Biotechnol 142:220–226

Rogerio AP, Kanashiro Fontanari AC, da Silva EVG, Lucisano-Valim YM, Soares EG, Faccioli LH (2007) Anti-inflammatory activity of quercetin and isoquercitrin in experimental murine allergic asthma. Inflamm Res 56:402–408

Sánchez-Vioque R, Polissiou M, Astraka K, de los Mozos-Pascual M, Tarantilis P, Herraiz-Peñalver D, Santana-Méridas O (2013) Polyphenol composition and antioxidant and metal chelating activities of the solid residues from the essential oil industry. Ind Crop Prod 49:150–159

Santana O, Cabrera R, Giménez C, González-Coloma A, Sánchez-Vioque R, de los Mozos-Pascual M, Rodriguez-Conde MF, Laserna-Ruiz I, Usano-Alemany J, Herraiz D (2012) Perfil químico y biológico de aceites esenciales de plantas aromáticas de interés agro-industrial en castilla-La mancha (España). Grasas Aceites 63:214–222

Shafaghat A, Salimi F, Amani-Hooshyar V (2012) Phytochemical and antimicrobial activities of Lavandula officinalis leaves and stems against some pathogenic microorganisms. J Med Plant Res 6:455–460

Sidiras D, Batzias F, Konstantinou I, Tsapatsis M (2011) Development of a new oil spill adsorbent from autohydrolysis modified lignocellulosic waste material. In: Niola V, Ng K-L (eds) Recent researches in chemistry, biology environment and culture. WSEAS Press, Athens, pp 163–168

Smigielski K, Prusinowska R, Krosowiak K, Sikora M (2013) Comparison of qualitative and quantitative chemical composition of hydrolate and essential oils of lavender (Lavandula angustifolia). J Essent Oil Res 25:291–299

Szczerbowski D, Pitarelo AP, Zandona Filho A, Pereira Ramos L (2014) Sugarcane biomass for biorefineries: comparative composition of carbohydrate and non-carbohydrate components of bagasse and straw. Carbohydr Polym 114:95–101

Tiliacos C, Gaydou EM, Bessière J-M, Agnel R (2008) Distilled lavandin (Lavandula intermedia Emeric ex Loisel) wastes: a rich source of coumarin and herniarin. J Essent Oil Res 20:412–413

Torras-Claveria L, Jauregui O, Bastida J, Codina C, Viladomat F (2007) Antioxidant activity and phenolic composition of Lavandin (Lavandula x intermedia Emeric ex Loiseleur) waste. J Agric Food Chem 55:8436–8443

Verma RS, Rahman LU, Chanotiya CS, Verma RK, Chauhan A, Yadav A, Singh A, Yadav A (2010) Essential oil composition of Lavandula augustifolia Mill. cultivated in the mid hills of Uttarakhand, India. J Serb Chem Soc 75:343–348

Yohalem D, Passey T (2011) Amendment of soils with fresh and post-extraction lavender (Lavandula angustifolia) and lavandin (Lavandula × intermedia) reduce inoculum of Verticillium dahliae and inhibit wilt in strawberry. Appl Soil Ecol 49:187–196

Zheljazkov VD, Astatkie T, Hristov A (2012) Lavender and hyssop productivity, oil content, and bioactivity as a function of harvest time and drying. Ind Crop Prod 36:222–228
Acknowledgments
This work was funded by the FranceAgrimer Institute (Etablissement National des Produits de l'Agriculture et de la Mer, Paris, France) and the French Pole of Competitiveness Parfums Arômes Senteurs Saveurs (Grasse, France). The authors warmly thank Dr. Jean-Luc Cayol (Aix-Marseille University, France) for his participation and helpful comments on the manuscript and Dr. Estelle Bonnin (INRA, Nantes, France) for LLDS cellulose and hemicellulose analysis.
About this article
Cite this article
Lesage-Meessen, L., Bou, M., Sigoillot, JC. et al. Essential oils and distilled straws of lavender and lavandin: a review of current use and potential application in white biotechnology. Appl Microbiol Biotechnol 99, 3375–3385 (2015). https://doi.org/10.1007/s00253-015-6511-7
Received:

Revised:

Accepted:

Published:

Issue Date:
Keywords
Biotechnological application

Distilled straws

Lavandin

Lavender

Phenolics

Terpenes