Abstract
Probiotic ingestion is recommended as a preventive approach to maintain the balance of the intestinal microbiota and to enhance the human well-being. During the whole life of each individual, the gut microbiota composition could be altered by lifestyle, diet, antibiotic therapies and other stress conditions, which may lead to acute and chronic disorders. Hence, probiotics can be administered for the prevention or treatment of some disorders, including lactose malabsorption, acute diarrhoea, irritable bowel syndrome, necrotizing enterocolitis and mild forms of inflammatory bowel disease. The probiotic-mediated effect is an important issue that needs to be addressed in relation to strain-specific probiotic properties. In this work, the probiotic properties of new Lactobacillus and Bifidobacterium strains were screened, and their effects in vitro were evaluated. They were screened for probiotic properties by determining their tolerance to low pH and to bile salts, antibiotic sensitivity, antimicrobial activity and vitamin B8, B9 and B12 production, and by considering their ability to increase the antioxidant potential and to modulate the inflammatory status of systemic-miming cell lines in vitro. Three out of the examined strains presenting the most performant probiotic properties, as Lactobacillus plantarum PBS067, Lactobacillus rhamnosus PBS070 and Bifidobacterium animalis subsp. lactis PBSO75, were evaluated for their effects also on human intestinal HT-29 cell line. The obtained results support the possibility to move to another level of study, that is, the oral administration of these probiotical strains to patients with acute and chronic gut disorders, by in vivo experiments.
This is a preview of subscription content,
to check access.
Access this article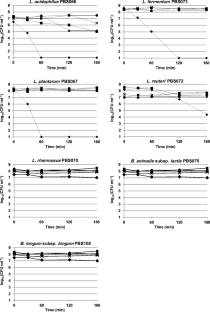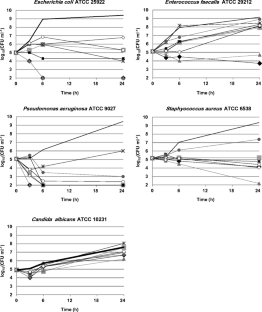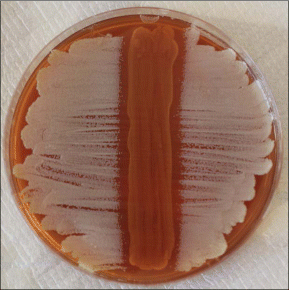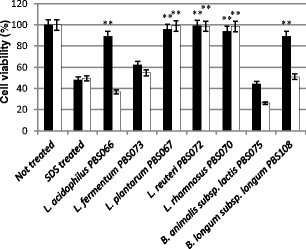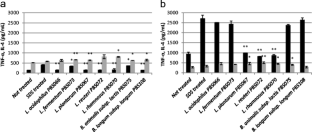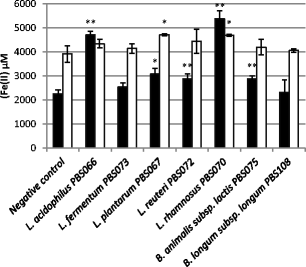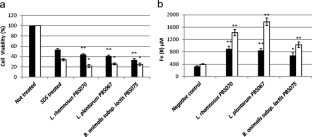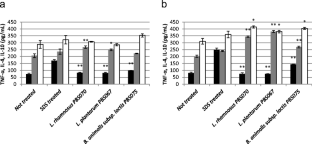 References
Aloisio I, Santini C, Biavati B, Dinelli G, Cencič A, Chingwaru W, Mogna L, Di Gioia D (2012) Characterization of Bifidobacterium spp. strains for the treatment of enteric disorders in newborns. Appl Microbiol Biotechnol 96:1561–76

Amaretti A, di Nunzio M, Pompei A, Raimondi S, Rossi M, Bordoni A (2013) Antioxidant properties of potentially probiotic bacteria: in vitro and in vivo activities. Appl Microbiol Biotechnol 97:809–17

Ammor MS, Flórez AB, Alvarez-Martín P, Margolles A, Mayo B (2008) Analysis of tetracycline resistance tet(W) genes and their flanking sequences in intestinal Bifidobacterium species. J Antimicrob Chemother 62:688–93

Begley M, Gahan CGM, Hill C (2005) The interaction between bacteria and bile. FEMS Microbiol Rev 29:625–51

Benzie IF, Strain JJ (1996) The ferric reducing ability of plasma (FRAP) as a measure of "antioxidant power": the FRAP assay. Anal Biochem 239:70–6

Berman SH, Eichelsdoerfer P, Yim D, Elmer GW, Wenner CA (2006) Daily ingestion of a nutritional probiotic supplement enhances innate immune function in healthy adults. Nutr Res 26:454–459

Bervoets L, Van Hoorenbeeck K, Kortleven I, Van Noten C, Hens N, Vael C, Goossens H, Desager KN, Vankerckhoven V (2013) Differences in gut microbiota composition between obese and lean children: a cross-sectional study. Gut Pathog 5:10–15

Capozzi V, Russo P, Dueñas MT, López P, Spano G (2012) Lactic acid bacteria producing B-group vitamins: a great potential for functional cereals products. Appl Microbiol Biotechnol 96:1383–94

Charteris WP, Kelly PM, Morelli L, Collins JK (1998) Development and application of an in vitro methodology to determine the transit tolerance of potentially probiotic Lactobacillus and Bifidobacterium species in the upper human gastrointestinal tract. J Appl Microbiol 84:759–68

Collado MC, Isolauri E, Salminen S, Sanz Y (2009) The impact of probiotic on gut health. Curr Drug Metab 10:68–78

Corcoran BM, Stanton C, Fitzgerald GF, Ross RP (2005) Survival of probiotic Lactobacilli in acidic environments is enhanced in the presence of metabolizable sugars. Appl Environ Microbiol. doi:10.1128/AEM.71.6.3060

Dunne C, Murphy L, Flynn S, O'Mahony L, O'Halloran S, Feeney M, Morrissey D, Thornton G, Fitzgerald G, Daly C, Kiely B, Quigley EM, O'Sullivan GC, Shanahan F, Collins JK (1999) Probiotics: from myth to reality. Demonstration of functionality in animal models of disease and in human clinical trials. Antonie Van Leeuwenhoek 76:279–92

Fernandez Freire P, Peropadre A, Perez Martin JM, Herrero O, Hazen MJ (2009) An integrated cellular model to evaluate citotoxic effects in mammalian cell lines. Toxicol in Vitro 23:1553–1558

Foligne B, Nutten S, Grangette C, Dennin V, Goudercourt D, Poiret S, Dewulf J, Brassart D, Mercenier A, Pot B (2007) Correlation between in vitro and in vivo immunomodulatory properties of lactic acid bacteria. World J Gastroenterol 13:236–43

Fontana L, Bermudez-Brito M, Plaza-Diaz J, Munoz-Quezada S, Gil A (2013) Sources, isolation, characterization and evaluation of probiotics. Br J Nutr 109:35–50

Food and Agriculture Organization/World Health Organization (2001). Health and nutritional properties of probiotics in food including powder milk with live lactic acid bacteria.

Food European and Safety Authority (2012) Guidance on the assessment of bacterial susceptibility to antimicrobials of human and veterinary importance 2. 10:1–10

Fooks LJ, Gibson GR (2002) Probiotics as modulators of the gut flora. Br J Nutr 88:S39–49

Gueimonde M, Flórez AB, van Hoek AHAM, Stuer-Lauridsen B, Strøman P, de los Reyes-Gavilán CG, Margolles A (2010) Genetic basis of tetracycline resistance in Bifidobacterium animalis subsp. lactis. Appl Environ Microbiol 76:3364–9

Jacobsen CN, Nielsen VR, Hayford AE, Michaelsen KF, Pærregaard A, Sandström B, Jakobsen M, Møller PL (1999) Screening of probiotic activities of forty-seven strains of Lactobacillus spp. by in vitro techniques and evaluation of the colonization ability of five selected strains in humans. Appl Environ Microbiol 65:4949–56

Kailasapathy K, Chin J (2000) Survival and therapeutic potential of probiotic organisms with reference to Lactobacillus acidophilus and Bifidobacterium spp. Immunol Cell Biol 78:80–8

Kimoto H, Kurisaki J, Tsuji NM, Ohmomo S, Okamoto T (1999) Lactococci as probiotic strains: adhesion to human enterocyte-like Caco-2 cells and tolerance to low pH and bile. Lett Appl Microbiol 29:313–6

Kinsner-Ovaskainen A, Bulgheroni A, Hartung T, Prieto P (2009) ECVAM's ongoing activities in the area of acute oral toxicity. Toxicol in Vitro 23:1535–1540

Kryston TB, Georgiev AB, Pissis P, Georgakilas AG (2011) Role of oxidative stress and DNA damage in human carcinogenesis. Mutat Res 711:193–201

Lane DJ (1991) 16S/23S rRNA sequencing. In: Stackebrandt E and Goodfellow M (eds) Nucleic acid techniques in bacterial systematics. John Wiley and Sons, New York, 115–175

LeBlanc JG, Laiño JE, del Valle MJ, Vannini V, van Sinderen D, Taranto MP, de Valdez GF, de Giori GS, Sesma F (2011) B-group vitamin production by lactic acid bacteria current knowledge and potential applications. J Appl Microbiol 111:1297–309

Lin MY, Yen CL (1999) Antioxidative ability of lactic acid bacteria. J Agric Food Chem 47:1460–66

Mantere-Alhonen S (1995) Propionibacteria used as probiotics - a review. Lait 75:447–52

Maragkoudakis PA, Zoumpopoulou G, Miaris C, Kalantzopoulos G, Pot B, Tsakalidou E (2006) Probiotic potential of Lactobacillus strains isolated from dairy products. Int Dairy J 16:189–99

Medina M, Izquierdo E, Ennahar S, Sanz Y (2007) Differential immunomodulatory properties of Bifidobacterium longum strains: relevance to probiotic selection and clinical applications. Clin Exp Immunol 150:531–38

Meijerink M, van Hemert S, Taverne N, Wels M, de Vos P, Bron PA, Savelkoul HF, van Bilsen J, Kleerebezem M, Wells JM (2010) Identification of genetic loci in Lactobacillus plantarum that modulate the immune response of dendritic cells using comparative genome hybridization. PLoS One 5:e10632

Moubareck C, Gavini F, Vaugien L, Butel MJ, Doucet-Populaire F (2005) Antimicrobial susceptibility of bifidobacteria. J Antimicrob Chemother 55:38–44

Pérez-Cobas AE, Gosalbes MJ, Friedrichs A, Knecht H, Artacho A, Eismann K, Otto W, Rojo D, Bargiela R, von Bergen M, Neulinger SC, Däumer C, Heinsen F-A, Latorre A, Barbas C, Seifert J, dos Santos VM, Ott SJ, Ferrer M, Moya A (2013) Gut microbiota disturbance during antibiotic therapy: a multi-omic approach. Gut 62:1591–601

Pompei A, Cordisco L, Amaretti A, Zanoni S, Matteuzzi D, Rossi M (2007) Folate production by bifidobacteria as a potential probiotic property. Appl Environ Microbiol 73:179–85

Prasad J, Gill H, Smart J, Gopal PK (2000) Selection and Characterisation of Lactobacillus and Bifidobacterium strains for use as probiotics. Int Dairy J 8:993–1002

Priya AJ, Vijayalakshmi SP, Raichur AM (2011) Enhanced survival of probiotic Lactobacillus acidophilus by encapsulation with nanostructured polyelectrolyte layers through layer-by-layer approach. J Agric Food Chem 59:11838–845

Ramos CL, Thorsen L, Schwan RF, Jespersen L (2013) Strain-specific probiotics properties of Lactobacillus fermentum, Lactobacillus plantarum and Lactobacillus brevis isolates from Brazilian food products. Food Microbiol 36:22–9

Robles Alonso V, Guarner F (2013) Linking the gut microbiota to human health. Br J Nutr 109(Suppl 2):S21–6

Rossi M, Amaretti A, Raimondi S (2011) Folate production by probiotic bacteria. Nutrients 3:118–34

Saarela M, Mogensen G, Fondén R, Mättö J, Mattila-Sandholm T (2000) Probiotic bacteria: safety, functional and technological properties. J Biotechnol 84:197–215

Sanders ME, Huis in't Veld J (1999) Bringing a probiotic-containing functional food to the market: microbiological, product, regulatory and labeling issues. Antonie Van Leeuwenhoek 76:293–315

Santini C, Baffoni L, Gaggia F, Granata M, Gasbarri R, Di Gioia D, Biavati B (2010) Characterization of probiotic strains: an application as feed additives in poultry against Campylobacter jejuni. Int J Food Microbiol 141:98–108

Santos F, Wegkamp A, de Vos WM, Smid EJ, Hugenholtz J (2008) High-Level folate production in fermented foods by the B12 producer Lactobacillus reuteri JCM1112. Appl Environ Microbiol 74:3291–4

Servin AL (2004) Antagonistic activities of lactobacilli and bifidobacteria against microbial pathogens. FEMS Microbiol Rev 28:405–40

Spyropoulos BG, Misiakos EP, Fotiadis C, Stoidis CN (2011) Antioxidant properties of probiotics and their protective effects in the pathogenesis of radiation-induced enteritis and colitis. Dig Dis Sci 56:285–94

Strus M, Kucharska A, Kukla G, Brzychczy-Włoch M, Maresz K, Heczko PB (2005) The in vitro activity of vaginal Lactobacillus with probiotic properties against Candida. Infect Dis Obstet Gynecol 13:69–75

Sybesma W, Starrenburg M, Tijsseling L, Hoefnagel MHN, Hugenholtz J (2003) Effects of cultivation conditions on folate production by Lactic Acid Bacteria. Metab Eng 69:4542–548

Valeur N, Engel P, Carbajal N, Connolly E, Ladefoged K (2004) Colonization and Immunomodulation by Lactobacillus reuteri ATCC 55730 in the human gastrointestinal tract. 70:1176–181.
Acknowledgments
The research was conducted through the Probioplus4Food Project, funded by MIUR and Lombardy Region, Italy. We thank Principium Europe Srl for supplying the bacterial strains.
About this article
Cite this article
Presti, I., D'Orazio, G., Labra, M. et al. Evaluation of the probiotic properties of new Lactobacillus and Bifidobacterium strains and their in vitro effect. Appl Microbiol Biotechnol 99, 5613–5626 (2015). https://doi.org/10.1007/s00253-015-6482-8
Received:

Revised:

Accepted:

Published:

Issue Date:

DOI: https://doi.org/10.1007/s00253-015-6482-8
Keywords