Abstract
4-α-Glucanotransferase (GTase) enzymes (EC 2.4.1.25) modulate the size of α-glucans by cleaving and reforming α-1,4 glycosidic bonds in α-glucans, an essential process in starch and glycogen metabolism in plants and microorganisms. The glycoside hydrolase family 57 enzyme (GTase57) studied in the current work catalyzes both disproportionation and cyclization reactions. Amylose was converted into cyclic amylose (with a minimum size of 17 glucose monomers) as well as to a spectrum of maltodextrins, but in contrast to glycoside hydrolase family 13 cyclodextrin glucanotransferases (CGTases), no production of cyclodextrins (C6-C8) was observed. GTase57 also effectively produced alkyl-glycosides with long α-glucan chains from dodecyl-β-D-maltoside and starch, demonstrating the potential of the enzyme to produce novel variants of surfactants. Importantly, the GTase57 has excellent thermostability with a maximal activity at 95 °C and an activity half-life of 150 min at 90 °C which is highly advantageous in this manufacturing process suggesting that enzymes from this relatively uncharacterized family, GH57, can be powerful biocatalysts for the production of large head group glucosides from soluble starch.
Access options
Buy single article
Instant access to the full article PDF.
US$ 39.95
Tax calculation will be finalised during checkout.
Subscribe to journal
Immediate online access to all issues from 2019. Subscription will auto renew annually.
US$ 119
Tax calculation will be finalised during checkout.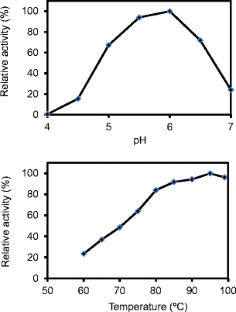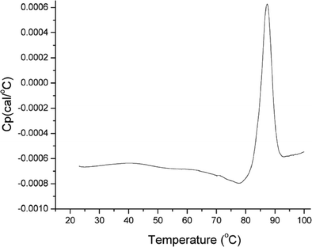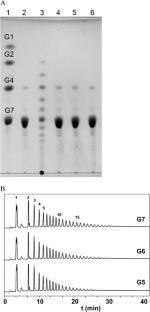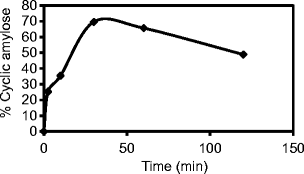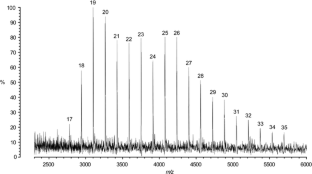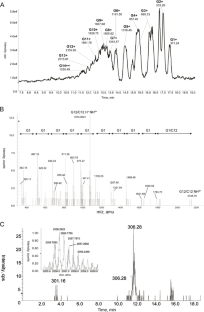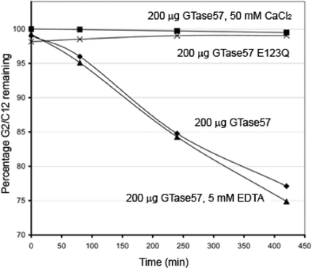 References
Abou-Hachem M, Karlsson EN, Simpson PJ, Linse S, Sellers P, Williamson MP, Jamieson SJ, Gilbert HJ, Bolam DN, Holst O (2002) Calcium binding and thermostability of carbohydrate binding module CBM4-2 of Xyn10A from Rhodothermus marinus. Biochemistry 41:5720–5729

Barends TR, Bultema JB, Kaper T, van der Maarel MJ, Dijkhuizen L, Dijkstra BW (2007) Three-way stabilization of the covalent intermediate in amylomaltase, an α-amylase-like transglycosylase. J Biol Chem 282:17242–17249

Beeder J, Nilsen RK, Rosnes JT, Torsvik T, Lien T (1994) Archaeoglobus fulgidus isolated from hot North Sea oil field waters. Appl Environ Microbiol 60:1227–1231

Blesák K, Janeček Š (2012) Sequence fingerprints of enzyme specificities from the glycoside hydrolase family 57. Extremophiles 16:497–506

Buchholz K, Seibel J (2008) Industrial carbohydrate biotransformations. Carbohydr Res 343:1966–1979

Cantarel BL, Coutinho PM, Rancurel C, Bernard T, Lombard V, Henrissat B (2009) The Carbohydrate-Active EnZymes database (CAZy): an expert resource for glycogenomics. Nucleic Acids Res 37:D233–D238

Fujii K, Minagawa H, Terada Y, Takaha T, Kuriki T, Shimada J, Kaneko H (2005) Use of random and saturation mutagenesis to improve the properties of Thermus aquaticus amylomaltase for efficient production of cycloamyloses. Appl Environ Microbiol 71:5823–5827

Fukami T, Mugishima A, Suzuki T, Hidaka S, Endo T, Ueda H, Tomono K (2004) Enhancement of water solubility of fullerene by cogrinding with mixture of cycloamyloses, novel cyclic α-1,4-glucans, via solid–solid mechanochemical reaction. Chem Pharm Bull 52:961–964

Godany A, Vidova B, Janecek S (2008) The unique glycoside hydrolase family 77 amylomaltase from Borrelia burgdorferi with only catalytic triad conserved. FEMS Microbiol Lett 284:84–91

Imamura H, Fushinobu S, Jeon BS, Wakagi T, Matsuzawa H (2001) Identification of the catalytic residue of Thermococcus litoralis 4-α-glucanotransferase through mechanism-based labelling. Biochemistry 40:12400–12406

Imamura H, Fushinobu S, Yamamoto M, Kumasaka T, Jeon BS, Wakagi T, Matsuzawa H (2003) Crystal structures of 4-α-glucanotransferase from Thermococcus litoralis and its complex with an inhibitor. J Biol Chem 278:19378–19386

Islam MN, Azemi BMNM (1997) Rheological properties of calcium treated hydroxypropyl rice starches. Starch Stärke 49:136–141

Janeček Š, Blesák K (2011) Sequence-structural features and evolutionary relationships of family GH57 α-amylases and their putative α-amylase-like homologues. Protein J 30:429–435

Jeon BS, Taguchi H, Sakai H, Ohshima T, Wakagi T, Matsuzawa H (1997) 4-α-glucanotransferase from the hyperthermophilic archaeon Thermococcus litoralis - Enzyme purification and characterization, and gene cloning, sequencing and expression in Escherichia coli. Eur J Biochem 248:171–178

Kang S, Vieille C, Zeikus JG (2005) Identification of Pyrococcus furiosus amylopullulanase catalytic residues. Appl Microbiol Biotechnol 66:408–413

Kaper T, van der Maarel MJEC, Euverink GJ, Dijkhuizen L (2004) Exploring and exploiting starch-modifying amylomaltases from thermophiles. Biochem Soc Trans 32:279–282

Kaper T, Talik B, Ettema TJ, Bos H, van der Maarel MJEC, Dijkhuizen L (2005) Amylomaltase of Pyrobaculum aerophilum IM2 produces thermoreversible starch gels. Appl Environ Microbiol 71:5098–5106

Kaper T, Leemhuis H, Uitdehaag JC, van der Veen BA, Dijkstra BW, van der Maarel MJEC, Dijkhuizen L (2007) Identification of acceptor substrate binding subsites +2 and +3 in the amylomaltase from Thermus thermophilus HB8. Biochemistry 46:5261–5269

Kaster KM, Bonaunet K, Berland H, Kjeilen-Eilertsen G, Brakstad OG (2009) Characterisation of culture-independent and -dependent microbial communities in a high-temperature offshore chalk petroleum reservoir. Antonie Van Leeuwenhoek 96:423–439

Kuriki T, Imanaka T (1999) The concept of the α-amylase family: structural similarity and common catalytic mechanism. J Biosci Bioeng 87:557–565

Labes A, Schönheit P (2007) Unusual starch degradation pathway via cyclodextrins in the hyperthermophilic sulfate-reducing archaeon Archaeoglobus fulgidus strain 7324. J Bacteriol 189:8901–8913

Leemhuis H, Wehmeier UF, Dijkhuizen L (2004) Single amino acid mutations interchange the reaction specificities of cyclodextrin glycosyltransferase and the acarbose-modifying enzyme acarviosyl transferase. Biochemistry 43:13204–13213

Leemhuis H, Kelly RM, Dijkhuizen L (2010) Engineering of cyclodextrin glucanotransferases and the impact for biotechnological applications. Appl Microbiol Biotechnol 85:823–835

MacGregor EA, Janecek S, Svensson B (2001) Relationship of sequence and structure to specificity in the α-amylase family of enzymes. Biochim Biophys Acta 1546:1–20

Nakajima M, Imamura H, Shoun H, Horinouchi S, Wakagi T (2004) Transglycosylation activity of Dictyoglomus thermophilum amylase A. Biosci Biotechnol Biochem 68:2369–2373

Palomo M, Pijning T, Booiman T, Dobruchowska JM, van der Vlist J, Kralj S, Planas A, Loos K, Kamerling JP, Dijkstra BW, van der Maarel MJEC, Dijkhuizen L, Leemhuis H (2011) Thermus thermophilus glycoside hydrolase family 57 branching enzyme: Crystal structure, mechanism of action, and products formed. J Biol Chem 286:3520–3530

Potocki-Veronese G, Putaux JL, Dupeyre D, Albenne C, Remaud-Simeon M, Monsan P, Buleon A (2005) Amylose synthesized in vitro by amylosucrase: Morphology, structure, and properties. Biomacromolecules 6:1000–1011

Ramchuran SO, Holst O, Nordberg Karlsson E (2005) Effect of postinduction nutrient feed composition and use of lactose as inducer during production of thermostable xylanase in Escherichia coli glucose-limited fed-batch cultivations. J Biosci Bioeng 99:477–484

Sarney DB, Vulfson EN (1995) Application of enzymes to the synthesis of surfactants. Trends Biotechnol 13:164–172

Sjogren H, Ericsson CA, Evenas J, Ulvenlund S (2005) Interactions between charged polypeptides and nonionic surfactants. Biophys J 89:4219–4233

Stam MR, Danchin EG, Rancurel C, Coutinho PM, Henrissat B (2006) Dividing the large glycoside hydrolase family 13 into subfamilies: towards improved functional annotations of α-amylase-related proteins. Protein Eng Des Sel 19:555–562

Steichen JM, Petty RV, Sharkey TD (2008) Domain characterization of a 4-α-glucanotransferase essential for maltose metabolism in photosynthetic leaves. J Biol Chem 283:20797–20804

Svensson D, Ulvenlund S, Adlercreutz P (2009a) Efficient synthesis of a long carbohydrate chain alkyl glycoside catalyzed by cyclodextrin glycosyltransferase (CGTase). Biotechnol Bioeng 104:854–861

Svensson D, Ulvenlund S, Adlercreutz P (2009b) Enzymatic route to alkyl glycosides having oligomeric head groups. Green Chem 11:1222–1226

Tachibana Y, Takaha T, Fujiwara S, Takagi M, Imanaka T (2000) Acceptor specificity of 4-α-glucanotransferase from Pyrococcus kodakaraensis KOD1, and synthesis of cycloamylose. J Biosci Bioeng 90:406–409

Tang SY, Yang SJ, Cha H, Woo EJ, Park C, Park KH (2006) Contribution of W229 to the transglycosylation activity of 4-α-glucanotransferase from Pyrococcus furiosus. Biochim Biophys Acta 1764:1633–1638

Uitdehaag JC, Mosi R, Kalk KH, van der Veen BA, Dijkhuizen L, Withers SG, Dijkstra BW (1999) X-ray structures along the reaction pathway of cyclodextrin glycosyltransferase elucidate catalysis in the α-amylase family. Nat Struct Biol 6:432–436

van der Maarel MJEC, Leemhuis H (2013) Starch modification with microbial α-glucanotransferase enzymes. Carbohydr Polym 93:116–121

Zona R, Chang-Pi-Hin F, O'Donohue MJ, Janecek S (2004) Bioinformatics of the glycoside hydrolase family 57 and identification of catalytic residues in amylopullulanase from Thermococcus hydrothermalis. Eur J Biochem 271:2863–2872
Acknowledgments
We thank Dr. Thijs Kaper for discussion and Dr. Sonja V. Albers (Molecular Microbiology, University of Groningen) for isolating the genomic DNA of strain DSM8774. Financial support by the EU FP7 research project AMYLOMICS and GreenChem (MISTRA, Sweden) is greatly appreciated. This project is also part-financed by the European Union, European Regional Development Fund and The Netherlands Ministry of Economic Affairs, Agriculture and Innovation, Peaks in the Delta, the Municipality of Groningen, the Province of Groningen, as well as the Dutch Carbohydrate Competence Center (CCC).
Additional information
Catherine J. Paul and Hans Leemhuis contributed equally to this work.
Electronic supplementary material
Below is the link to the electronic supplementary material.
About this article
Cite this article
Paul, C.J., Leemhuis, H., Dobruchowska, J.M. et al. A GH57 4-α-glucanotransferase of hyperthermophilic origin with potential for alkyl glycoside production. Appl Microbiol Biotechnol 99, 7101–7113 (2015). https://doi.org/10.1007/s00253-015-6435-2
Received:

Revised:

Accepted:

Published:

Issue Date:
Keywords
Amylomaltase

Amylose

Glucan

Glycoside hydrolase

Starch

Alkyl glycoside

MalQ