Abstract
Glucansucrases are exclusively found in lactic acid bacteria and synthesize a variety of α-glucans from sucrose. They are large multidomain enzymes belonging to the CAZy family 70 of glycoside hydrolase enzymes (GH70). The crystal structure of the N-terminal truncated GTF180 of Lactobacillus reuteri 180 (GTF180-ΔN) revealed that the polypeptide chain follows a U shape course to form five domains, including domains A, B, and C, which resemble those of family GH13 enzymes, and two extra and novel domains (domains IV and V), which are attached to the catalytic core. To elucidate the functional roles of domain V, we have deleted the domain V fragments from both the N- and C-terminal ends (GTF180-ΔNΔV). Truncation of domain V of GTF180-ΔN yielded a catalytically fully active enzyme but with heavily impaired polysaccharide synthesis ability. Instead, GTF180-ΔNΔV produced a large amount of oligosaccharides. Domain V is not involved in determining the linkage specificity, and the size of polysaccharide produced as the polysaccharide produced by GTF180-ΔNΔV was identical in size and structure with that of GTF180-ΔN. The data indicates that GTF180-ΔNΔV acts nonprocessively, frequently initiating synthesis of a new oligosaccharide from sucrose, instead of continuing the synthesis of a full size polysaccharide. Mutations L940E and L940F in GTF180-ΔNΔV, which are involved in the acceptor substrate binding, restored polysaccharide synthesis almost to the level of GTF180-ΔN. These results demonstrated that interactions of growing glucan chains with both domain V and acceptor substrate binding sites are important for polysaccharide synthesis.
Access options
Buy single article
Instant access to the full article PDF.
US$ 39.95
Tax calculation will be finalised during checkout.
Subscribe to journal
Immediate online access to all issues from 2019. Subscription will auto renew annually.
US$ 119
Tax calculation will be finalised during checkout.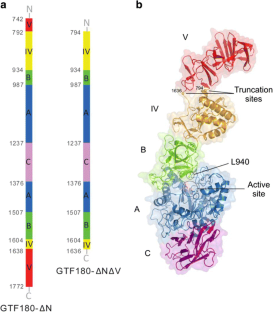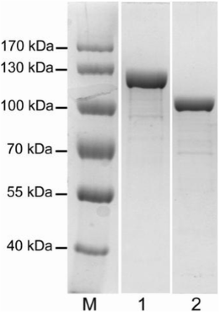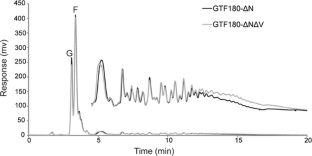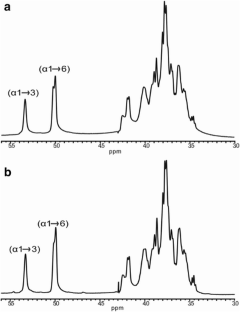 References
Barea-Alvarez M, Benito MT, Olano A, Jimeno ML, Moreno FJ (2014) Synthesis and characterization of isomaltulose-derived oligosaccharides produced by transglucosylation reaction of Leuconostoc mesenteroides dextransucrase. J Agric Food Chem 62(37):9137–9144

Bozonnet S, Dols-Laffargue M, Fabre E, Pizzut S, Remaud-Siméon M, Monsan P, Willemot R-M (2002) Molecular characterization of DSR-E, an α-1,2 linkage-synthesizing dextransucrase with two catalytic domains. J Bacteriol 184(20):5753–5761

Brison Y, Pijning T, Malbert Y, Fabre É, Mourey L, Morel S, Potocki-Véronèse G, Monsan P, Tranier S, Remaud-Siméon M, Dijkstra BW (2012) Functional and structural characterization of α-(1 → 2) branching sucrase derived from DSR-E glucansucrase. J Biol Chem 287(11):7915–7924

Cantarel BL, Coutinho PM, Rancurel C, Bernard T, Lombard V, Henrissat B (2009) The Carbohydrate-Active EnZymes database (CAZy): an expert resource for glycogenomics. Nucleic Acids Res 37:D233–D238

Ciric J, Woortman AJJ, Gordiichuk P, Stuart MCA, Loos K (2013) Physical properties and structure of enzymatically synthesized amylopectin analogs. Starch-Stärke 65(11–12):1061–1068

Côté GL (2009) Acceptor products of alternansucrase with gentiobiose. Production of novel oligosaccharides for food and feed and elimination of bitterness. Carbohydr Res 344(2):187–190

Côté GL, Skory CD (2014) Effects of mutations at threonine-654 on the insoluble glucan synthesized by Leuconostoc mesenteroides NRRL B-1118 glucansucrase. Appl Microbiol Biotechnol 98(15):6651–6658

Desmet T, Soetaert W, Bojarova P, Kren V, Dijkhuizen L, Eastwick-Field V, Schiller A (2012) Enzymatic glycosylation of small molecules: challenging substrates require tailored catalysts. Chemistry 18(35):10786–107801

Díez-Municio M, Herrero M, Jimeno ML, Olano A, Moreno FJ (2012) Efficient synthesis and characterization of lactulosucrose by Leuconostoc mesenteroides B-512F dextransucrase. J Agric Food Chem 60(42):10564–10571

Giffard PM, Jacques NA (1994) Definition of a fundamental repeating unit in streptococcal glucosyltransferase glucan-binding regions and related sequences. J Dent Res 73(6):1133–1141

Ito K, Ito S, Shimamura T, Weyand S, Kawarasaki Y, Misaka T, Abe K, Kobayashi T, Cameron AD, Iwata S (2011) Crystal structure of glucansucrase from the dental caries pathogen Streptococcus mutans. J Mol Biol 408(2):177–186

Kingston KB, Allen DM, Jacques NA (2002) Role of the C-terminal YG repeats of the primer-dependent streptococcal glucosyltransferase, GtfJ, in binding to dextran and mutan. Microbiology 148(2):549–558

Korakli M, Vogel RF (2006) Structure/function relationship of homopolysaccharide producing glycansucrases and therapeutic potential of their synthesised glycans. Appl Microbiol Biotechnol 71(6):790–803

Kralj S, van Geel-Schutten GH, Dondorff MMG, Kirsanovs S, van der Maarel MJEC, Dijkhuizen L (2004a) Glucan synthesis in the genus Lactobacillus: isolation and characterization of glucansucrase genes, enzymes and glucan products from six different strains. Microbiology 150(11):3681–3690

Kralj S, van Geel-Schutten GH, van der Maarel MJEC, Dijkhuizen L (2004b) Biochemical and molecular characterization of Lactobacillus reuteri 121 reuteransucrase. Microbiology 150(7):2099–2112

Kren V, Martinkova L (2001) Glycosides in medicine: "The role of glycosidic residue in biological activity". Curr Med Chem 8(11):1303–1328

Leemhuis H, Pijning T, Dobruchowska JM, van Leeuwen SS, Kralj S, Dijkstra BW, Dijkhuizen L (2013) Glucansucrases: three-dimensional structures, reactions, mechanism, α-glucan analysis and their implications in biotechnology and food applications. J Biotechnol 163(2):250–272

Lis M, Shiroza T, Kuramitsu HK (1995) Role of the C-terminal direct repeating units of the Streptococcus mutans glucosyltransferase-S in glucan binding. Appl Environ Microbiol 61(5):2040–2042

Meng X, Dobruchowska JM, Pijning T, López CA, Kamerling JP, Dijkhuizen L (2014) Residue Leu940 has a crucial role in the linkage and reaction specificity of the glucansucrase GTF180 of the probiotic bacterium Lactobacillus reuteri 180. J Biol Chem 289(47):32773–32782

Monchois V, Reverte A, Remaud-Siméon M, Monsan P, Willemot R-M (1998) Effect of Leuconostoc mesenteroides NRRL B-512 F dextransucrase carboxy-terminal deletions on dextran and oligosaccharide synthesis. Appl Environ Microbiol 64(5):1644–1649

Monchois V, Willemot R-M, Monsan P (1999) Glucansucrases: mechanism of action and structure-function relationships. FEMS Microbiol Rev 23(2):131–151

Monsan P, Remaud-Siméon M, André I (2010) Transglucosidases as efficient tools for oligosaccharide and glucoconjugate synthesis. Curr Opin Microbiol 13(3):293–300

Mooser G, Wong C (1988) Isolation of a glucan-binding domain of glucosyltransferase (1,6-α-glucan synthase) from Streptococcus sobrinus. Infect Immun 56(4):880–884

Moulis C, Joucla G, Harrison D, Fabre É, Potocki-Véronèse G, Monsan P, Remaud-Siméon M (2006) Understanding the polymerization mechanism of glycoside-hydrolase family 70 glucansucrases. J Biol Chem 281(42):31254–31267

Pijning T, Vujičić-Žagar A, Kralj S, Dijkhuizen L, Dijkstra BW (2012) Structure of the α-1,6/α-1,4-specific glucansucrase GTFA from Lactobacillus reuteri 121. Acta Crystallogr Sect F: Struct Biol Cryst Commun 68(12):1448–1454

Pijning T, Vujičić-Žagar A, Kralj S, Dijkhuizen L, Dijkstra BW (2014) Flexibility of truncated and full-length glucansucrase GTF180 enzymes from Lactobacillus reuteri 180. FEBS J 281(9):2159–2171

Robyt JF, Corrigan AJ (1977) The mechanism of dextransucrase action. Activation of dextransucrase from Streptococcus mutans OMZ 176 by dextran and modified dextran and the nonexistence of the primer requirement for the synthesis of dextran. Arch Biochem Biophys 183(2):726–731

Robyt JF, Walseth TF (1978) The mechanism of acceptor reactions of Leuconostoc mesenteroides B-512F dextransucrase. Carbohydr Res 61(1):433–445

Sambrook J, Russell DW (2001) Molecular cloning : A laboratory manual, 3rd edn. Cold Spring Harbor Laboratory Press, Cold Spring Harbor

Seo E-S, Lee J-H, Park J-Y, Kim D, Han H-J, Robyt JF (2005) Enzymatic synthesis and anti-coagulant effect of salicin analogs by using the Leuconostoc mesenteroides glucansucrase acceptor reaction. J Biotechnol 117(1):31–38

Shah DSH, Joucla G, Remaud-Siméon M, Russell RRB (2004) Conserved repeat motifs and glucan binding by glucansucrases of oral Streptococci and Leuconostoc mesenteroides. J Bacteriol 186(24):8301–8308

Van Geel-Schutten GH, Faber EJ, Smit E, Bonting K, Smith MR, Ten Brink B, Kamerling JP, Vliegenthart JFG, Dijkhuizen L (1999) Biochemical and structural characterization of the glucan and fructan exopolysaccharides synthesized by the Lactobacillus reuteri wild-type strain and by mutant strains. Appl Environ Microbiol 65(7):3008–3014

van Leeuwen SS, Kralj S, van Geel-Schutten IH, Gerwig GJ, Dijkhuizen L, Kamerling JP (2008) Structural analysis of the α-D-glucan (EPS180) produced by the Lactobacillus reuteri strain 180 glucansucrase GTF180 enzyme. Carbohydr Res 343(7):1237–1250

Vujičić-Žagar A, Pijning T, Kralj S, López CA, Eeuwema W, Dijkhuizen L, Dijkstra BW (2010) Crystal structure of a 117 kDa glucansucrase fragment provides insight into evolution and product specificity of GH70 enzymes. Proc Natl Acad Sci U S A 107(50):21406–21411

Zanin GM, De Moraes FF (1998) Thermal stability and energy of deactivation of free and immobilized amyloglucosidase in the saccharification of liquefied cassava starch. Appl Biochem Biotechnol 70–72(1):383–394
Acknowledgments
This work was financially supported by the Chinese Scholarship Council (X. M), and by EU project NOVOSIDES FP7-KBBE-2010-4-265854 to (L. D.). We thank Dr. Joana Gangoiti Muñecas for critical reading of the manuscript.
Electronic supplementary material
Below is the link to the electronic supplementary material.
About this article
Cite this article
Meng, X., Dobruchowska, J.M., Pijning, T. et al. Truncation of domain V of the multidomain glucansucrase GTF180 of Lactobacillus reuteri 180 heavily impairs its polysaccharide-synthesizing ability. Appl Microbiol Biotechnol 99, 5885–5894 (2015). https://doi.org/10.1007/s00253-014-6361-8
Received:

Revised:

Accepted:

Published:

Issue Date:
Keywords
Glucansucrase

Glucan

GTF180

Lactobacillus reuteri

Oligosaccharide

Polysaccharide