Abstract
A recombinant putative lipoxygenase from Burkholderia thailandensis with a specific activity of 26.4 U mg−1 was purified using HisTrap affinity chromatography. The native enzyme was a 75-kDa dimer with a molecular mass of 150 kDa. The enzyme activity and catalytic efficiency (k cat/K m) were the highest for linoleic acid (k cat of 93.7 s−1 and K m of 41.5 μM), followed by arachidonic acid, α-linolenic acid, and γ-linolenic acid. The enzyme was identified as an omega-6 linoleate lipoxygenase (or a linoleate 13S-lipoxygenase) based on genetic and HPLC analyses as well as substrate specificity. The reaction conditions for the enzymatic production of 13-hydroxy-9,11(Z,E)-octadecadienoic acid (13-HODE) were optimal at pH 7.5, 25 °C, 20 g l−1 linoleic acid, 2.5 g l−1 enzyme, 0.1 mM Cu2+, and 6 % (v/v) methanol. Under these conditions, linoleate 13-lipoxygenase from B. thailandensis produced 20.8 g l−1 13-HODE (70.2 mM) from 20 g l−1 linoleic acid (71.3 mM) for 120 min, with a molar conversion yield of 98.5 % and productivity of 10.4 g l−1 h−1. The molar conversion yield and productivity of 13-HODE obtained using B. thailandensis lipoxygenase were 151 and 158 % higher, respectively, than those obtained using commercial soybean lipoxygenase under the optimum conditions for each enzyme at the same concentrations of substrate and enzyme.
This is a preview of subscription content,
to check access.
Access this article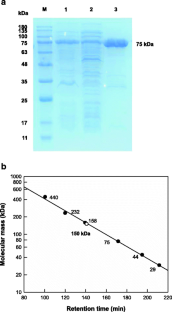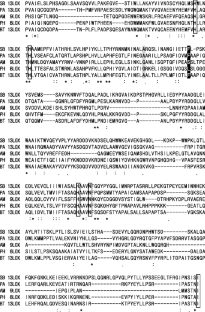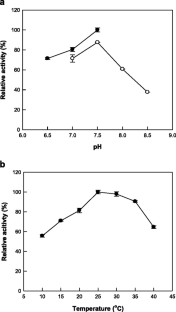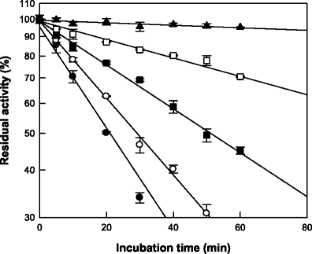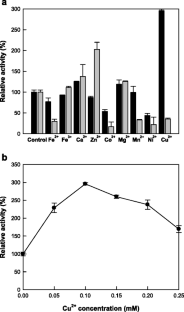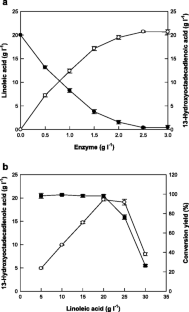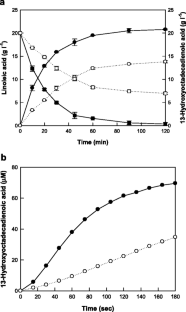 Similar content being viewed by others
References
Andreou AZ, Vanko M, Bezakova L, Feussner I (2008) Properties of a mini 9R-lipoxygenase from Nostoc sp PCC 7120 and its mutant forms. Phytochemistry 69:1832–1837

Andreou A, Gobel C, Hamberg M, Feussner I (2010) A bisallylic mini-lipoxygenase from cyanobacterium Cyanothece sp. that has an iron as cofactor. J Biol Chem 285:14178–14186

Bannenberg G, Martinez M, Hamberg M, Castresana C (2009) Diversity of the enzymatic activity in the lipoxygenase gene family of Arabidopsis thaliana. Lipids 44:85–95

Black BA, Zannini E, Curtis JM, Ganzle MG (2013) Antifungal hydroxy fatty acids produced during sourdough fermentation: microbial and enzymatic pathways, and antifungal activity in bread. Appl Environ Microbiol 79:1866–1873

Buchhaupt M, Guder JC, Etschmann MMW, Schrader J (2012) Synthesis of green note aroma compounds by biotransformation of fatty acids using yeast cells coexpressing lipoxygenase and hydroperoxide lyase. Appl Microbiol Biotechnol 93:159–168

Chohany LE, Bishop KA, Camic H, Sup SJ, Findeis PM, Clapp CH (2011) Cationic substrates of soybean lipoxygenase-1. Bioorg Chem 39:94–100

Coffa G, Brash AR (2004) A single active site residue directs oxygenation stereospecificity in lipoxygenases: stereocontrol is linked to the position of oxygenation. Proc Natl Acad Sci U S A 101:15579–15584

Gao BL, Boeglin WE, Brash AR (2010) Omega-3 fatty acids are oxygenated at the n-7 carbon by the lipoxygenase domain of a fusion protein in the cyanobacterium Acaryochloris marina. Biochim Biophys Acta 1801:58–63

Gibian MJ, Vandenberg P (1987) Product yield in oxygenation of linoleate by soybean lipoxygenase: the value of the molar extinction coefficient in the spectrophotometric assay. Anal Biochem 163:343–349

Graff G, Anderson LA, Jaques LW (1990) Preparation and purification of soybean lipoxygenase-derived unsaturated hydroperoxy and hydroxy fatty acids and determination of molar absorptivities of hydroxy fatty acids. Anal Biochem 188:38–47

Haraga A, West TE, Brittnacher MJ, Skerrett SJ, Miller SI (2008) Burkholderia thailandensis as a model system for the study of the virulence-associated type III secretion system of Burkholderia pseudomallei. Infect Immun 76:5402–5411

Hughes RK, West SI, Hornostaj AR, Lawson DM, Fairhurst SA, Sanchez RO, Hough P, Robinson BH, Casey R (2001) Probing a novel potato lipoxygenase with dual positional specificity reveals primary determinants of substrate binding and requirements for a surface hydrophobic loop and has implications for the role of lipoxygenases in tubers. Biochem J 353:345–355

Iacazio G, Langrand G, Baratti J, Buono G, Triantaphylides C (1990) Preparative, enzymic synthesis of linoleic acid (13S)-hydroperoxide using soybean lipoxygenase-1. J Org Chem 55:1690–1691

Inglis TJ, Aravena-Roman M, Ching S, Croft K, Wuthiekanun V, Mee BJ (2003) Cellular fatty acid profile distinguishes Burkholderia pseudomallei from avirulent Burkholderia thailandensis. J Clin Microbiol 41:4812–4814

Joo YC, Oh DK (2012) Lipoxygenases: potential starting biocatalysts for the synthesis of signaling compounds. Biotechnol Adv 30:1524–1532

Kermasha S, Dioum N, Bisakowski B (2001) Biocatalysis of lipoxygenase in selected organic solvent media. J Mol Catal B Enzym 11:909–919

Kuribayashi T, Kaise H, Uno C, Hara T, Hayakawa T, Joh T (2002) Purification and characterization of lipoxygenase from Pleurotus ostreatus. J Agric Food Chem 50:1247–1253

Liavonchanka A, Feussner I (2006) Lipoxygenases: occurrence, functions and catalysis. J Plant Physiol 163:348–357

Lu XY, Zhang J, Liu S, Zhang DX, Xu Z, Wu J, Li JH, Du GC, Chen J (2013) Overproduction, purification, and characterization of extracellular lipoxygenase of Pseudomonas aeruginosa in Escherichia coli. Appl Microbiol Biotechnol 97:5793–5800

Meruvu S, Walther M, Ivanov I, Hammarstrom S, Furstenberger G, Krieg P, Reddanna P, Kuhn H (2005) Sequence determinants for the reaction specificity of murine (12R)-lipoxygenase: targeted substrate modification and site-directed mutagenesis. J Biol Chem 280:36633–36641

Parra JL, Pastor J, Comelles F, Manresa MA, Bosch MP (1990) Studies of biosurfactants obtained from olive oil. Tenside Surf Det 27:302–306

Sloane DL, Leung R, Craik CS, Sigal E (1991) A primary determinant for lipoxygenase positional specificity. Nature 354:149–152

Vance RE, Hong S, Gronert K, Serhan CN, Mekalanos JJ (2004) The opportunistic pathogen Pseudomonas aeruginosa carries a secretable arachidonate 15-lipoxygenase. Proc Natl Acad Sci U S A 101:2135–2139

Villaverde JJ, Santos SAO, Haarmann T, Neto CP, Simoes MMQ, Domingues MRM, Silvestre AJD (2013a) Cloned Pseudomonas aeruginosa lipoxygenase as efficient approach for the clean conversion of linoleic acid into valuable hydroperoxides. Chem Eng J 231:519–525

Villaverde JJ, van der Vlist V, Santos SAO, Haarmann T, Langfelder K, Pirttimaa M, Nyyssola A, Jylha S, Tamminen T, Kruus K, de Graaff L, Neto CP, Simoes MMQ, Domingues MRM, Silvestre AJD, Eidner J, Buchert J (2013b) Hydroperoxide production from linoleic acid by heterologous Gaeumannomyces graminis tritici lipoxygenase: optimization and scale-up. Chem Eng J 217:82–90
Acknowledgments
This study was supported by grants from the Bio-industry Technology Development Program, Ministry for Agriculture, Food and Rural Affairs (No. 112002-3) and the Korea Healthcare Technology R&D Project, Ministry for Health & Welfare, Republic of Korea (No. 2012-009).
Electronic supplementary material
Below is the link to the electronic supplementary material.
About this article
Cite this article
An, JU., Kim, BJ., Hong, SH. et al. Characterization of an omega-6 linoleate lipoxygenase from Burkholderia thailandensis and its application in the production of 13-hydroxyoctadecadienoic acid. Appl Microbiol Biotechnol 99, 5487–5497 (2015). https://doi.org/10.1007/s00253-014-6353-8
Received:

Revised:

Accepted:

Published:

Issue Date:

DOI: https://doi.org/10.1007/s00253-014-6353-8
Keywords