Abstract
In the present study, the use of Rhodococcus erythropolis mutant strain RG9 expressing the cytochrome P450 BM3 mutant M02 enzyme has been evaluated for whole-cell biotransformation of a 17-ketosteroid, norandrostenedione, as a model substrate. Purified P450 BM3 mutant M02 enzyme hydroxylated the steroid with >95 % regioselectivity to form 16-β-OH norandrostenedione, as confirmed by NMR analysis. Whole cells of R. erythropolis RG9 expressing P450 BM3 M02 enzyme also converted norandrostenedione into the 16-β-hydroxylated product, resulting in the formation of about 0.35 g/L. Whole cells of strain RG9 itself did not convert norandrostenedione, indicating that metabolite formation is P450 BM3 M02 enzyme mediated. This study shows that R. erythropolis is a novel and interesting host for the heterologous expression of highly selective and active P450 BM3 M02 enzyme variants able to perform steroid bioconversions.
Access options
Buy single article
Instant access to the full article PDF.
US$ 39.95
Tax calculation will be finalised during checkout.
Subscribe to journal
Immediate online access to all issues from 2019. Subscription will auto renew annually.
US$ 119
Tax calculation will be finalised during checkout.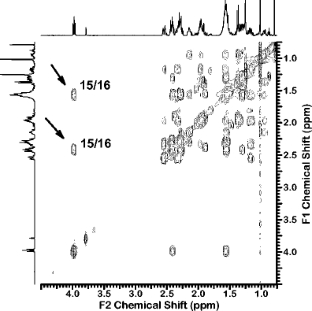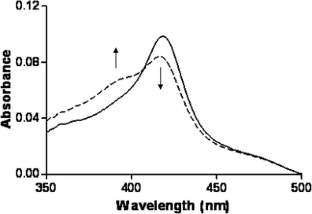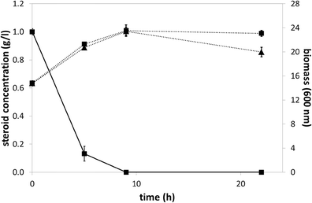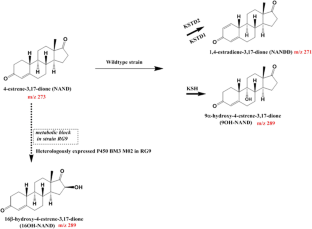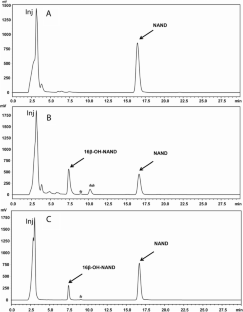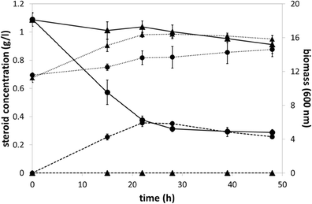 References
Bernhardt R (2006) Cytochromes P450 as versatile biocatalysts. J Biotechnol 124:128–145

Bleif S, Hannemann F, Zapp J, Hartmann D, Jauch J, Bernhardt R (2012) A new Bacillus megaterium whole-cell catalyst for the hydroxylation of the pentacyclic triterpene 11-keto-beta-boswellic acid (KBA) based on a recombinant cytochrome P450 system. Appl Microbiol Biotechnol 93:1135–1146

Chefson A, Auclair K (2006) Progress towards the easier use of P450 enzymes. Mol Biosyst 2:462–469

Clouthier CM, Pelletier JN (2012) Expanding the organic toolbox: a guide to integrating biocatalysis in synthesis. Chem Soc Rev 41:1585–1605

Damsten MC, van Vugt-Lussenburg BM, Zeldenthuis T, de Vlieger JS, Commandeur JN, Vermeulen NP (2008) Application of drug metabolising mutants of cytochrome P450 BM3 (CYP102A1) as biocatalysts for the generation of reactive metabolites. Chem Biol Interact 171:96–107

de Vlieger JS, Kolkman AJ, Ampt KA, Commandeur JN, Vermeulen NP, Kool J, Wijmenga SS, Niessen WM, Irth H, Honing M (2010) Determination and identification of estrogenic compounds generated with biosynthetic enzymes using hyphenated screening assays, high resolution mass spectrometry and off-line NMR. J Chromatogr B Analyt Technol Biomed Life Sci 878:667–674

Donova MV, Egorova OV (2012) Microbial steroid transformations: current state and prospects. Appl Microbiol Biotechnol 94:1423–1447

Drăgan CA, Zearo S, Hannemann F, Bernhardt R, Bureik M (2005) Efficient conversion of 11-deoxycortisol to cortisol (hydrocortisone) by recombinant fission yeast Schizosaccharomyces pombe. FEMS Yeast Res 5:621–625

Fasan R, Crook NC, Peters MW, Meinhold P, Buelter T, Landwehr M, Cirino PC, Arnold FH (2011) Improved product-per-glucose yields in P450-dependent propane biotransformations using engineered Escherichia coli. Biotechnol Bioeng 108:500–510

Gudiminchi RK, Randall C, Opperman DJ, Olaofe OA, Harrison ST, Albertyn J, Smit MS (2012) Whole-cell hydroxylation of n-octane by Escherichia coli strains expressing the CYP153A6 operon. Appl Microbiol Biotechnol 96:1507–1516

Hollmann F, Arends IWCE, Buehler K, Schallmey A, Buhler B (2011) Enzyme-mediated oxidations for the chemist. Green Chem 13:226–265

Hughes J, Armitage YC, Symes KC (1998) Application of whole cell rhodococcal biocatalysts in acrylic polymer manufacture. Antonie Van Leeuwenhoek 74:107–118

Ishige T, Honda K, Shimizu S (2005) Whole organism biocatalysis. Curr Opin Chem Biol 9:174–180

Julsing MK, Cornelissen S, Buhler B, Schmid A (2008) Heme-iron oxygenases: powerful industrial biocatalysts? Curr Opin Chem Biol 12:177–186

Kille S, Zilly FE, Acevedo JP, Reetz MT (2011) Regio- and stereoselectivity of P450-catalysed hydroxylation of steroids controlled by laboratory evolution. Nat Chem 3:738–743

Kirk DN, Toms HC, Douglas C, White KA, Smith KE, Latif S, Hubbard RWP (1990) A survey of the high-field H-1-NMR spectra of the steroid-hormones, their hydroxylated derivatives, and related-compounds. J Chem Soc Perk T 2:1567–1594

Knol J, Bodewits K, Hessels GI, Dijkhuizen L, van der Geize R (2008) 3-Keto-5alpha-steroid Delta (1)-dehydrogenase from Rhodococcus erythropolis SQ1 and its orthologue in Mycobacterium tuberculosis H37Rv are highly specific enzymes that function in cholesterol catabolism. Biochem J 410:339–346

Kolar NW, Swart AC, Mason JI, Swart P (2007) Functional expression and characterisation of human cytochrome P45017alpha in Pichia pastoris. J Biotechnol 129:635–644

Li QS, Ogawa J, Schmid RD, Shimizu S (2001) Engineering cytochrome P450 BM-3 for oxidation of polycyclic aromatic hydrocarbons. Appl Environ Microbiol 67:5735–5739

Martinkova L, Uhnakova B, Patek M, Nesvera J, Kren V (2009) Biodegradation potential of the genus Rhodococcus. Environ Int 35:162–177

McLeod MP, Warren RL, Hsiao WW, Araki N, Myhre M, Fernandes C, Miyazawa D, Wong W, Lillquist AL, Wang D, Dosanjh M, Hara H, Petrescu A, Morin RD, Yang G, Stott JM, Schein JE, Shin H, Smailus D, Siddiqui AS, Marra MA, Jones SJ, Holt R, Brinkman FS, Miyauchi K, Fukuda M, Davies JE, Mohn WW, Eltis LD (2006) The complete genome of Rhodococcus sp. RHA1 provides insights into a catabolic powerhouse. Proc Natl Acad Sci U S A 103:15582–15587

Mohn WW, van der Geize R, Stewart GR, Okamoto S, Liu J, Dijkhuizen L, Eltis LD (2008) The actinobacterial mce4 locus encodes a steroid transporter. J Biol Chem 283:35368–35374

Munro AW, Leys DG, McLean KJ, Marshall KR, Ost TW, Daff S, Miles CS, Chapman SK, Lysek DA, Moser CC, Page CC, Dutton PL (2002) P450 BM3: the very model of a modern flavocytochrome. Tr Biochem Sci 27:250–257

Nakashima N, Tamura T (2004) Isolation and characterization of a rolling-circle-type plasmid from Rhodococcus erythropolis and application of the plasmid to multiple-recombinant-protein expression. Appl Environ Microbiol 70:5557–5568

Petric S, Hakki T, Bernhardt R, Zigon D, Cresnar B (2010) Discovery of a steroid 11alpha-hydroxylase from Rhizopus oryzae and its biotechnological application. J Biotechnol 150:428–437

Plaggenborg R, Overhage J, Loos A, Archer JA, Lessard P, Sinskey AJ, Steinbuchel A, Priefert H (2006) Potential of Rhodococcus strains for biotechnological vanillin production from ferulic acid and eugenol. Appl Microbiol Biotechnol 72:745–755

Quan S, Dabbs ER (1993) Nocardioform arsenic resistance plasmid characterization and improved Rhodococcus cloning vectors. Plasmid 29:74–79

Ran N, Zhao L, Chen Z, Tao J (2008) Recent applications of biocatalysis in developing green chemistry for chemical synthesis at the industrial scale. Green Chem 10:361–372

Rea V, Kolkman AJ, Vottero E, Stronks EJ, Ampt KA, Honing M, Vermeulen NP, Wijmenga SS, Commandeur JN (2012) Active site substitution A82W improves the regioselectivity of steroid hydroxylation by cytochrome P450 BM3 mutants as rationalized by spin relaxation nuclear magnetic resonance studies. Biochemistry 51:750–760

Rosłoniec KZ (2010) Steroid transformation by Rhodococcus strains and bacterial cytochrome P450 enzymes. PhD Dissertation, University of Groningen

Schewe H, Holtmann D, Schrader J (2009) P450(BM-3)-catalyzed whole-cell biotransformation of alpha-pinene with recombinant Escherichia coli in an aqueous-organic two-phase system. Appl Microbiol Biotechnol 83:849–857

Schmid A, Dordick JS, Hauer B, Kiener A, Wubbolts M, Witholt B (2001) Industrial biocatalysis today and tomorrow. Nature 409:258–268

Siriphongphaew A, Pisnupong P, Wongkongkatep J, Inprakhon P, Vangnai AS, Honda K, Ohtake H, Kato J, Ogawa J, Shimizu S, Urlacher VB, Schmid RD, Pongtharangkul T (2012) Development of a whole-cell biocatalyst co-expressing P450 monooxygenase and glucose dehydrogenase for synthesis of epoxyhexane. Appl Microbiol Biotechnol 95:357–367

Taguchi K, Motoyama M, Kudo T (2004) Multiplicity of 2,3-dihydroxybiphenyl dioxygenase genes in the Gram-positive polychlorinated biphenyl degrading bacterium Rhodococcus rhodochrous K37. Biosci Biotechnol Biochem 68:787–795

Urlacher VB, Girhard M (2011) Cytochrome P450 monooxygenases: an update on perspectives for synthetic application. Tr Biotechnol 30:26–36

Urlacher VB, Lutz-Wahl S, Schmid RD (2004) Microbial P450 enzymes in biotechnology. Appl Microbiol Biotechnol 64:317–325

van der Geize R, Dijkhuizen L (2004) Harnessing the catabolic diversity of rhodococci for environmental and biotechnological applications. Curr Opin Microbiol 7:255–2261

van der Geize R, Hessels GI, van Gerwen R, Vrijbloed JW, van Der Meijden P, Dijkhuizen L (2000) Targeted disruption of the kstD gene encoding a 3-ketosteroid delta (1)-dehydrogenase isoenzyme of Rhodococcus erythropolis strain SQ1. Appl Environ Microbiol 66:2029–2036

van der Geize R, Hessels GI, van Gerwen R, van der Meijden P, Dijkhuizen L (2001) Unmarked gene deletion mutagenesis of kstD, encoding 3-ketosteroid Delta1-dehydrogenase, in Rhodococcus erythropolis SQ1 using sacB as counter-selectable marker. FEMS Microbiol Lett 205:197–202

van der Geize R, Hessels GI, Dijkhuizen L (2002a) Molecular and functional characterization of the kstD2 gene of Rhodococcus erythropolis SQ1 encoding a second 3-ketosteroid Delta (1)-dehydrogenase isoenzyme. Microbiol 148:3285–3292

van der Geize R, Hessels GI, van Gerwen R, van der Meijden P, Dijkhuizen L (2002b) Molecular and functional characterization of kshA and kshB, encoding two components of 3-ketosteroid 9alpha-hydroxylase, a class IA monooxygenase, in Rhodococcus erythropolis strain SQ1. Mol Microbiol 45:1007–1018

van der Geize R, Hessels GI, Nienhuis-Kuiper M, Dijkhuizen L (2008) Characterization of a second Rhodococcus erythropolis SQ1 3-ketosteroid 9alpha-hydroxylase activity comprising a terminal oxygenase homologue, KshA2, active with oxygenase-reductase component KshB. Appl Environ Microbiol 74:7197–7203

van Vugt-Lussenburg BM, Stjernschantz E, Lastdrager J, Oostenbrink C, Vermeulen NP, Commandeur JN (2007) Identification of critical residues in novel drug metabolizing mutants of cytochrome P450 BM3 using random mutagenesis. J Med Chem 50:455–461

Venkataraman H, Beer SB, Bergen LA, Essen N, Geerke DP, Vermeulen NP, Commandeur JN (2012a) A single active site mutation inverts stereoselectivity of 16-hydroxylation of testosterone catalyzed by engineered cytochrome P450 BM3. Chembiochem 13:520–523

Venkataraman H, de Beer SBA, Geerke DP, Vermeulen NPE, Commandeur JNM (2012b) Regio- and stereoselective hydroxylation of optically active α-ionone enantiomers by engineered cytochrome P450 BM3 mutants. Adv Synth Catal 354:2172–2184

Whitehouse CJ, Bell SG, Wong LL (2012) P450(BM3) (CYP102A1): connecting the dots. Chem Soc Rev 41:1218–1260

Yim SK, Kim DH, Jung HC, Pan JG, Kang HS, Ahn T, Yun CH (2010) Surface display of heme- and diflavin-containing cytochrome P450 BM3 in Escherichia coli: a whole cell biocatalyst for oxidation. J Microbiol Biotechnol 20:712–717

Zehentgruber D, Dragan CA, Bureik M, Lutz S (2010a) Challenges of steroid biotransformation with human cytochrome P450 monooxygenase CYP21 using resting cells of recombinant Schizosaccharomyces pombe. J Biotechnol 146:179–185

Zehentgruber D, Hannemann F, Bleif S, Bernhardt R, Lutz S (2010b) Towards preparative scale steroid hydroxylation with cytochrome P450 monooxygenase CYP106A2. Chembiochem 11:713–721
Acknowledgments
This work was financially supported by the Netherlands Organization for Scientific Research (NWO) within the IBOS (Integration of Biosynthesis and Organic Synthesis) program.
Additional information
Harini Venkataraman and Evelien M. te Poele contributed equally.
Electronic supplementary material
Below is the link to the electronic supplementary material.
About this article
Cite this article
Venkataraman, H., te Poele, E.M., Rosłoniec, K.Z. et al. Biosynthesis of a steroid metabolite by an engineered Rhodococcus erythropolis strain expressing a mutant cytochrome P450 BM3 enzyme. Appl Microbiol Biotechnol 99, 4713–4721 (2015). https://doi.org/10.1007/s00253-014-6281-7
Received:

Revised:

Accepted:

Published:

Issue Date:
Keywords
Cytochrome P450 BM3 M02 enzyme

Rhodococcus erythropolis

Steroids

Whole-cell bioconversion

Norandrostenedione