Abstract
Rabbit-derived recombinant antibodies have traditionally been viewed as intractable molecules due to the presence of a cysteine in position 80 of the VL domain that becomes rendered 'aberrant' when present in the 'unpaired' context of a single chain Fv (scFv) and chimeric Fab formats. This aberrant Cys80 can severely impinge on the achievable expression levels when rabbit recombinant antibodies are produced in prokaryote systems. The unpaired Cys residue also renders purification problematic. Consequently, researchers often disregard rabbit antibody libraries due to perceived limitations in accessible repertoire diversity. We have shown that by switching the orientation of the VH and VL domains in an aberrant-Cys-containing rabbit scFv isolated in a bona fide screening campaign, it was possible to substantially increase the expression and purification yields of this clone. Furthermore, by incorporating a novel rabbit C-kappa constant fusion domain, we were able to potentiate a further increase in expression level and purify this antibody to a high degree of homogeneity, hitherto impossible to achieve using the aberrant-Cys-containing wild-type scFv. Cumulatively, these findings demonstrate that facile re-formatting can help make the rabbit antibody repertoire, a very valuable resource, more accessible to researchers in the field.
This is a preview of subscription content,
to check access.
Access this article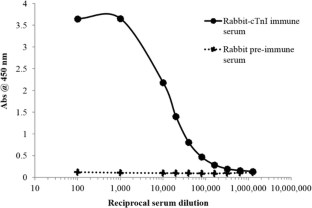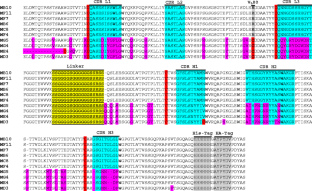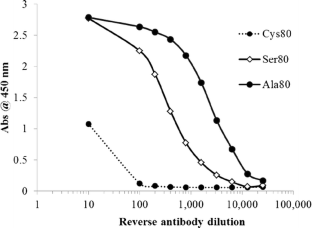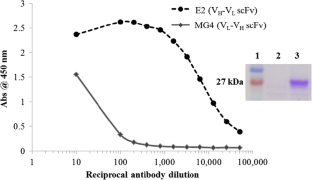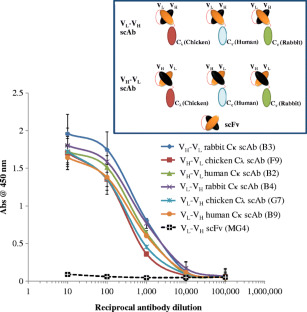 References
Albrecht H, DeNardo GL, DeNardo SJ (2006) Monospecific bivalent scFv-SH: effects of linker length and location of an engineered cysteine on production, antigen binding activity and free SH accessibility. J Immunol Methods 310:100–116

Andris-Widhopf J, Rader C, Steinberger P, Fuller R, Barbas CF III (2000) Methods for the generation of chicken monoclonal antibody fragments by phage display. J Immunol Methods 242:159–181

Ayyar BV, Hearty S, O'Kennedy R (2010) Highly sensitive recombinant antibodies capable of reliably differentiating heart-type fatty acid binding protein from noncardiac isoforms. Anal Biochem 407:165–171

Barbas CF III, Bain JD, Hoekstra DM, Lerner RA (1992) Semisynthetic combinatorial antibody libraries: a chemical solution to the diversity problem. Proc Natl Acad Sci U S A 89:4457–4461

Carter P, Kelley RF, Rodrigues ML, Snedecor B, Covarrubias M, Velligan MD, Wong WLT, Rowland AM, Kotts CE, Carver ME, Yang M, Bourell JH, Shepard HM, Henner D (1992) High level Escherichia coli expression and production of a bivalent humanized antibody fragment. Nat Biotech 10:163–167

Chi XS, Landt Y, Crimmins DL, Dieckgraefe BK, Ladenson JH (2002) Isolation and characterization of rabbit single chain antibodies to human Reg Iα protein. J Immunol Methods 266:197–207

Coghlan MP, Pillay TS, Tavaré JM, Siddle K (1994) Site-specific anti-phosphopeptide antibodies: use in assessing insulin receptor serine/threonine phosphorylation state and identification of serine-1327 as a novel site of phorbol ester-induced phosphorylation. Biochem J 303:893–899

Desplancq D, King DJ, Lawson ADG, Mountain A (1994) Multimerization behaviour of single chain Fv variants for the tumour-binding antibody B72.3. Protein Eng 7:1027–1033

Epstein RJ, Druker BJ, Roberts TM, Stiles CD (1992) Synthetic phosphopeptide immunogens yield activation-specific antibodies to the c-erbB-2 receptor. Proc Natl Acad Sci U S A 89:10435–10439

Hamilton S, Odili J, Gundogdu O, Wilson GD, Kupsch JM (2001) Improved production by domain inversion of single-chain Fv antibody fragment against high molecular weight proteoglycan for the radioimmunotargeting of melanoma. Hybrid Hybridomic 20:351–360

Hayhurst A (2000) Improved expression characteristics of single-chain Fv fragments when fused downstream of the Escherichia coli maltose-binding protein or upstream of a single immunoglobulin-constant domain. Protein Expr Purif 18:1–10

Hayhurst A, Happe S, Mabry R, Koch Z, Iverson BL, Georgiou G (2003) Isolation and expression of recombinant antibody fragments to the biological warfare pathogen Brucella melitensis. J Immunol Methods 276:185–196

Hearty S, O'Kennedy R (2011) Exploiting recombinant antibodies in point-of-care (POC) diagnostics: the combinatorial advantage. Bioeng Bugs 2:182–186

Hearty S, Leonard P, O'Kennedy R (2012) Measuring antibody-antigen binding kinetics using surface plasmon resonance. Methods Mol Biol 907:411–442

Hu X, O'Dwyer R, Wall JG (2005) Cloning, expression and characterization of a single-chain Fv antibody fragment against domoic acid in Escherichia coli. J Biotechnol 120:38–45

Johnsson B, Löfås S, Lindquist G (1991) Immobilization of proteins to a carboxymethyldextran-modified gold surface for biospecific interaction analysis in surface plasmon resonance sensors. Anal Biochem 198:268–277

Kabat E, Wu TT, Perry HM, Gottesman KS, Foeller C (1991) Sequence of proteins of immunological interest. Publication No 91-3242. US Public Health Services, NIH, Bethesda, MD

Knight KL (1992) Restricted VH gene usage and generation of antibody diversity in rabbit. Annu Rev Immunol 10:593–616

Lavinder JJ, Hoi KH, Reddy ST, Wine Y, Georgiou G (2014) Systematic characterization and comparative analysis of the rabbit immunoglobulin repertoire. PLoS One 9:e101322

Li Y, Kilpatrick J, Whitelam GC (2000a) Sheep monoclonal antibody fragments generated using a phage display system. J Immunol Methods 236:133–146

Li Y, Cockburn W, Kilpatrick JB, Whitelam GC (2000b) High affinity scFvs from a single rabbit immunized with multiple haptens. Biochem Biophys Res Commun 268:398–404

Lu D, Jimenez X, Witte L, Zhu Z (2004) The effect of variable domain orientation and arrangement on the antigen-binding activity of a recombinant human bispecific diabody. Biochem Biophys Res Commun 318:507–513

MacKenzie CR, Sharma V, Brummell D, Bilous D, Dubuc G, Sadowska J, Young NM, Bundle DR, Narang SA (1994) Effect of C lambda-C kappa domain switching on Fab activity and yield in Escherichia coli: synthesis and expression of genes encoding two anti-carbohydrate Fabs. Biotechnology (N Y) 12:390–395

Mage RG, Lanning D, Knight KL (2006) B cell and antibody repertoire development in rabbits: the requirement of gut-associated lymphoid tissues. Dev Comp Immunol 30:137–153

McCartney-Francis N, Skurla RM, Mage RG, Bernstein KE (1984) Kappa-chain allotypes and isotypes in the rabbit: cDNA sequences of clones encoding b9 suggest an evolutionary pathway and possible role of the interdomain disulfide bond in quantitative allotype expression. Proc Natl Acad Sci U S A 81:1794–1798

McDonnell B, Hearty S, Leonard P, O'Kennedy R (2009) Cardiac biomarkers and the case for point-of-care testing. Clin Biochem 42:549–561

McDonnell B, Hearty S, Finlay WJJ, O'Kennedy R (2011) A high-affinity recombinant antibody permits rapid and sensitive direct detection of myeloperoxidase. Anal Biochem 410:1–6

Narayanan A, Sellers BD, Jacobson MP (2009) Energy-based analysis and prediction of the orientation between light- and heavy-chain antibody variable domains. J Mol Biol 388:941–953

O'Shannessy DJ, Brigham-Burke M, Peck K (1992) Immobilization chemistries suitable for use in the BIAcore surface plasmon resonance detector. Anal Biochem 205:132–136

Plückthun A (1994) Escherichia coli producing recombinant antibodies. Bioprocess Technol 19:233–252

Popkov M, Jendreyko N, Gonzalez-Sapienza G, Mage RG, Rader C, Barbas CF III (2004) Human/mouse cross-reactive anti-VEGF receptor 2 recombinant antibodies selected from an immune b9 allotype rabbit antibody library. J Immunol Meth 288:149–164

Rader C, Cheresh DA, Barbas CF III (1998) A phage display approach for rapid antibody humanization: designed combinatorial V gene libraries. Proc Natl Acad Sci U S A 95:8910–8915

Rader C, Ritter G, Nathan S, Elia M, Gout I, Jungbluth AA, Cohen LS, Welt S, Old LJ, Barbas CF III (2000) The rabbit antibody repertoire as a novel source for the generation of therapeutic human antibodies. J Biol Chem 275:13668–13676

Rossi S, Laurino L, Furlanetto A, Chinellato S, Orvieto E, Canal F, Facchetti F, Dei Tos AP (2005) Rabbit monoclonal antibodies: a comparative study between a novel category of immunoreagents and the corresponding mouse monoclonal antibodies. Am J Clin Pathol 124:295–302

Schmiedl A, Breitling F, Winter CH, Queitsch I, Dübel S (2000) Effects of unpaired cysteines on yield, solubility and activity of different recombinant antibody constructs expressed in E. coli. J Immunol Methods 242:101–114

Scott N, Reynolds C, Wright M, Qazi O, Fairweather N, Deonarain M (2008) Single-chain Fv phage display propensity exhibits strong positive correlation with overall expression levels. BMC Biotechnol 8:97

Sehgal D, Johnson G, Wu TT, Mage RG (1999) Generation of the primary antibody repertoire in rabbits: expression of a diverse set of Igk-V genes may compensate for limited combinatorial diversity at the heavy chain locus. Immunogenetics 50:31–42

Sitnikova T, Su C (1998) Coevolution of immunoglobulin heavy- and light-chain variable-region gene families. Mol Biol Evol 15:617–625

Ulrich HD, Patten PA, Yang PL, Romesberg FE, Schultz PG (1995) Expression studies of catalytic antibodies. Proc Natl Acad Sci U S A 92:11907–11911
Acknowledgments
The authors thank Prof. Carlos F. Barbas III (Scripps Research Institute) for kindly providing the pComb3 vector series used in this study. The authors would also like to thank Dr. Andrew Hayhurst, Department of Virology and Immunology, Texas, USA, for providing the scAb expression vector. All authors were supported by the Science Foundation Ireland under a Centres for Science Engineering and Technology (CSET) grant (05/CE3/B754).
Additional information
B. Vijayalakshmi Ayyar and Stephen Hearty contributed equally to this work.
Electronic supplementary material
Below is the link to the electronic supplementary material.
About this article
Cite this article
Ayyar, B.V., Hearty, S. & O'Kennedy, R. Facile domain rearrangement abrogates expression recalcitrance in a rabbit scFv. Appl Microbiol Biotechnol 99, 2693–2703 (2015). https://doi.org/10.1007/s00253-014-6268-4
Received:

Revised:

Accepted:

Published:

Issue Date:

DOI: https://doi.org/10.1007/s00253-014-6268-4
Keywords