Abstract
From the epidemiological studies conducted on the effect of mould and dampness on health a decade ago, the role of toxin-producing fungi in damp and mouldy buildings involved opinion more than evidence. Very little was known about the metabolites that were produced by the fungi that grew on damp building materials, and almost nothing had been reported on their occurrence in buildings. As a consequence, the focus was on speculations involving the fungal toxins that occur in agriculture. Over the past decade, particularly in the last 5 years, considerable progress has been made concerning the relevant toxins from fungi that grow on damp building materials. This paper summarizes the available data on the low-molecular-weight toxins reliably known from fungi common on damp building materials, the toxins that have been measured on mouldy building materials and the new understanding of the role that they play in the documented health effects of individuals living and working in damp and mouldy buildings.
Access options
Buy single article
Instant access to the full article PDF.
US$ 39.95
Tax calculation will be finalised during checkout.
Subscribe to journal
Immediate online access to all issues from 2019. Subscription will auto renew annually.
US$ 119
Tax calculation will be finalised during checkout.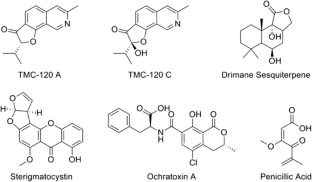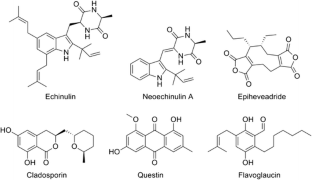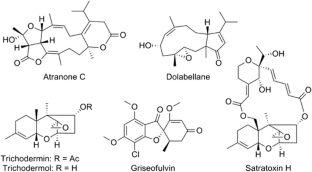 References
Adan O, Huinink H, Bekker M (2011) Water relations of fungi in indoor environments. In: Fundamentals of mold growth in indoor environments and strategies for healthy living. Wageningen Academic Publishers, The Netherlands, pp 41–65

AIHA (2008a) Mold ecology: recovery of fungi from certain moldy building materials. In: Prezant B, Weekes D, Miller JD (eds) Recognition, evaluation and control of indoor mold. American Industrial Hygiene Association, Fairfax, pp 43–51

AIHA (2008b) Physical inspection of specific building types. In: Prezant B, Weekes D, Miller JD (eds) Recognition, evaluation and control of indoor mold. American Industrial Hygiene Association, Fairfax, pp 83–96

Akpinar‐Elci M, White SK, Siegel PD, Park JH, Visotcky A, Kreiss K, Cox‐Ganser JM (2013) Markers of upper airway inflammation associated with microbial exposure and symptoms in occupants of a water‐damaged building. Am J Ind Med 56:522–530

Amend AS, Seifert KA, Bruns TD (2010) Quantifying microbial communities with 454 pyrosequencing: does read abundance count? Mol Ecol 19:5555–5565

Andersen B, Krøger E, Roberts RG (2001) Chemical and morphological segregation of Alternaria alternata, A. gaisen and A. longipes. Mycol Res 105:291–299

Andersen B, Nielsen KF, Jarvis BB (2002) Characterization of Stachybotrys from water-damaged buildings based on morphology, growth and metabolite production. Mycologia 94:392–403

Andersen B, Nielsen KF, Thrane U, Cruse M, Taylor J, Jarvis BB (2003) Stachybotrys chlorohalonata, a new species from water damaged buildings. Mycologia 95:1228–1237

Andersen B, Frisvad J, Søndergaard I, Rasmussen I, Larsen L (2011) Associations between fungal species and water-damaged building materials. J Appl Environ Microbiol 77:4180–4188

Ayerst G (1969) The effects of moisture and temperature on growth and spore germination in some fungi. J Stored Prod Res 5:127–141

Benítez T, Villa TG, Acha IG (1975) Chemical and structural differences in mycelial and regeneration walls of Trichoderma viride. Arch Microbiol 105:277–82

Biddle J (2008) Explaining the spread of residential air conditioning, 1955–1980. Explor Econ Hist 45:402–423

Bloom E, Bal K, Nyman E, Must A, Larsson L (2007) Mass spectrometry based strategy for the direct detection and quantification of some mycotoxins produced by Stachybotrys and Aspergillus spp. in indoor environments. J Appl Environ Microbiol 73:4211–4217

Bloom E, Nyman E, Must A, Pehrson C, Larsson L (2009) Mold and mycotoxins in indoor environments—a survey in water damaged buildings. J Occup Environ Hyg 6:671–678

Bomberg M (2013) Heat, air and moisture interactions. Front Archit Res 2:116–119

Brown JS, Wilson WE, Grant LD (2005) Dosimetric comparisons of particle deposition and retention in rats and humans. Inhal Toxicol 17:355–385

Cairns-Fuller V, Aldred D, Magan N (2005) Water, temperature and gas composition interactions affect growth and ochratoxin A production by isolates of Penicillium verrucosum on wheat grain. J Appl Microbiol 99:1215–1221

Cho S, Seo S, Schmechel D, Grinshpun S, Reponen T (2005) Aerodynamic characteristics and respiratory deposition of fungal fragments. Atmos Environ 39:5454–5465

Cox-Ganser JM, White SK, Jones R, Hilsbos K, Storey E, Enright PL, Rao CY, Kreiss K (2005) Respiratory morbidity in office workers in a water-damaged building. Environ Health Perspect 113:485–490

Croft WA, Jarvis BB, Yatawara CS (1986) Airborne outbreak of trichothecene toxicosis. Atmos Environ 20:549–52

Dales RE, Miller JD (1999) Residential fungal contamination and health: microbial cohabitants as covariates. Environ Health Perspect 107:481–483

Dales R, Liu L, Wheeler AJ, Gilbert NL (2008) Quality of indoor residential air and health. CMAJ 179:147–152

De Boer R (2000) Explaining house dust mite infestations on the basis of temperature and air humidity measurements. In: R. Siebers et al. (eds) Mites, asthma and domestic design III, Wellington, pp 13–19

De La Campa R, Seifert K, Miller JD (2007) Toxins from strains of Penicillium chrysogenum isolated from buildings and other sources. Mycopathologia 163:161–168

Desroches T, McMullin DR, Miller JD (2014) Extrolites of Wallemia sebi, a very common fungus in the built environment. Indoor Air 5:533–542

Engelhart S, Loock A, Skutlarek D, Sagunski H, Lommel A, Farber H, Exner M (2002) Occurrence of toxigenic Aspergillus versicolor isolates and sterigmatocystin in carpet dust from damp indoor environments. Appl Environ Microbiol 68:3886–3890

Flannigan B (1987) Mycotoxins in the air. Int Biodeterior 23:73–78

Flannigan B, Miller JD (2011) Microbial growth in indoor environments. In: Flannigan B, Samson RA, Miller JD (eds) Microorganisms in home and indoor work environments: diversity, health impacts, investigation and control, 2nd edn. Taylor & Francis, New York, pp 57–107

Fogle M, Douglas D, Jumper C, Straus DC (2007) Growth and mycotoxin production by Chaetomium globosum. Mycopathologia 164:49–56

Foto M, Plett J, Berghout J, Miller JD (2004) Modification of the Limulus amebocyte lysate assay for the analysis of glucan in indoor environments. Anal Bioanal Chem 379:156–162

Foto M, Vrijmoed LLP, Miller JD, Ruest K, Lawton M, Dales RE (2005) Comparison of airborne ergosterol, glucan and Air-O-Cell data in relation to physical assessments of mold damage and some other parameters. Indoor Air 15:256–266

Frank M, Kingston E, Jeffery J, Moss M, Murray M, Simpson T, Sutherland A (1999) Walleminol and walleminone, novel caryophyllenes from the toxigenic fungus Wallemia sebi. Tetrahedron Lett 40:133–136

Frazer S, Magan N, Aldred D (2011) The influence of water activity and temperature on germination, growth and sporulation of Stachybotrys chartarum strains. Mycopathologia 172:17–23

Frazer S, Pestka J, Kim J, Medina AD, Magan N (2012) Impact of environmental factors on growth and satratoxin G production by strains of Stachybotrys chartarum. World Mycotoxin J 5:37–43

Frisvad JC, Thrane U (1995) Mycotoxin production by food-borne fungi. In: Samson RA, Hoekstra ES, Frisvad JC, Filtenborg O (eds) Introduction to food-borne fungi. Centraalbureau voor Schimmelcultures, Delft, pp 251–261

Frisvad JC, Thrane U (2002) Mycotoxin production by common filamentous fungi. In: Samson RA, Hoekstra ES, Frisvad JC, Filtenborg O (eds) Introduction to food- and air borne fungi, 6th edn. Centraalbureau voor Schimmelcultures, Utrecht, pp 321–330

Green BJ, Schmechel D, Summerbell R (2011) Aerosolized fungal fragments. In: Fundamentals of mold growth in indoor environments and strategies for healthy living. Wageningen Academic Publishers, The Netherlands, pp 211–243

Gregory L, Pestka J, Dearborn D, Rand T (2004) Localization of satratoxin-G in Stachybotrys chartarum spores and spore-impacted mouse lung using immunocytochemistry. Toxicol Pathol 32:26–34

Gutarowska B, Sulyok M, Krska R (2010) A study of the toxicity of moulds isolated from dwellings. Indoor Built Environ 19:668–675

Hay RJ (1995) Sick library syndrome. Lancet 346:1573–1574

Health Canada (2007) Residential indoor air quality guidelines: moulds. Health Canada, Ottawa

Hendry K, Cole E (1993) A review of mycotoxins in indoor air. J Toxicol Environ Health A 38:183–198

Hinkley SF, Jiang J, Mazzola EP, Jarvis BB (1999) Atranones: novel diterpenoids from the toxigenic mold Stachybotrys atra. Tetrahedron Lett 40:2725–2728

Hinkley SF, Mazzola EP, Fettinger JC, Lam YF, Jarvis BB (2000) Atranones A–G, from the toxigenic mold Stachybotrys chartarum. Phytochem 55:663–673

Hite SC, Bray JL (1949) Research in home humidity control Research Series No. 106, Engineering Experiment Station. Purdue University, Lafayette

Horner E, Miller JD (2003) Microbial volatile organic compounds with emphasis on those arising from filamentous fungal contaminants of buildings. ASHRAE Trans 109:215–231

Houbraken J, Frisvad JC, Samson RA (2011) Fleming's penicillin producing strain is not Penicillium chrysogenum but P. rubens. IMA Fungus 2:87–95

IARC (2012) Improving public health through mycotoxin control. International Agency for Research on Cancer Scientific Publications Series, Lyon

Jaakkola M, Quansah R, Hugg T, Heikkinen S, Jaakkola J (2013) Association of indoor dampness and molds with rhinitis risk: a systematic review and meta-analysis. J Allergy Clin Immunol 132:1099–1110

Jarvis BB (2003) Analysis for mycotoxins: the chemist's perspective. Arch Environ Health 58:479–483

Jarvis BB, Miller JD (2005) Mycotoxins as harmful indoor air contaminants. Appl Microbiol Biotechnol 66:367–372

Jarvis BB, Lee Y-W, Comezoglu N, Yatawara C (1986) Trichothecenes produced by Stachybotrys atra from Eastern Europe. Appl Environ Microbiol 51:915–918

Jarvis BB, Zhou Y, Jiang J, Wang S, Sorenson W, Hintikka E-L, Nikulin M, Parikka P, Etzel R, Dearborn D (1996) Toxigenic molds in water-damaged buildings: dechlorogriseofulvins from Memnoniella echinata. J Nat Prod 6:553–554

Jarvis BB, Sorenson W, Hintikka E-L, Nikulin M, Zhou Y, Jiang J, Wang S, Hinkley S, Etzel R, Dearborn D (1998) Study of toxin production by isolates of Stachybotrys chartarum and Memnoniella echinata isolated during a study of pulmonary hemosiderosis in infants. Appl Environ Microbiol 64:3620–3625

Jedinak A, Dudhgaonkar S, Wu Q, Simon J, Sliva D (2011) Anti-inflammatory activity of edible oyster mushroom is mediated through the inhibition of NF-kB and AP-1 signaling. Nutr J 10:52

Johnson L, Miller JD (2012) Consequences of large scale production of marijuana in residential buildings. Indoor Built Environ 21:595–600

Korpi A, Pasanen A, Pasanen P, Kalliokoski P (1997) Microbial growth and metabolism in house dust. Int Biodeter Biodegradation 40:19–27

Krieger J, Jacobs DE, Ashley PJ, Baeder A, Chew GL, Dearborn D, Hynes HP, Miller JD, Morley R, Rabito F, Zeldin DC (2010) Housing interventions and control of asthma-related indoor biologic agents: a review of the evidence. J Public Health Manag Pract 16:11–20

Kurtböke DI (2012) Biodiscovery from rare actinomycetes: an eco-taxonomical perspective. Appl Microbiol Biotechnol 93:1843–1852

Levac SA (2011) Isolation, purification and characterization of proteins from indoor strains of Eurotium amstelodami, Eurotium rubrum and Eurotium herbariorum that are antigenic to humans. MSc Thesis, Carleton University

Li Y, Wadsö L (2013) Fungal activities of indoor moulds on wood as a function of relative humidity during desorption and adsorption processes. Eng Life Sci 13:528–535

Liang Y, Zhao W, Xu J, Miller JD (2011) Characterization of two related exoantigens from the biodeteriogenic fungus Aspergillus versicolor. Int Biodeterior Biodegrad 65:217–226

Lichtenstein J, Molina R, Donaghey T, Amuzie C, Pestka J, Coull B, Brain J (2010) Pulmonary responses to Stachybotrys chartarum and its toxins: mouse strain affects clearance and macrophage cytotoxicity. Toxicol Sci 116:113–121

Lubeck M, Poulsen SK, Lubeck PS, Jensen DF, Thrane U (2000) Identification of Trichoderma strains from building materials by ITS1 ribotyping, UP-PCR fingerprinting and UP-PCR cross hybridization. FEMS Microbiol Lett 185:129–134

Maret R (1972) Chimie et morphologie submicroscopique des parois cellulaires de l'Ascomycète Chaetomium globosum. Arch Mikrobiol 81:68–90

McMullin DR (2014) Structural characterization of secondary metabolites produced by fungi obtained from damp Canadian buildings. PhD Dissertation, Carleton University

McMullin DR, Sumarah MW, Blackwell BA, Miller JD (2013a) New azaphilones from Chaetomium globosum isolated from the built environment. Tetrahedron Lett 54:568–572

McMullin DR, Sumarah MW, Miller JD (2013b) Chaetoglobosins and azaphilones produced by Canadian strains of Chaetomium globosum isolated from the indoor environment. Mycotoxin Res 29:47–54

McMullin DR, Nsiama TK, Miller JD (2014a) Isochromans and α-pyrones from Penicillium corylophilum. J Nat Prod 77:206–212

McMullin DR, Nsiama TK, Miller JD (2014b) Secondary metabolites from Penicillium corylophilum isolated from damp buildings. Mycologia 106:621–628

Mendell MJ, Mirer AG, Cheung K, Tong M, Douwes J (2011) Respiratory and allergic health effects of dampness, mold, and dampness-related agents: a review of the epidemiologic evidence. Environ Health Perspect 119:748–756

Mikkola R, Andersson M, Kredics L, Grigoriev P, Sundell N, Salkinoja-Salonen M (2012) 20-Residue and 11-residue peptaibols from the fungus Trichoderma longibrachiatum are synergistic in forming Na+/K+ -permeable channels and adverse action towards mammalian cells. FEBS J 279:4172–4190

Miller JD (1992) Fungi as contaminants of indoor air. Atmos Environ A 26:2163–2172

Miller JD (1994a) Mycotoxins. In: Rylander R, Jacobs RR (eds) Handbook of organic dusts. Lewis Publishers, Boca Raton, pp 87–92

Miller JD (1994b) Epidemiology of Fusarium graminearum diseases of wheat and corn. In: Miller JD, Trenholm HL (eds) Mycotoxins in grain: compounds other than aflatoxin. Eagan Press, St. Paul, pp 19–36

Miller JD (2011) Health effects from mold and dampness in housing in western societies: early epidemiology studies and barriers to further progress. In: Adan O, Samson RA (eds) Molds, water, and the built environment. Wageningen Academic Press, The Netherlands, pp 229–245

Miller JD, Richardson S (2013) Mycotoxins in Canada: a perspective for 2013. Regulatory Governance Initiative, pp 1–33

Miller JD, Young JC (1997) The use of ergosterol to measure exposure to fungal propagules. Am Ind Hyg Assoc J 58:39–43

Miller JD, Dugandzic R, Frescura A-M, Salares V (2007) Indoor and outdoor derived contaminants in urban and rural homes in Ottawa, Canada. J Air Waste Manag Assoc 57:297–302

Miller JD, Rand T, Jarvis BB (2003) Stachybotrys chartarum: cause of human disease or media darling? Med Mycol 41:271–291

Miller JD, Sun M, Gilyan A, Roy J, Rand TG (2010) Inflammation-associated gene transcription and expression in mouse lungs induced by low molecular weight compounds from fungi from the built environment. Chem Biol Interact 183:113–124

Miller JD, Schaafsma A, Bhatnagar D, Bondy G, Carbone I, Harris L, Harrison G, Munkvold G, Oswald I, Pestka J, Sharpe L, Sumarah M, Zhou T, Tittlemier S (2014) Mycotoxins that affect the North American agri-food sector: state of the art and directions for the future. World Mycotoxin J 7:63–82

Murray DM, Burmaster DE (1995) Residential air exchange rates in the United States: empirical and estimated parametric distributions by season and climatic region. Risk Anal 15:459–465

NAS (2000) Clearing the air: asthma and indoor air exposures. National Academy of Sciences. National Academy Press, Washington

NAS (2004) Damp indoor spaces and health. Institute of Medicine National Academy of Sciences. National Academy Press, Washington

Neveu WA, Bernardo E, Allard JL, Nagaleekar V, Wargo MJ, Davis RJ, Iwakura Y, Whittaker LA, Rincon M (2011) Fungal allergen β-glucans trigger p38 mitogen-activated protein kinase-mediated IL-6 translation in lung epithelial cells. Am J Respir Cell Mol Biol 45:1133–1141

Nielsen KF (2003) Mycotoxins production by indoor molds. Fungal Genet Biol 39:103–117

Nielsen KF, Frisvad JC (2011) Mycotoxins in building materials. In: Fundamentals of mold growth in indoor environments and strategies for healthy living. Wageningen Academic Publishers, The Netherlands, pp 245–275

Nielsen KF, Hansen M, Larsen T, Thrane U (1998a) Production of trichothecene mycotoxins on water damaged gypsum boards in Danish buildings. Int Biodeterior Biodegrad 42:1–7

Nielsen KF, Thrane U, Larsen TO, Nielsen PA, Gravesen S (1998b) Production of mycotoxins on artificially inoculated building materials. Int Biodeterior Biodegrad 42:1–7

Nielsen KF, Gravesen S, Nielsen P, Andersen B, Thrane U, Frisvad JC (1999) Production of mycotoxins on artificially and naturally infested building materials. Mycopathologia 145:43–56

Nielsen KF, Smedsgaard J, Larsen T, Lund F (2003) Chemical identification of fungi: metabolite profiling and metabolomics. Marcel Dekker, Inc, New York

Nielsen KF, Holm G, Uttrup L, Nielsen P (2004) Mould growth on building materials under low water activities. Influence of humidity and temperature on fungal growth and secondary metabolism. Int Biodeterior Biodegrad 54:325–336

Nielsen KF, Grafenhan T, Zafari D, Thrane U (2005) Trichothecene production by Trichoderma brevicompactum. J Agric Food Chem 53:8190–8196

Nielsen KF, Sumarah MW, Frisvad JC, Miller JD (2006) Production of metabolites by species in the Penicillium roqueforti complex. J Agric Food Chem 54:3756–3763

Nikulin M, Reijula K, Jarvis BB, Veijalainen P, Hintikka EL (1997) Effects of intranasal exposure to spores of Stachybotrys atra in mice. Fundam Appl Toxicol 35:182–188

NIOSH (2012) Preventing occupational respiratory disease from exposures caused by dampness in office buildings, schools, and other nonindustrial buildings. NIOSH Publication # 2013–102. Centers for Disease Control and Prevention, National Institute for Occupational Safety and Health. (www.cdc.gov/niosh)

Odabasi Z, Paetznick VL, Rodriguez JR, Chen E, McGinnis MR, Ostrosky-Zeichner L (2006) Differences in beta-glucan levels in culture supernatants of a variety of fungi. Med Mycol 44:267–272

Ohnishi T, Yamada G, Tanaka H, Nakajima K, Tanaka S, Morita-Ichimura S, Takahashi R, Sato M, Shibusa T, Abe S (2002) A case of chronic hypersensitivity pneumonia with elevation of serum SP-D and KL-6. Nihon Kokyuki Gakkai Zasshi 40:66–70

Pacheco-Sanchez M, Boutin Y, Angers P, Gosselin A, Tweddell RJ (2006) A bioactive (1 → 3)-, (1 → 4)-β-D glucan from Collybia dryophila and other mushrooms. Mycologia 98:180–185

Park JH, Cox-Ganser JM (2011) Mold exposure and respiratory health in damp indoor environments. Front Biosci 3:757–771

Pasanen P, Pasanen A, Jantunen M (1993) Water condensation promotes fungal growth in ventilation ducts. Indoor Air 3:106–112

Phalen RF, Oldham MJ, Wolf RK (2008) The relevance of animal models for aerosol studies. J Aerosol Med Pulm Drug Deliv 21:113–124

Provost NB, Shi C, She Y-M, Cyr TD, Miller JD (2013) Characterization of an antigenic chitosanase from the cellulolytic fungus Chaetomium globosum. Med Mycol 51:290–299

Quansah R, Jaakkola MS, Hugg T, Heikkinen SA, Jaakkola J (2012) Residential dampness and molds and the risk of developing asthma: a systematic review and meta-analysis. PLoS ONE 7:e47526

Rand TG, Miller JD (2008) Immunohistochemical and immunocytochemical detection of SchS34 antigen in Stachybotrys chartarum spores and spore impacted mouse lungs. Mycopathologia 165:73–80

Rand TG, Mahoney M, White K, Oulton M (2002) Microanatomical changes in alveolar type II cells in juvenile mice intratracheally exposed to Stachybotrys chartarum spores and toxin. Toxicol Sci 65:239–245

Rand TG, Flemming J, Giles S, Miller JD, Puniani E (2005) Inflammatory and cytotoxic responses in mouse lungs exposed to purified toxins from building isolates of Penicillium brevicompactum Dierckx and P. chrysogenum Thom. Toxicol Sci 87:213–222

Rand TG, Flemming J, Miller JD, Womiloju TO (2006) Comparison of inflammatory and cytotoxic responses in mouse lungs exposed to atranone A and C from Stachybotrys chartarum. Toxicol Environ Health 69:1239–1251

Rand TG, Sun M, Gilyan A, Downey J, Miller JD (2010) Dectin-1 and inflammation-associated gene transcription and expression in mouse lungs by a toxic (1,3)-beta-D glucan. Arch Toxicol 84:205–220

Rand TG, DiPenta J, Robbins C, Miller JD (2011) Effects of low molecular weight fungal compounds on inflammatory gene transcription and expression in mouse alveolar macrophages. Chem Biol Interact 190:139–147

Rand TG, Robbins C, Rajaraman D, Sun M, Miller JD (2013) Induction of Dectin-1 and asthma- associated signal transduction pathways in RAW 264.7 cells by a triple helical (1, 3)-β-D glucan, curdlan. Arch Toxicol 87:1841–1850

Rao CY, Burge HA, Chang JC (1996) Review of quantitative standards and guidelines for fungi in indoor air. J Air Waste Manag Assoc 46:899–908

Rao CY, Fink RC, Wolfe LB, Liberman DF, Burge HA (1997) A study of aflatoxin production by Aspergillus flavus growing on wallboard. J Am Biol Saf Assoc 2:36–42

Reino J, Guerro R, Hernandez R, Collado I (2008) Secondary metabolites from species of the biocontrol agent Trichoderma. Phytochem Rev 7:89–123

Ren P, Ahearn DG, Crow SA (1998) Mycotoxins of Alternaria alternata produced on ceiling tiles. J Ind Microbiol 20:53–54

Ren P, Ahearn DG, Crow SA (1999) Comparative study of Aspergillus mycotoxin production on enriched media and construction material. J Ind Microbiol Biotechnol 23:209–213

Reponen T, Seo S, Grimsley F, Lee T, Crawford C, Grinshpun S (2007) Fungal fragments in moldy houses: a field study in homes in New Orleans and Southern Ohio. Atmos Environ 41:8140–8149

Richard J, Plattner R, Mary J, Liska S (1999) The occurrence of ochratoxin A in dust collected from a problem household. Mycopathologia 146:99–103

Richards R, Burch D, Thomas W (1992) Water vapor sorption measurements of common building materials. ASHRAE Trans 98:475p

Salares VR, Hinde CA, Miller JD (2009) Analysis of settled dust in homes and fungal glucan in air particulate collected during HEPA vacuuming. Indoor Built Environ 18:485–491

Salazar RR (1997) Production of ochratoxin A by Aspergillus ochraceus growing on ceiling tile and carpet. PhD dissertation, University of South Florida

Samson RA (1985) Occurrence of moulds in modern living and working environments. Eur J Epidemiol 1:54–61

Samson RA, Houbraken J, Thrane U, Frisvad JC, Andersen B (2010) Food and indoor fungi. CBS-KNAW Fungal Biodiversity Centre, Utrecht, p 390

Samson RA, Visagie CM, Houbraken J, Hong S-B, Hubka V, Klaassen CHW, Perrone G, Seifert KA, Susca A, Tanney JB, Varga J, Kocsubé S, Szigeti G, Yaguchi Y, Frisvad JC (2014) Phylogeny, identification and nomenclature of the genus Aspergillus. Stud Mycol 78:141–178

Schleibinger H, Laussmann D, Brattig C, Mangler M, Eis D, Ruden H (2005) Emission patterns and emission rates of MVOC and the possibility for predicting hidden mold damage? Indoor Air 15(s9):98–104

Scott PM (2009) Ergot alkaloids: extent of human and animal exposure. World Mycotoxin J 2:141–149

Scott J, Untereiner WA, Wong B, Strauss NA, Malloch D (2004) Genotypic variation in Penicillium chrysogenum from indoor environments. Mycologia 96:1095–1105

Seifert KA, Frisvad JC (2000) Penicillium on solid wood products. In: Samson RA, Pitt JI (eds) Integration of modern taxonomic methods for Penicillium and Aspergillus classification. Harwood Academic Publishers, Amsterdam, pp 285–292

Semeiks J, Borek D, Otwinowski Z, Grishin NV (2014) Comparative genome sequencing reveals chemotype-specific gene clusters in the toxigenic black mold Stachybotrys. BMC Genomics 15:590

Slack GJ, Puniani E, Frisvad JC, Samson RA, Miller JD (2009) Secondary metabolites from Eurotium species, A. calidoustus and A. insuetus common in Canadian homes with a review of their chemistry and biological activities. Mycol Res 113:480–490

Smoragiewicz W, Cossette B, Boutard A, Krzystyniak K (1993) Trichothecene mycotoxins in the dust of ventilation systems in office buildings. Int Arch Occup Environ Health 65:113–117

Sonjak S, Frisvad JC, Gunde‐Cimerman N (2005) Comparison of secondary metabolite production by Penicillium crustosum strains, isolated from Arctic and other various ecological niches. FEMS Microbiol Ecol 53:51–60

Sorensen WG (1999) Fungal spores: hazardous to health? Environ Health Perspect 107(Suppl 3):469–472

Sorenson WG (1989) Health impact of mycotoxins in the home and workplace: an overview. Biodeterior Res 2:201–215

Sorenson WG (1990) Mycotoxins as potential occupational hazards. Dev Ind Micro 31:205–211

Sorenson WG, Frazer DG, Jarvis BB, Simpson J, Robinson V (1987) Trichothecene mycotoxins in aerosolized conidia of Stachybotrys atra. Appl Environ Microbiol 53:1370–1375

Sumarah MW, Miller JD, Blackwell BA (2005) Isolation and metabolite production by Penicillium roqueforti, P. paneum and P. crustosum isolated in Canada. Mycopathol 159:571–577

Täubel M, Sulyok M, Vishwanath V, Bloom E, Turunen M, Järvi K, Kauhanen E, Krska R, Hyvärinen A, Larsson L, Nevalainen A (2011) Co-occurrence of toxic bacterial and fungal secondary metabolites in moisture-damaged indoor environments. Indoor Air 21:368–375

TenWolde A and Pilon C (2007) The effect of indoor humidity on water vapor release in homes. In: ASHRAE proceedings of thermal performance of the exterior envelopes of whole buildings X International Conference, Clearwater, FL

Tobin RS, Baranowski E, Gilman AP, Kuiper-Goodman T, Miller JD, Giddings M (1987) Significance of fungi in indoor air: report of a working group. Can J Public Health 78:S1–32

Visagie C, Hirooka Y, Tanney J, Whitfield E, Mwange K, Meijer M, Amend A, Seifert KA, Samson RA (2014) Aspergillus, Penicillium and Talaromyces isolated from house dust samples collected around the world. Stud Mycol 78:63–139

Vishwanath V, Sulyok M, Labuda R, Bicker W, Krska R (2009) Simultaneous determination of 186 fungal and bacterial metabolites in indoor matrices by liquid chromatography tandem mass spectrometry. Anal Bioanal Chem 395:1355–1372

WHO (2009) Guidelines for indoor air quality: dampness and mould. World Health Organization. Regional Office for Europe, DK 2100, Copenhagen, Denmark

Williams DL (1997) Overview of 1,3-β-D-glucan immunobiology. Mediat Inflamm 6:247–250

Williams DL, Lowman DW, Ensley HE (2005) Introduction to the chemistry and immunobiology of β-glucans. In: Young S-H, Castranova V (eds) Toxicology of 1–3 beta-glucans. CRC Press, Boca Raton, pp 1–34

Wilson AW, Luo W, Miller JD (2009) Using human sera to identify a 52 kDa exoantigen of Penicllium chrysogenum and implications of polyphasic taxonomy of anamorphic ascomycetes in the study of allergens. Mycopathologia 168:213–226

Wood G, Mann P, Reid W, Moss M (1990) Studies on a toxic metabolite from the mould Wallemia. Food Addit Contam 7:69–77

Xu J, Jensen JT, Liang Y, Belisle D, Miller JD (2007) The biology and immogenicity of a 34 kDa antigen of Stachybotrys chartarum sensu lato. Int Biodeterior Biodegrad 60:308–318
Acknowledgments
The preparation of this paper was funded by an NSERC IRC to JDM and an Ontario Graduate Scholarship (OGS) to DRM. Much is owed to Prof. Thomas Rand, St. Mary's University, for his valued cooperation and scientific expertise over the past 15 years. The influence of Dr. Brian Flannigan, Edinburgh, and Prof. Dr. Rob Samson, CBS, The Netherlands, over many years on the thinking of J. David Miller is noted with appreciation. The majority of the strains discussed in this paper are deposited in recognized culture collections.
About this article
Cite this article
Miller, J.D., McMullin, D.R. Fungal secondary metabolites as harmful indoor air contaminants: 10 years on. Appl Microbiol Biotechnol 98, 9953–9966 (2014). https://doi.org/10.1007/s00253-014-6178-5
Received:

Revised:

Accepted:

Published:

Issue Date:
Keywords
Damp buildings

Fungi

Secondary metabolites

Inflammatory responses

Respiratory disease asthma