Abstract
Plant 4-hydroxyphenylpyruvate dioxygenase (HPPD) is the molecular target of a range of synthetic β-triketone herbicides that are currently used commercially. Their mode of action is based on an irreversible inhibition of HPPD. Therefore, this inhibitory capacity was used to develop a whole-cell colorimetric bioassay with a recombinant Escherichia coli expressing a plant HPPD for the herbicide analysis of β-triketones. The principle of the bioassay is based on the ability of the recombinant E. coli clone to produce a soluble melanin-like pigment, from tyrosine catabolism through p-hydroxyphenylpyruvate and homogentisate. The addition of sulcotrione, a HPPD inhibitor, decreased the pigment production. With the aim to optimize the assay, the E. coli recombinant clone was immobilized in sol–gel or agarose matrix in a 96-well microplate format. The limit of detection for mesotrione, tembotrione, sulcotrione, and leptospermone was 0.069, 0.051, 0.038, and 20 μM, respectively, allowing to validate the whole-cell colorimetric bioassay as a simple and cost-effective alternative tool for laboratory use. The bioassay results from sulcotrione-spiked soil samples were confirmed with high-performance liquid chromatography.
Access options
Buy single article
Instant access to the full article PDF.
US$ 39.95
Tax calculation will be finalised during checkout.
Subscribe to journal
Immediate online access to all issues from 2019. Subscription will auto renew annually.
US$ 119
Tax calculation will be finalised during checkout.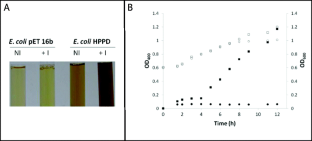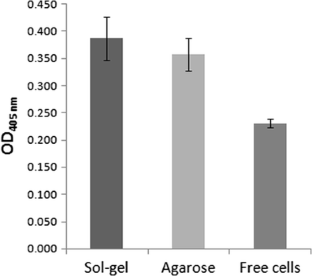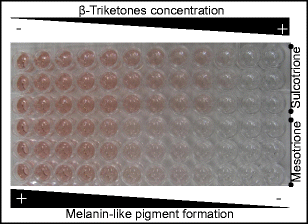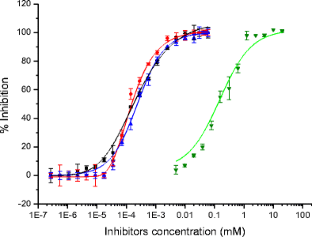 References
Alferness P, Wiebe L (2002) Determination of mesotrione residues and metabolites in crops, soil, and water by liquid chromatography with fluorescence detection. J Agric Food Chem 50:3926–3934

Andreescu S, Barthelmebs L, Marty J-L (2002) Immobilization of acetylcholinesterase on screen-printed electrodes: comparative study between three immobilization methods and applications to the detection of organophosphorus insecticides. Anal Chim Acta 464:171–180

Barchanska H, Kowalska A, Poloczek B (2013) Extraction procedures for the study of phytotoxicity and degradation processes of selected triketones in a water ecosystem. Environ Sci Pollut Res Int. doi:10.1007/s11356-013-2425-z

Barthelmebs L, Jonca J, Hayat A, Prieto-Simon B, Marty J-L (2011) Enzyme-linked aptamer assays (ELAAs), based on a competition format for a rapid and sensitive detection of ochratoxin A in wine. Food Control 22:737–743

Ben Oujji N, Bakas I, Istamboulie G, Ait-Ichou I, Ait-Addi E, Rouillon R, Noguer T (2012) Acetylcholinesterase immobilized on magnetic beads for pesticides detection: application to olive oil analysis. Sensors (Basel) 12:7893–7904

Brix R, Noguerol T-N, Piña B, Balaam J, Nilsen AJ, Tollefsen K-E, Levy W, Schramm K-W, Barceló D (2010) Evaluation of the suitability of recombinant yeast-based estrogenicity assays as a pre-screening tool in environmental samples. Environ Int 36:361–367

Calvayrac C, Martin-Laurent F, Faveaux A, Picault N, Panaud O, Coste C-M, Chaabane H, Cooper J-F (2012) Isolation and characterisation of a bacterial strain degrading the herbicide sulcotrione from an agricultural soil. Pest Manag Sci 68:340–347

Chaabane H, Cooper J-F, Azouzi L, Coste C-M (2005) Influence of soil properties on the adsorption-desorption of sulcotrione and its hydrolysis metabolites on various soils. J Agric Food Chem 53:4091–4095

Chaabane H, Vulliet E, Calvayrac C, Coste C-M, Cooper J-F (2008) Behaviour of sulcotrione and mesotrione in two soils. Pest Manag Sci 64:86–93

Da Silva Pinto L, Gonçales RA, Conceição FR, Knabah PF, Borsuk S, Campos VF, Arruda FV, Leite FPL (2012) Stability, oviposition attraction, and larvicidal activity of binary toxin from Bacillus sphaericus expressed in Escherichia coli. Appl Microbiol Biotechnol 95:1235–1241

Dayan FE, Duke SO, Sauldubois A, Singh N, McCurdy C, Cantrell C (2007) p-Hydroxyphenylpyruvate dioxygenase is a herbicidal target site for β-triketones from Leptospermum scoparium. Phytochemistry 68:2004–2014

Dayan FE, Singh N, McCurdy CR, Godfrey CA, Larsen L, Weavers RT, Van Klink JW, Perry NB (2009) β-Triketone inhibitors of plant p-hydroxyphenylpyruvate dioxygenase: modeling and comparative molecular field analysis of their interactions. J Agric Food Chem 57:5194–5200

Denoya CD, Skinner DD, Morgenstern MR (1994) A Streptomyces avermitilis gene encoding a 4-hydroxyphenylpyruvic acid dioxygenase-like protein that directs the production of homogentisic acid and an ochronotic pigment in Escherichia coli. J Bacteriol 176:5312–5319

Depagne C, Roux C, Coradin T (2011) How to design cell-based biosensors using the sol–gel process. Anal Bioanal Chem 400:965–976

Desimone MF, De Marzi MC, Copello GJ, Fernández MM, Pieckenstain FL, Malchiodi EL, Diaz LE (2006) Production of recombinant proteins by sol–gel immobilized Escherichia coli. Enzyme Microb Tech 40:168–171

Di Gennaro P, Bruzzese N, Anderlini D, Aiossa M, Papacchini M, Campanella L, Bestetti G (2011) Development of microbial engineered whole-cell systems for environmental benzene determination. Ecotoxicol Environ Safe 74:542–549

Durand S, Sancelme M, Besse-Hoggan P, Combourieu B (2010) Biodegradation pathway of mesotrione: complementarities of NMR, LC-NMR and LC-MS for qualitative and quantitative metabolic profiling. Chemosphere 81:372–380

European Union (2000) Directive 2000/60/EC of the European Parliament and of the Council of 23 October 2000 establishing a framework for the community action in the field of water policy (Water Framework Directive). Off J Eur Comm Ser L327:1–73

European Union (2009) Directive 2009/128/EC of the European Parliament and of the Council of 21 October 2009 establishing a framework for the community action to achieve sustainable use of pesticides. Off J Eur Comm Ser L309:71–86

Espigares M, Crovetto G, Gálvez R (1998) In vitro evaluation of the toxicity of several dithiocarbamates using an Escherichia coli growth inhibition bioassay and the acetylcholinesterase inhibition test. Environ Toxicol Water 13:165–174

Freitas LG, Götz CW, Ruff M, Singer HP, Müller SR (2004) Quantification of the new triketone herbicides, sulcotrione and mesotrione, and other important herbicides and metabolites, at the ng/l level in surface waters using liquid chromatography-tandem mass spectrometry. J Chromatogr A 1028:277–286

Fritze IM, Linden L, Freigang J, Auerbach G, Huber R, Steinbacher S (2004) The crystal structures of Zea mays and Arabidopsis 4-hydroxyphenylpyruvate dioxygenase. Plant Physiol 134:1388–1400

Giardi MT, Guzzella L, Euzet P, Rouillon R, Esposito D (2005) Detection of herbicide subclasses by an optical multibiosensor based on an array of photosystem II mutants. Environ Sci Technol 39:5378–5384

Gueuné H, Thouand G, Durand M-J (2009) A new bioassay for the inspection and identification of TBT-containing antifouling paint. Mar Pollut Bull 58:1734–1738

Hayat A, Barthelmebs L, Marty J-L (2011) Enzyme-linked immunosensor based on super paramagnetic nanobeads for easy and rapid detection of okadaic acid. Anal Chim Acta 690:248–252

Jeong E-Y, Jeon J-H, Kim H-W, Kim M-G, Lee H-S (2009) Antimicrobial activity of leptospermone and its derivatives against human intestinal bacteria. Food Chem 115:1401–1404

Kamga Wagheu J, Forano C, Besse-Hoggan P, Tonle IK, Ngameni E, Mousty C (2013) Electrochemical determination of mesotrione at organoclay modified glassy carbon electrodes. Talanta 103:337–343

Keith KE, Killip L, He P, Moran GR, Valvano MA (2007) Burkholderia cenocepacia C5424 produces a pigment with antioxidant properties using a homogentisate intermediate. J Bacteriol 189:9057–9065

Keon J, Hargreaves J (1998) Isolation and heterologous expression of a gene encoding 4-hydroxyphenylpyruvate dioxygenase from the wheat leaf-spot pathogen, Mycosphaerella graminicola. FEMS Microbiol Lett 161:337–343

Lederer B, Böger P (2005) Recombinant p-hydroxyphenylpyruvate dioxygenase of high activity. Z Naturforsch C 60:549–556

Lee MH, Zhang ZH, MacKinnon CH, Baldwin JE, Crouch NP (1996) The C-terminal of rat 4-hydroxyphenylpyruvate dioxygenase is indispensable for enzyme activity. FEBS Lett 393:269–272

Lee DL, Prisbylla MP, Cromartie TH, Dagarin DP, Howard SW, Provan WM, Ellis MK, Fraser T, Mutter LC (1997) The discovery and structural requirements of inhibitors of p-hydroxyphenylpyruvate dioxygenase. Weed Sci 45:601–609

Lee C-M, Yeo Y-S, Lee J-H, Kim S-J, Kim J-B, Han NS, Koo B-S, Yoon S-H (2008) Identification of a novel 4-hydroxyphenylpyruvate dioxygenase from the soil metagenome. Biochem Biophys Res Commun 370:322–326

Liang K, Yang L, Xiao Z, Huang J (2009) A bipartite recombinant yeast system for the identification of subtype-selective estrogen receptor ligands. Mol Biotechnol 41:53–62

Meazza G, Scheffler BE, Tellez MR, Rimando AM, Romagni JG, Duke SO, Nanayakkara D, Khan IA, Abourashed EA, Dayan FE (2002) The inhibitory activity of natural products on plant p-hydroxyphenylpyruvate dioxygenase. Phytochemistry 60:281–288

Mitchell RJ, Gu MB (2006) Characterization and optimization of two methods in the immobilization of 12 bioluminescent strains. Biosens Bioelectron 22:192–199

Moran GR (2005) 4-Hydroxyphenylpyruvate dioxygenase. Arch Biochem Biophys 433:117–128

Norris SR, Shen X, Della Penna D (1998) Complementation of the Arabidopsis pds1 mutation with the gene encoding p-hydroxyphenylpyruvate dioxygenase. Plant Physiol 117:1317–1323

Pileggi M, Pileggi SAV, Olchanheski LR, da Silva PAG, Munoz Gonzalez AM, Koskinen WC, Barber B, Sadowsky MJ (2012) Isolation of mesotrione-degrading bacteria from aquatic environments in Brazil. Chemosphere 86:1127–1132

Porter NG, Wilkins AL (1999) Chemical, physical and antimicrobial properties of essential oils of Leptospermum scoparium and Kunzea ericoides. Phytochemistry 50:407–415

Premkumar JR, Rosen R, Belkin S, Lev O (2002) Sol–gel luminescence biosensors: encapsulation of recombinant E. coli reporters in thick silicate films. Anal Chim Acta 462:11–23

Raspail C, Graindorge M, Moreau Y, Crouzy S, Lefèbvre B, Robin AY, Dumas R, Matringe M (2011) 4-Hydroxyphenylpyruvate dioxygenase catalysis: identification of catalytic residues and production of a hydroxylated intermediate shared with a structurally unrelated enzyme. J Biol Chem 286:26061–26070

Schmaler-Ripcke J, Sugareva V, Gebhardt P, Winkler R, Kniemeyer O, Heinekamp T, Brakhage AA (2009) Production of pyomelanin, a second type of melanin, via the tyrosine degradation pathway in Aspergillus fumigatus. Appl Environ Microbiol 75:493–503

Schofield DA, Westwater C, Barth JL, DiNovo AA (2007) Development of a yeast biosensor-biocatalyst for the detection and biodegradation of the organophosphate paraoxon. Appl Microbiol Biotechnol 76:1383–1394

Schulz A, Ort O, Beyer P, Kleinig H (1993) SC-0051, a 2-benzoyl-cyclohexane-1,3-dione bleaching herbicide, is a potent inhibitor of the enzyme p-hydroxyphenylpyruvate dioxygenase. FEBS Lett 318:162–166

Shin HJ (2012) Agarose-gel-immobilized recombinant bacterial biosensors for simple and disposable on-site detection of phenolic compounds. Appl Microbiol Biotechnol 93:1895–1904

Van Klink JW, Larsen L, Perry NB, Weavers RT, Cook GM, Bremer PJ, MacKenzie AD, Kirikae T (2005) Triketones active against antibiotic-resistant bacteria: synthesis, structure–activity relationships, and mode of action. Bioorg Med Chem 13:6651–6662

Yagi K (2007) Applications of whole-cell bacterial sensors in biotechnology and environmental science. Appl Microbiol Biotechnol 73:1251–1258

Yang C, Pflugrath JW, Camper DL, Foster ML, Pernich DJ, Walsh TA (2004) Structural basis for herbicidal inhibitor selectivity revealed by comparison of crystal structures of plant and mammalian 4-hydroxyphenylpyruvate dioxygenases. Biochemistry 43:10414–10423
Acknowledgments
Emilie Rocaboy is very grateful to UPVD for financial support. This study was carried out as the part of the research project TRICETOX through the ANR-13-CESA-0002.
About this article
Cite this article
Rocaboy-Faquet, E., Noguer, T., Romdhane, S. et al. Novel bacterial bioassay for a high-throughput screening of 4-hydroxyphenylpyruvate dioxygenase inhibitors. Appl Microbiol Biotechnol 98, 7243–7252 (2014). https://doi.org/10.1007/s00253-014-5793-5
Received:

Revised:

Accepted:

Published:

Issue Date:
Keywords
Bioassay

HPPD

β-Triketones

Sol–gel

E. coli