Abstract
In this study, biomass samples were obtained from six municipal and nine industrial full-scale anaerobic processes to investigate whether the aceticlastic methanogen population composition is related to acetate utilization capacity and the nature of the wastewater treated, i.e. municipal sludge or industrial wastewater. Batch serum bottle tests were used to determine the specific acetate utilization rate (AUR), and a quantitative real-time polymerase chain reaction protocol was used to enumerate the acetate-utilizing Methanosaeta and Methanosarcina populations in the biomass samples. Methanosaeta was the dominant aceticlastic methanogen in all samples, except for one industrial wastewater-treating anaerobic process. However, Methanosarcina density in industrial biomass samples was higher than the Methanosarcina density in the municipal samples. The average AUR values of municipal and industrial wastewater treatment plant biomass samples were 10.49 and 10.65 mg CH3COO−/log(aceticlastic methanogen gene copy).d, respectively. One-way ANOVA test and principle component analysis showed that the acetate utilization capacities and aceticlastic methanogen community composition did not show statistically significant correlation among the municipal digesters and industrial wastewater-treating processes investigated.
Access options
Buy single article
Instant access to the full article PDF.
US$ 39.95
Tax calculation will be finalised during checkout.
Subscribe to journal
Immediate online access to all issues from 2019. Subscription will auto renew annually.
US$ 119
Tax calculation will be finalised during checkout.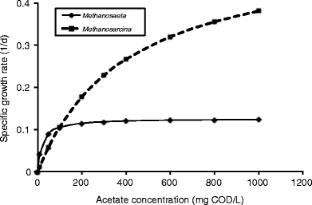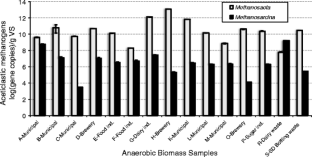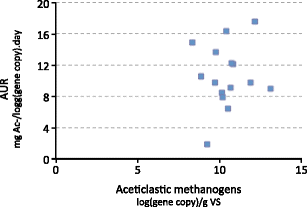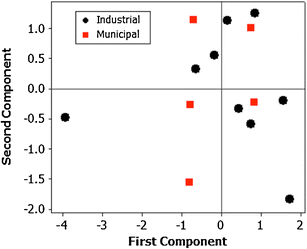 References
Ahring B, Sandberg M, Angelidaki I (1995) Volatile fatty-acids as indicators of process imbalance is anaerobic digesters. Appl Microbiol Biotechnol 43(3):559–565

APHA, AWWA, WEF (1995) Standard methods for the examination of water and wastewaters, 19th edn. American Public Health Association, Washington

Bialek K, Kim J, Lee C, Collins G, Mahony T, O'Flaherty V (2011) Quantitative and qualitative analyses of methanogenic community development in high-rate anaerobic bioreactors. Water Res 45(3):1298–1308

Calli B, Mertoglu B, Inanc B, Yenigun O (2005) Community changes during start-up in methanogenic bioreactors exposed to increasing levels of ammonia. Environ Technol 26(1):85–91

Chapman T, Stensel H, Ferguson JF (2007) Anaerobic digester operating conditions affects acetate utilization capacity. Proc Water Environ Fed 2007(3):1047–1073

Chynoweth DP, Svoronos SA, Lyberatos G, Harman JL, Pullammanappallil P, Owens JM, Peck MJ (1994) Real-time expert-system control of anaerobic-digestion. Water Sci Technol 30(12):21–29

Conklin A (2004) Acetoclastic methanogenesis: a key to anaerobic digester stability. Dissertation, University of Washington, Seattle, WA

Conklin A, Stensel H, Ferguson J (2006) Growth kinetics and competition between Methanosarcina and Methanosaeta in mesophilic anaerobic digestion. Water Environ Res 78(5):486–496

Conklin AS, Chapman T, Zahller JD, Stensel HD, Ferguson JF (2008) Monitoring the role of aceticlasts in anaerobic digestion: activity and capacity. Water Res 42(20):4895–4904

Devers M, Soulas G, Martin-Laurent F (2004) Real-time reverse transcription PCR analysis of expression of atrazine catabolism genes in two bacterial strains isolated from soil. J Microbiol Meth 56(1):3–15

Duran M (1996) High concentrations of degradable organics in the effluent of anaerobic processes and their remediation. Dissertation, Vanderbilt University, Nashville, TN

Elferink S, Visser A, Pol L, Stams A (1994) Sulfate reduction in methanogenic bioreactors. FEMS Microbiol Rev 15(2–3):119–136

Ferry J (1992) Methane from acetate. J Bacteriol 174(17):5489–5495

Gujer W, Zehnder AJB (1983) Conversion processes in anaerobic-digestion. Water Sci Technol 15(8–9):127–167

Guwy A, Hawkes F, Wilcox S, Hawkes D (1997) Neural network and on-off control of bicarbonate alkalinity in a fluidised-bed anaerobic digester. Water Res 31(8):2019–2025

Jeris J, McCarty P (1965) The biochemistry of methane fermentation using C14 tracers. J Water Pollut Control Fed 37(2):178–192

Jetten M, Stams A, Zehnder A (1990) Acetate threshold values and acetate activating enzymes in methanogenic bacteria. FEMS Microbiol Ecol 73(4):339–344

Jetten M, Stams A, Zehnder A (1992) Methanogenesis from acetate—a comparison of the acetate metabolism in Methanothrix-soehngenii and Methanosarcina spp. FEMS Microbiol Lett 88(3–4):181–197

Karakashev D, Batstone D, Angelidaki I (2005) Influence of environmental conditions on methanogenic compositions in anaerobic biogas reactors. Appl Environ Microbiol 71(1):331–338

Karakashev D, Batstone DJ, Trably E, Angelidaki I (2006) Acetate oxidation is the dominant methanogenic pathway from acetate in the absence of Methanosaetaceae. Appl Environ Microbiol 72(7):5138–5141

Lange M, Tolker-Nielsen T, Molin S, Ahring B (2000) In situ reverse transcription-PCR for monitoring gene expression in individual Methanosarcina mazei S-6 cells. Appl Environ Microbiol 66(5):1796–1800

Leclerc M, Delgenes J, Godon J (2004) Diversity of the archaeal community in 44 anaerobic digesters as determined by single strand conformation polymorphism analysis and 16S rDNA sequencing. Environ Microbiol 6(8):809–819

Liu C, Yuan X, Zeng G, Li W, Li J (2008) Prediction of methane yield at optimum pH for anaerobic digestion of organic fraction of municipal solid waste. Bioresour Technol 99(4):882–888

McCarty PL (1972) Stoichiometry of biological reactions, presented at the International Conference, Toward a Unified Concept of Biological Waste Treatment Design, Atlanta, GA

McHugh S, Collins G, Mahony T, O'Flaherty V (2005) Biofilm reactor technology for low temperature anaerobic waste treatment: microbiology and process characteristics. Water Sci Technol 52(7):107–113

Min H, Zinder S (1989) Kinetics of acetate utilization by 2 thermophilic acetotrophic methanogens—Methanosarcina sp strain cals-1 and Methanothrix sp strain CALS-1. Appl Environ Microbiol 55(2):488–491

Mladenovska Z, Ahring B (2000) Growth kinetics of thermophilic Methanosarcina spp. isolated from full-scale biogas plants treating animal manures. FEMS Microbiol Ecol 31(3):225–229

Narihiro T, Sekiguchi Y (2007) Microbial communities in anaerobic digestion processes for waste and wastewater treatment: a microbiological update. Curr Opin Biotechnol 18(3):273–278

Ohtsubo S, Demizu K, Kohno S, Miura I, Ogawa T, Fukuda H (1992) Comparison of acetate utilization among strains of an aceticlastic methanogen, Methanothrix-soehngenii. Appl Environ Microbiol 58(2):703–705

O'Reilly J, Lee C, Collins G, Chinalia F, Mahony T, O'Flaherty V (2009) Quantitative and qualitative analysis of methanogenic communities in mesophilically and psychrophilically cultivated anaerobic granular biofilims. Water Res 43(14):3365–3374

Owen W, Stuckey D, Healy J, Young L, McCarty P (1979) Bioassay for monitoring biochemical methane potential and anaerobic toxicity. Water Res 13(6):485–492

Parkin BG, Owen WF (1987) Fundamentals of anaerobic digestion of wastewater sludges. J Environ Eng 112(5):867–920

Petersen SP, Ahring BK (1991) Acetate oxidation in a thermophilic anaerobic sewage-sludge digestor: the importance of non-aceticlastic methanogenesis from acetate. FEMS Microbiol Ecol 86(2):149–158

Pullammanappallil P, Harmon J, Chynoweth D, Lyberatos G, Svoronos S (1991) Avoiding digester imbalance through real-time expert system control of dilution rate. Appl Biochem Biotechnol 28–29:33–42

Raskin L, Amann R, Poulsen L, Rittmann B, Stahl D (1995) Use of ribosomal RNA-based molecular probes for characterization of complex microbial communities in anaerobic biofilms. Water Sci Technol 31(1):261–272

Schmidt J, Mladenovska Z, Lange M, Ahring B (2000) Acetate conversion in anaerobic biogas reactors: traditional and molecular tools for studying this important group of anaerobic microorganisms. Biodegradation 11(6):359–364

Schnurer A, Zellner G, Svensson BH (1999) Mesophilic syntrophic acetate oxidation during methane formation in biogas reactors. FEMS Microbiol Ecol 29(3):249–261

Shigematsu T, Tang Y, Kawaguchi H, Ninomiya K, Kijima J, Kobayashi T, Morimura S, Kida K (2003) Effect of dilution rate on structure of a mesophilic acetate-degrading methanogenic community during continuous cultivation. J Biosci Bioeng 96(6):547–558

Smith P, Mah R (1966) Kinetics of acetate metabolism during sludge digestion. Appl Environ Microbiol 14(3):368–371

Sorensen A, Ahring B (1993) Measurements of the specific methanogenic activity of anaerobic digester biomass. Appl Microbiol Biotechnol 40(2–3):427–431

Speece R (1988) A survey of municipal anaerobic sludge digesters and diagnostic activity assays. Water Res 22(3):365–372

Speece RE (2008) Anaerobic biotechnology and odor/corrosion control for municipalities and industries: corrosion control. Archae Press, Nashville

Steyer J, Buffiere P, Rolland D, Moletta R (1999) Advanced control of anaerobic digestion processes through disturbances monitoring. Water Res 33(9):2059–2068

Switzenbaum M, Giraldogomez E, Hickey R (1990) Monitoring of the anaerobic methane fermentation process. Enzym Microb Technol 12(10):722–730

Takashima M (1987) Nutrient requirements for high rate conversion of acetate to methane. Dissertation, Drexel University, Philadelphia, PA

Van Lier J, Mahmoud N, Zeeman G (2008) Biological wastewater treatment: principles, modelling and design. In: Henze M, van Loosdrecht M, Ekama G, Brdjanovic D (eds) IWA Pub

Vavilin V, Qu X, Mazeas L, Lemunier M, Duquennoi C, He P, Bouchez T (2008) Methanosarcina as the dominant aceticlastic methanogens during mesophilic anaerobic digestion of putrescible waste. Antonie van Leeuwenhoek Int J Gen Mol Microbiol 94(4):593–605

Zahller J, Bucher R, Ferguson J, Stensel H (2007) Performance and stability of two-stage anaerobic digestion. Water Environ Res 79(5):488–497

Zinder SH, Koch M (1984) Non-aceticlastic methanogenesis from acetate: acetate oxidation by a thermophilic syntrophic coculture. Arch Microbiol 138:263–272

Zinder S, Mah R (1979) Isolation and characterization of a thermophilic strain of Methanosarcina unable to use H2-CO2 for methanogenesis. Appl Environ Microbiol 38(5):996–1008

Zinder S, Sowers K, Ferry J (1985) Methanosarcina-thermophila sp-nov, a thermophilic, acetotrophic, methane-producing bacterium. Int J Syst Bacteriol 35(4):522–523

Zitomer D, Speece R (1995) Methanethiol in nonacclimated sewage-sludge after addition of chloroform and other toxicants. Environ Sci Technol 29(3):762–768

Zitomer D, Johnson C, Speece R (2008) Metal stimulation and municipal digester thermophilic/mesophilic activity. J Environ Eng 134(1):42–47
Acknowledgments
The authors are grateful to late Dr. John F. Ferguson and his research group from the Department of Civil and Environmental Engineering, University of Washington, Seattle, WA, for kindly providing the plasmids with the target genes for Methanosaeta and Methanosarcina. We also thank Dr. Daniel Zitomer and Dr. Kaushik Venkiteshwaran from the Department of Civil and Environmental Engineering, Marquette University, Milwaukee, for the supply of biomass samples P and R. Dr. Vedat Yilmaz and Dr. Ebru Ince-Yilmaz were visiting scholars at Villanova. Dr. Vedat Yilmaz was supported by a scholarship from The Scientific and Technological Research Council of Turkey. Partial funding for this study was provided by Villanova Center for Advancement of Sustainability in Engineering.
About this article
Cite this article
Yilmaz, V., Ince-Yilmaz, E., Yilmazel, Y.D. et al. Is aceticlastic methanogen composition in full-scale anaerobic processes related to acetate utilization capacity?. Appl Microbiol Biotechnol 98, 5217–5226 (2014). https://doi.org/10.1007/s00253-014-5597-7
Received:

Revised:

Accepted:

Published:

Issue Date:
Keywords
Anaerobic treatment

Acetate utilization capacity

Aceticlastic methanogenesis

Methanosaeta
Methanosarcina