Abstract
Bacterial lipopolysaccharide (LPS) is an essential cell envelope component for gram-negative bacteria. As the most variable region of LPS, O antigens serve as important virulence determinants for many bacteria and represent a promising carbohydrate source for glycoconjugate vaccines. In the Wzy-dependent O-antigen biosynthetic pathway, the integral membrane protein Wzy was shown to be the sole enzyme responsible for polymerization of O-repeat unit. Its catalytic mechanism, however, remains elusive. Herein, Wzy was successfully overexpressed in Escherichia coli with an N-terminal His10-tag. Blue native polyacrylamide gel electrophoresis (BN-PAGE) revealed that the Wzy protein exists in its native confirmation as a dimer. Subsequently, we chemo-enzymatically synthesized the substrates of Wzy, the lipid-PP-linked repeat units. Together with an optimized O-antigen visualization method, we monitored the production of reaction intermediates at varying times. We present here our result as the first biochemical evidence that Wzy functions in a distributive manner.
Access options
Buy single article
Instant access to the full article PDF.
USD 39.95
Price excludes VAT (USA)
Tax calculation will be finalised during checkout.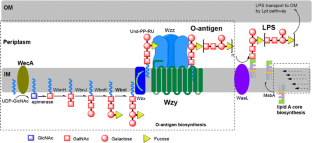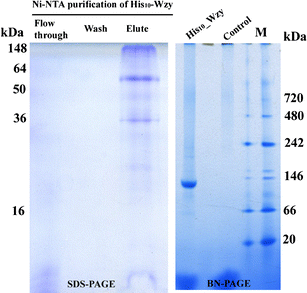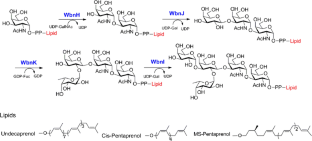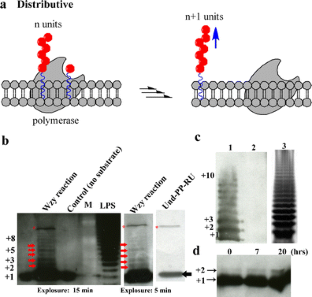 References
Arinaminpathy Y, Khurana E, Engelman DM, Gerstein MB (2009) Computational analysis of membrane proteins: the largest class of drug targets. Drug Discov Today 14(23–24):1130–1135. doi:10.1016/j.drudis.2009.08.006

Carpenter EP, Beis K, Cameron AD, Iwata S (2008) Overcoming the challenges of membrane protein crystallography. Curr Opin Struct Biol 18(5):581–586. doi:10.1016/j.sbi.2008.07.001

Chng SS, Xue M, Garner RA, Kadokura H, Boyd D, Beckwith J, Kahne D (2012) Disulfide rearrangement triggered by translocon assembly controls lipopolysaccharide export. Science 337(6102):1665–1668. doi:10.1126/science.1227215

Daniels C, Vindurampulle C, Morona R (1998) Overexpression and topology of the Shigella flexneri O-antigen polymerase (Rfc/Wzy). Mol Microbiol 28(6):1211–1222

Daniels C, Griffiths C, Cowles B, Lam JS (2002) Pseudomonas aeruginosa O-antigen chain length is determined before ligation to lipid A core. Environ Microbiol 4(12):883–897

DeAngelis PL, Oatman LC, Gay DF (2003) Rapid chemoenzymatic synthesis of monodisperse hyaluronan oligosaccharides with immobilized enzyme reactors. J Biol Chem 278(37):35199–35203. doi:10.1074/jbc.M306431200

Duda KA, Lindner B, Brade H, Leimbach A, Brzuszkiewicz E, Dobrindt U, Holst O (2011) The lipopolysaccharide of the mastitis isolate Escherichia coli strain 1303 comprises a novel O-antigen and the rare K-12 core type. Microbiology 157(Pt 6):1750–1760

Greenfield LK, Richards MR, Li J, Wakarchuk WW, Lowary TL, Whitfield C (2012) Biosynthesis of the polymannose lipopolysaccharide O antigens from Escherichia coli serotypes O8 and O9a requires a unique combination of single- and multi-active site mannosyltransferases. J Biol Chem. doi:10.1074/jbc.M112.401000

Guo H, Yi W, Shao J, Lu Y, Zhang W, Song J, Wang PG (2005) Molecular analysis of the O-antigen gene cluster of Escherichia coli O86:B7 and characterization of the chain length determinant gene (wzz). Appl Environ Microbiol 71(12):7995–8001. doi:10.1128/AEM.71.12.7995-8001.2005

Han W, Wu B, Li L, Zhao G, Woodward R, Pettit N, Cai L, Thon V, Wang PG (2012) Defining function of lipopolysaccharide O-antigen ligase WaaL using chemoenzymatically synthesized substrates. J Biol Chem 287(8):5357–5365

Hug I, Couturier MR, Rooker MM, Taylor DE, Stein M, Feldman MF (2010) Helicobacter pylori lipopolysaccharide is synthesized via a novel pathway with an evolutionary connection to protein N-glycosylation. PLoS Pathog 6(3):e1000819

Ihssen J, Kowarik M, Dilettoso S, Tanner C, Wacker M, Thony-Meyer L (2010) Production of glycoprotein vaccines in Escherichia coli. Microb Cell Factories 9:61. doi:10.1186/1475-2859-9-61

Islam ST, Taylor VL, Qi M, Lam JS (2010) Membrane topology mapping of the O-antigen flippase (Wzx), polymerase (Wzy), and ligase (WaaL) from Pseudomonas aeruginosa PAO1 reveals novel domain architectures. MBio 1(3)

Kim TH, Sebastian S, Pinkham JT, Ross RA, Blalock LT, Kasper DL (2010) Characterization of the O-antigen polymerase (Wzy) of Francisella tularensis. J Biol Chem 285(36):27839–27849

Krogh A, Larsson B, von Heijne G, Sonnhammer EL (2001) Predicting transmembrane protein topology with a hidden Markov model: application to complete genomes. J Mol Biol 305(3):567–580. doi:10.1006/jmbi.2000.4315

Kudla G, Murray AW, Tollervey D, Plotkin JB (2009) Coding-sequence determinants of gene expression in Escherichia coli. Science 324(5924):255–258. doi:10.1126/science.1170160

Kumari K, Weigel PH (1997) Molecular cloning, expression, and characterization of the authentic hyaluronan synthase from group C Streptococcus equisimilis. J Biol Chem 272(51):32539–32546

Lerouge I, Vanderleyden J (2002) O-antigen structural variation: mechanisms and possible roles in animal/plant-microbe interactions. FEMS Microbiol Rev 26(1):17–47

Marolda CL, Tatar LD, Alaimo C, Aebi M, Valvano MA (2006) Interplay of the Wzx translocase and the corresponding polymerase and chain length regulator proteins in the translocation and periplasmic assembly of lipopolysaccharide O antigen. J Bacteriol 188(14):5124–5135

Mathews DH, Sabina J, Zuker M, Turner DH (1999) Expanded sequence dependence of thermodynamic parameters improves prediction of RNA secondary structure. J Mol Biol 288(5):911–940. doi:10.1006/jmbi.1999.2700

May JF, Splain RA, Brotschi C, Kiessling LL (2009) A tethering mechanism for length control in a processive carbohydrate polymerization. Proc Natl Acad Sci U S A 106(29):11851–11856

Raetz CR, Whitfield C (2002) Lipopolysaccharide endotoxins. Annu Rev Biochem 71:635–700

Renart J, Reiser J, Stark GR (1979) Transfer of proteins from gels to diazobenzyloxymethyl-paper and detection with antisera: a method for studying antibody specificity and antigen structure. Proc Natl Acad Sci U S A 76(7):3116–3120

Ruiz N, Kahne D, Silhavy TJ (2009) Transport of lipopolysaccharide across the cell envelope: the long road of discovery. Nat Rev Microbiol 7(9):677–683

Schwarz D, Dotsch V, Bernhard F (2008) Production of membrane proteins using cell-free expression systems. Proteomics 8(19):3933–3946. doi:10.1002/pmic.200800171

Silhavy TJ, Kahne D, Walker S (2010) The bacterial cell envelope. Cold Spring Harb Perspect Biol 2(5):a000414

Sonnhammer EL, von Heijne G, Krogh A (1998) A hidden Markov model for predicting transmembrane helices in protein sequences. Proc Int Conf Intell Syst Mol Biol 6:175–182

Sucher AJ, Chahine EB, Nelson M, Sucher BJ (2011) Prevnar 13, the new 13-valent pneumococcal conjugate vaccine. Ann Pharmacother 45(12):1516–1524. doi:10.1345/aph.1Q347

Towbin H, Staehelin T, Gordon J (1979) Electrophoretic transfer of proteins from polyacrylamide gels to nitrocellulose sheets: procedure and some applications. Proc Natl Acad Sci U S A 76(9):4350–4354

Walter AE, Turner DH, Kim J, Lyttle MH, Muller P, Mathews DH, Zuker M (1994) Coaxial stacking of helixes enhances binding of oligoribonucleotides and improves predictions of RNA folding. Proc Natl Acad Sci U S A 91(20):9218–9222

Wang L, Wang Q, Reeves PR (2010) The variation of O antigens in gram-negative bacteria. Subcell Biochem 53:123–152

Wetter M, Kowarik M, Steffen M, Carranza P, Corradin G, Wacker M (2013) Engineering, conjugation, and immunogenicity assessment of Escherichia coli O121 O antigen for its potential use as a typhoid vaccine component. Glycoconj J 30(5):511–522. doi:10.1007/s10719-012-9451-9

Wheatley RW, Zheng RB, Richards MR, Lowary TL, Ng KK (2012) Tetrameric structure of the GlfT2 galactofuranosyltransferase reveals a scaffold for the assembly of mycobacterial arabinogalactan. J Biol Chem 287(33):28132–28143

Woodward R, Yi W, Li L, Zhao G, Eguchi H, Sridhar PR, Guo H, Song JK, Motari E, Cai L, Kelleher P, Liu X, Han W, Zhang W, Ding Y, Li M, Wang PG (2010) In vitro bacterial polysaccharide biosynthesis: defining the functions of Wzy and Wzz. Nat Chem Biol 6(6):418–423. doi:10.1038/nchembio.351

Yi W, Shao J, Zhu L, Li M, Singh M, Lu Y, Lin S, Li H, Ryu K, Shen J, Guo H, Yao Q, Bush CA, Wang PG (2005) Escherichia coli O86 O-antigen biosynthetic gene cluster and stepwise enzymatic synthesis of human blood group B antigen tetrasaccharide. J Am Chem Soc 127(7):2040–2041. doi:10.1021/ja045021y

Yi W, Liu X, Li Y, Li J, Xia C, Zhou G, Zhang W, Zhao W, Chen X, Wang PG (2009) Remodeling bacterial polysaccharides by metabolic pathway engineering. Proc Natl Acad Sci U S A 106(11):4207–4212. doi:10.1073/pnas.0812432106

Yuan Y, Barrett D, Zhang Y, Kahne D, Sliz P, Walker S (2007) Crystal structure of a peptidoglycan glycosyltransferase suggests a model for processive glycan chain synthesis. Proc Natl Acad Sci U S A 104(13):5348–5353. doi:10.1073/pnas.0701160104

Zhao G, Liu J, Liu X, Chen M, Zhang H, Wang PG (2007) Cloning and characterization of GDP-perosamine synthetase (Per) from Escherichia coli O157:H7 and synthesis of GDP-perosamine in vitro. Biochem Biophys Res Commun 363(3):525–530

Zuker M (2003) Mfold web server for nucleic acid folding and hybridization prediction. Nucleic Acids Res 31(13):3406–3415
Acknowledgement
P.G.W. acknowledges the NIH R01 GM085267 for financial support.
Conflict of interest
The authors declare that they have no conflict of interest.
Electronic supplementary material
Below is the link to the electronic supplementary material.
About this article
Cite this article
Zhao, G., Wu, B., Li, L. et al. O-antigen polymerase adopts a distributive mechanism for lipopolysaccharide biosynthesis. Appl Microbiol Biotechnol 98, 4075–4081 (2014). https://doi.org/10.1007/s00253-014-5552-7
Received:

Revised:

Accepted:

Published:

Issue Date:

DOI: https://doi.org/10.1007/s00253-014-5552-7
Keywords
Wzy

Integral membrane protein

Overexpression

Distributive mechanism