Abstract
Fungal immunomodulatory protein (FIP), extracted from higher basidiomycetes, is a kind of small molecule protein with extensive biological functions, including anti-tumor and anti-allergy, stimulating immune cells to produce a variety of cytokines, etc. Compared with FIP-glu, FIP-SN15, a novel gene shuffled from the genes of Ganoderma sinensis and Ganoderma lucidum FIP, was used as the object in this study. Based on the construction of prokaryotic expression vectors, both pET30a-FIP-glu and pET30a-FIP-SN15 were expressed in Escherichia coli. Then the recombinant proteins are respectively analyzed by Western blot, Q-TOF MS, and bioinformatics techniques. Finally, effects of reFIPs on cell cycle and apoptosis of human glioblastoma cell line U-251 MG were studied by fluorescence activated cell sorting (FACS). The results showed that the recombinant proteins FIP-SN15 and FIP-glu could be successfully expressed in E. coli, the yield of which was 35.95 and 36.67 mg/L, respectively. The recombinant protein FIP-SN15 consisted of 111 amino acids, and four peptides were identified by Q-TOF MS with a coverage of 91.9 %. The secondary and tertiary structure of FIP-SN15 were also predicted by bioinformatics method which suggest that reFIP-SN15 was a new member of FIPs family. FACS analysis showed that 10 μg/mL FIP-SN15 and FIP-glu could induce U-251 MG cells apoptosis, the apoptotic rates were increased by 6.03 and 22.01 %, respectively. The results of reFIPs on U-251 MG cell cycle indicated that reFIPs could inhibit cell cycle progression by retardation of G1/S transition. The efforts in this assay would lay the foundation for further development of reFIPs products and research on the anti-tumor mechanisms of FIP-SN15.
Access options
Buy single article
Instant access to the full article PDF.
USD 39.95
Price excludes VAT (USA)
Tax calculation will be finalised during checkout.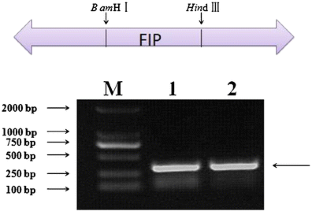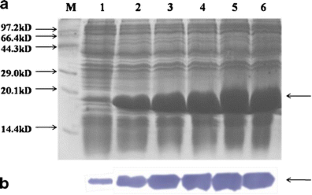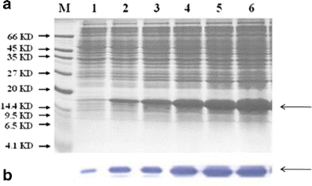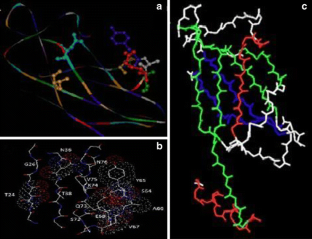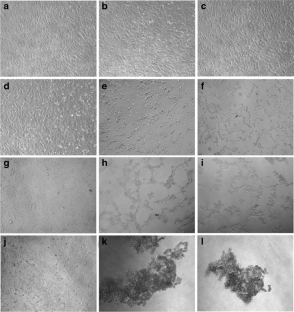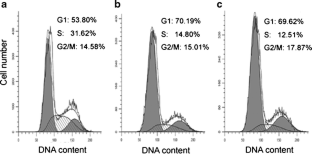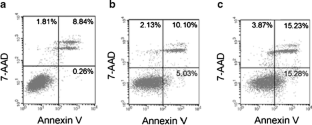 References
Bai JY, Zeng L, Li YF, Lin ZP (2006) Expression of fungal immunomodulate protein (LZ-8) in E. coli and its antibody preparation in rabbits. Pract J Med Pharm 23:1205–1207. doi:10.3969/j.issn.1671-4008.2006.10.033, in Chinese

Bhowal J, Guha AK, Chatterjee BP (2005) Purification and molecular characterization of a sialic acid specific lectin from the phytopathogenic fungus Macrophomina phaseolina. Carbohydr Res 340:1973–1982. doi:10.1016/j.carres.2005.06.009

Gong M, An J, Lu HZ, Wu CF, Li YJ, Cheng JQ, Bao JK (2004) Acid modification on fluorescence spectrum and hemagglutinating activity of Hericium erinaceum lectin. Acta Biochim Biophys Sin 36:343–350. doi:10.1093/abbs/36.5.343

Hsieh CW, Lan JL, Meng Q, Cheng YW, Huang HM, Tsai JJ (2007) Eosinophil apoptosis induced by fungal immunomodulatory peptide-fve via reducing IL-5α receptor. J Formos Med Assoc 106:36–43. doi:10.1016/S0929-6646(09)60214-X

Hsin IL, Ou CC, Wu TC, Jan MS, Wu MF, Chiu LY, Lue KH, Ko JL (2011) GMI, an immunomodulatory protein from Ganoderma microsporum, induces autophagy in non-small cell lung cancer cells. Autophagy 7:873–882. doi:10.4161/auto.7.8.15698

Kawagishi H, Mori H (1991) Chemical modification and NMR studies on a mushroom lectin Ischnoderma resinosum agglutinin (IRA). Biochim Biophys Acta 1076:179–186. doi:10.1016/0167-4838(91)90263-Y

Kawagishi H, Takagi JI, Taira T, Murata T, Usui T (2001) Purification and characterization of a lectin from the mushroom Mycoleptodonoides Aitchisonii. Phytochemistry 56:53–58. doi:10.1016/S0031-9422(00)00351-4

Ko JL, Hsu CI, Lin RH, Kao CL, Lin JY (1995) A new fungal immunomodulatory protein FIP-fve isolated from the edible mushroom, Flammulian velutlpes and its complete amino acid sequence. Eur J Biochem 228:244–249. doi:10.1111/j.1432-1033.1995.0244n.x

Kong XH, Zhang JC, Han X, Zhang PQ, Dai XD, Liu JN, Zhang XX, Lee I, Liu SK (2013) High-yield production in Escherichia coli of fungal immunomodulatory protein isolated from Flammulina velutipes and its bioactivity assay in vivo. Int J Mol Sci 14:2230–2241. doi:10.3390/ijms14022230

Li QZ, Huang L, Xie MQ, Zhou XW (2009) Cloning, expression, and purification of a fungal immunomodulatory protein from Ganoderma lucidum. The 5th International Medicinal Mushroom Conference, 338–346 (Nantong, Jiangsu, China)

Li QZ, Wang XF, Chen YY, Lin J, Zhou XW (2010) Cytokines expression induced by Ganoderma sinensis fungal immunomodulatory proteins (FIP-gsi) in mouse spleen cells. App Biochem Biotech 162:1403–1413. doi:10.1007/s12010-010-8916-1

Li QZ, Wang XF, Zhou XW (2011a) Recent status and prospects of the fungal immunomodulatory protein family. Crit Rev Biotechnol 31:365–375. doi:10.3109/07388551.2010.543967

Li QZ, Zheng SB, Wang XF, Bao TW, Zhou XW (2011b) Preparation of rabbit anti-Ganoderma sinensis immunomodulatory protein polyclonal antibody. Afr J Microbiol Res 5:1562–1564. doi:10.5897/AJMR10.471

Li F, Wen HA, Liu XZ, Zhou FZ, Chen GC (2012a) Gene cloning and recombinant expression of a novel fungal immunomodulatory protein from Trametes versicolor. Protein Expr Purif 82:339–344. doi:10.1016/j.pep.2012.01.015

Li SY, Zhao ZL, Li Y, Tang XM (2012b) Advances of fungal immunomodulatory proteins in macromycete. Biotech Bulletin 5:49–53 (in Chinese)

Liao CH, Hsiao YM, Hsu CP, Lin MY, Wang JC, Huang YL, Ko JL (2006) Transcriptionally mediated inhibition of telomerase of fungal immunomodulatory protein from Ganoderma tsugae in A549 human lung adenocarcinoma cell line. Mol Carcinog 45:220–229. doi:10.1002/mc.20161

Liao CH, Hsiao YM, Lin CH (2008) Induction of premature senescence in human lung cancer by fungal immunomodulatory protein from Ganoderma tsugae. Food Chem Toxico l46:1851–1859. doi:10.1016/j.fct.2008.01.044

Lin WH, Hung CH, Hsu CI, Lin JY (1997) Dimerization of the N-terminal amphipathic a-Helix domain of the fungal immunomodulatory protein from Ganoderma tsugae (Fip-gts) defined by a yeast two-hybrid system and site-directed mutagenesis. J Biol Chem 272:20044–20048. doi:10.1074/jbc.272.32.20044

Lin JW, Sun F, Zhang R, Zhang CY, Liu LX (2005) Advances of fungal immunomodulatory proteins. Chin J Microbiol Immunol 21:477–480 (in Chinese)

Lin JW, Hao LX, Xu GX, Sun F, Gao F, Zhang R, Liu LX (2008) Molecular cloning and recombinant expression of a gene encoding a fungal immunomodulatory protein from Ganoderma lucidum in Pichia pastoris. World J Microbiol Biotechnol 25:383–390. doi:10.1007/s11274-008-9902-4

Ng TB, Lam YM (2002) Isolation of a novel agglutinin with complex carbohydrate binding specificity from fresh fruiting bodies of the edible mushroom Lyophyllum shimeji. Biochem Biophys Res Commun 290:563–568. doi:10.1006/bbrc.2001.6235

She QB, Ng TB, Liu WK (1998) A novel lectin with potent immunomodulatory activity isolated from both fruiting bodies and cultured mycelia of the edible mushroom Volvariella volvacea. Biochem Biophys Res Commun 247:106–111. doi:10.1006/bbrc.1998.8744

Wang XL, Liang CY, Li HR, Li BZ, Sun F (2010) Recombinant Ganoderma lucidum immunoregulatory protein (rLZ-8) induces nuclear-stress apoptosis in K562 cells. Chin J Immunol 26:616–618. doi:10.3969/j.issn.1000-484X.2010.07.009 (In Chinese)

Wang XF, Su KQ, Bao TW, Cong WR, Chen YF, Li QZ, Zhou XW (2012) Immunomodulatory effects of fungal proteins. Curr Top Nutraceut R 10:1–11

Wang XF, Li QZ, Bao TW, Cong WR, Song WX, Zhou XW (2013) In vitro rapid evolution of fungal immunomodulatory proteins by DNA family shuffling. Appl Microbiol Biotechnol 97:2455–2465. doi:10.1007/s00253-012-4131-z

Wu MY, Hsu MF, Huang CS, Fu HY, Huang CT (2007) A 2.0Å structure of GMI, a member of the fungal immunomodulatory protein family from Ganoderma microsporum. Protein Crystallogr II:132

Xiao JX, Huang GQ, Zhu CP, Ren DD, Zhang SH (2007) Morphological study on apoptosis HeLa cells induced by soya saponins. Toxic In Vitro 21:820–826. doi:10.1016/j.tiv.2007.01.025

Zhou XW, Xie MQ, Hong F, Li QZ, Lin J (2009) Genomic cloning and characterization of a FIP-gsi gene encoding a fungal immunomodulatory protein from Ganoderma sinense. Int J Med Mushrooms 11:77–86. doi:10.1615/IntJMedMushr.v11.i1.90

Zhou XW, Wang XF, Li QZ, Su KQ, Cong WR (2011) A nucleotide sequence enconding fungal immunomodulatory protein shuffled from Ganoderma lucidum and Ganoderma sinensis, the preparation method of recombinant protein and its application. Chinese patent no. ZL 2011 1 0068813.0 (In Chinese)

Zhou XW, Su KQ, Zhang YM (2012) Applied modern biotechnology for cultivation of Ganoderma and development of their products. Appl Microbiol Biotechnol 93:941–963. doi:10.1007/s00253-011-3780-7
Acknowledgements
This work was supported by grants from the National Natural Science Foundation of China (no: 30771500), Shanghai Science and Technology Committee and Shanghai Leading Academic Discipline Project and Shanghai Natural Science Foundation (no. 11ZR1416800).
About this article
Cite this article
Cong, Wr., Xu, H., Liu, Y. et al. Production and functional characterization of a novel fungal immunomodulatory protein FIP-SN15 shuffled from two genes of Ganoderma species. Appl Microbiol Biotechnol 98, 5967–5975 (2014). https://doi.org/10.1007/s00253-014-5539-4
Received:

Revised:

Accepted:

Published:

Issue Date:

DOI: https://doi.org/10.1007/s00253-014-5539-4
Keywords
Fungal immunomodulatory protein (FIP)

Expression

Apoptosis

Cell cycle

Fluorescence activated cell sorting (FACS)