Abstract
The microbial community structure of a stable pilot-scale thermophilic continuous stirred tank reactor digester stabilized on poultry litter was investigated. This 40-m3 digester produced biogas with 57 % methane, and chemical oxygen demand removal of 54 %. Bacterial and archaeal diversity were examined using both cloning and pyrosequencing that targeted 16S rRNA genes. The bacterial community was dominated by phylum Firmicutes, constituting 93 % of the clones and 76 % of the pyrotags. Of the Firmicutes, class Clostridia (52 % pyrotags) was most abundant followed by class Bacilli (13 % pyrotags). The bacterial libraries identified 94 operational taxonomic units (OTUs) and pyrosequencing identified 577 OTUs at the 97 % minimum similarity level. Fifteen OTUs were dominant (≥2 % abundance), and nine of these were novel unclassified Firmicutes. Several of the dominant OTUs could not be classified more specifically than Clostridiales, but were most similar to plant biomass degraders, including Clostridium thermocellum. Of the rare pyrotag OTUs (<0.5 % abundance), 75 % were Firmicutes. The dominant methanogen was Methanothermobacter which has hydrogenotrophic metabolism, and accounted for >99 % of the archaeal clones. Based on the primary methanogen, as well as digester chemistry (high VA and ammonia levels), we propose that bacterial acetate oxidation is the primary pathway in this digester for the control of acetate levels.
Access options
Buy single article
Instant access to the full article PDF.
USD 39.95
Price excludes VAT (USA)
Tax calculation will be finalised during checkout.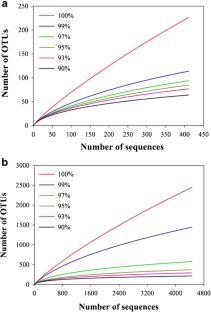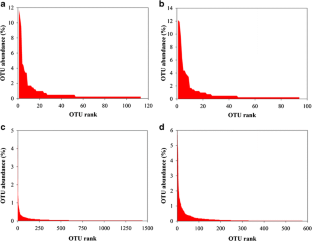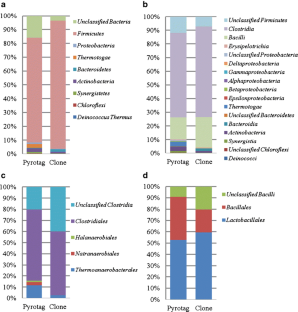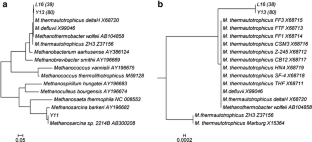 References
Abouelenien F, Fujiwara W, Namba Y, Kosseva M (2010) Improved methane fermentation of chicken manure via ammonia removal by biogas recycle. Bioresour Technol 101:6368–6373

Aislabie J, Jordan S, Ayton J, Klassen JL, Barker GM, Turner S (2009) Bacterial diversity associated with ornithogenic soil of the Ross Sea region, Antarctica. Can J Microbiol 55:21–36

Angelidaki I, Ahring BK (1993) Thermophilic anaerobic digestion of livestock waste: the effect of ammonia. Appl Microbiol Biotechnol 38:560–564

Angenent LT, Sung S, Raskin L (2002) Methanogenic population dynamics during startup of a full-scale anaerobic sequencing batch reactor treating swine waste. Water Res 36:4648–4654

APHA (1998) Standard methods for the examination of water and wastewater, 20th edn. American Public Health Association, Washington

Ashelford KE, Chuzhanova NA, Fry JC, Jones AJ, Weightman AJ (2005) At least 1 in 20 16S rRNA sequence records currently held in public repositories is estimated to contain substantial anomalies. Appl Environ Microbiol 71:7724–7736

Baiser B, Ardeshiri RS, Ellison AM (2011) Species richness and trophic diversity increase decomposition in a co-evolved food web. PLoS ONE 6:e20672

Ben Hania W, Godbane R, Postec A, Hamdi M, Ollivier B, Fardeau M-L (2011) Defluviitoga tunisiensis gen. nov, sp. nov., a novel thermophilic bacterium isolated from a mesothermic anaerobic whey digester. Int J Syst Evol Microbiol 62:1377–1382

Berg Miller ME, Antonopoulos DA, Rincon MT, Band M, Bari A, Akraiko T, Hernandez A, Thimmapuram J, Henrissat B, Coutinho PM, Borovok I, Jindou S, Lamed R, Flint HJ, Bayer EA, White BA (2009) Diversity and strain specificity of plant cell wall degrading enzymes revealed by the draft genome of Ruminococcus flavefaciens FD-1. PLoS ONE 4:e6650

Bombardiere J, Espinosa-Solares T, Chatfield M, Domaschko M, Easter M, Stafford DA, Castillo-Angeles S, Castellanos-Hernandez N (2005) Influence of hydraulic retention time on the performance of a pilot plant thermophilic anaerobic bioreactor. ADSW Conference Proceedings, Vol. 2. Process engineering, pp. 283–289

Bombardiere J, Espinosa-Solares T, Domaschko M, Chatfield M (2007) Thermophilic anaerobic digester performance under different feed-loading frequency. Appl Biochem Biotechnol 137–140:765–775

Brulc JM, Yeoman CJ, Wilson MK, Berg Miller ME, Jeraldo P, Jindou S, Goldenfeld N, Flint HJ, Lamed R, Borovok I, Vodovnik M, Nelson KE, Bayer EA, White BA (2011) Cellulosomics, a gene-centric approach to investigating the intraspecific diversity and adaptation of Ruminococcus flavefaciens within the rumen. PLoS ONE 6:e25329

Cheon J, Hong F, Hidaka T, Koshikawa H, Tsuno H (2007) Microbial population dynamics in a thermophilic methane digester fed with garbage. Water Sci Technol 55:175–182

Chouari R, Le Paslier D, Daegelen P, Ginestet P, Weissenbach J, Sghir A (2005) Novel predominant archaeal and bacterial groups revealed by molecular analysis of an anaerobic sludge digester. Environ Microbiol 7:1104–1115

Cole JR, Wang Q, Cardenas E, Fish J, Chai B, Farris RJ, Kulam-Syed-Mohideen AS, McGarrell DM, Marsh T, Garrity GM, Tiedje JM (2009) The Ribosomal Database Project: improved alignments and new tools for rRNA analysis. Nucleic Acids Res 37:D141–D145

Costa JC, Barbosa SG, Alves MM, Sousa DZ (2012) Thermochemical pre- and biological co-treatments to improve hydrolysis and methane production from poultry litter. Bioresour Technol 111:141–147

Cotta M, Forster R (2006) The family Lachnospiraceae, including the genera Butyrivibrio, Lachnospira and Roseburia. In: Dworkin M, Falkow S, Rosenberg E, Schleifer K-H, Stackebrandt E (eds) The prokaryotes. Springer, New York, pp 1002–1021

Cotta MA, Whitehead TR, Zeltwanger RL (2003) Isolation, characterization and comparison of bacteria from swine faeces and manure storage pits. Environ Microbiol 5:737–745

Cotta MA, Whitehead TR, Collins MD, Lawson PA (2004) Atopostipes suicloacale gen. nov., sp. nov., isolated from an underground swine manure storage pit. Anaerobe 10:191–195

Demain AL, Newcomb M, Wu JHD (2005) Cellulase, Clostridia, and ethanol. Microbiol Mol Biol Rev 69:124–154

Dojka MA, Hugenholtz P, Haack SK, Pace NR (1998) Microbial diversity in a hydrocarbon- and chlorinated-solvent-contaminated aquifer undergoing intrinsic bioremediation. Appl Environ Microbiol 64:3869–3877

Dunbar J, Eichorst SA, Gallegos-Graves LV, Silva S, Xie G, Hengartner NW, Evans RD, Hungate BA, Jackson RB, Megonigal JP, Schadt CW, Vilgalys R, Zak DR, Kuske CR (2012) Common bacterial responses in six ecosystems exposed to 10 years of elevated atmospheric carbon dioxide. Environ Microbiol 14:1145–1158

Edwards RA, Rodriguez-Brito B, Wegley L, Haynes M, Breitbart M, Peterson DM, Saar MO, Alexander S, Calvin Alexander Jr E, Rohwer F (2006) Using pyrosequencing to shed light on deep mine microbial ecology. BMC Genomics 7:57

Espinosa-Solares T, Bombardiere J, Chatfield M, Domaschko M, Easter M, Stafford DA, Castillo-Angeles S, Castellanos-Hernandez N (2006) Macroscopic mass and energy balance of a pilot plant anaerobic bioreactor operated under thermophilic conditions. Appl Biochem Biotech 129–132:959–968

Espinosa-Solares T, Valle-Guadarrama S, Bombardiere J, Domaschko M, Easter M (2009) Effect of heating strategy on power consumption and performance of a pilot plant anaerobic digester. Appl Biochem Biotechnol 156:35–44

Forney LJ, Zhou X, Brown CJ (2004) Molecular microbial ecology: land of the one-eyed king. Curr Opin Microbiol 7:210–220

Goberna M, Insam H, Franke-Whittle IH (2009) Effect of biowaste sludge maturation on the diversity of thermophilic bacteria and archaea in an anaerobic reactor. Appl Environ Microbiol 75:2566–2572

Goberna M, Gadermaier M, García C, Wett B, Insam H (2010) Adaptation of methanogenic communities to the cofermentation of cattle excreta and olive mill wastes at 37°C and 55°C. Appl Environ Microbiol 76:6564–6571

Godon JJ, Zumstein E, Dabert P, Habouzit F, Moletta R (1997) Molecular microbial diversity of an anaerobic digestor as determined by small-subunit rDNA sequence analysis. Appl Environ Microbiol 63:2802–2813

Guermazi S, Daegelen P, Dauga C, Rivière D, Bouchez T, Godon JJ, Gyapay G, Sghir A, Pelletier E, Weissenbach J, Le Paslier D (2008) Discovery and characterization of a new bacterial candidate division by an anaerobic sludge digester metagenomic approach. Environ Microbiol 10:2111–2123

Hach (2004) Water analysis handbook, 4th edn. Hach, Loveland

Hatamoto M, Imachi H, Ohashi A, Harada H (2007) Identification and cultivation of anaerobic, syntrophic long-chain fatty acid-degrading microbes from mesophilic and thermophilic methanogenic sludges. Appl Environ Microbiol 73:1332–1340

Hattori S (2008) Syntrophic acetate-oxidizing microbes in methanogenic environments. Microbes Environ 23:118–127

Jin M, Gunawan C, Balan V, Dale BE (2012) Consolidated bioprocessing (CBP) of AFEX™-pretreated corn stover for ethanol production using Clostridium phytofermentans at a high solids loading. Biotechnol Bioeng 109:1929–1936

Kautz S, Rubin BER, Russell JA, Moreau CS (2013) Surveying the microbiome of ants: comparing 454 pyrosequencing with traditional methods to uncover bacterial diversity. Appl Environ Microbiol 79:525–534

Khanal SK (2008) Anaerobic biotechnology for bioenergy production: principles and applications. Wiley-Blackwell, Hoboken

Knapp BA, Podmirseg SM, Seeber J, Meyer E, Insam H (2009) Diet-related composition of the gut microbiota of Lumbricus rubellus as revealed by a molecular fingerprinting technique and cloning. Soil Biol Biochem 41:2299–2307

Koster IW, Lettinga G (1984) The influence of ammonium-nitrogen on the specific activity of pelletized methanogenic sludge. Agricultural Wastes 9:205–216

Krakat N, Westphal A, Schmidt S, Scherer P (2010) Anaerobic digestion of renewable biomass: thermophilic temperature governs methanogen population dynamics. Appl Environ Microbiol 76:1842–1850

Kröber M, Bekel T, Diaz NN, Goesmann A, Jaenicke S, Krause L, Miller D, Runte KJ, Viehöver P, Pühler A, Schlüter A (2009) Phylogenetic characterization of a biogas plant microbial community integrating clone library 16S-rDNA sequences and metagenome sequence data obtained by 454-pyrosequencing. J Biotechnol 142:38–49

Levén L, Eriksson ARB, Schnürer A (2007) Effect of process temperature on bacterial and archaeal communities in two methanogenic bioreactors treating organic household waste. FEMS Microbiol Ecol 59:683–693

Li T, Mazéas L, Sghir A, Leblon G, Bouchez T (2009) Insights into networks of functional microbes catalysing methanization of cellulose under mesophilic conditions. Environ Microbiol 11:889–904

Liu F, Conrad R (2010) Thermoanaerobacteriaceae oxidize acetate in methanogenic rice field soil at 50°C. Environ Microbiol 12:2341–2354

Lynd LR, Weimer PJ, van Zyl WH, Pretorius IS (2002) Microbial cellulose utilization: fundamentals and biotechnology. Microbiol Mol Biol Rev 66:506–577

McLellan SL, Huse SM, Mueller-Spitz SR, Andreishcheva EN, Sogin ML (2010) Diversity and population structure of sewage-derived microorganisms in wastewater treatment plant influent. Environ Microbiol 12:378–392

Nelson MC, Morrison M, Yu Z (2011) A meta-analysis of the microbial diversity observed in anaerobic digesters. Bioresour Technol 102:3730–3739

Perera R, Perera P, Vlosky RP, Darby P (2010) Potential of using poultry litter as a feedstock for energy production. Louisiana State University Forest Products Development Center. Baton Rouge

Philippot L, Andersson SGE, Battin TJ, Prosser JI, Schimel JP, Whitman WB, Hallin S (2010) The ecological coherence of high bacterial taxonomic ranks. Nat Rev Micro 8:523–529

Pierce E, Xie G, Barabote RD, Saunders E, Han CS, Detter JC, Richardson P, Brettin TS, Das A, Ljungdahl LG, Ragsdale SW (2008) The complete genome sequence of Moorella thermoacetica (f. Clostridium thermoaceticum). Environ Microbiol 10:2550–2573

Rao AG, Prakash SS, Joseph J, Reddy AR, Sarma PN (2011) Multi stage high biomethanation of poultry litter with self mixed anaerobic digester. Bioresour Technol 102:729–735

Raskin L, Stromley JM, Rittmann BE, Stahl DA (1994) Group-specific 16S rRNA hybridization probes to describe natural communities of methanogens. Appl Environ Microbiol 60:1232–1240

Rivière D, Desvignes V, Pelletier E, Chaussonnerie S, Guermazi S, Weissenbach J, Li T, Camacho P, Sghir A (2009) Towards the definition of a core of microorganisms involved in anaerobic digestion of sludge. ISME J 3:700–714

Sakar S, Yetilmezsoy K, Kocak E (2009) Anaerobic digestion technology in poultry and livestock waste treatment—a literature review. Waste Manag Res 27:3–18

Sasaki K, Haruta S, Ueno Y, Ishii M, Igarashi Y (2007) Microbial population in the biomass adhering to supporting material in a packed-bed reactor degrading organic solid waste. Appl Microbiol Biotechnol 75:941–952

Sasaki D, Hori T, Haruta S, Ueno Y, Ishii M, Igarashi Y (2011) Methanogenic pathway and community structure in a thermophilic anaerobic digestion process of organic solid waste. J Biosci Bioeng 111:41–46

Schink B (2006) Syntrophic associations in methanogenic degradation. Prog Mol Subcel Biol 41:1–19

Schink B, Stams A (2006) Syntrophism among prokaryotes. In: Dworkin M, Falkow S, Rosenberg E, Schleifer K-H, Stackebrandt E (eds) The prokaryotes. Springer, New York, pp 309–335

Schnürer A, Nordberg A (2008) Ammonia, a selective agent for methane production by syntrophic acetate oxidation at mesophilic temperature. Water Sci Technol 57:735–740

Schnürer A, Zellner G, Svensson BH (1999) Mesophilic syntrophic acetate oxidation during methane formation in biogas reactors. FEMS Microbiol Ecol 29:249–261

Sharma D, Espinosa-Solares T, Huber DH (2013) Thermophilic anaerobic co-digestion of poultry litter and thin stillage. Bioresour Technol 136:251–256

Sogin ML, Morrison HG, Huber JA, Welch DM, Huse SM, Neal PR, Arrieta JM, Herndl GJ (2006) Microbial diversity in the deep sea and the underexplored "rare biosphere". Proc Natl Acad Sci U S A 103:12115–12120

Soutschek E, Winter J, Schindler F, Kandler O (1984) Acetomicrobium flavidum, gen. nov., sp. nov., a thermophilic, anaerobic bacterium from sewage sludge, forming acetate, CO2 and H2 from glucose. Syst Appl Microbiol 5:377–390

Speece RE (1996) Anaerobic biotechnology for industrial wastewaters. Archaea Press, Nashville

Sul WJ, Cole JR, EdC J, Wang Q, Farris RJ, Fish JA, Tiedje JM (2011) Bacterial community comparisons by taxonomy-supervised analysis independent of sequence alignment and clustering. Proc Natl Acad Sci U S A 108:14637–14642

Tamura K, Dudley J, Nei M, Kumar S (2007) MEGA4: Molecular Evolutionary Genetics Analysis (MEGA) software version 4.0. Mol Biol Evol 24:1596–1599

Tang Y, Ji P, Hayashi J, Koike Y, Wu X, Kida K (2011) Characteristic microbial community of a dry thermophilic methanogenic digester: its long-term stability and change with feeding. Appl Microbiol Biotechnol 91:1447–1461

Tang Y, Shigematsu T, Ikbal, Morimura S, Kida K (2004) The effects of micro-aeration on the phylogenetic diversity of microorganisms in a thermophilic anaerobic municipal solid-waste digester. Water Res 38:2537–2550

Thompson JR, Marcelino LA, Polz MF (2002) Heteroduplexes in mixed-template amplifications: formation, consequence and elimination by 'reconditioning PCR'. Nucleic Acids Res 30:2083–2088

Tilche A, Galatola M (2008) The potential of bio-methane as bio-fuel/bio-energy for reducing greenhouse gas emissions: a qualitative assessment for Europe in a life cycle perspective. Water Sci Technol 57:1683–1692

US EPA (2010) AgSTAR. United States Environmental Protection Agency, Philadelphia. http://www.epa.gov/agstar/

Wasserfallen A, Nölling J, Pfister P, Reeve J, Conway de Macario E (2000) Phylogenetic analysis of 18 thermophilic Methanobacterium isolates supports the proposals to create a new genus, Methanothermobacter gen. nov., and to reclassify several isolates in three species, Methanothermobacter thermautotrophicus comb. nov., Methanothermobacter wolfeii comb. nov., and Methanothermobacter marburgensis sp. nov. Int J Syst Evol Microbiol 50:43–53

Weimer PJ, Waghorn GC, Odt CL, Mertens DR (1999) Effect of diet on populations of three species of ruminal cellulolytic bacteria in lactating dairy cows. J Dairy Sci 82:122–134

Weiss A, Jérôme V, Freitag R, Mayer H (2008) Diversity of the resident microbiota in a thermophilic municipal biogas plant. Appl Microbiol Biotechnol 81:163–173

Weiss A, Jérôme V, Burghardt D, Likke L, Peiffer S, Hofstetter E, Gabler R, Freitag R (2009) Investigation of factors influencing biogas production in a large-scale thermophilic municipal biogas plant. Appl Microbiol Biotechnol 84:987–1001

Werner JJ, Knights D, Garcia ML, Scalfone NB, Smith S, Yarasheski K, Cummings TA, Beers AR, Knight R, Angenent LT (2011) Bacterial community structures are unique and resilient in full-scale bioenergy systems. Proc Natl Acad Sci U S A 108:4158–4163

Westerholm M, Müller B, Arthurson V, Schnürer A (2011) Changes in the acetogenic population in a mesophilic anaerobic digester in response to increasing ammonia concentration. Microbes Environ 26:347–353

Yabu H, Sakai C, Fujiwara T, Nishio N, Nakashimada Y (2011) Thermophilic two-stage dry anaerobic digestion of model garbage with ammonia stripping. J Biosci Bioeng 111:312–319

Zimmerman AE, Martiny AC, Allison SD (2013) Microdiversity of extracellular enzyme genes among sequenced prokaryotic genomes. ISME J 7:1187–1199

Zverlov VV, Schwarz WH (2008) Bacterial cellulose hydrolysis in anaerobic environmental subsystems—Clostridium thermocellum and Clostridium stercorarium, thermophilic plant-fiber degraders. Ann NY Acad Sci 1125:298–307
Acknowledgements
This research was funded by USDA CSREES grant 2004–02614. We also thank the Gus R. Douglass Land Grant Institute (WVSU) for support, John Bombardiere and Jesus E. Chavarria Palma for assistance, and Nagamani Balagurusamy for helpful comments.
Electronic supplementary material
Below is the link to the electronic supplementary material.
About this article
Cite this article
Smith, A.M., Sharma, D., Lappin-Scott, H. et al. Microbial community structure of a pilot-scale thermophilic anaerobic digester treating poultry litter. Appl Microbiol Biotechnol 98, 2321–2334 (2014). https://doi.org/10.1007/s00253-013-5144-y
Received:

Revised:

Accepted:

Published:

Issue Date:

DOI: https://doi.org/10.1007/s00253-013-5144-y
Keywords