Abstract
A recently isolated Australian Aurantiochytrium sp. strain TC 20 was investigated using small-scale (2 L) bioreactors for the potential of co-producing biodiesel and high-value omega-3 long-chain polyunsaturated fatty acids. Higher initial glucose concentration (100 g/L compared to 40 g/L) did not result in markedly different biomass (48 g/L) or fatty acid (12–14 g/L) yields by 69 h. This comparison suggests factors other than carbon source were limiting biomass production. The effect of both glucose and glycerol as carbon sources for Aurantiochytrium sp. strain TC 20 was evaluated in a fed-batch process. Both glucose and glycerol resulted in similar biomass yields (57 and 56 g/L, respectively) by 69 h. The agro-industrial waste from biodiesel production—glycerol—is a suitable carbon source for Aurantiochytrium sp. strain TC 20. Approximately half the fatty acids from Aurantiochytrium sp. strain TC 20 are suitable for development of sustainable, low emission sources of transportation fuels and bioproducts. To further improve biomass and oil production, fortification of the feed with additional nutrients (nitrogen sources, trace metals and vitamins) improved the biomass yield from 56 g/L (34 % total fatty acids) to 71 g/L (52 % total fatty acids, cell dry weight) at 69 h; these yields are to our knowledge around 70 % of the biomass yields achieved, however, in less than half of the time by other researchers using glycerol and markedly greater than achieved using other industrial wastes. The fast growth and suitable fatty acid profile of this newly isolated Aurantiochytrium sp. strain TC 20 highlights the potential of co-producing the drop-in biodiesel and high value omega-3 oils.
Access options
Buy single article
Instant access to the full article PDF.
USD 39.95
Price excludes VAT (USA)
Tax calculation will be finalised during checkout.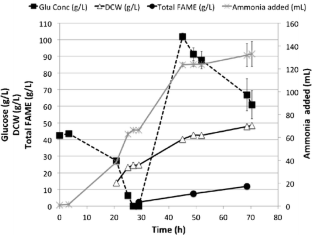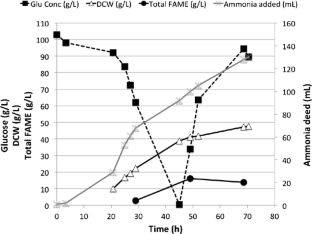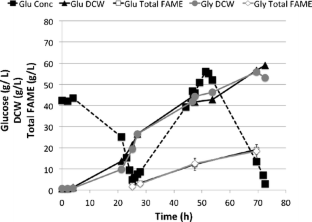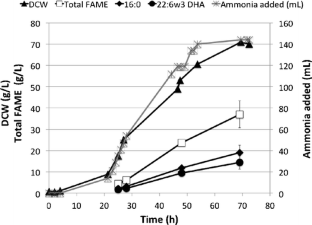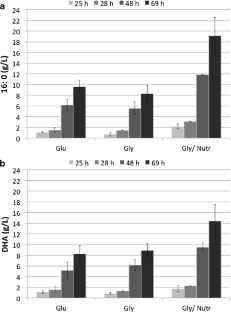 References
Abad S, Turon X (2012) Valorization of biodiesel derived glycerol as a carbon source to obtain added-value metabolites: focus on polyunsaturated fatty acids. Biotechnol Adv 30(3):733–741

Bowles RD, Hunt AE, Bremer GB, Duchars MG, Eaton RA (1999) Long-chain n-3 polyunsaturated fatty acid production by members of the marine protistan group the thraustochytrids: screening of isolates and optimisation of docosahexaenoic acid production. J Biotechnol 70(1–3):193–202

Chisti Y (2007) Biodiesel from microalgae. Biotechnol Adv 25(3):294–306

Chisti Y (2008) Biodiesel from microalgae beats bioethanol. Trends Biotechnol 26(3):126–131

Cox SL, Hulston D, Maas EW (2009) Cryopreservation of marine thraustochytrids (Labyrinthulomycetes). Cryobiology 59(3):363–365

Danaei G, Ding EL, Mozaffarian D, Taylor B, Rehm JR, Murray CJL, Ezzati M (2009) The preventable causes of death in the United States: comparative risk assessment of dietary, lifestyle, and metabolic risk factors. PLoS Med 6(4):e1000058

Forsyth JS, Carlson SE (2001) Long-chain polyunsaturated fatty acids in infant nutrition: effects on infant development. Curr Opin Clin Nutr Metab Care 4(2):123–126

Ganuza E, Anderson A, Ratledge C (2008) High-cell-density cultivation of Schizochytrium sp. in an ammonium/pH-auxostat fed-batch system. Biotechnol Lett 30(9):1559–1564

Guil-Guerrero J, López-Martínez J, Rincón-Cervera M, Campra-Madrid P (2007) One-step extraction and concentration of polyunsaturated fatty acids from fish liver. J Am Oil Chem Soc 84(4):357–361

Hall MJ, Ratledge C (1977) Lipid accumulation in an oleaginous yeast (Candida 107) growing on glucose under various conditions in a one-and two-stage continuous culture. Appl Environ Microbiol 33(3):577–584

Hong W-K, Rairakhwada D, Seo P-S, Park S-Y, Hur B-K, Kim C, Seo J-W (2011) Production of lipids containing high levels of docosahexaenoic acid by a newly isolated microalga, Aurantiochytrium sp. KRS101. Appl Biochem Biotechnol 164(8):1468–1480

Hong WK, Yu A, Heo SY, Oh BR, Kim C, Sohn JH, Yang JW, Kondo A, Seo JW (2012) Production of lipids containing high levels of docosahexaenoic acid from empty palm fruit bunches by Aurantiochytrium sp. KRS101. Bioproc Biosyst Eng:1–5. doi:10.1007/s00449-012-0830-1

Huntley M, Redalje D (2007) CO2 mitigation and renewable oil from photosynthetic microbes: a new appraisal. Mitig Adapt Strateg Glob Chang 12(4):573–608

Jain R, Raghukumar S, Sambaiah K, Kumon Y, Nakahara T (2007) Docosahexaenoic acid accumulation in thraustochytrids: search for the rationale. Mar Biol 151(5):1657–1664

Jakobsen A, Aasen I, Josefsen K, Strøm A (2008) Accumulation of docosahexaenoic acid-rich lipid in thraustochytrid Aurantiochytrium sp. strain T66: effects of N and P starvation and O2 limitation. Appl Microbiol Biotechnol 80(2):297–306

Johnson MB, Wen Z (2009) Production of biodiesel fuel from the microalga Schizochytrium limacinum by direct transesterification of algal biomass. Energy Fuel 23(10):5179–5183

Kim K, Jung KE, Ryu BG, Park S, Choi YE, Yang JW (2012) A novel fed-batch process based on the biology of Aurantiochytrium sp. KRS101 for the production of biodiesel and docosahexaenoic acid. Bioresour Technol. doi:10.1016/j.biortech.2012.10.139

Knothe G (2007) Some aspects of biodiesel oxidative stability. Fuel Process Technol 88(7):669–677

Kralovec JA, Zhang SC, Zhang W, Barrow CJ (2012) A review of the progress in enzymatic concentration and microencapsulation of omega-3 rich oil from fish and microbial sources. Food Chem 131(2):639–644

Lee Chang KJ, Mansour MP, Dunstan GA, Blackburn SI, Koutoulis A, Nichols PD (2011) Odd-chain polyunsaturated fatty acids in thraustochytrids. Phytochemistry 72(11–12):1460–1465

Lee Chang KJ, Dunstan GA, Abell G, Clementson L, Blackburn S, Nichols PD, Koutoulis A (2012) Biodiscovery of new Australian thraustochytrids for production of biodiesel and long-chain omega-3 oils. Appl Microbiol Biotechnol 93(5):2215–2231

Lewis TE (2001) Characterisation and application of Australian thraustochytrids. PhD, University of Tasmania, Hobart, AU

Lewis TE, Nichols PD, McMeekin TA (1999) The biological potential of thraustochytrids. Mar Biotechnol 1:580–587

Li Y, Horsman M, Wu N, Lan CQ, Dubois-Calero N (2008) Biofuels from microalgae. Biotechnol Prog 24(4):815–820

Liang Y, Sarkany N, Cui Y, Yesuf J, Trushenski J, Blackburn JW (2010) Use of sweet sorghum juice for lipid production by Schizochytrium limacinum SR21. Bioresour Technol 101(10):3623–3627

Maas PAY, Kleinschuster SJ, Dykstra MJ, Smolowitz R, Parent J (1999) Molecular characterization of QPX (Quahog Parasite Unknown), a pathogen of Mercenaria mercenaria. J Shellfish Res 18(2):561–567

Metting FB (1996) Biodiversity and application of microalgae. J Ind Microbiol Biotechnol 17(5):477–489

Meyer B, Mann N, Lewis J, Milligan G, Sinclair A, Howe P (2003) Dietary intakes and food sources of omega-6 and omega-3 polyunsaturated fatty acids. Lipids 38(4):391–398

Monyem A, Canakci M, Van Gerpen JH (2000) Investigation of biodiesel thermal stability under simulated in-use conditions. Appl Eng Agric 16(4):373–378

Mozaffarian D, Rimm EB (2006) Fish intake, contaminants, and human health: evaluating the risks and the benefits. JAMA: J Am Med Assoc 296(15):1885–1899

Pauly D, Christensen V, Guenette S, Pitcher TJ, Sumaila UR, Walters CJ, Watson R, Zeller D (2002) Towards sustainability in world fisheries. Nature 418(6898):689–695

Pyle DJ (2008) Use of biodiesel-derived crude glycerol for the production of omega-3 polyunsaturated fatty acids by the microalga Schizochytrium limacinum. PhD, Virginia Polytechnic Institute and State University, Blacksburg, US

Raghukumar S (2002) Ecology of the marine portists, the Labyrinthulomycetes (thraustochytrids and labyrinthulids). Eur J Protistol 38(2):127–145

Ratledge C (2004) Fatty acid biosynthesis in microorganisms being used for single cell oil production. Biochimie 86(11):807–815

Ratledge C (2012) Omega-3 biotechnology: errors and omissions. Biotechnol Adv 30(6):1746–1747

Ratledge C, Wynn JP (2002) The biochemistry and molecular biology of lipid accumulation in oleaginous microorganisms. Adv Appl Microbiol 51:1–51

Rosa SM, Soria MA, Velez CG, Galvagno MA (2010) Improvement of a two-stage fermentation process for docosahexaenoic acid production by Aurantiochytrium limacinum SR21 applying statistical experimental designs and data analysis. Bioresour Technol 101(7):2367–2374

Ryu BG, Kim K, Kim J, Han JI, Yang JW (2012) Use of organic waste from the brewery industry for high-density cultivation of the docosahexaenoic acid-rich microalga, Aurantiochytrium sp. KRS101. Bioresour Technol. doi:10.1016/j.biortech.2012.11.049

Scott SD, Armenta RE, Berryman KT, Norman AW (2011) Use of raw glycerol to produce oil rich in polyunsaturated fatty acids by a thraustochytrid. Enzyme Microb Technol 48(3):267–272

Stephens E, Ross IL, King Z, Mussgnug JH, Kruse O, Posten C, Borowitzka MA, Hankamer B (2010) An economic and technical evaluation of microalgal biofuels. Nat Biotech 28(2):126–128

Unagul P, Assantachai C, Phadungruengluij S, Suphantharika M, Tanticharoen M, Verduyn C (2007) Coconut water as a medium additive for the production of docosahexaenoic acid (C22:6 n3) by Schizochytrium mangrovei Sk-02. Bioresour Technol 98(2):281–287

Wijffels RH, Barbosa MJ (2010) An outlook on microalgal biofuels. Science 329(5993):796–799

William B, Craig W, James M (2010) Development of a docosahexaenoic acid production technology using Schizochytrium: A historical perspective and update. In: Cohen Z, Ratledge C (eds) Single Cell Oils - Microbial and Algal Oils. AOCS Press, pp 75–96

Wu ST, Yu ST, Lin LP (2005) Effect of culture conditions on docosahexaenoic acid production by Schizochytrium sp. S31. Process Biochemistry 40(9):3103-3108.

Yokochi T, Honda D, Higashihara T, Nakahara T (1998) Optimization of docosahexaenoic acid production by Schizochytrium limacinum SR21. Appl Microbiol Biotechnol 49(1):72–76
Acknowledgments
The authors thank the CSIRO Energy Transformed Flagship and Food Futures Flagship for their support, Birgit Unterweger for assistance during sample recording and fermentation set-up, Peter Mansour for assistance with Iatroscan TLC-FID operation, Danny Holdsworth for management of the GC-MS facility, Malcolm Brown for comments on an earlier version of this manuscript, and the helpful comments from two anonymous journal referees and Dr. Claudia Schmidt-Dannert. Kim Jye Lee Chang was supported by an Australian Postgraduate Award (APA) and a CSIRO Office of the Chief Executive (OCE) top-up scholarship through the CSIRO Energy Transformed Flagship.
About this article
Cite this article
Lee Chang, K.J., Dumsday, G., Nichols, P.D. et al. High cell density cultivation of a novel Aurantiochytrium sp. strain TC 20 in a fed-batch system using glycerol to produce feedstock for biodiesel and omega-3 oils. Appl Microbiol Biotechnol 97, 6907–6918 (2013). https://doi.org/10.1007/s00253-013-4965-z
Received:

Revised:

Accepted:

Published:

Issue Date:

DOI: https://doi.org/10.1007/s00253-013-4965-z
Keywords
Labyrinthulomycetes

Thraustochytrid

Biodiesel

Glycerol

Docosahexaenoic acid