Abstract
Aryl sulfotransferase IV (AstIV) from rat liver was overexpressed in Escherichia coli and purified to homogeneity. Using the produced mammalian liver enzyme, sulfation—the Phase II conjugation reaction—of optically pure silybin diastereoisomers (silybin A and B) was tested. As a result, silybin B was sulfated yielding 20-O-silybin B sulfate, whereas silybin A was completely resistant to the sulfation reaction. Milligram-scale sulfation of silybin B was optimized employing resting E. coli cells producing AstIV, thus avoiding the use of expensive 3′-phosphoadenosine-5′-phosphate cofactor and laborious enzyme purification. Using this approach, we were able to reach 48 % conversion of silybin B into its 20-sulfate within 24 h. The sulfated product was isolated by solid phase extraction and its structure was characterized by HRMS and NMR. Sulfation reaction of silybin appeared strictly stereoselective; only silybin B was sulfated by AstIV.
This is a preview of subscription content,
to check access.
Access this article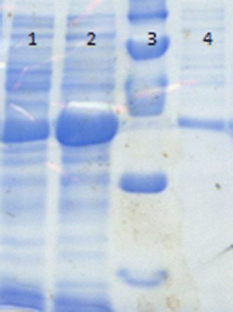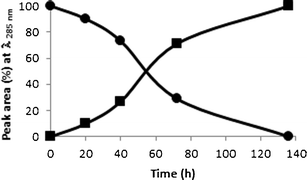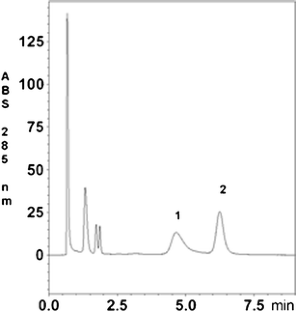 References
Abourashed EA, Mikell JR, Khan IA (2012) Bioconversion of silybin to phase I and II microbial metabolites with retained antioxidant activity. Bioorg Med Chem 20:2784–2788

Agarwal C, Wadhwa R, Deep G, Biedermann D, Gažák R, Křen V, Agarwal R (2013) Anti-cancer efficacy of silybin derivatives—a structure-activity relationship. PlosOne submitted

Baer-Dubowska W, Szaefer H, Krajka-Kuzniak V (1998) Inhibition of murine hepatic cytochrome P450 activities by natural and synthetic phenolic compounds. Xenobiotica 28:735–743

Bradford MM (1976) Rapid and sensitive method for quantification of microgram quantities of protein utilizing principle of protein-dye binding. Anal Biochem 72:248–254

Burkart MD, Wong CH (1999) A continuous assay for the spectrophotometric analysis of sulfotransferases using aryl sulfotransferase IV. Anal Biochem 274:131–137

Coughtrie MW, Sharp S, Maxwell K, Innes NP (1998) Biology and function of the reversible sulfation pathway catalyzed by human sulfotransferases and sulfates. Chem Biol Interact 109:3–27

De Groot H, Rauen U (1998) Tissue injury by reactive oxygen species and the protective effects of flavonoids. Fundam Clin Pharmacol 12:249–255

Dorai T, Aggarwal BB (2004) Role of chemopreventive agents in cancer therapy. Cancer Lett 215:129–140

Fiebrich F, Koch H (1979) Silymarin, an inhibitor of lipoxygenase. Experientia 35:1548–1560

Flora K, Hahn M, Rosen H, Benner K (1998) Milk thistle (Silybum marianum) for the therapy of liver diseases. Am J Gastroenterol 93:139–143

Fraschini F, Demartini G, Esposti D (2002) Pharmacology of silymarin. Clin Drug Invest 22:51–65

Gažák R, Walterová D, Křen V (2007) Silybin and silymarin— new and emerging applications in medicine. Curr Med Chem 14:315–338

Goretti M, Branda E, Turchetti B, Cramarossa MR, Onofri A, Forti L, Buzzini P (2012) Response surface methodology as optimization strategy for asymmetric bioreduction of (4S)-(+)-carvone by Cryptococcus gastricus. Biores Technol 121:290–297

Gunaratna C, Zhang T (2003) Application of liquid chromatography-electrospray ionization-ion trap mass spectrometry to investigate the metabolism of silibinin in human liver microsomes. J Chromatogr B Anal Technol Biomed Life Sci 794:303–310

Hahn G, Lehmann HD, Kürten M, Uebel H, Vogel G (1968) Zur Pharmakologie und Toxikologie von Silymarin, des antihepatotoxischen Wirkprinzips aus Silybum marianum (L.) Gaertn. Arzneimittel-Forsch 18:698–704

Jančová P, Anzenbacherová E, Papoušková B, Lemr K, Luzná P, Veinlichová A, Anzenbacher P, Šimánek V (2007) Silybin is metabolized by cytochrome P450 2C8 in vitro. Drug Metab Dispos 35:2035–2039

Kauffmann FC, Whittaker M, Anundi I, Thurman RG (1991) Futile cycling of a sulfate conjugate by isolated hepatocytes. Mol Pharmacol 39:414–420

Kim N-C, Graf TN, Sparacino CM, Wani MC, Wall ME (2003) Complete isolation and characterization of silybins and isosilybins from milk thistle (Silybum marianum). Org Biomol Chem 1:1684–1689

Křen V, Kubisch J, Sedmera P, Halada P, Přikrylová V, Jegorov A, Cvak L, Gebhardt R, Ulrichová J, Šimánek V (1997) Glycosylation of silybin. J Chem Soc Perkin Trans 1:2467–2474

Křen V, Ulrichová J, Kosina P, Stevenson D, Sedmera P, Přikrylová V, Halada P, Šimánek V (2000) Chemoenzymatic preparation of silybin β-glucuronide and their biological evaluation. Drug Metab Dispos 28:1513–1517

Laemmli UK (1970) Cleavage of structural proteins during assembly of head of bacteriophage-T4. Nature 227:680–685

Lee DYW, Liu Y (2003) Molecular structure and stereochemistry of silybin A, silybin B, isosilybin A, and isosilybin B, isolated from Silybum marianum (milk thistle). J Nat Prod 66:1171–1174

Lee N, Kim EJ, Kim BG (2012) Regioselective hydroxylation of trans-resveratrol via inhibition of tyrosinase from Streptomyces avermitilis MA4680. ACS Chem Biol 7:1687–1692

Mao SH, Hu XJ, Hua BY, Wang N, Liu XG, Lu FP (2012) 5α-Hydroxylation of a steroid (13-ethyl-gon-4-en-3,17-dione) by Penicillium raistrickii in an ionic liquid/aqueous biphasic system. Biotechnol Lett 34:2113–2117

Marhol P, Hartog AF, van der Horst MA, Wever R, Purchartová K, Fuksová K, Kuzma M, Cvačka J, Křen V (2013) Preparation of silybin and isosilybin sulfates by sulfotransferase from Desulfitobacterium hafniense. J Mol Catal B Enzymat 89:24–27

Miranda SR, Lee JK, Brouwer KLR, Wen ZM, Smith PC, Hawke RL (2008) Hepatic metabolism and biliary excretion of silymarin flavonolignans in isolated perfused rat livers: role of multidrug resistance-associated protein 2 (Abcc2). Drug Metab Dispos 36:2219–2226

Morazzoni P, Bombardelli E (1995) Silybum marianum (Carduus marianus). Fitoterapia 66:3–42

Neunzig I, Widjaja M, Dragan CA, Peters FT, Maurer HH, Bureik M (2012) Engineering of human CYP3A enzymes by combination of activating polymorphic variants. Appl Biochem Biotechnol 168:785–796

Pietrangelo A, Borella F, Casalgrandi G (1995) Antioxidant activity of silybin in vivo during long-term iron overload in rats. Gastroenterology 109:1941–1949

Schriewer H, Badde R, Roth G, Raven HM (1973) Antihepatotoxic effect of silymarin in thioacetamide-damaged liver. Arzneimittel-Forsch 23:160–161

Sekura RD, Jakoby WB (1981) Aryl sulfotransferase-IV from rat liver. Arch Biochem Biophys 211:352–359

Šimánek V, Křen V, Ulrichová J, Vičar J, Cvak L (2000) "What is in the name...?" An appeal for a change of editorial policy. Hepatology 32: 442–444

Strott CA (2002) Sulfonation and molecular action. Endocrin Rev 23:703–732

Tan E, Pang KS (2001) Sulfation is rate limiting in the futile cycling between estrone and estrone sulfate in enriched periportal and perivenous rat hepatocytes. Drug Metab Dispos 29:335–346

Vogel G, Tuchweber B, Trost W, Mengs U (1984) Protection by silibinin against Amanita phalloides intoxication in beagles. Toxicol Appl Pharmacol 73:355–362

Wagner H, Hörhammer L, Münster R (1968) Zur Chemie des Silymarins (Silybin), des Wirkprinzips der Früchte von Silybum marianum (L.) Gaertn. (Cardus marianus L.). Arzneimittel-Forsch 18:688–695

Wang LQ, James MO (2006) Inhibition of sulfotransferases by xenobiotics. Curr Drug Metab 7:83–104

Weyhenmeyer R, Mascher H, Birkmayer J (1992) Study on dose-linearity of the pharmacokinetics of silibinin diastereomers using a new stereospecific assay. Int J Clin Pharmacol Ther Toxic 30:134–138

Wieland T, Faulstich H (1978) Amatoxins, phallotoxins, phallolysin, and antamanide: the biologically active components of poisonous Amanita mushrooms. CRC Crit Rev Biochem 78:185–260

Wieland T (1972) Struktur und Wirkung der Amatoxine. Naturwissenschaften 59:225–231

Wu JW, Lin LC, Hung SC, Chi CW, Tsai TH (2007) Analysis of silibinin in rat plasma and bile for hepatobiliary excretion and oral bioavailability application. J Pharm Biomed Anal 45:635–641

Yang YS, Marshall DA, McPhie P, Guo WXA, Xie XF, Chen X, Jakoby WB (1996) Two phenol sulfotransferase species from one cDNA: nature of the differences. Protein Expr Purif 8:423–429

Zarelli A, Sgambato A, Petito V, De Napoli L, Previtera L, Di Fabio G (2011) New C-23 modified of silybin and 2,3-dehydrosilybin: synthesis and preliminary evaluation of antioxidant properties. Bioorg Med Chem Lett 21:4389–4392
Acknowledgments
This work was supported by the grant from the Czech Science Foundation P301/11/0767; and projects M200201204 of the Academy of Sciences of the Czech Republic, RV06138897 of the Institute of Microbiology, and by EU ESF COST project MultiGlycoNano CM1102.
Electronic supplementary material
Below is the link to the electronic supplementary material.
About this article
Cite this article
Purchartová, K., Engels, L., Marhol, P. et al. Enzymatic preparation of silybin phase II metabolites: sulfation using aryl sulfotransferase from rat liver. Appl Microbiol Biotechnol 97, 10391–10398 (2013). https://doi.org/10.1007/s00253-013-4794-0
Received:

Revised:

Accepted:

Published:

Issue Date:

DOI: https://doi.org/10.1007/s00253-013-4794-0
Keywords