Abstract
Management practices from large-scale swine production facilities have resulted in the increased collection and storage of manure for off-season fertilization use. Odor and emissions produced during storage have increased the tension among rural neighbors and among urban and rural residents. Production of these compounds from stored manure is the result of microbial activity of the anaerobic bacteria populations during storage. In the current study, the inhibitory effects of condensed quebracho tannins on in vitro swine manure for reduction of microbial activity and reduced production of gaseous emissions, including the toxic odorant hydrogen sulfide produced by sulfate-reducing bacteria (SRB), was examined. Swine manure was collected from a local swine facility, diluted in anaerobic buffer, and mixed with 1 % w/v fresh feces. This slurry was combined with quebracho tannins, and total gas and hydrogen sulfide production was monitored over time. Aliquots were removed periodically for isolation of DNA to measure the SRB populations using quantitative PCR. Addition of tannins reduced overall gas, hydrogen sulfide, and methane production by greater than 90 % after 7 days of treatment and continued to at least 28 days. SRB population was also significantly decreased by tannin addition. qRT-PCR of 16S rDNA bacteria genes showed that the total bacterial population was also decreased in these incubations. These results indicate that the tannins elicited a collective effect on the bacterial population and also suggest a reduction in the population of methanogenic microorganisms as demonstrated by reduced methane production in these experiments. Such a generalized effect could be extrapolated to a reduction in other odor-associated emissions during manure storage.
Access options
Buy single article
Instant access to the full article PDF.
US$ 39.95
Tax calculation will be finalised during checkout.
Subscribe to journal
Immediate online access to all issues from 2019. Subscription will auto renew annually.
US$ 119
Tax calculation will be finalised during checkout.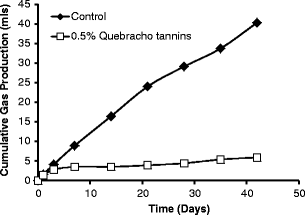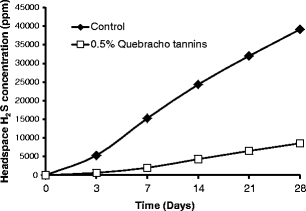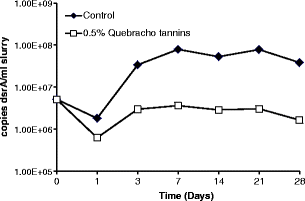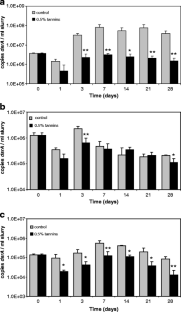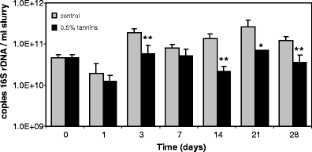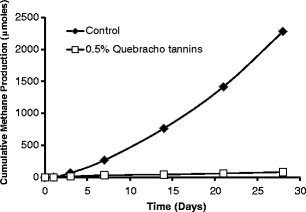 References
Bryant MP (1972) Commentary on the Hungate technique for culture of anaerobic bacteria. Amer J Clin Nutr 25:1324–1328

Clark OG, Morin B, Zhang Y, Sauer WC, Feddes JJ (2005) Preliminary investigation of air bubbling and dietary sulfur reduction to mitigate hydrogen sulfide and odor from swine waste. J Environ Qual 34:2018–2023

Cook KL, Whitehead TR, Spence C, Cotta MA (2008) Evaluation of the sulfate-reducing bacterial population associated with stored swine slurry. Anaerobe 14:172–180

Cotta MA, Whitehead TR, Zeltwanger RL (2003) Isolation, characterization and comparison of bacteria from swine faeces and manure storage pits. Environ Microbiol 5:737–745

Deschamps AM, Lebeault J-M (1984) Production of gallic acid from tara tannin by bacterial strains. Biotech Lett 6:237–242

Donham KJ (2000) The concentration of swine production. Effects on swine health, productivity, human health, and the environment. Vet Clin North Am Food Anim Pract 16:559–597

Harms G, Layton AC, Dionisi HM, Gregory IR, Garrett VM, Hawkins SA, Robinson KG, Sayler GS (2003) Real-time PCR quantification of nitrifying bacteria in a municipal wastewater treatment plant. Environ Sci Technol 37:343–351

Haslam E (1996) Natural polyphenol (vegetable tannins) as drugs: possible modes of action. J Nat Prod 59:205–215

Hassanat F, Benchaar C (2012) Assessment of the effect of condensed (acacia and quebracho) and hydrolysable (chestnut and valonea) tannins on rumen fermentation and methane production in vitro. J Sci Food Agric. doi:10.1002/jsfa.5763

Kerr B, Weber TE, Ziemer CZ, Spence C, Cotta MA, Whitehead TR (2012) Effect of dietary inorganic sulfur level on growth performance, fecal composition, and measures of inflammation and sulfate-reducing bacteria in the intestine of growing pigs. J Animal Sci 89:426–437

Krueger WK, Gutierrez-Banuelos H, Carstens GE, Min BR, Pinchak WE, Gomez RR, Anderson RC, Krueger NA, Forbes TDA (2010) Effects of dietary tannin source on performance, feed efficiency, ruminal fermentation, and carcass and non-carcass traits in steers fed a high-grain diet. Animal Feed Sci Tech 159:1–9

Kuman R, Singh M (1984) Tannins: their adverse role in ruminant nutrition. J Agric Food Chem 32:447–453

Kumar R, Vaithiyanathan S (1990) Occurance, nutritional significance and effect on animal productivity of tannins in tree leaves. Anim Feed Sci Tech 30:21–38

Leser TD, Amenuvor JZ, Jensen TK, Lindecrona RH, Boye M, Moller K (2002) Culture-independent analysis of gut bacteria: the pig gastrointestinal tract microbiota revisited. Appl Environ Microbiol 68:673–690

Leung K, Topp E (2001) Bacterial community dynamics in liquid swine manure during storage: molecular analysis using DGGE/PCR of 16S rDNA. FEMS Microbiol Ecol 38:169–177

Min BR, Barry TN, Attwood GT, McNabb WC (2003) The effect of condensed tannins on the nutrition and health of ruminants fed fresh temperate forages: a review. Anim Feed Sci Technol 106:3–19

Min BR, Attwood GT, McNabb WC, Molan AL, Barry TN (2005) The effect of condensed tannins from Lotus corniculatus on the proteolytic activities and growth of rumen bacteria. Anim Feed Sci Technol 121:45–48

Min BR, Pinchak WE, Anderson RC, Callaway TR (2007) Effects of tannins on the in vitro growth of Escherichia coli O157:H7 and in vivo growth of generic Escherichia coli excreted from steers. J Food Prot 70:543–550

O'Neill DH, Phillips VR (1992) A review of the control of odour nuisance from livestock buildings: part 3, properties of the odorous substances which have been identified in livestock wastes or in the air around them. J Agric Eng Res 53:23–50

Pelikaan WF, Stringano E, Leenaars J, Bongers DJGM, Schupen SVLV, Plant J, Mueller-Harvey I (2011) Evaluating effects of tannins on extent and rate of in vitro gas and CH4 production using an automated pressure evaluation system (APES). Anim Feed Sci Tech 166–176:377–390

Poulsen HV, Canibe N, Finster K, Spence C, Whitehead TR, Cotta MA, Jensen BB (2012) Production of volatile sulphur compounds in the large intestines of pigs fed a DDGS-based diet. J Appl Microbiol 113:143–154

Pryde SE, Richardson AJ, Stewart CS, Flint HJ (1999) Molecular analysis of the microbial diversity present in the colonic wall, colonic lumen, and cecal lumen of a pig. Appl Environ Microbiol 65:5372–5377

Schiffman S, Bennett J, Raymer H (2001) Quantification of odors and odorants from swine operations in North Carolina. Agric For Meteorol 108:213–240

Smith AH, Mackie RI (2004) Effect of condensed tannins on bacterial diversity and metabolic activity in the rat gastrointestinal tract. Appl Environ Microbiol 70:1104–1115

Snell-Castro R, Godon JJ, Delgenes JP, Dabert P (2005) Characterisation of the microbial diversity in a pig manure storage pit using small subunit rDNA sequence analysis. FEMS Microbiol Ecol 52:229–242

Spence C, Whitehead TR, Cotta MA (2008) Development and comparison of SYBR Green quantitative real-time PCR assays for detection and enumeration of sulfate-reducing bacteria in stored swine manure. J Appl Microbiol 105:2143–2152

Thorstensen, H (2012) U of M team continues to study foam on manure pits. AgriNews.com. http://www.agrinews.com/u/of/m/team/continues/to/study/foam/on/manure/pits/story-4276.html.

Trabue S, Kerr B, Bearson B, Ziemer C (2011) Swine odor analyzed by odor panels and chemical techniques. J Environ Qual 40:1510–1520

Varel VH, Miller DN (2000) Effect of antimicrobial agents on livestock waste emissions. Curr Microbiol 40:392–397

Varel VH, Miller DN (2001) Plant-derived oils reduce pathogens and gaseous emissions from stored cattle waste. Appl Environ Microbiol 67:1366–1370

Weimer PJ, Dien BS, Springer TL, Vogel KP (2005) In vitro gas production as a surrogate measure of the fermentability of cellulosic biomass to ethanol. Appl Microbiol Biotechnol 67:52–58

Whitehead TR, Cotta MA (2001) Characterisation and comparison of microbial populations in swine faeces and manure storage pits by 16S rDNA gene sequence analyses. Anaerobe 7:181–187

Zahn JA, Hatfield JL, Do YS, DiSpirito AA, Laird DA, Pfeiffer RL (1997) Characterization of volatile organic emissions and wastes from swine production facilities. J Environ Qual 26:1687–1696
Acknowledgments
The authors wish to acknowledge the valuable technical assistance by Rhonda Zeltwanger.
Additional information
Names are necessary to report factually on available data; however, the USDA neither guarantees nor warrants the standard of the product, and the use of the name by USDA implies no approval of the product to the exclusion of others that may also be suitable.
About this article
Cite this article
Whitehead, T.R., Spence, C. & Cotta, M.A. Inhibition of hydrogen sulfide, methane, and total gas production and sulfate-reducing bacteria in in vitro swine manure by tannins, with focus on condensed quebracho tannins. Appl Microbiol Biotechnol 97, 8403–8409 (2013). https://doi.org/10.1007/s00253-012-4562-6
Received:

Revised:

Accepted:

Published:

Issue Date:
Keywords
Swine

Manure

Odor

Hydrogen sulfide

Methane

Tannins