Abstract
India is the fifth largest primary energy consumer and fourth largest petroleum consumer after USA, China, and Japan. Despite the global economic crisis, India's economy is expected to grow at 6 to 8 %/year. There is an extreme dependence on petroleum products with considerable risks and environmental issues. Petroleum-derived transport fuels are of limited availability and contribute to global warming, making renewable biofuel as the best alternative. The focus on biogas and biomass-based energy, such as bioethanol and biohydrogen, will enhance cost-effectiveness and provide an opportunity for the rural community. Among all energy sources, microalgae have received, so far, more attention due to their facile adaptability to grow in the photobioreactors or open ponds, high yields, and multiple applications. Microalgae can produce a substantial amount of triacylglycerols as a storage lipid under photooxidative stress or other adverse environmental conditions. In addition to renewable biofuels, they can provide different types of high-value bioproducts added to their advantages, such as higher photosynthetic efficiency, higher biomass production, and faster growth compared to any other energy crops. The viability of first-generation biofuels production is, however, questionable because of the conflict with food supply. In the future, biofuels should ideally create the environmental, economic, and social benefits to the communities and reflect energy efficiency so as to plan a road map for the industry to produce third-generation biofuels.
Access options
Buy single article
Instant access to the full article PDF.
US$ 39.95
Tax calculation will be finalised during checkout.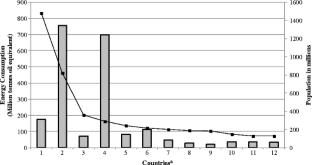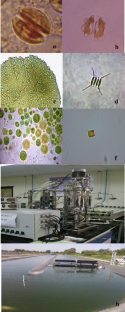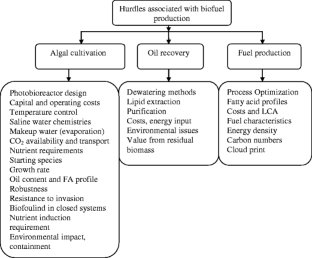 References
Akkerman I, Janssen M, Rocha J, Wijffels RH (2002) Photobiological hydrogen production: photochemical efficiency and bioreactor design. Int J Hydrogen Energy 27:1195–1208

Asif R, Ellis JT, Miller CD (2012) Bioremediation of domestic wastewater and production of bioproducts from microalgae using waste stabilization ponds. J Bioremed Biodeg 3:6

Azam MM, Waris A, Nahar NM (2005) Prospects and potential of fatty acid methyl esters of some non-traditional seed oils for use as biodiesel in India. Biomass Bioenergy 29:293–302

Banerjee UC, Mishra P (2012) Microalgae—fuel source for the future. Renew Energy Akshay Urja (MNRE) 5

Barnwal BK, Sharma MP (2005) Prospects of biodiesel from vegetable oils in India. Renew Sustain Energy Rev 9:363

Belarbi EH, Molina E, Chisti Y (2000) A process for high yield and scaleable recovery of high purity eicosapentaenoic acid esters from microalgae and fish oil. Enzyme Microb Technol 26:516

Bhale P, Deshpande N, Thombre S (2009) Improving the low temperature properties of biodiesel fuel. Renew Ener 34:794

Biofuels in Asia (2009) An analysis of sustainability options. USAID (United States Agency for International Development), USA. Available at http://pdf.usaid.gov/pdf_docs/PNADS887.pdf

Blanco AM, Moreno J, Del Campo JA, Rivas J, Guerrero MG (2007) Outdoor cultivation of lutein rich cells of Muriellopsis sp. in open ponds. Appl Microbiol Biotechnol 73:1259

Boyles D (1984) Bioenergy: technology, thermodynamics, and costs. Wiley, New York

BP (2012) Statistical review of the world energy. BP, Neperville. Available at bp.com/statisticalreview

Bullis K (2007) Algae-based fuels set to bloom. Oil from microorganisms could help ease the nation's energy woes. Technol Rev 5:1

Chisti Y (2007) Biodiesel from microalgae. Biotechnol Adv 25:294–306

Chisti Y (2008) Biodiesel from microalgae beats bioethanol. Trends Biotechnol 26:126–131

Demirbas A (2007) Recent developments in biodiesel fuels. Int J Green Ener 4:15

Dijkstra AJ (2006) Revisiting the formation of trans-isomers during partial hydrogenation of triacylglycerol oils. Eur J Lipid Sci Tech 108:249

Dragone G, Fernandes B, Vicente AA, Teixeira JA (2010) Third generation biofuels from microalgae. In: Mendez-Vilas A (ed) Current research, technology and education topics in applied microbiology and microbial biotechnology. Formatex, Spain, 1355 pp

Dube MA, Tremblay AY, Liu J (2007) Biodiesel production using a membrane reactor. Bioresour Technol 98:639

Forestier M, King P, Zhang LP (2003) Expression of two [Fe]-hydrogenases in Chlamydomonas reinhardtii under anaerobic conditions. Eur J Biochem 270:2750

Ghosh P, Ghose TK (2003) Biotechnology in India. Adv in Biochem Eng/Biotechnol 85:1–27 (2nd edn. by TK Ghose, P Ghosh)

Gnanasounou E, Dauriat A (2005) Ethanol fuel from biomass: A review. J Sci Ind Res 64:809–821

Gonsalves JB (2006) An assessment of the biofuels industry in India. United Nations Conference on Trade and Development, Geneva

Gouveia L (2011) Microalgae as a feedstock for biofuels. Springer Briefs in Microbiology, e-ISBN 978-3-642-17997-6, 7 pp

Guschina IA, Harwood JL (2006) Lipids and lipid metabolism in eukaryotic algae. Prog in Lipid Res 45:160–186

Hussain K, Nawaz K, Majeed A, Lin F (2010) Economically effective potential of algae for biofuel production. World Appl Sci J 9:1313–1323

IEA (2007) Energy technology essentials—hydrogen production and distribution. Available at http://www.iea.org/techno/essentials5.pdf

IEA (2009) World energy outlook. International Energy Agency, Paris

IEA (International Energy Agency) (2010) World energy outlook. Technology roadmap biofuels for transport. IEA, Paris

India Biofuels Annual (2012) GAIN (Global Agricultural Information Network) report. USDA Foreign Agricultural Service, India

India Energy Book (2012) World energy council. Available at http://indiaenergycongress.in/iec2012/ieb2012/ieb2012.pdf

International Trade Administration (2009) Energy project financing, energy projects in developing countries. Available at http://www.ita.doc.gov/td/finance/publications/Energy

Jang ES, Jung MY, Min DB (2005) Hydrogenation for low trans and high conjugated fatty acids. Compr Rev Food Sci Food Safety 4:22

Khan Shakeel A, Rashmi MZ, Hussain PS, Banerjee UC (2009) Prospects of biodiesel production from microalgae in India. Renew and Sustain Energy Reviews 13:2361–2372

Knothe G, Gerpen JV, Krahl J (2005) The biodiesel handbook. American Oil and Chemist's Society, Urbana

Kotay SM, Das D (2008) Biohydrogen as a renewable energy source—prospects and potentials. Int J of Hydrogen Energy 33:258–263

Kumar L, Ram Mohan MP (2005) Biofuels: the key to India's sustainable energy needs. Proceedings of the RISO International Energy Conference, RISO, Denmark, RISO-R-1517(EN), pp 423–438

Li Q, Du W, Liu D (2008) Perspectives of microbial oils for biodiesel production. Appl Microbiol Biotechnol 80:749–756

Marchetti JM, Miguel VU, Errazu AF (2007) Possible methods for biodiesel production. Renew Sustain Energy Rev 11:1300

Meher LC, Vidya SD, Naik SN (2006) Technical aspects of biodiesel production by transesterification—a review. Renew Sust Energy Rev 10:248–268

Miao X, Wu Q (2006) Biodiesel production from heterotrophic microalgal oil. Bioresour Technol 97:841

MNRE Annual Report (2012) Available at http://mnre.gov.in/file-manager/annual-report/2011-2012/EN/index.htm

Nouni MR (2011) Hydrogen energy and fuel cells development in India. Renew Energy Akshay Urja (MNRE) 4:22–25

Omer AM (2012) Renewable energy, emerging energy technologies and sustainable development: innovation in power, control and optimisation. ARPN J Sci Technol 2:13

Patil V, Tran K-Q, Giselrød HR (2008) Towards sustainable production of biofuels from microalgae. Int J Mol Sci 9:1188–1195

Population Reference Bureau (2011) World population data sheet. Available at http://www.prb.org/pdf11/2011population-data-sheet_eng.pdf

Raja R, Hemaiswarya S, Ashok Kumar N, Sridhar S, Rengasamy R (2008) A perspective on the biotechnological potential of microalgae. Crit Rev Microbiol 34:77

Raja R, Hemaiswarya S, Rengasamy R (2007) Exploitation of Dunaliella for β-carotene production. Appl Microbiol Biotechnol 74:517

Raven RPJM, Gregersen KH (2007) Biogas plants in Denmark: successes and setbacks. Renew Sustain Energy Rev 11:116

Ray S, Miglani S, Goldar A (2011) Ethanol blending policy in India: demand and supply issues. ICRIER Policy Series No. 9

Reith JH, Wijffels RH, Barten H (2003) Introduction: the perspectives of biological methane and hydrogen production. In: Reith JH, Wijffels RH, Barten H (eds) Bio-methane and bio-hydrogen. Dutch Biological Hydrogen Foundation and NOVEM, The Netherlands, 9 pp

Rural Energy (2012) Available at http://www.indg.in/rural-energy/rural-energy/re-basics-whatis

Schenk PM, Skye R, Hall T, Stephens E, Ute MC, Jan MH, Clemens P, Olaf K, Ben H (2008) Second generation biofuels: high-efficiency microalgae for biodiesel production. Bio Energy Res 1:20

Seefeldt LC (2007) Utah group plans to make biodiesel from algae. Ind Bioprocess 29:5

Seshadri S, Shashirekha V (2012) Perspectives on biohydrogen production. Renew Energy Akshay Urja (MNRE) 5:18–20

Shleser R (1994) Ethanol production in Hawaii. State of Hawaii Energy Division, Department of Business, Economic Development and Tourism, Honolulu

Smith KR, Mehta S, Maeusezahl-Feuz M (2004) Indoor air pollution from solid household fuels. In: Ezzati M, Lopez AD, Rodgers A, Murray CJL (eds) Comparative quantification of health risks. World Health Organization, Geneva

Spolaore P, Joannis C, Duran E, Isambert A (2006) Commercial applications of microalgae. J Biosci Bioeng 101:87

Sun Y, Cheng J (2002) Hydrolysis of lignocellulosic materials for ethanol production: a review. Bioresour Technol 83:1–11

TERI (The Energy and Resources Institute) (2004) Livelihood improvement through biomass energy in rural areas. TERI, New Delhi

US Department of Energy (2010) National algal biofuels technology roadmap. Biomass Programme, Maryland

van Beilen JB (2010) Perspective: why microalgal biofuels won't save the internal combustion machine. Biofuels, Bioprod Bioref 4:41–52

World Health Organization (2009) Global health risks: mortality and burden of diseases attributable to selected major risks. World Health Organization, Geneva. Available at http://www.who.int/healthinfo/global_burden_disease/global_health_risks/en/index.html

Xu H, Miao X, Wu Q (2006) High quality biodiesel production from a microalga Chlorella protothecoides by heterotrophic growth in fermenters. J Biotechnol 126:499

Zhang Z, Donaldson AA, MA X (2012) Advancements and future directions in enzyme technology for biomass conversion. Biotech Adv 30:913
About this article
Cite this article
Hemaiswarya, S., Raja, R., Carvalho, I.S. et al. An Indian scenario on renewable and sustainable energy sources with emphasis on algae. Appl Microbiol Biotechnol 96, 1125–1135 (2012). https://doi.org/10.1007/s00253-012-4487-0
Received:

Revised:

Accepted:

Published:

Issue Date:
Keywords
Renewable and sustainable energy

Biofuel

Biomass

Microalgae