Abstract
Phenolic acid decarboxylase (PAD) catalyzes the non-oxidative decarboxylation of p-coumaric acid (pCA) to p-hydroxystyrene (pHS). PAD from Bacillus amyloliquefaciens (BAPAD), which showed k cat/K m value for pCA (9.3 × 103 mM−1 s−1), was found as the most active one using the "Subgrouping Automata" program and by comparing enzyme activity. However, the production of pHS of recombinant Escherichia coli harboring BAPAD showed only a 22.7 % conversion yield due to product inhibition. Based on the partition coefficient of pHS and biocompatibility of the cell, 1-octanol was selected for the biphasic reaction. The conversion yield increased up to 98.0 % and 0.83 g/h/g DCW productivity was achieved at 100 mM pCA using equal volume of 1-octanol as an organic solvent. In the optimized biphasic reactor, using a three volume ratio of 1-octanol to phosphate buffer phase (50 mM, pH 7.0), the recombinant E. coli produced pHS with a 88.7 % conversion yield and 1.34 g/h/g DCW productivity at 300 mM pCA.
Access options
Buy single article
Instant access to the full article PDF.
US$ 39.95
Tax calculation will be finalised during checkout.
Subscribe to journal
Immediate online access to all issues from 2019. Subscription will auto renew annually.
US$ 119
Tax calculation will be finalised during checkout.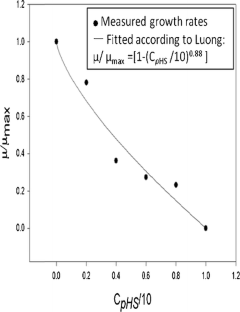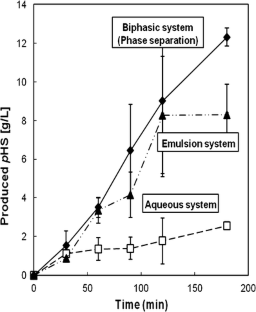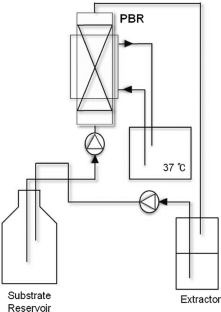 References
Altschul SF, Madden TL, Schaffer AA, Zhang JH, Zhang Z, Miller W, Lipman DJ (1997) Gapped BLAST and PSI-BLAST: a new generation of protein database search programs. Nucleic Acids Res 25:3389–3402

Ben-Bassat A, Breinig S, Crum GA, Huang L, Altenbaugh AB, Rizzo N, Trotman RJ, Vannelli T, Sariaslani FS, Haynie SL (2007) Preparation of 4-vinylphenol using pHCA decarboxylase in a two-solvent medium. Org Process Res Dev 11:278–285

Bernini R, Mincione E, Barontini M, Provenzanoa G, Setti L (2007) Obtaining 4-vinylphenols by decarboxylation of natural 4-hydroxycinnamic acids under microwave irradiation. Tetrahedron 63:9663–9667

Cavin JF, Barthelmebs L, Divies C (1997a) Molecular characterization of an inducible p-coumaric acid decarboxylase from Lactobacillus plantarum: gene cloning, transcriptional analysis, overexpression in Escherichia coli, purification, and characterization. Appl Environ Microbiol 63:1939–1944

Cavin JF, Barthelmebs L, Guzzo J, Beeumen JV, Samyn B, Travers JF, Divies C (1997b) Purification and characterization of an inducible p-coumaric acid decarboxylase from Lactobacillus plantarum. FEMS Microbiol Lett 147:291–295

Cavin JF, Dartois V, Divies C (1998) Gene cloning, transcriptional analysis, purification, and characterization of phenolic acid decarboxylase from Bacillus subtilis. Appl Environ Microbiol 64:1466–1471

Clausen M, Lamb CJ, Megnet R, Doerner PW (1994) PAD1 encodes phenylacrylic acid decarboxylase which confers resistance to cinnamic acid in Saccharomyces cerevisiae. Gene 142:107–112

Díaz E, Ferrández A, Prieto MA, García JL (2001) Biodegradation of aromatic compounds by Escherichia coli. Microbiol Mol Biol Rev 65:523–569

Dugelay I, Gunata Z, Sapis C, Baumes R, Bayonove C (1993) Role of cinnamoyl esterase activities from enzyme preparations on the formation of volatile phenols during winemaking. J Agric Food Chem 41:2092–2096

Eddy SR (1998) Profile hidden Markov models. Bioinformatics 14:755–763

Gury J, Barthelmebs L, Tran NP, Divies C, Cavin JF (2004) Cloning, deletion, and characterization of PadR, the transcriptional repressor of the phenolic acid decarboxylase-encoding padA gene of Lactobacillus plantarum. Appl Environ Microbiol 70:2146–2153

Harwood CS, Parales RE (1998) The β-ketoadipate pathway and the biology of self-identity. Annu Rev Microbiol 50:553–590

Kieboom J, Dennis JJ, Zylstra GJ, Bont JM (1998) Active efflux of organic solvents by Pseudomonas putida is induced by solvents. J Bacteriol 180:6769–6772

Kunitsky K, Shah MC, Shuey SW, Trost BM, Wagman ME (2005) Method for preparing hydroxystyrenes and acetylated derivatives thereof by decarboxylation of phenolic compounds. US Pat Appl Publ AN 2005:1103382

Landete JM, Rodriguez H, Curiel JA, Rivas B, Mancheno JM, Munoz R (2010) Gene cloning, expression, and characterization of phenolic acid decarboxylase from Lactobacillus brevis RM84. J Ind Microbiol Biotechnol 37:617–624

Lee WH, Park JB, Park K, Kim MD, Seo JH (2007) Enhanced production of ε-caprolactone by overexpression of NADPH-regenerating glucose 6-phosphate dehydrogenase in recombinant Escherichia coli harboring cyclohexanone monooxygenase gene. Appl Microbiol Biotechnol 76:329–338

Luong JHT (1985) Kinetics of ethanol inhibition in alcohol fermentation. Biotechnol Bioeng 27:280–285

Malla S, Koffas M, Kazlauskas R, Kim BG (2012) Production of 7-O-methyl aromadendrin, a medicinally valuable flavonoid, in Escherichia coli. Appl Environ Microbiol 78:684–694

Meng F, Xu Y (2010) Improved production of (R)-2-octanol via asymmetric reduction of 2-octanone with Oenococcus oeni CECT4730 in a biphasic system. Biocatal Biotransformation 28:144–149

Mukai N, Masaki K, Fujii T, Kawamukai M, Iefuji H (2010) PAD1 and FDC1 are essential for the decarboxylation of phenylacrylic acids in Saccharomyces cerevisiae. J Biosci Bioeng 109:564–569

Park JB, Buhler B, Hacicher T, Hauer B, Panke S, Witholt B, Schmid A (2006) The efficiency of recombinant Escherichia coli as biocatalyst for stereospecific epoxidation. Biotechnol Bioeng 95:501–512

Parke D, Ornston N (1986) Enzymes of the β-ketoadipate pathway are inducible in Rhizobium and Agrobacterium spp. and constitutive in Bradyrhizobium spp. J Bacteriol 165:288–292

Ramos JL, Duque E, Gallegos MT, Godoy P, Ramos-Gonzalez MI, Rojas A, Teran W, Segura A (2002) Mechanisms of solvent tolerance in gram-negative bacteria. Annu Rev Microbiol 56:743–768

Rangarajan ES, Li Y, Iannuzzi P, Tocilj A, Hung LW, Matte A, Cygler M (2004) Crystal structure of a dodecameric FMN-dependent UbiX-like decarboxylase (PAD1) from Escherichia coli O157: H7. Protein Sci 13:3006–3016

Reyes LH, Almario MP, Kao KC (2011) Genomic library screens for genes involved in 1-butanol tolerance in Escherichia coli. PLoS One 6:e17678

Rocal E, Meinander N, Hahn-Hägerdal B (1996) Xylitol production by immobilized recombinant Saccharomyces cerevisiae in a continuous packed-bed bioreactor. Biotechnol Bioeng 51:317–326

Rodriguez H, Landete JM, Curiel JA, Rivas B, Mancheno JM, Munoz R (2008) Characterization of the p-coumaric acid decarboxylase from Lactobacillus plantarum CECT 748(T). J Agric Food Chem 56:3068–3072

Segel IH (1975) Enzyme kinetics: behaviour and analysis of rapid equilibrium and steady-state enzyme systems, 1st edn. Wiley-Interscience, New York, pp 54–64

Segura A, Bünz PV, D'Argenio DA, Ornston LN (1999) Genetic analysis of a chromosomal region containing vanA and vanB, genes required for conversion of either ferulate or vanillate to protocatechuate in Acinetobacter. J Bacteriol 181:3494–3504

Seo JH, Hwang JY, Seo SH, Kang H, Hwang BY, Kim BG (2012) Computational selection, identification and structural analysis of ω-aminotransferases with various substrate specificities from the genome sequence of Mesorhizobium MAFF303099. Biosci Biotechnol Biochem 76:1308–1314

Shin JS, Kim BG, Liese A, Wandrey C (2001a) Kinetic resolution of chiral amines with ω-transaminase using an enzyme-membrane reactor. Biotechnol Bioeng 73:179–187

Shin JS, Kim BG, Shin DH (2001b) Kinetic resolution of chiral amines using packed-bed reactor. Enzyme Microb Technol 29:232–239

Sullivan KH, Hegeman GD, Cordes EH (1979) Alteration of the fatty acid composition of Escherichia coli by growth in the presence of normal alcohol. J Bacteriol 138:133–138

Thompson JD, Higgins DG, Gibson TJ (1994) CLUSTAL W: improving the sensitivity of progressive multiple sequence alignment through sequence weighting, position-specific gap penalties and weight matrix choice. Nucleic Acids Res 22:4673–4680

Tsukagoshi N, Aono R (2000) Entry into and release of solvents by Escherichia coli in an organic-aqueous two-liquid-phase system and substrate specificity of the AcrAB-TolC solvent-extruding pump. J Bacteriol 182:4803–4810

Venturi V, Zennaro F, Degrassi G, Okeke BC, Bruschi CV (1998) Genetics of ferulic acid bioconversion to protocatechuic acid in plant-growth-promoting Pseudomonas putida WCS358. Microbiology 144:965–973

Verhoef S, Wierckx N, Westerhof RG, Winde JH, Ruijssenaars HJ (2009) Bioproduction of p-hydroxystyrene from glucose by the solvent-tolerant bacterium Pseudomonas putida S12 in a two-phase water-decanol fermentation. Appl Environ Microbiol 75:931–936

Zahir Z, Seed KD, Dennis JJ (2006) Isolation and characterization of novel organic solvent-tolerant bacteria. Extremophiles 10:129–138
Acknowledgments
This research was supported by World Class University program through the National Research Foundation of Korea grant funded by the Ministry of Education, Science and Technology (R322009000102130).
Electronic supplementary material
Below is the link to the electronic supplementary material.
About this article
Cite this article
Jung, DH., Choi, W., Choi, KY. et al. Bioconversion of p-coumaric acid to p-hydroxystyrene using phenolic acid decarboxylase from B. amyloliquefaciens in biphasic reaction system. Appl Microbiol Biotechnol 97, 1501–1511 (2013). https://doi.org/10.1007/s00253-012-4358-8
Received:

Revised:

Accepted:

Published:

Issue Date:
Keywords
Phenolic acid decarboxylase

Bioconversion

p-Coumaric acid
p-Hydroxystyrene

Biphasic reaction

1-Octanol