Abstract
Soybean products (soyfoods), reported as potential functional foods, are implicated in several health-enhancing properties, such as easing the symptoms of postmenopausal women, reducing the risk of osteoporosis, preventing cardiovascular disease, and antimutagenic effects. Isoflavone, for example, is one of the most important compounds abundantly found in soybean, mainly accounting for the health-enhancing properties as mentioned earlier. However, most biological activities of isoflavones are mainly attributed to their aglycone forms. It has also been demonstrated that isoflavone aglycones are absorbed faster and in greater amount than their glycosides in human intestines. Fortunately, deglycosylation of isoflavones can be achieved during fermentation process by several strains such as lactic acid bacteria, basidiomycetes, filamentous fungus, and Bacillus subtilis with their β-glucosidase activity. This article presents an overview of soybean's chemistry, application, state-of-the-art advances in soybean fermentation processing and products as well as their applications in food and pharmaceutical industries. Different compounds, such as isoflavone, dietary fibers, and proteins which exhibit significant bioactivities, are summarized. The roles of different microorganisms in bioconversion and enhancement of bioactivities of fermented soybean are also discussed.
Access options
Buy single article
Instant access to the full article PDF.
US$ 39.95
Tax calculation will be finalised during checkout.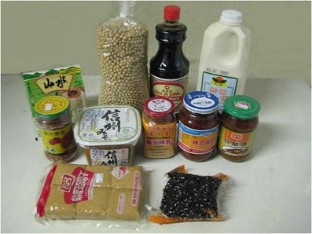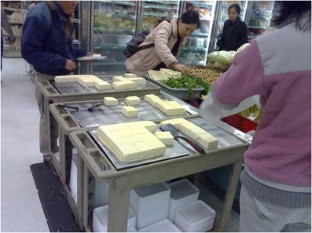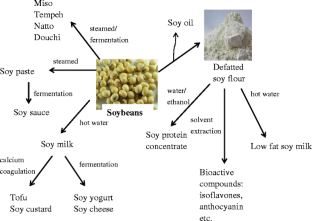 References
Acreage NASS (2010) National Agricultural Statistics Board annual report, June 30, 2010. Retrieved July 23 2010

Adlercreutz H, Fotsis T, Bannwart C, Wahala K, Makela T, Brunow G, Hase T (1986) Determination of urinary lignans and phytoestrogen metabolites, potential antiestrogens and anticarcinogens, in urine of women on various habitual diets. J Steroid Biochem Mol Biol 25(5B):791–797

Adlercreutz H, Honjo H, Higashi A, Fotsis T, Hamalainen E, Hasegawa T, Okada H (1991) Urinary excretion of lignans and isoflavonoid phytoestrogens in Japanese men and women consuming a traditional Japanese diet. Am J Clin Nutr 54(6):1093–1100

Adlercreutz H, Markkanen H, Watanabe S (1993) Plasma-concentrations of phyto-estrogens in Japanese men. Lancet 342(8881):1209–1210

Anderson JW, Baird P, Davis RJ, Ferreri S, Knudtson M, Koraym A, Waters V, Williams CL (2009) Health benefits of dietary fiber. Nutr Rev 67(4):188–205

Andres S, Abraham K, Appel KE, Lampen A (2011) Risks and benefits of dietary isoflavones for cancer. Crit Rev Toxicol 41(6):463–506

Arjmandi BH, Khalil DA, Smith BJ, Lucas EA, Juma S, Payton ME, Wild RA (2003) Soy protein has a greater effect on bone in postmenopausal women not on hormone replacement therapy, as evidenced by reducing bone resorption and urinary calcium excretion. J Clin Endocr Metab 88(3):1048–1054

Arora A, Nair MG, Strasburg GM (1998) Antioxidant activities of isoflavones and their biological metabolites in a liposomal system. Arch Biochem Biophys 356(2):133–141

Atkinson C, Compston JE, Day NE, Dowsett M, Bingham SA (2004) The effects of phytoestrogen isoflavones on bone density in women: a double-blind, randomized, placebo-controlled trial. Am J Clin Nutr 79(2):326–333

Badger TM, Gilchrist JM, Pivik RT, Andres A, Shankar K, Chen JR, Ronis MJ (2009) The health implications of soy infant formula. Am J Clin Nutr 89(5):1668S–1672S

Barnes S (2010) The biochemistry, chemistry and physiology of the isoflavones in soybeans and their food products. Lymphat Res Biol 8(1):89–98

Baum JA, Teng HY, Erdman JW, Weigel RM, Klein BP, Persky VW, Freels S, Surya P, Bakhit RM, Ramos E, Shay NF, Potter SM (1998) Long-term intake of soy protein improves blood lipid profiles and increases mononuclear cell low-density-lipoprotein receptor messenger RNA in hypercholesterolemic, postmenopausal women. Am J Clin Nutr 68(3):545–551

Bennett JO, Krishnan AH, Wiebold WJ, Krishnan HB (2003) Positional effect on protein and oil content and composition of soybeans. J Agric Food Chem 51(23):6882–6886

Bolanos R, Del Castillo A, Francia J (2010) Soy isoflavones versus placebo in the treatment of climacteric vasomotor symptoms: systematic review and meta-analysis. Menopause 17(3):660–666

Brachfeld A, Choate M (2007) Eat your food! Gastronomical glory from garden to gut: a Coastalfields cookbook, nutrition textbook, farming manual and sports manual. Coastalfields. Arvada, CO, USA, pp 275

Breslow N, Chan CW, Dhom G, Drury RAB, Franks LM, Gellei B, Lee YS, Lundberg S, Sparke B, Sternby NH, Tulinius H (1977) Latent carcinoma of prostate at autopsy in 7 areas. Int J Cancer 20(5):680–688

Brink E, Coxam V, Robins S, Wahala K, Cassidy A, Branca F, Invest P (2008) Long-term consumption of isoflavone-enriched foods does not affect bone mineral density, bone metabolism, or hormonal status in early postmenopausal women: a randomized, double-blind, placebo controlled study. Am J Clin Nutr 87(3):761–770

Bronner LL, Kanter DS, Manson JE (1995) Medical progress—primary prevention of stroke. N Engl J Med 333(21):1392–1400

Cappelletti V, Fioravanti L, Miodini P, Di Fronzo G (2000) Genistein blocks breast cancer cells in the G(2)M phase of the cell cycle. J Cell Biochem 79(4):594–600

Chen YM, Ho SC, Lam SSH, Ho SSS, Woo JLF (2003) Soy isoflavones have a favorable effect on bone loss in chinese postmenopausal women with lower bone mass: a double-blind, randomized, controlled trial. J Clin Endocr Metab 88(10):4740–4747

Chen YM, Ho SC, Lam SSH, Ho SSS, Woo JLF (2004) Beneficial effect of soy isoflavones on bone mineral content was modified by years since menopause, body weight, and calcium intake: a double-blind, randomized, controlled trial. Menopause 11(3):246–254

Chen JR, Lazarenko OP, Blackburn ML, Badeaux JV, Badger TM, Ronis MJ (2009) Infant formula promotes bone growth in neonatal piglets by enhancing osteoblastogenesis through bone morphogenic protein signaling. J Nutr 139(10):1839–1847

Chen YF, Lee SL, Chou CC (2011) Fermentation with Aspergillus awamori enhanced contents of amino nitrogen and total phenolics as well as the low-density lipoprotein oxidation inhibitory activity of black soybeans. J Agric Food Chem 59(8):3974–3979

Cheng KC, Lin JT, Wu JY, Liu WH (2010) Isoflavone conversion of black soybean by immobilized Rhizopus spp. Food Biotechnol 24(4):312–331

Cheng KC, Lin JT, Liu WH (2011) Extracts from fermented black soybean by immobilized Rhizopus oligosporous exhibit both antioxidative and cytotoxic activities. Food Technol Biotechnol 49(1):111–117

Chiechi LM (1999) Dietary phytoestrogens in the prevention of long-term postmenopausal diseases. Int J Gynecol Obstet 67(1):39–40

Chiou TY, Lin YH, Su NW, Lee MH (2010) Beta-glucosidase isolated from soybean okara shows specificity toward glucosyl isoflavones. J Agric Food Chem 58:8872–8878

Choung MG, Baek IY, Kang ST, Han WY, Shin DC, Moon HP, Kang KH (2001) Isolation and determination of anthocyanins in seed coats of black soybean. J Agric Food Chem 49(12):5848–5851

Constantinou AI, Mehta RG, Vaughan A (1996) Inhibition of n-methyl-n-nitrosourea-induced mammary tumors in rats by the soybean isoflavones. Anticancer Res 16(6A):3293–3298

Cordle CT (2004) Soy protein allergy: incidence and relative severity. J Nutr 134(5):1213S–1219S

Cotter A, Cashman KD (2003) Genistein appears to prevent early postmenopausal bone loss as effectively as hormone replacement therapy. Nutr Rev 61(10):346–351

Craig WJ (2009) Health effects of vegan diets. Am J Clin Nutr 89(5):1627 S–1633 S

Davis R (1941) Henry's plastic car: an interview with Mr. Lowell E. Overly. V8 Times, pp 46-51

Davis TA, Mungunsukh O, Zins S, Day RM, Landauer MR (2008) Genistein induces radioprotection by hematopoietic stem cell quiescence. Intl J Radiat Biol 84(9):713–726

Deckelbaum RJ, Torrejon C (2012) The omega-3 fatty acid nutritional landscape: health benefits and sources. J Nutr 142(3):587S–591S

Department of energy joint genome institute (DOE JGI) (2008). http://www.Jgi.Doe.Gov/csp/overview.Html

Dixit AK, Bhatnagar D, Kumar V, Chawla D, Fakhruddin K, Bhatnagar D (2012) Antioxidant potential and radioprotective effect of soy isoflavone against gamma irradiation induced oxidative stress. J Funct Foods 4(1):197–206

Dunn JE (1975) Cancer epidemiology in populations of United States—with emphasis on Hawaii and California—and Japan. Cancer Res 35(11):3240–3245

Dwyer JT, Goldin BR, Saul N, Gualtieric L, Barakatc S, Adlercreutz H (1994) Tofu and soy drinks contain phytoestrogens. J Am Diet Assoc 94(7):739–743

El-Shenawy NS, Abu Zaid A, Amin GA (2012) Preparation of different types of miso with mixture of starters and their effects on endogenous antioxidant of liver and kidney of mice. J Anim Physiol Anim Nutr 96(1):102–110

Elwakeel EA, Titgemeyer EC, Cheng ZJ, Nour AM, Nasser MEA (2012) In vitro assessment of the nutritive value of expanded soybean meal for dairy cattle. J Anim Sci Biotechol 3(10)

Erdman JW, Weingartner KE (1981) Nutrition aspects of fiber in soya products. J Am Oil Chem Soc 58(3):511–514

Federal Food, Drug, and Cosmetic Act (FD&C Act) (1938) http://www.Fda.Gov/regulatoryinformation/default.Htm

Fioravanti L, Cappelletti V, Miodini P, Ronchi E, Brivio M, Di Fronzo G (1998) Genistein in the control of breast cancer cell growth: insights into the mechanism of action in vitro. Cancer Lett 130(1–2):143–152

Food and Agriculture Organization (FAO) of the United Nations. FAO-STAT. (2010) http://faostat.fao.org/site/567/default.aspx

Goodman-Gruen D, Kritz-Silverstein D (2001) Usual dietary isoflavone intake is associated with cardiovascular disease risk factors in postmenopausal women. J Nutr 131(4):1202–1206

Grundy SM, Denke MA (1990) Dietary influences on serum-lipids and lipoproteins. J Lipid Res 31(7):1149–1172

Hammond EG, Johnson LA, Su C, Wang T, White PJ (2005) Soybean oil. Bailey's industrial oil and fat products, 6th edn. Wiley, Iowa, pp 577–652

Han BZ, Rombouts FM, Nout MJR (2001) A Chinese fermented soybean food. Int J Food Microbiol 65(1–2):1–10

Hassan HA, Abdel-Wahhab MA (2012) Effect of soybean oil on atherogenic metabolic risks associated with estrogen deficiency in ovariectomized rats: dietary soybean oil modulate atherogenic risks in overiectomized rats. J Physiol Biochem 68(2):247–253

Heenan CN, Adams MC, Hosken RW, Fleet GH (2004) Survival and sensory acceptability of probiotic microorganisms in a nonfermented frozen vegetarian dessert. LWT-Food Sci Technol 37(4):461–466

Henkel J (2000) Soy: health claims for soy protein, questions about other components. FDA Consumer Magazine 34(3)

Hu FB (2009) Diet and lifestyle influences on risk of coronary heart disease. Curr Atheroscler Rep 11(4):257–263

Hu FB, Willett WC (2002) Optimal diets for prevention of coronary heart disease. JAMA-J Am Med Assoc 288(20):2569–2578

Inoguchi S, Ohashi Y, Narai-Kanayama A, Aso K, Nakagaki T, Fujisawa T (2011) Effects of non-fermented and fermented soybean milk intake on faecal microbiota and faecal metabolites in humans. Int J Food Sci Nutr 1-9

Jackson RL, Greiwe JS, Schwen RJ (2011) Emerging evidence of the health benefits of S-equol, an estrogen receptor beta agonist. Nutr Rev 69(8):432–448

Jacobsen BK, Knutsen SF, Fraser GE (1998) Does high soy milk intake reduce prostate cancer incidence? The Adventist Health Study (United States). Canc Causes Contr 9(6):553–557

Jo HJ, Choi MJ (2008) Effects of isoflavone supplementation on the bone mineral density of growing female rats. Nutr Res Pract 2(2):68–73

Juan MY, Wu CH, Chou CC (2010) Fermentation with Bacillus spp. as a bioprocess to enhance anthocyanin content, the angiotensin converting enzyme inhibitory effect, and the reducing activity of black soybeans. Food Microbiol 27(7):918–923

Katsuzaki H, Hibasami H, Ohwaki S, Ishikawa K, Imai K, Date K, Kimura Y, Komiya T (2003) Cyanidin 3-o-beta-d-glucoside isolated from skin of black glycine max and other anthocyanins isolated from skin of red grape induce apoptosis in human lymphoid leukemia Molt 4B cells. Oncol Rep 10(2):297–300

Key TJ, Appleby PN, Rosell MS (2006) Health effects of vegetarian and vegan diets. Proc Nutr Soc 65(1):35–41

Khosla P, Samman S, Carroll KK (1991) Decreased receptor-mediated LDL catabolism in casein-fed rabbits precedes the increase in plasma-cholesterol levels. J Nutr Biochem 2(4):203–209

Kim S, Dale BE (2009) Regional variations in greenhouse gas emissions of biobased products in the United States—corn-based ethanol and soybean oil. Int J Life Cycle Ass 14(6):540–546

Kim HA, Jeong KS, Kim YK (2008) Soy extract is more potent than genistein on tumor growth inhibition. Anticancer Res 28(5A):2837–2841

Kinsell LW, Michaels GD, Cochrane GC, Partridge JW, Jahn JP, Balch HE (1954) Effect of vegetable fat on hypercholesterolemia and hyperphospholipidemia—observations on diabetic and nondiabetic subjects given diets high in vegetable fat and protein. Diabetes 3(2):113–119

Kuo LC, Cheng WY, Wu RY, Huang CJ, Lee KT (2006) Hydrolysis of black soybean isoflavone glycosides by Bacillus subtilis natto. Appl Microbiol Biotechnol 73:314–320

Landauer MR, Srinivasan V, Seed TM (2003) Genistein treatment protects mice from ionizing radiation injury. J Appl Toxicol 23(6):379–385

Liao CL, Huang HY, Sheen LY, Chou CC (2010) Anti-inflammatory activity of soymilk and fermented soymilk prepared with lactic acid bacterium and bifidobacterium. J Food Drug Anal 18(3):202–210

Linnaeus C (1737) Genera plantarum eorumque characteres naturales secundum numerum, figuram, situm, & proportionem omnium fructificationis partium. Wishoff, Leiden

Liu DM, Li L, Yang XQ, Liang SZ, Wang JS (2006) Survivability of Lactobacillus rhamnosus during the preparation of soy cheese. Food Technol Biotechnol 44(3):417–422

Liu B, Qin L, Liu A, Uchiyama S, Ueno T, Li X, Wang P (2010) Prevalence of the equol-producer phenotype and its relationship with dietary isoflavone and serum lipids in healthy Chinese adults. J Epidemiol 20(5):377–384

Ljungh A, Wadström T (2006) Lactic acid bacteria as probiotics. Curr Issues Intest Microbiol 7(2):73–89

Lydeking-Olsen E, Jensen JEB, Setchell KDR, Damhus M, Jensen TH (2002) Isoflavone-rich soymilk prevents bone loss in the lumbar spine of postmenopausal women: a two-year study. J Nutr 132(3):581s–581s

Magee PJ, Rowland IR (2004) Phyto-oestrogens, their mechanism of action: current evidence for a role in breast and prostate cancer. Br J Nutr 91(4):513–531

Marini H, Minutoli L, Polito F, Bitto A, Altavilla D, Atteritano M, Gaudio A, Mazzaferro S, Frisina A, Frisina N, Lubrano C, Bonaiuto M, D'Anna R, Cannata ML, Corrado F, Adamo EB, Wilson S, Squadrito F (2007) Effects of the phytoestrogen genistein on bone metabolism in osteopenic postmenopausal women—a randomized trial. Ann Intern Med 146(12):839–847

McCue P, Shetty K (2004) Health benefits of soy isoflavonoids and strategies for enhancement: a review. Crit Rev Food Sci Nutr 44(5):361–367

Meunier PJ, Delmas PD, Eastell R, McClung MR, Papapoulos S, Rizzoli R, Seeman E, Wasnich RD (1999) Diagnosis and management of osteoporosis in postmenopausal women: clinical guidelines. Clin Ther 21(6):1025–1044

Nagata C, Takatsuka N, Kawakami N, Shimizu H (2001) Soy product intake and hot flashes in Japanese women: results from a community-based prospective study. Am J Epidemiol 153(8):790–793

Ng TB, Ye XJ, Wong JH, Fang EF, Chan YS, Pan W, Ye XY, Sze SCW, Zhang KY, Liu F, Wang HX (2011) Glyceollin, a soybean phytoalexin with medicinal properties. Appl Microbiol Biotechnol 90(1):59–68

Nizamutdinova IT, Kim YM, Chung JII, Shin SC, Jeong YK, Seo HG, Lee JH, Chang KC, Kim HJ (2009) Anthocyanins from black soybean seed coats preferentially inhibit TNF-alpha-mediated induction of VCAM-1 over ICAM-1 through the regulation of GATAs and IRF-1. J Agric Food Chem 57(16):7324–7330

Nomura A, Henderson BE, Lee J (1978) Breast-cancer and diet among Japanese in Hawaii. Am J Clin Nutr 31(11):2020–2025

Nout MJR, Rombouts FM (1990) Recent developments in tempe research. J Appl Bacteriol 69(5):609–633

Onozawa M, Kawamori T, Baba M, Fukuda K, Toda T, Sato H, Ohtani M, Akaza H, Sugimura T, Wakabayashi K (1999) Effects of a soybean isoflavone mixture on carcinogenesis in prostate and seminal vesicles of F344 rats. Jpn J Cancer Res 90(4):393–398

Park KY, Kwon SH, Ahn IS, Kim SO, Kong CS, Chung HY, Do MS (2007) Weight reduction and lipid lowering effects of black soybean anthocyanins in rats fed high fat diet. FASEB J 21(6):A1080–A1080

Park SY, Wilkens LR, Franke AA, Le Marchand L, Kakazu KK, Goodman MT, Murphy SP, Henderson BE, Kolonel LN (2009) Urinary phytoestrogen excretion and prostate cancer risk: a nested case–control study in the multiethnic cohort. Br J Cancer 101(1):185–191

Partawihardja IS (1990) Effect of tempeh supplementation on growth rate of children aged 6 to 24 months with diarrhea. Dissertation, University of Indonesia

Patel RP, Boersma BJ, Crawford JH, Hogg N, Kirk M, Kalyanaraman B, Parks DA, Barnes S, Darley-Usmar V (2001) Antioxidant mechanisms of isoflavones in lipid systems: paradoxical effects of peroxyl radical scavenging. Free Radic Biol Med 31(12):1570–1581

Pham TT, Shah NP (2007) Biotransformation of isoflavone glycosides by Bifidobacterium animalis soymilk supplemented with skim milk powder. J Food Sci 72(8):M316–M324

Picherit C, Coxam V, Bennetau-Pelissero C, Kati-Coulibaly S, Davicco MJ, Lebecque P, Barlet JP (2000) Daidzein is more efficient than genistein in preventing ovariectomy-induced bone loss in rats. J Nutr 130(7):1675–1681

Pipe EA, Gobert CP, Capes SE, Darlington GA, Lampe JW, Duncan AM (2009) Soy protein reduces serum LDL cholesterol and the LDL cholesterol:HDL cholesterol and apolipoprotein B:Apolipoprotein A-I ratios in adults with type 2 diabetes. J Nutr 139(9):1700–1706

Potter SM, Bakhit RM, Essexsorlie DL, Weingartner KE, Chapman KM, Nelson RA, Prabhudesai M, Savage WD, Nelson AI, Winter LW, Erdman JW (1993) Depression of plasma-cholesterol in men by consumption of baked products containg soy protein. Am J Clin Nutr 58(4):501–506

Potter SM, Baum JA, Teng HY, Stillman RJ, Shay NF, Erdman JW (1998) Soy protein and isoflavones: their effects on blood lipids and bone density in postmenopausal women. Am J Clin Nutr 68(6):1375 S–1379 S

Protein Quality Evaluation: Report of the Joint FAO/Who Expert Consultation (1989) Bethesda, MD (USA): Food and Agriculture Organization of the United Nations. Food Nutr Pap 51:4–8

Rivas M, Garay RP, Escanero JF, Cia PJ, Cia P, Alda JO (2002) Soy milk lowers blood pressure in men and women with mild to moderate essential hypertension. J Nutr 132(7):1900–1902

RuizLarrea MB, Mohan AR, Paganga G, Miller NJ, Bolwell GP, RiceEvans CA (1997) Antioxidant activity of phytoestrogenic isoflavones. Free Radical Res 26(1):63–70

Sakamoto T, Horiguchi H, Oguma E, Kayama F (2010) Effects of diverse dietary phytoestrogens on cell growth, cell cycle and apoptosis in estrogen-receptor-positive breast cancer cells. J Nutr Biochem 21(9):856–864

Schingoethe DJ (1996) Balancing the amino acid needs of the dairy cow. Anim Feed Sci Tech 60(3–4):153–160

Setchell KDR, Faughnan MS, Avades T, Zimmer-Nechemias L, Brown NM, Wolfe BE, Brashear WT, Desai P, Oldfield MF, Botting NP, Cassidy A (2003) Comparing the pharmacokinetics of daidzein and genistein with the use of C-13-labeled tracers in premenopausal women. Am J Clin Nutr 77(2):411–419

Severson RK, Nomura AMY, Grove JS, Stemmermann GN (1989) A prospective study of demographics, diet, and prostate cancer among men of Japanese ancestry in Hawaii. Cancer Res 49(7):1857–1860

Shurtleff W, Aoyagi A (2012) History of natto and its relatives (1405–2012). Soyinfo Center, Lafayette

Siqueira PF, Karp SG, Carvalho JC, Sturm W, Rodríguez-León JA, Tholozan JL, Singhania RR, Pandey A, Soccol CR (2008) Production of bio-ethanol from soybean molasses by Saccharomyces cerevisiae at laboratory, pilot and industrial scales. Bioresource Technol 99(17):8156–8163

Siri-Tarino PW, Sun Q, Hu FB, Krauss RM (2010) Saturated fat, carbohydrate, and cardiovascular disease. Am J Clin Nutr 91(3):502–509

Sirtori CR, Even R, Lovati MR (1993) Soybean protein diet and plasma cholesterol: from therapy to molecular mechanisms. Ann NY Acad Sci 676:188–201

Slavin M, Kenworthy W, Yu LL (2009) Antioxidant properties, phytochemical composition, and antiproliferative activity of Maryland-grown soybeans with colored seed coats. J Agric Food Chem 57(23):11174–11185

Smith RL (1956) Recorded and expected mortality among the Japanese of the United States and Hawaii, with special reference to cancer. J Natl Cancer I 17(4):459–473

Su YC (1999) Traditional fermented food in taiwan: proceedings of the oriental fermented foods. Appl Microbiol 1:15

Su NW, Wang ML, Kwok KF, Lee MH (2005) Effects of temperature and sodium chloride concentration on the activities of proteases and amylases in soy sauce koji. J Agric Food Chem 53:1521–1525

Sustainability Fact Sheet, National Biodiesel Board (2008) http://biodiesel.Org/resources/sustainability/pdfs/sustainabilityfactsheet.Pdf

Takahashi R, Ohmori R, Kiyose C, Momiyama Y, Ohsuzu F, Kondo K (2005) Antioxidant activities of black and yellow soybeans against low density lipoprotein oxidation. J Agric Food Chem 53(11):4578–4582

Taku K, Umegaki K, Sato Y, Taki Y, Endoh K, Watanabe S (2007) Soy isoflavones lower serum total and LDL cholesterol in humans: a meta-analysis of 11 randomized controlled trials. Am J Clin Nutr 85(4):1148–1156

Tikkanen MJ, Wahala K, Ojala S, Vihma V, Adlercreutz H (1998) Effect of soybean phytoestrogen intake on low density lipoprotein oxidation resistance. Proc Natl Acad Sci U S A 95(6):3106–3110

Trindade CS, Terzi SC, Trugo LC, Della Modesta RC, Couri S (2001) Development and sensory evaluation of soy milk based yogurt. Arch Latinoam Nutr 51(1):100–104

Tsoyi K, Park HB, Kim YM, Chung JI, Shin SC, Shim HJ, Lee WS, Seo HG, Lee JH, Chang KC, Kim HJ (2008) Protective effect of anthocyanins from black soybean seed coats on UVB-induced apoptotic cell death in vitro and in vivo. J Agric Food Chem 56(22):10600–10605

Tsukamoto Y, Ichise H, Kakuda H, Yamaguchi M (2000) Intake of fermented soybean (natto) increases circulating vitamin K2 (menaquinone-7) and γ-carboxylated osteocalcin concentration in normal individuals. J Bone Miner Metab 18(4):216–222

USDA National Nutrient Database (2004) http://www.Nal.Usda.Gov/fnic/foodcomp/data/sr17/sr17.Html

USDA World Agricultural Supply and Demand Estimates (WASDE) Report (2012) http://www.usda.gov/oce/commodity/wasde/

Vandenplas Y, De Greef E, Devreker T, Hauser B (2011) Soy infant formula: is it that bad? Acta Paediatrica 100(2):162–166

Wangen KE, Duncan AM, Xu X, Kurzer MS (2001) Soy isoflavones improve plasma lipids in normocholesterolemic and mildly hypercholesterolemic postmenopausal women. Am J Clin Nutr 73(2):225–231

Weaver CM, Legette LL (2010) Equol, via dietary sources or intestinal production, may ameliorate estrogen deficiency-induced bone loss. J Nutr 140(7):1377S–1379S

Wei HC, Bowen R, Cai QY, Barnes S, Wang Y (1995) Antioxidant and antipromotional effects of the soybean isoflavone genistein. Proc Soc Exp Biol Med 208(1):124–130

Wei HC, Cai QY, Rahn RO (1996) Inhibition of UV light- and fenton reaction-induced oxidative DNA damage by the soybean isoflavone genistein. Carcinogenesis 17(1):73–77

Wong WW, Lewis RD, Steinberg FM, Murray MJ, Cramer MA, Amato P, Young RL, Barnes S, Ellis KJ, Shypailo RJ, Fraley JK, Konzelmann KL, Fischer JG, Smith EO (2009) Soy isoflavone supplementation and bone mineral density in menopausal women: a 2-y multicenter clinical trial. Am J Clin Nutr 90(5):1433–1439

Wu CH, Chou CC (2009) Enhancement of aglycone, vitamin k2 and superoxide dismutase activity of black soybean through fermentation with Bacillus subtilis BCRC 14715 at different temperatures. J Agric Food Chem 57:10695–10700

Wu AH, Ziegler RG, HornRoss PL, Nomura AMY, West DW, Kolonel LN, Rosenthal JF, Hoover RN, Pike MC (1996) Tofu and risk of breast cancer in Asian-Americans. Canc Epidemiol Biomarkers Prev 5(11):901–906

Xu BJ, Chang SKC (2008) Antioxidant capacity of seed coat, dehulled bean, and whole black soybeans in relation to their distributions of total phenolics, phenolic acids, anthocyanins, and isoflavones. J Agric Food Chem 56(18):8365–8373

Xu BJ, Chang SKC (2009) Total phenolic, phenolic acid, anthocyanin, flavan-3-ol, and flavonol profiles and antioxidant properties of pinto and black beans (Phaseolus vulgaris L.) as affected by thermal processing. J Agric Food Chem 57(11):4754–4764

Xu WH, Zheng W, Xiang YB, Ruan ZM, Cheng JR, Dai Q, Gao YT, Shu XO (2004) Soya food intake and risk of endometrial cancer among Chinese women in Shanghai: population based case–control study. Br Med J 328(7451):1285–1288

Yamabe S, Kobayashi-Hattori K, Kaneko K, Endo H, Takita T (2007) Effect of soybean varieties on the content and composition of isoflavone in rice-koji miso. Food Chem 100(1):369–374

Yamaguchi M, Kakuda H, Gao YH, Tsukamoto Y (2000) Prolonged intake of fermented soybean (natto) diets containing vitamin K2 (menaquinone-7) prevents bone loss in ovariectomized rats. J Bone Miner Metab 18(2):71–76

Yeh HY, Su NW, Lee MH (2005) Chemical compositions and physicochemical properties of the fiber-rich materials prepared from shoyu mash residue. J Agric Food Chem 53:4361–4366

Zhang RF, Zhang FX, Zhang MW, Wei ZC, Yang CY, Zhang Y, Tang XJ, Deng YY, Chi JW (2011) Phenolic composition and antioxidant activity in seed coats of 60 chinese black soybean (Glycine max L. Merr.) varieties. J Agric Food Chem 59(11):5935–5944

Zou Y, Chang SKC (2011) Effect of black soybean extract on the suppression of the proliferation of human ags gastric cancer cells via the induction of apoptosis. J Agric Food Chem 59(9):4597–4605

Zyriax BC, Windler E (2000) Dietary fat in the prevention of cardiovascular disease—a review. Eur J Lipid Sci Technol 102(5):355–365
Acknowledgments
This article was financially supported by the National Science Council, Taiwan, Republic of China (NSC 100-2313-B-002-057-MY2).
About this article
Cite this article
Chen, KI., Erh, MH., Su, NW. et al. Soyfoods and soybean products: from traditional use to modern applications. Appl Microbiol Biotechnol 96, 9–22 (2012). https://doi.org/10.1007/s00253-012-4330-7
Received:

Revised:

Accepted:

Published:

Issue Date:
Keywords
Soyfoods

Soybean

Fermentation

Bioactive compounds

Food processing