Abstract
A real-time quantitative PCR method was developed to detect and quantify phenlylurea hydrolase genes' (puhA and puhB) sequences from environmental DNA samples to assess diuron-degrading genetic potential in some soil and sediment microbial communities. In the soil communities, mineralization rates (determined with [ring-14C]-labeled diuron) were linked to diuron-degrading genetic potentials estimated from puhB number copies, which increased following repeated diuron treatments. In the sediment communities, mineralization potential did not depend solely on the quantity of puhB copies, underlining the need to assess gene expression. In the sediment samples, both puhB copy numbers and mineralization capacities were highly conditioned by whether or not diuron-treated soil was added. This points to transfers of degradative potential from soils to sediments. No puhA gene was detected in soil and sediment DNA extracts. Moreover, some sediments exhibited high diuron mineralization potential even though puhB genes were not detected, suggesting the existence of alternative diuron degradation pathways.
Access options
Buy single article
Instant access to the full article PDF.
US$ 39.95
Tax calculation will be finalised during checkout.
Subscribe to journal
Immediate online access to all issues from 2019. Subscription will auto renew annually.
US$ 119
Tax calculation will be finalised during checkout.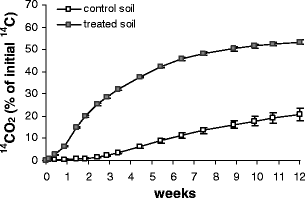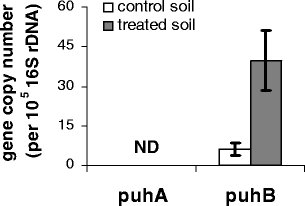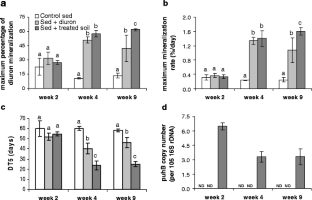 References
Bælum J, Henriksen T, Hansen HCB, Jacobsen CS (2006) Degradation of 4-chloro-2-methylphenoxyacetic acid in top- and subsoil is quantitatively linked to the class III tfdA gene. Appl Environ Microbiol 72:1476–1486

Bers K, Sniegowski K, De Mot R, Springael D (2012) Dynamics of the linuron hydrolase libA gene pool size in response to linuron application and environmental perturbations in agricultural soil and on-farm biopurification systems. Appl Environ Microbiol 78:2783–2789

Bombach P, Richnow HH, Kästner M, Fischer A (2010) Current approaches for the assessment of in situ biodegradation. Appl Microbiol Biotechnol 86:839–852

Dellamatrice PM, Monteiro RTR (2004) Isolation of diuron-degrading bacteria from treated soil. Braz Arch Biol Technol 47:999–1003

Devers M, Soulas G, Martin-Laurent F (2004) Real-time reverse transcription PCR analysis of expression of atrazine catabolism genes in two bacterial strains isolated from soil. J Microbiol Methods 56:3–15

Dominguez RF, da Silva MLB, McGuire TM, Adamson D, Newell CJ, Alvarez PJJ (2008) Aerobic bioremediation of chlorobenzene source-zone soil in flow-through columns: performance assessment using quantitative PCR. Biodegradation 19:545–553

El-Sebai T, Lagacherie B, Cooper JF, Soulas G, Martin-Laurent F (2005) Enhanced isoproturon mineralisation in a clay silt loam agricultural soil. Enhanced isoproturon mineralisation in a clay silt loam agricultural soil. Agron Sustain Dev 25:271–277

El Sebaï T, Devers M, Lagacherie B, Rouard N, Soulas G, Martin-Laurent F (2010) Diuron mineralisation in a Mediterranean vineyard soil: impact of moisture content and temperature. Pest Manag Sci 66:988–995

Henry S, Bru D, Stres B, Hallet S, Philippot L (2006) Quantitative detection of the nosZ gene, encoding nitrous oxide reductase, and comparison of the abundances of 16S rRNA, narG, nirK, and nosZ genes in soils. Appl Environ Microbiol 72:5181–5189

Hussain S (2010) Characterization of the isoproturon degrading community: from the field to the gene. Université de Bourgogne, France, p 174

ISO (1993) Soil quality–Sampling–Part 6: guidance on the collection, handling and storage of soil for the assessment of aerobic microbial processes in the laboratory. ISO, Geneva

Kazy SK, Monier AL, Alvarez PJJ (2010) Assessing the correlation between anaerobic toluene degradation activity and bssA concentrations in hydrocarbon-contaminated aquifer material. Biodegradation 21:793–800

Khurana JL, Jackson CJ, Scott C, Pandey G, Horne I, Russell RJ, Herlt A, Easton CJ, Oakeshott JG (2009) Characterization of the phenylurea hydrolase A and B: founding members of a novel aminohydrolase subgroup. Biochem J 418:431–441

Lopez-Gutierrez JC, Henry S, Hallet S, Martin-Laurent F, Catroux G, Philippot L (2004) Quantification of a novel group of nitrate-reducing bacteria in the environment by real-time PCR. J Microbiol Ecol 57:399–407

Martin-Laurent F, Cornet L, Ranjard L, López-Gutiérrez JC, Philippot L, Schwartz C, Chaussod R, Catroux G, Soulas G (2004) Estimation of atrazine-degrading genetic potential and activity in three French agricultural soils. FEMS Microbiol Ecol 48:425–435

Monard C, Martin-Laurent F, Vecchiato C, Francez AJ, Vandenkoornhuyse P, Binet F (2008) Combined effect of bioaugmentation and bioturbation on atrazine degradation in soil. Soil Biol Biochem 40:2253–2259

Monard C, Martin-Laurent F, Vecchiato C, Devers-Lamrani M, Lima O, Vandenkoornhuyse P, Binet F (2010) atz gene expressions during atrazine degradation in the soil drilosphere. Mol Ecol 19:749–759

Montuelle B, Dorigo U, Bérard A, Volat B, Bouchez A, Tlili A, Gouy V, Pesce S (2010) The periphyton as a multimetric bioindicator for assessing the impact of land use on rivers: an overview of the Ardières-Morcille experimental watershed (France). Hydrobiologia 657:123–141

Pesce S, Martin-Laurent F, Rouard N, Montuelle B (2009) Potential for microbial diuron mineralisation in a small wine-growing watershed: from treated plots to lotic receiver hydrosystem. Pest Manag Sci 65:651–657

Pesce S, Margoum C, Montuelle B (2010a) In situ relationships between spatio-temporal variations in diuron concentrations and phototrophic biofilm tolerance in a contaminated river. Water Res 44:1941–1949

Pesce S, Martin-Laurent F, Rouard N, Robin A, Montuelle B (2010b) Evidence for adaptation of riverine sediment microbial communities to diuron mineralisation: incidence of run-off and soil erosion. J Soil Sediments 10:698–707

Pesce S, Lissalde S, Lavieille D, Margoum C, Mazzella N, Roubeix V, Montuelle B (2010c) Evaluation of single and joint toxic effects of diuron and its main metabolites on natural phototrophic biofilms using a pollution-induced community tolerance (PICT) approach. Aquatic Toxicol 99:492–499

Piskonen R, Nyyssönen M, Itävaara M (2008) Evaluating the biodegradation of aromatic hydrocarbons by monitoring of several functional genes. Biodegradation 19:883–895

Rozen S, Skaletsky HJ (2000) Primer3 on the WWW for general users and for biologist programmers. In: Krawetz S, Misener S (eds) Bioinformatics methods and protocols: methods in molecular biology. Humana Press, Totowa, NJ, pp. 365–386 (Source code available at http://fokker.wi.mit.edu/primer3/)

Sadowsky MJ (2010) Diversity and evolution of micro-organisms and pathways for the degradation of environmental contaminants: a case study with the s-triazine herbicides. In: Batty LC, Hallberg KB (eds) Ecology of industrial pollution. Cambridge University Press, Cambridge, pp 205–225

Schuler LJ, Rand GM (2008) Aquatic risk assessment of herbicides in freshwater ecosystems of South Florida. Arch Environ Contam Toxicol 54:571–583

Schwarzenbach RP, Escher BI, Fenner K, Hofstetter TB, Johnson CA, von Gunten U, Wehrli B (2006) The challenge of micropollutants in aquatic systems. Science 313:1072–1077

Sharma P, Suri CR (2011) Biotransformation and biomonitoring of phenylurea herbicide diuron. Bioresour Technol 102:3119–3125

Smith CJ, Osborn AM (2009) Advantages and limitations of quantitative PCR (Q-PCR)-based approaches in microbial ecology. FEMS Microbiol Ecol 67:6–20

Sørensen SR, Bending GD, Jacobsen CS, Walker A, Aamand J (2003) Microbial degradation of isoproturon and related phenylurea herbicides in and below agricultural fields. FEMS Microbiol Ecol 45:1–11

Soulas G (1993) Evidence for the existence of different physiological groups in the microbial community responsible for 2, 4-D mineralization in soil. Soil Biol Biochem 25:443–449

Stork PR, Bennett FR, Bell M (2008) The environmental fate of diuron under a conventional production regime in a sugarcane farm during the plant cane phase. Pest Manag Sci 64:954–963

Thompson JD, Gibson TJ, Plewniak F, Jeanmougin F, Higgins DG (1997) The ClustalX windows interface: flexible strategies for multiple sequence alignment aided by quality analysis tools. Nucleic Acids Res 24:4876–4882

Turnbull GA, Ousley M, Walker A, Shaw E, Morgan JAW (2001) Degradation of substituted phenylurea herbicides by Arthrobacter globiformis strain D47 and characterization of a plasmid-associated hydrolase gene, puhA. Appl Environ Microbiol 67:2270–2275

Vieublé-Gonod L, Martin-Laurent F, Chenu C (2006) 2,4-D impact on bacterial communities, and the activity and genetic potential of 2,4-D degrading communities in soil. FEMS Microbiol Ecol 58:529–537
Acknowledgments
We thank ATT for editing the English-language version of the manuscript and David Bru for technical help in qPCR analysis. This project was supported by funding from the French National Office for the Aquatic Environment (ONEMA; convention no. C000114010), and the authors personally thank Nicolas Domange for insightful discussion.
Electronic supplementary material
Below is the link to the electronic supplementary material.
About this article
Cite this article
Pesce, S., Beguet, J., Rouard, N. et al. Response of a diuron-degrading community to diuron exposure assessed by real-time quantitative PCR monitoring of phenylurea hydrolase A and B encoding genes. Appl Microbiol Biotechnol 97, 1661–1668 (2013). https://doi.org/10.1007/s00253-012-4318-3
Received:

Revised:

Accepted:

Published:

Issue Date:
Keywords
Biodegradation

Microbial communities

Mineralization

Pesticides

Phenylurea hydrolases

qPCR