Abstract
The use of mushroom extracts has been common practice in traditional medicine for centuries, including the treatment of cancer. Proteins called hydrophobins are very abundant in mushrooms. Here, it was examined whether they have antitumor activity. Hydrophobin SC3 of Schizophyllum commune was injected daily intraperitoneally starting 1 day after tumor induction in two tumor mouse models (sarcoma and melanoma). SC3 reduced the size and weight of the melanoma significantly, but the sarcoma seemed not affected. However, microscopic analysis of the tumors 12 days after induction revealed a strong antitumor effect of SC3 on both tumors. The mitotic activity of the tumor decreased 1.6- (melanoma) to 2.3-fold (sarcoma), while the vital mass decreased 2.3- (melanoma) to 4.3-fold (sarcoma) compared to the control. Treatment did not cause any signs of toxicity. Behavior, animal growth, and weight of organs were similar to animals injected with vehicle, and no histological abnormalities were found in the organs. In vitro cell culture studies revealed no direct cytotoxic effect of SC3 towards sarcoma cells, while cytotoxic activity was observed towards melanoma cells at a high SC3 concentration. Daily treatment with SC3 did not result in detectable levels of anti-SC3 antibodies in the plasma. Instead, a cellular immune response was observed. Incubation of spleen cells with SC3 resulted in a 1.5- to 2.5-fold increase in interleukin-10 and TNF-α mRNA levels. In conclusion, the nontoxic fungal hydrophobin SC3 showed tumor-suppressive activity possibly via immunomodulation and may be of benefit as adjuvant in combination with chemotherapy and radiation.
Access options
Buy single article
Instant access to the full article PDF.
USD 39.95
Price includes VAT (USA)
Tax calculation will be finalised during checkout.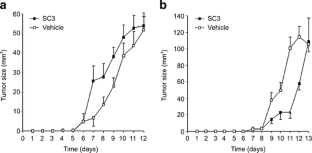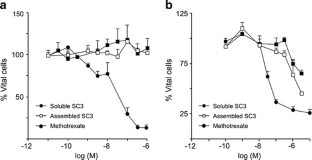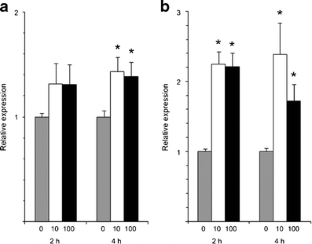 References
Chang R (2002) Bioactive polysaccharides from traditional Chinese medicine herbs as anticancer adjuvants. J Altern Complement Med 8:559–565

Chen H-S, Tsai Y-F, Lin S, Lin C-C, Khoo K-H, Lin C-H, Wong C-H (2004) Studies on the immuno-modulating and anti-tumor activities of Ganoderma lucidum (Reishi) polysaccharides. Bioorgan Med Chem 12:5595–5601

De Visser KE, Eichten A, Coussens LM (2006) Paradoxical roles of the immune system during cancer development. Nature Rev Cancer 6:24–37

De Vocht ML, Scholtmeijer K, van der Vegte EW, de Vries OMH, Sonveaux N, Wösten HAB, Ruysschaert JM, Hadziioannou G, Wessels JGH, Robillard GT (1998) Structural characterization of the hydrophobin SC3, as a monomer and after self-assembly at hydrophobic/hydrophilic interfaces. Biophys J 74:1–10

Fairbairn NJ (1953) A modified anthrone reagent. Chemistry and Industry 4:86

Hirazumi A, Furusawa E (1999) An immunomodulatory polysaccharide-rich substance from the fruit juice of Morinda citrifolia (Noni) with antitumor activity. Phytother Res 13:380–387

Janssen MI, van Leeuwen MBM, Scholtmeijer K, van Kooten TG, Dijkhuizen L, Wösten HAB (2002) Coating with genetic engineered hydrophobin promotes growth of fibroblasts on a hydrophobic solid. Biomaterials 23:4847–4854

Janssen MI, van Leeuwen MBM, van Kooten TG, de Vries J, Dijkhuizen L, Wösten HAB (2004) Promotion of fibroblast activity by coating with hydrophobins in the β-sheet end state. Biomaterials 25:2731–2739

Jin M, Jung HJ, Choi JJ, Jeon H, Oh JH, Kim B, Shin SS, Lee JK, Yoon K, Kim S (2003) Activation of selective transcription factors and cytokines by water-soluble extract from Lentinus lepideus. Exp Biol M 228:749–758

Kershaw MJ, Talbot NJ (1998) Hydrophobins and repellents: proteins with fundamental roles in fungal morphogenesis. Fungal Genet Biol 23:18–33

Linder MB, Szilvay GR, Nakari-Setälä T, Penttilä ME (2005) Hydrophobins: the protein-amphiphiles of filamentous fungi. FEMS Microbiol Rev 29:877–896

Liu F, Ooi VE, Liu WK, Chang ST (1996) Immunomodulation and antitumor activity of polysaccharide-protein complex from the culture filtrates of a local edible mushroom, Tricholoma lobayense. Gen Pharmacol 27:621–624

Lowry OH, Rosbrough NJ, Farr AL, Randall RJ (1951) Protein measurement with the Folin phenol reagent. J Biol Chem 193:265–275

Lugones LG, de Jong JF, de Vries OMH, Jalving R, Dijksterhuis J, Wösten HAB (2004) The SC15 protein of Schizophyllum commune mediates formation of aerial hyphae and attachment in the absence of the SC3 hydrophobin. Mol Microbiol 53:707–716

Lull C, Wichers HJ, Savelkoul HFJ (2005) Antiinflammatory and immunomodulating properties of fungal metabolites. Mediators Inflamm 9:3–80

Martin GG, Cannon GC, McCormick CL (2000) Sc3p hydrophobin organization in aqueous media and assembly onto surfaces as mediated by the associated polysaccharide schizophyllan. Biomacromolecules 1:49–60

Omarsdottir S, Freysdottir J, Olafsdottir ES (2007) Immunomodulating polysaccharides from the lichen Thamnolia vermicularis var. subuliformis. Phytomedicine 14:179–184

Scholtmeijer K, Janssen MI, Gerssen B, de Vocht ML, van Leeuwen MBM, van Kooten TG, Wösten HAB, Wessels JGH (2002) Surface modifications created by using engineered hydrophobins. Appl Environ Microbiol 68:1367–1373

Scholtmeijer K, de Vocht ML, Rink R, Robillard GT, Wösten HAB (2009) Assembly of the fungal SC3 hydrophobin into functional amyloid fibrils depends on its concentration and is promoted by cell wall polysaccharides. J Biol Chem 284:26309–26314

Scudiero DA, Shoemaker RH, Paull KD, Monks A, Tierney S, Nofziger TH, Currens MJ, Seniff D, Boyd MR (1988) Evaluation of a soluble tetrazolium/formazan assay for cell growth and drug sensitivity in culture using human and other tumor cell lines. Cancer Res 48:4827–4833

Thunnissen FBJM, Ambergen AW, Koss M, Travis WD, O'Leary TJ, Ellis IO (2001) Mitotic counting in surgical pathology: sampling bias, heterogeneity and statistical uncertainty. Histopathology 39:1–8

Van der Vegt W, van der Mei HC, Wösten HAB, Wessels JGH, Busscher HJ (1996) A comparison of the surface activity of the fungal hydrophobin SC3p with those of other proteins. Biophys Chem 57:253–260

Van Wetter MA, Wösten HAB, Sietsma JH, Wessels JGH (2000) Hydrophobin gene expression affects hyphal wall composition in Schizophyllum commune. Fungal Genet Biol 31:99–104

Wasser SP (2002) Medicinal mushrooms as a source of antitumor and immunomodulating polysaccharides. Appl Microbiol Biotechnol 60:258–274

Wasser SP (2011) Current findings, future trends, and unsolved problems in studies of medicinal mushrooms. Appl Microbiol Biotechnol 89:1323–1332

Wessels JGH (1994) Developmental regulation of fungal cell wall formation. Annu Rev Phytopathol 32:413–437

Wessels JGH (1997) Hydrophobins, proteins that change the nature of the fungal surface. Adv Microbial Physiol 38:1–45

Willment JA, Brown GD (2008) C-type lectin receptors in antifungal immunity. Trends Microbiol 16:27–32

Wösten HAB (2001) Hydrophobins: multipurpose proteins. Annu Rev Microbiol 55:625–646

Wösten HAB, de Vocht ML (2000) Hydrophobins, the fungal coat unravelled. Biochim Biophys Acta 1469:79–86

Wösten HAB, van Wetter MA, Lugones LG, van der Mei HC, Busscher HJ, Wessels JGH (1999) How a fungus escapes the water to grow into the air. Curr Biol 9:85–88

Zampieri F, Wösten HAB, Scholtmeijer K (2010) Creating surface properties using a palette of hydrophobins. Materials 3:4607–4625
Acknowledgments
We wish to acknowledge Dr. O.M.H de Vries. He was the first to hypothesize that besides the polysaccharide schizophyllan, the hydrophobin SC3 may possess antitumor activity.
About this article
Cite this article
Akanbi, M.H.J., Post, E., van Putten, S.M. et al. The antitumor activity of hydrophobin SC3, a fungal protein. Appl Microbiol Biotechnol 97, 4385–4392 (2013). https://doi.org/10.1007/s00253-012-4311-x
Received:

Revised:

Accepted:

Published:

Issue Date:
Keywords
SC3

Hydrophobin

Fungus

Tumor suppression

Immunomodulation

Cytokines