Abstract
Numerous studies have been published on the antimicrobial and antioxidant properties of various plant components. However, there is relatively little information on the impact of such components on the enhancement of probiotics and production of antimicrobial compounds from these probiotics. Hence, this paper focuses on the influence of plant-derived components against pathogens, enhancement of cell viability and functionality of probiotics, and potential applications of such components in food safety and human health.
Access options
Buy single article
Instant access to the full article PDF.
US$ 39.95
Tax calculation will be finalised during checkout.
Subscribe to journal
Immediate online access to all issues from 2019. Subscription will auto renew annually.
US$ 119
Tax calculation will be finalised during checkout.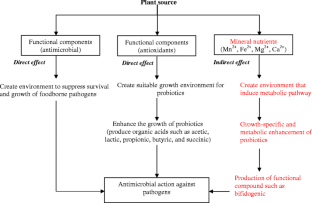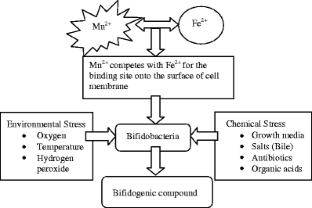 References
Agarry O, Olaleye M, Bello-Michael C (2005) Comparative antimicrobial activities of aloe vera gel and leaf. Afr J Biotechnol 4:1413–1414

Akahoshi R, Takahashi Y (1996) Yogurt containing bifidobacterium and process for producing the same. In: wo patent wo/1996/037,113

Aksu Z, Kutsal T (1986) Lactic acid production from molasses utilizing Lactobacillus delbrueckii and invertase together. Biotechnol Lett 8:157–160

Alakomi HL, Skytta E, Saarela M, Mattila-Sandholm T, Latva-Kala K, Helander I (2000) Lactic acid permeabilizes gram-negative bacteria by disrupting the outer membrane. Appl Environ Microbiol 66:2001–2005

Alberto MR, Farías ME, de Nadra MCM (2001) Effect of gallic acid and catechin on Lactobacillus hilgardii 5w growth and metabolism of organic compounds. J Agric Food Chem 49:4359–4363

Ali SM, Khan AA, Ahmed I, Musaddiq M, Ahmed KS, Polasa H, Rao LV, Habibullah CM, Sechi LA, Ahmed N (2005) Antimicrobial activities of eugenol and cinnamaldehyde against the human gastric pathogen Helicobacter pylori. Ann Clin Microbiol Antimicrob 4:20

Ankri S, Mirelman D (1999) Antimicrobial properties of allicin from garlic. Microbes Infect 1:125–129

Antonious GF, Berke T, Jarret RL (2009) Pungency in Capsicum chinense: variation among countries of origin. J Environ Sci Health (B) 44:179–184

Arques JL, Fernandez J, Gaya P, Nunez M, Medina M (2004) Antimicrobial activity of reuterin in combination with nisin against foodborne pathogens. Int J Food Microbiol 95:225–229

Arunkumar S, Muthuselvam M (2009) Analysis of phytochemical constituents and antimicrobial activities of Aloe vera L. against clinical pathogens. World J Agric Sci 5:572–576

Aureli P, Costantini A, Zolea S (1992) Antimicrobial activity of some plant essential oils against Listeria monocytogenes. J Food Protect 55:344–348

Avato P, Tursi F, Vitali C, Miccolis V, Candido V (2000) Allylsulfide constituents of garlic volatile oil as antimicrobial agents. Phytomedicine 7:239–243

Ávila M, Hidalgo M, Sánchez-Moreno C, Pelaez C, Requena T, Pascual-Teresa S (2009) Bioconversion of anthocyanin glycosides by Bifidobacteria and Lactobacillus. Food Res Int 42:1453–1461

Axelsson L, Chung T, Dobrogosz W, Lindgren S (1989) Production of a broad spectrum antimicrobial substance by Lactobacillus reuteri. Microb Ecol Health Dis 2:131–136

Bajpai V, Rahman A, Dung N, Huh M, Kang S (2008) In vitro inhibition of food spoilage and foodborne pathogenic bacteria by essential oil and leaf extracts of Magnolia liliflora desr. J Food Sci 73:M314–M320

Baņķn S, Díaz P, Rodríguez M, Garrido MD, Price A (2007) Ascorbate, green tea and grape seed extracts increase the shelf life of low sulphite beef patties. Meat Sci 77:626–633

Baskaran SA, Amalaradjou MAR, Hoagland T, Venkitanarayanan K (2010) Inactivation of Escherichia coli O157: H7 in apple juice and apple cider by trans-cinnamaldehyde. Int J Food Microbiol 141:126–129

Behrad S, Yusof M, Goh K, Baba A (2009) Manipulation of probiotics fermentation of yogurt by cinnamon and licorice: effects on yogurt formation and inhibition of Helicobacter pylori growth in vitro. World Acad Sci Eng Tech 60:590–594

Belguith H, Kthiri F, Ben Ammar A, Jaafoura H, Ben Hamida J, Landoulsi A (2009) Morphological and biochemical changes of Salmonella hadar exposed to aqueous garlic extract. Int J Morphol 27:705–713

Beuchat LR, Golden DA (1989) Antimicrobials occurring naturally in foods. Food Technol 43:134–142

Bezkorovainy A (2001) Probiotics: determinants of survival and growth in the gut. Am J Clin Nutr 73:399S

Bezkorovainy A, Kot E, Miller-Catchpole R, Haloftis G, Furmanov S (1996) Iron metabolism in bifidobacteria. Int Dairy J 6:905–919

Bialonska D, Kasimsetty SG, Schrader KK, Ferreira D (2009) The effect of pomegranate (Punica granatum L.) byproducts and ellagitannins on the growth of human gut bacteria. J Agric Food Chem 57:8344–8349

Bian L, Molan AL, Maddox I, Shu Q (2011) Antimicrobial activity of Lactobacillus reuteri DPC16 supernatants against selected food borne pathogens. World J Microbiol Biotechnol 1–8

Bisignano G, Tomaino A, Cascio RL, Crisafi G, Uccella N, Saija A (1999) On the in–vitro antimicrobial activity of oleuropein and hydroxytyrosol. J Pharm Pharmacol 51:971–974

Bomba A, Nemcová R, Mudroová D, Guba P (2002) The possibilities of potentiating the efficacy of probiotics. Trends Food Sci Technol 13:121–126

Bomba A, Jonecova Z, Koscova J, Nemcova R, Gancarikova S, Mudronova D, Scirankova L, Buleca V, Lazar G, Posivak J, Kastel R, Marekova M (2006) The improvement of probiotics efficacy by synergistically acting components of natural origin: a review. Biologia 61:729–734

Boyaval P (1989) Lactic acid bacteria and metal ions. Le Lait 69:87–113

Brul S, Coote P (1999) Preservative agents in foods: Mode of action and microbial resistance mechanisms. Int J Food Microbiol 50:1–17

Burt S (2004) Essential oils: their antibacterial properties and potential applications in foods—a review. Int J Food Microbiol 94:223–253

Burt SA, Reinders RD (2003) Antibacterial activity of selected plant essential oils against Escherichia coli O157: H7. Lett Appl Microbiol 36:162–167

Caccioni DRL, Guizzardi M, Biondi DM (1998) Relationship between volatile components of citrus fruit essential oils and antimicrobial action on Penicillium digitatum and Penicillium italicum. Int J Food Microbiol 43:73–79

Calomme M, Branden K, Berghe D (1995) Selenium and Lactobacillus species. J Appl Microbiol 79:331–340

Careaga M, Fernandez E, Dorantes L, Mota L, Jaramillo ME, Hernandez-Sanchez H (2003) Antibacterial activity of Capsicum extract against Salmonella Typhimurium and Pseudomonas aeruginosa inoculated in raw beef meat. Int J Food Microbiol 83:331–335

Chao SC, Young DG, Oberg CJ (2000) Screening for inhibitory activity of essential oils on selected bacteria, fungi and viruses. J Essent Oil Res 12:639–649

Collins E, Hall B (1984) Growth of bifidobacteria in milk and preparation of Bifidobacterium infantis for a dietary adjunct. J Dairy Sci 67:1376–1380

Cowan MM (1999) Plant products as antimicrobial agents. Clin Microbiol Rev 12:564–582

Cox S, Mann C, Markham J, Bell H, Gustafson J, Warmington J, Wyllie S (2000) The mode of antimicrobial action of the essential oil of Melaleuca alternifolia (tea tree oil). J Appl Microbiol 88:170–175

Davidson PM (2001) Chemical preservatives and naturally antimicrobial compounds. In: Doyle MP, Beuchat LR, Montville TJ (eds) Food microbiology: fundamentals and frontiers, 2nd edn. ASM, Washington, pp 593–628

Davidson P, Branden A (1981) Antimicrobial activity of non-halogenated phenolic compounds. J Food Protect 44:623–632

De Boever P, Deplancke B, Verstraete W (2000) Fermentation by gut microbiota cultured in a simulator of the human intestinal microbial ecosystem is improved by supplementing a soygerm powder. J Nutr 130:2599–2606

del Carmen S, de LeBlanc AM, Miyoshi A, Rocha CS, Azevedo V, LeBlanc JG (2011) Potential application of probiotics in the prevention and treatment of inflammatory bowel diseases. Ulcers. doi:10.1155/2011/841651

Delaquis P, Mazza G (1995) Antimicrobial properties of isothiocyanates in food preservation. Food Technol 49:73–84

Derrickson-Tharrington E, Kendall PA, Sofos JN (2005) Inactivation of Escherichia coli O157: H7 during storage or drying of apple slices pretreated with acidic solutions. Int J Food Microbiol 99:79–89

Dobrogosz WJ, Lindgren SE (1994) Method of determining the presence of an antibiotic produced by Lactobacillus reuteri. In: US Patent 5,352,586

Dogasaki C, Shindo T, Furuhata K, Fukuyama M (2002) Identification of chemical structure of antibacterial components against Legionella pneumophila in a coffee beverage. Yakugaku zasshi 122:487–494

Dorantes L, Colmenero R, Hernandez H, Mota L, Jaramillo ME, Fernandez E, Solano C (2000) Inhibition of growth of some foodborne pathogenic bacteria by Capsicum annuum extracts. Int J Food Microbiol 57:125–128

Dorman H, Deans S (2000) Antimicrobial agents from plants: antibacterial activity of plant volatile oils. J Appl Microbiol 88:308–316

Duda-Chodak A, Tarko T, Statek M (2008) The effect of antioxidants on Lactobacillus casei cultures. Acta Sci Pol Technol Aliment 7:39–51

Durairaj S, Sangeetha S, Lakshmanaperumalsamy P (2009) In vitro antibacterial activity and stability of garlic extract at different pH and temperature. e J Bio 5:5–10

Eklund T (1980) Inhibition of growth and uptake processes in bacteria by some chemical food preservatives. J Appl Microbiol 48:423–432

Elli M, Zink R, Rytz A, Reniero R, Morelli L (2000) Iron requirement of Lactobacillus spp. in completely chemically defined growth media. J Appl Microbiol 88:695–703

Farag R, Daw Z, Hewedi F, El-Baroty G (1989) Antimicrobial activity of some Egyptian spice essential oils. J Food Protect 52:665–667

Fattouch S, Caboni P, Coroneo V, Tuberoso CIG, Angioni A, Dessi S, Marzouki N, Cabras P (2007) Antimicrobial activity of Tunisian quince (Cydonia oblonga Miller) pulp and peel polyphenolic extracts. J Agric Food Chem 55:963–969

Fisher K, Phillips C (2008) Potential antimicrobial uses of essential oils in food: is citrus the answer? Trends Food Sci Technol 19:156–164

Fukushima Y, Iino H (2006) Probiotics in food safety and human health: current status of regulations on the use of probiotics in foods in Japan. In: Goktepe I, Juneja VK, Ahmedna M (eds) Probiotics in food safety and human health. CRC /Taylor & Francis Group, Boca Raton, pp 431–463

Fuller R (1989) Probiotics in man and animals. J Appl Bacteriol 66:365–378

Gadang V, Hettiarachchy N, Johnson M, Owens C (2008) Evaluation of antibacterial activity of whey protein isolate coating incorporated with nisin, grape seed extract, malic acid, and EDTA on a turkey Frankfurter system. J Food Sci 73:M389–M394

Gálvez A, Abriouel H, Benomar N, Lucas R (2010) Microbial antagonists to food-borne pathogens and biocontrol. Curr Opin Biotechnol 21:142–148

Ghisalberti E (1994) The ethnopharmacology and phytochemistry of Eremophila species (Myoporaceae). J Ethnopharmacol 44:1–9

Gill A, Holley R (2006) Disruption of Escherichia coli, Listeria monocytogenes and Lactobacillus sakei cellular membranes by plant oil aromatics. Int J Food Microbiol 108:1–9

Goto K, Kanaya S, Ishigami T, Hara Y (1999) Effects of tea polyphenols on fecal conditions, part 2. The effects of tea catechins on fecal conditions of elderly residents in a long-term care facility. J Nutr Sci Vitaminol 45:135–141

Grohs BM, Kunz B (2000) Use of spice mixtures for the stabilization of fresh portioned pork. Food Control 11:433–436

Gustafson J, Liew Y, Chew S, Markham J, Bell H, Wyllie S, Warmington J (1998) Effects of tea tree oil on Escherichia coli. Lett Appl Microbiol 26:194–198

Haddadin M (2010) Effect of olive leaf extracts on the growth and metabolism of two probiotic bacteria of intestinal origin. Pak J Nutr 9:787–793

Hagiwara H, Seki T, Ariga T (2004) The effect of pre-germinated brown rice intake on blood glucose and PAI-1 levels in streptozotocin-induced diabetic rats. Biosci Biotechnol Biochem 68:444–447

Halcón L, Milkus K (2004) Staphylococcus aureus and wounds: a review of tea tree oil as a promising antimicrobial. Am J Infect Control 32:402–408

Hashimoto T, Kumazawa S, Nanjo F, Hara Y, Nakayama T (1999) Interaction of tea catechins with lipid bilayers investigated with liposome systems. Biosci Biotechnol Biochem 63:2252–2255

Helander I, Mattila-Sandholm T (2000) Fluorometric assessment of gram–negative bacterial permeabilization. J Appl Microbiol 88:213–219

Helander IM, Alakomi HL, Latva-Kala K, Mattila-Sandholm T, Pol I, Smid EJ, Gorris LGM, Von Wright A (1998) Characterization of the action of selected essential oil components on Gram-negative bacteria. J Agric Food Chem 46:3590–3595

Hiramoto K, Ojima N, Sako KI, Kikugawa K (1996) Effect of plant phenolics on the formation of the spin-adduct of hydroxyl radical and the DNA strand breaking by hydroxyl radical. Biol Pharm Bull 19:558–563

Holley RA, Patel D (2005) Improvement in shelf-life and safety of perishable foods by plant essential oils and smoke antimicrobials. Food Microbiol 22:273–292

Hosein AM, Breidt F Jr, Smith CE (2011) Modeling the effects of sodium chloride, acetic acid, and intracellular pH on survival of Escherichia coli O157: H7. Appl Environ Microbiol 77:889–895

Ibrahim SA (2005) Composition and method for inhibition of harmful bacteria. In: US Patent 6,932,992

Ibrahim SA, Bezkorovainy A (1994) Growth–promoting factors for Bifidobacterium longum. J Food Sci 59:189–191

Ibrahim SA, Salameh MM (2001) Simple and rapid method for screening antimicrobial activities of Bifidobacterium species of human isolates. J Rapid Meth Autom Microbiol 9:53–62

Ibrahim SA, Dharmavavaram S, Seo C, Shahbazi G (2003) Antimicrobial activity of Bifidobacterium longum (NCFB 2259) as influenced by spices. Int J Food Saf 2:6–8

Ibrahim SA, Salameh M, Phetsomphou S, Yang H, Seo C (2006) Application of caffeine, 1, 3, 7-trimethylxanthine, to control Escherichia coli O157: H7. Food Chem 99:645–650

Ibrahim SA, Tse T, Yang H, Fraser A (2009) Antibacterial activity of a crude chive extract against Salmonella in culture medium, beef broth and chicken broth. Food Prot Trends 29:155–160

Ibrahim SA, Alazzeh AY, Awaisheh SS, Song D, Shahbazi A, AbuGhazaleh AA (2010) Enhancement of α- and β-galactosidase activity in Lactobacillus reuteri by different metal ions. Biol Trace Elem Res 136:106–116

Ikigai H, Nakae T, Hara Y, Shimamura T (1993) Bactericidal catechins damage the lipid bilayer. BBA Biomembranes 1147:132–136

Indu M, Hatha A, Abirosh C, Harsha U, Vivekanandan G (2006) Antimicrobial activity of some of the south-Indian spices against serotypes of Escherichia coli, Salmonella, Listeria monocytogenes and Aeromonas hydrophila. Braz J Microbiol 37:153–158

Jack R, Tagg B, Ray J (1995) Bacteriocins of gram-positive bacteria. Microbiol Rev 59:171–200

Jaquet M, Rochat I, Moulin J, Cavin C, Bibiloni R (2009) Impact of coffee consumption on the gut microbiota: a human volunteer study. Int J Food Microbiol 130:117–121

Jayakumar T, Thomas P, Sheu J, Geraldine P (2011) In-vitro and in-vivo antioxidant effects of the oyster mushroom Pleurotus ostreatus. Food Res Int 44:851–861

Jo C, Son JH, Son CB, Byun MW (2003) Functional properties of raw and cooked pork patties with added irradiated, freeze-dried green tea leaf extract powder during storage at 4°C. Meat Sci 64:13–17

Juglal S, Govinden R, Odhav B (2002) Spice oils for the control of co-occurring mycotoxin-producing fungi. J Food Protect 65:683–687

Juven B, Kanner J, Schved F, Weisslowicz H (1994) Factors that interact with the antibacterial action of thyme essential oil and its active constituents. J Appl Microbiol 76:626–631

Kabara J, Eklund T (1991) Organic acids and esters. In: Russell NJ, Gould GW (eds) Food preservatives, 1st edn. Blackie, Glasgow, pp 44–71

Kang DH, Fung DYC (2000) Stimulation of starter culture for further reduction of foodborne pathogens during salami fermentation. J Food Protect 63:1492–1495

Kelly D, Begbie R, King T (1994) Nutritional influences on interactions between bacteria and the small intestinal mucosa. Nutr Res Rev 7:233–258

Kiessling CR, Cutting JH, Loftis M, Kiessling WM, Datta AR, Sofos JN (2002) Antimicrobial resistance of food-related Salmonella isolates, 1999–2000. J Food Protect 65:603–608

Kim S, Fung D (2004) Antibacterial effect of crude water–soluble arrowroot (Puerariae radix) tea extracts on food–borne pathogens in liquid medium. Lett Appl Microbiol 39:319–325

Kim J, Marshall MR, Wei C (1995) Antibacterial activity of some essential oil components against five foodborne pathogens. J Agric Food Chem 43:2839–2845

Kim S, Ruengwilysup C, Fung D (2004) Antibacterial effect of water-soluble tea extracts on foodborne pathogens in laboratory medium and in a food model. J Food Protect 67:2608–2612

Kramer RP, Hindorf H, Jha HC, Kallage J, Zilliken F (1984) Antifungal activity of soybean and chickpea isoflavones and their reduced derivatives. Phytochemistry 23:2203–2205

Kristanti R, Punbusayakul N (2008) Antioxidant and antimicrobial activity of commercial green tea in Chiang Rai. Acta Horticulturae 53–58

Lafay S, Gil-Izquierdo A (2008) Bioavailability of phenolic acids. Phytochem Rev 7:301–311

Lambert P, Hammond S (1973) Potassium fluxes, first indications of membrane damage in microorganisms. Biochem Biophys Res Commun 54:796–799

Lambert R, Skandamis PN, Coote PJ, Nychas GJE (2001) A study of the minimum inhibitory concentration and mode of action of oregano essential oil, thymol and carvacrol. J Appl Microbiol 91:453–462

Lanciotti R, Gianotti A, Patrignani F, Belletti N, Guerzoni M, Gardini F (2004) Use of natural aroma compounds to improve shelf-life and safety of minimally processed fruits. Trends Food Sci Technol 15:201–208

Larrosa M, Yañéz-Gascón MJ, Selma MV, González-Sarrías A, Toti S, Cerón JJ, Tomás-Barberán F, Dolara P, Espín JC (2009) Effect of a low dose of dietary resveratrol on colon microbiota, inflammation and tissue damage in a DSS-induced colitis rat model. J Agric Food Chem 57:2211–2220

Lee SY, Jin HH (2008) Inhibitory activity of natural antimicrobial compounds alone or in combination with nisin against Enterobacter sakazakii. Lett Appl Microbiol 47:315–321

Lee HC, Jenner AM, Low CS, Lee YK (2006) Effect of tea phenolics and their aromatic fecal bacterial metabolites on intestinal microbiota. Res Microbiol 157:876–884

Lemos T, Matos F, Alencar J, Craveiro A, Clark A, McChesney J (1990) Antimicrobial activity of essential oils of Brazilian plants. Phytother Res 4:82–84

Leuschner RGK, Zamparini J (2002) Effects of spices on growth and survival of Escherichia coli O157 and Salmonella enterica serovar Enteritidis in broth model systems and mayonnaise. Food Control 13:399–404

Lin MY, Yen CL (1999) Antioxidative ability of lactic acid bacteria. J Agric Food Chem 47:1460–1466

Liu Y, Cheng G, Han T, Yang H, Ibrahim S, Huang W (2011) Microbial transformation of tectoridin from Pueraria flos by Lactobacillus and bifidobacteria. Food Chem 131:149–154

Lopez-Malo A, Alzamora SM, Palou E (2005) Naturally occurring compounds: plant sources. In: Davidson PM, Sofos JN, Branen AL (eds) Antimicrobials in food, 3rd edn. CRC, New York, pp 429–251

Lv F, Liang H, Yuan Q, Li C (2011) In vitro antimicrobial effects and mechanism of action of selected plant essential oil combinations against four food-related microorganisms. Food Res Int 44:3057–3064

Maillard JY (2002) Bacterial target sites for biocide action. J Appl Microbiol 92:16S–27S

Makras L, De Vuyst L (2006) The in vitro inhibition of Gram-negative pathogenic bacteria by bifidobacteria is caused by the production of organic acids. Int Dairy J 16:1049–1057

Mandalari G, Faulks RM, Bisignano C, Waldron KW, Narbad A, Wickham MSJ (2010) In vitro evaluation of the prebiotic properties of almond skins (Amygdalus communis L.). FEMS Microbiol Lett 304:116–122

Manderson K, Pinart M, Tuohy K, Grace W, Hotchkiss A, Widmer W, Yadhav M, Gibson G, Rastall R (2005) In vitro determination of prebiotic properties of oligosaccharides derived from an orange juice manufacturing by-product stream. Appl Environ Microbiol 71:8383–8389

Markin D, Duek L, Berdicevsky I (2003) In vitro antimicrobial activity of olive leaves. Mycoses 46:132–136

Mau JL, Chen CP, Hsieh PC (2001) Antimicrobial effect of extracts from Chinese chive, cinnamon, and corni fructus. J Agric Food Chem 49:183–188

McDonald I (1957) Effect of acetate, citrate, and divalent metal ions on utilization of sodium caseinate by lactic streptococci. Can J Microbiol 3:411–417

Michael M, Phebus RK, Schmidt KA (2010) Impact of a plant extract on the viability of Lactobacillus delbrueckii ssp. bulgaricus and Streptococcus thermophilus in nonfat yogurt. Int Dairy J 20:665–672

Miller-Catchpole R, Kot E, Haloftis G, Furmanov S, Bezkorovainy A (1997) Lactoferrin can supply iron for the growth of Bifidobacterium breve. Nutr Res 17:205–213

Moran JF, Klucas RV, Grayer RJ, Abian J, Becana M (1997) Complexes of iron with phenolic compounds from soybean nodules and other legume tissues: prooxidant and antioxidant properties. Free Radic Biol Med 22:861–870

Morrison Z, Ibrahim SA, Salameh A, Shahbazi A, Seo, CW (2001) Continuous production of antimicrobial compound(s) and organic acids by bifidobacteria cells entrapped. J Dairy Sci 84: Suppl 1. Abst 747.

Nakashima A (1997) Stimulatory effect of phytin and acid production by Lactobacillus casei. J Nutr Sci Vitamonol 43:419–424

Nanasombat S, Lohasupthawee P (2005) Antibacterial activity of crude ethanolic extracts and essential oils of spices against Salmonellae and other enterobacteria. KMITL Sci Tech J 5:527–538

Ndi CP, Semple SJ, Griesser HJ, Barton MD (2007) Antimicrobial activity of some Australian plant species from the genus Eremophila. J Basic Microbiol 47:158–164

Nkanga E, Uraih N (1981) Prevalence of Staphylococcus aureus in meat samples from traditional markets in Benin City, Nigeria and probable control by use condiments. J Food Protect 44:4–8

Nychas G (1995) Natural antimicrobials from plants. In: Gould GW (ed) New methods of food preservation. Black Academic & Professional, Glasgow, pp 58–89

Oh SH, Soh JR, Cha YS (2003) Germinated brown rice extract shows a nutraceutical effect in the recovery of chronic alcohol-related symptoms. J Med Food 6:115–121

Olano-Martin E, Gibson G, Rastall R (2002) Comparison of the in vitro bifidogenic properties of pectins and pectic–oligosaccharides. J Appl Microbiol 93:505–511

Olasupo N, Fitzgerald D, Gasson M, Narbad A (2003) Activity of natural antimicrobial compounds against Escherichia coli and Salmonella enterica serovar Typhimurium. Lett Appl Microbiol 37:448–451

Olasupo N, Fitzgerald D, Narbad A, Gasson M (2004) Inhibition of Bacillus subtilis and Listeria innocua by nisin in combination with some naturally occurring organic compounds. J Food Protect 67:596–600

Orrhage K, Lidbeck A, Nord C (1991) Effect of Bifidobacterium longum supplements on the human faecal microflora. Microb Ecol Health Dis 4:265–270

O'Sullivan DJ (2001) Screening of intestinal microflora for effective probiotic bacteria. J Agric Food Chem 49:1751–1760

Oussalah M, Caillet S, Lacroix M (2006) Mechanism of action of Spanish oregano, Chinese cinnamon, and savory essential oils against cell membranes and walls of Escherichia coli O157: H7 and Listeria monocytogenes. J Food Protect 69:1046–1055

Ouwehand AC, Tuomola EM, Tolkko S, Salminen S (2001) Assessment of adhesion properties of novel probiotic strains to human intestinal mucus. Int J Food Microbiol 64:119–126

Ouwehand AC, Salminen S, Isolauri E (2002) Probiotics: an overview of beneficial effects. Anton Van Lee 82:279–289

Özkan G, Sagdic O, Göktürk Baydar N, Kurumahmutoglu Z (2004) Antibacterial activities and total phenolic contents of grape pomace extracts. J Sci Food Agric 84:1807–1811

Pandit V, Shelef L (1994) Sensitivity of Listeria monocytogenes to rosemary (Rosmarinus officinalis L.). Food Microbiol 11:57–63

Panesar PS, Shinde C (2012) Effect of storage on syneresis, pH, Lactobacillus acidophilus count. Bifidobacterium bifidum count of aloe vera fortified probiotic yoghurt. Curr Res Dairy Sci. doi:10.3923/crds.2011

Parkar SG, Stevenson DE, Skinner MA (2008) The potential influence of fruit polyphenols on colonic microflora and human gut health. Int J Food Microbiol 124:295–298

Parvez S, Malik K, Ah Kang S, Kim HY (2006) Probiotics and their fermented food products are beneficial for health. J Appl Microbiol 100:1171–1185

Pauli A, Knobloch K (1987) Inhibitory effects of essential oil components on growth of food-contaminating fungi. Z Lebensm Unters Forsch 185:10–13

Percival M (1997) Choosing a probiotic supplement. Clin Nutr Insights 6:1–4

Perumalla A, Hettiarachchy N (2011) Green tea and grape seed extracts—potential applications in food safety and quality. Food Res Int 44:827–839

Playne M (1994) Probiotic foods. Food Aust 46:362–366

Plummer SF, Garaiova I, Sarvotham T, Cottrell S, Le Scouiller S, Weaver MA, Tang J, Dee P, Hunter J (2005) Effects of probiotics on the composition of the intestinal microbiota following antibiotic therapy. Int J Antimicrob Agents 26:69–74

Poch M, Bezkorovainy A (1988) Growth-enhancing supplements for various species of the genus Bifidobacterium. J Dairy Sci 71:3214–3221

Pratt D, Powers JJ, Somaatmadja D (1960) Anthocyanins. I. The influence of strawberry and grape anthocyanins on the growth of certain bacteria. J Food Sci 25:26–32

Proestos C, Boziaris IS, Kapsokefalou M, Komaitis M (2008) Natural antioxidant constituents from selected aromatic plants and their antimicrobial activity against selected pathogenic microorganisms. Food Tech Biotechnol 46:151–156

Puupponen-Pimiä R, Nohynek L, Meier C, Kähkönen M, Heinonen M, Hopia A, Oksman-Caldentey KM (2001) Antimicrobial properties of phenolic compounds from berries. J Appl Microbiol 90:494–507

Puupponen-Pimiä R, Nohynek L, Hartmann-Schmidlin S, Kähkönen M, Heinonen M, Määttä-Riihinen K, Oksman-Caldentey KM (2005) Berry phenolics selectively inhibit the growth of intestinal pathogens. J Appl Microbiol 98:991–1000

Raccach M (1984) The antimicrobial activity of phenolic antioxidants in foods: a review. J Food Saf 6:141–170

Rasch M, Metris A, Baranyi J, Bjorn Budde B (2007) The effect of reuterin on the lag time of single cells of Listeria innocua grown on a solid agar surface at different pH and NaCl concentrations. Int J Food Microbiol 113:35–40

Rasooli I, Rezaei MB, Allameh A (2006) Ultrastructural studies on antimicrobial efficacy of thyme essential oils on Listeria monocytogenes. Int J Infect Dis 10:236–241

Raybaudi-Massilia RM, Mosqueda-Melgar J, Martin-Belloso O (2006) Antimicrobial activity of essential oils on Salmonella Enteritidis, Escherichia coli, and Listeria innocua in fruit juices. J Food Protect 69:1579–1586

Reinders RD, Biesterveld S, Bijker PGH (2001) Survival of Escherichia coli O157: H7 ATCC 43895 in a model apple juice medium with different concentrations of proline and caffeic acid. Appl Environ Microbiol 67:2863–2866

Rico-Munoz E, Bargiota E, Davidson P (1987) Effect of selected phenolic compounds on the membrane-bound adenosine triphosphatase of Staphylococcus aureus. Food Microbiol 4:239–249

Roberfroid MB (2000) Prebiotics and probiotics: are they functional foods? Am J Clin Nutr 71:1682S

Rogosa M, Mitchell JA (1950) The indispensability of magnesium for Lactobacillus helveticus and its unavailability in a magnesium-azide complex. Bacteriol Proc 130

Rosenthal I, Rosen B, Bernstein S (1997) Phenols in milk. Evaluation of ferulic acid and other phenols as antifungal agents. Milchwissenschaft 52:134–138

Rosenthal I, Bernstein S, Nakimbugwe D (1999) Effects of tea solids on milk. Mil chwissenschaft 54:149–152

Salem MME, Ibrahim SA, Kim C, Seo CW, Shahbazi A, AbuGhazaleh A (2009) Lactic acid production from apple skin waste by immobilized cells of Lactobacillus reuteri. In: Uzoechokwu GA et al (eds) Proceedings of the 2007 National Conference on Environmental Science and Technology. Springer, New York, pp 31–37

Sedighi R, Tajkarimi M, Ibrahim SA (2011) Comparison between E. coli O157:H7 and Bifibobacterium spp. activity in almond pudding infant supplemental food. Food Nutr Sci 2:909–915

Servin AL (2004) Antagonistic activities of lactobacilli and bifidobacteria against microbial pathogens. FEMS Microbiol Rev 28:405–440

Servin AL, Coconnier MH (2003) Adhesion of probiotic strains to the intestinal mucosa and interaction with pathogens. Best Pract Res Clin Gastroenterol 17:741–754

Shan B, Cai YZ, Brooks JD, Corke H (2007) The in vitro antibacterial activity of dietary spice and medicinal herb extracts. Int J Food Microbiol 117:112–119

Shelef L (1984) Antimicrobial effects of spices. J Food Saf 6:29–44

Shimamura T, Zhao WH, Hu ZQ (2007) Mechanism of action and potential for use of tea catechin as an antiinfective agent. Anti-Infect Agents Med Chem (Formerly Curr Med Chem Anti-Infect Agents) 6:57–62

Skandamis P, Tsigarida E, Nychas G (2002) The effect of oregano essential oil on survival/death of Salmonella Typhimurium in meat stored at 5°C under aerobic, VP/MAP conditions. Food Microbiol 19:97–103

Sklenickova O, Flesar J, Kokoska L, Vlkova E, Halamova K, Malik J (2010) Selective growth inhibitory effect of biochanin A against intestinal tract colonizing bacteria. Molecules 15:1270–1279

Smith AH, Zoetendal E, Mackie RI (2005) Bacterial mechanisms to overcome inhibitory effects of dietary tannins. Microb Ecol 50:197–205

Smith-Palmer A, Stewart J, Fyfe L (2001) The potential application of plant essential oils as natural food preservatives in soft cheese. Food Microbiol 18:463–470

Sofos J, Beuchat L, Davidson P, Johnson E (1998) Naturally occurring antimicrobials in food: task force report no. 132. Council for Agricultural Science and Technology, Ames, Iowa, 103.

Spiller F, Alves MK, Vieira SM, Carvalho TA, Leite CE, Lunardelli A, Poloni JA, Cunha FQ, Oliveira JR (2008) Anti–inflammatory effects of red pepper (Capsicum baccatum) on carrageenan– and antigen–induced inflammation. J Pharm Pharmacol 60:473–478

Spyropoulos BG, Misiakos EP, Fotiadis C, Christos NS (2011) Antioxidant properties of probiotics and their protective effects in the pathogenesis of radiation-induced enteritis and colitis. Dig Dis Sci 56:285–294

Srinivasan D, Nathan S, Suresh T, Lakshmana Perumalsamy P (2001) Antimicrobial activity of certain Indian medicinal plants used in folkloric medicine. J Ethnopharmacol 74:217–220

Stamer J, Albury MN, Pederson C (1964) Substitution of manganese for tomato juice in the cultivation of lactic acid bacteria. Appl Microbiol 12:165–168

Sutherland J, Miles M, Hedderley D, Li J, Devoy S, Sutton K, Lauren D (2009) In vitro effects of food extracts on selected probiotic and pathogenic bacteria. Int J Food Sci Nutr 60:717–727

Tabasco R, Sánchez-Patán F, Monagas M, Bartolomé B, Moreno-Arribas M, Peláez C, Requena T (2011) Effect of grape polyphenols on lactic acid bacteria and bifidobacteria growth: resistance and metabolism. Food Microbiol 28:1345–1352

Tajkarimi M, Ibrahim SA, Cliver D (2010) Antimicrobial herb and spice compounds in food. Food Control 21:1199–1218

Talarico T, Casas I, Chung TC, Dobrogosz W (1988) Production and isolation of reuterin, a growth inhibitor produced by Lactobacillus reuteri. Antimicrob Agents Chemother 32:1854–1858

Talarico TL, Axelsson LT, Novotny J, Fiuzat M, Dobrogosz WJ (1990) Utilization of glycerol as a hydrogen acceptor by Lactobacillus reuteri: purification of 1, 3-propanediol: NAD+ oxidoreductase. Appl Environ Microbiol 56:943–948

Tang S, Kerry JP, Sheehan D, Buckley DJ, Morrissey PA (2001) Antioxidative effect of added tea catechins on susceptibility of cooked red meat, poultry and fish patties to lipid oxidation. Food Res Int 34:651–657

Tassou C, Koutsoumanis K, Nychas GJE (2000) Inhibition of Salmonella enteritidis and Staphylococcus aureus in nutrient broth by mint essential oil. Food Res Int 33:273–280

Tewari H, Sethi R, Sood A, Singh L (1985) Lactic acid production from paneer whey by Lactobacillus bulgaricus. J Res Punjab Agric Univ 22:89–98

Thomas T, Batt R (1968) Survival of Streptococcus lactis in starvation conditions. J Gen Microbiol 50:367–382

Tian S, Nakamura K, Kayahara H (2004) Analysis of phenolic compounds in white rice, brown rice, and germinated brown rice. J Agric Food Chem 52:4808–4813

Tiwari K, Mishra N, Pandey A (1980) Influence of EDTA and its metal complexes on lactic acid fermentation. Zbl Bakt 135:223–225

Trachoo N, Boudreaux C, Moongngarm A, Samappito S, Gaensakoo R (2006) Effect of geminated rough rice media on growth of selected probiotic bacteria. Pak J Biol Sci 9:2657–2661

Turgis M, Borsa J, Millette M, Salmieri S, Lacroix M (2008) Effect of selected plant essential oils or their constituents and modified atmosphere packaging on the radiosensitivity of Escherichia coli O157: H7 and Salmonella Typhi in ground beef. J Food Protect 71:516–521

Turgis M, JaeJoon H, Caillet S, Lacroix M (2009) Antimicrobial activity of mustard essential oil against Escherichia coli O157: H7 and Salmonella Typhi. Food Control 20:1073–1079

Ultee A, Kets E, Smid E (1999) Mechanisms of action of carvacrol on the food-borne pathogen Bacillus cereus. Appl Environ Microbiol 65:46064610

Vandenbergh PA (1993) Lactic acid bacteria, their metabolic products and interference with microbial growth. FEMS Microbiol Rev 12:221–237

Wahba M, Ahmed AS, Ebraheim ZZ (2010) Antimicrobial effects of pepper, parsley, and dill and their roles in the microbiological quality enhancement of traditional Egyptian kareish cheese. Foodborne Pathog Dis 7:411–418

Walsh SE, Maillard JY, Russell A, Catrenich C, Charbonneau D, Bartolo R (2003) Activity and mechanisms of action of selected biocidal agents on Gram–positive and–negative bacteria. J Appl Microbiol 94:240–247

Wang WB, Lai HC, Hsueh PR, Robin YYC, Lin SB, Liaw SJ (2006) Inhibition of swarming and virulence factor expression in Proteus mirabilis by resveratrol. J Med Microbiol 55:1313–1321

Weinberg ED (1997) The Lactobacillus anomaly: total iron abstinence. Perspect Biol Med 40:578–583

Weisburger JH (1999) Tea and health: the underlying mechanisms. Exp Biol Med 220:271–275

Weisburger JH (2000) Eat to live, not live to eat. Nutrition 16:767–773

Wendakoon CN, Sakaguchi M (1995) Inhibition of amino acid decarboxylase activity of Enterobacter aerogenes by active components in spices. J Food Protect 58:280–283

Wijeratne SSK, Cuppett SL, Schlegel V (2005) Hydrogen peroxide induced oxidative stress damage and antioxidant enzyme response in Caco-2 human colon cells. J Agric Food Chem 53:8768–8774

Wishon LM, Song D, Ibrahim S (2010) Effect of metals on growth and functionality of Lactobacillus and Bifidobacteria. Milchwissenschaft 65:369–372

Yadav S, Gite S, Nilegaonkar S, Agte V (2011) Effect of supplementation of micronutrients and phytochemicals to fructooligosaccharides on growth response of probiotics and E. coli. BioFactors, vol 37. Oxford, England, p 58

Zaika L, Kissinger J (1979) Effects of some spices on acid production by starter cultures. J Food Protect 42:572–576

Zaika LL, Kissinger JC (1984) Fermentation enhancement by spices: identification of active component. J Food Sci 49:5–9
Acknowledgments
This work was supported by USDA National Institute of Food and Agriculture, Hatch project number NC.X-234-5-09-170-1 in the Agricultural Research Program at North Carolina Agricultural and Technical State University.
About this article
Cite this article
Gyawali, R., Ibrahim, S.A. Impact of plant derivatives on the growth of foodborne pathogens and the functionality of probiotics. Appl Microbiol Biotechnol 95, 29–45 (2012). https://doi.org/10.1007/s00253-012-4117-x
Received:

Revised:

Accepted:

Published:

Issue Date:
Keywords
Plant components

Probiotics

Viability

Pathogens