Abstract
Although enrichment culture is typically employed to isolate cellulolytic microbes, this approach tends to favor fast-growing species and discriminates against all others. Therefore, efforts to prevent the overgrowth of fast-growing species are necessary to isolate novel cellulase-producing strains. In this study, we developed a simple culture method for isolating hitherto-uncultured microbes that possess cellulase activity, particularly exocellulase. In this method, the microbial source (a forest soil) was suspended in sterilized water and inoculated onto a mineral salts agar medium, which was then overlaid with filter paper to sandwich the microbial suspension between the agar surface and paper. The filter paper fibers served to immobilize the microbial cells and were the dominant carbon source. Following cultivation at 30°C for 2 weeks, emerging colonies were isolated based on their morphology and were then subjected to phylogenetic and enzyme analyses. Using this method, 2,150 CFUs/g dry soil were obtained, and the ratio of fungal to bacterial isolates was approximately 4:1. Phylogenetic analyses revealed that most fungal and bacterial isolates belong to ten and two genera, respectively. Notably, all isolates possessed exocellulase activity, and several strains showed strong activity that was comparable to Trichoderma cellulase. Many isolates also exhibited cellulase and xylanase activity, and several strains possessed laccase activity. It is expected that the culture method described here will be useful for the isolation of hitherto-uncultured cellulolytic microbes and the identification of novel cellulases.
Access options
Buy single article
Instant access to the full article PDF.
US$ 39.95
Tax calculation will be finalised during checkout.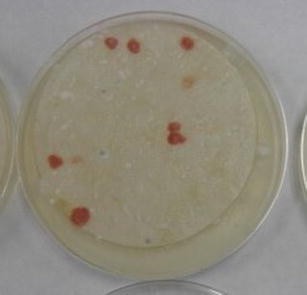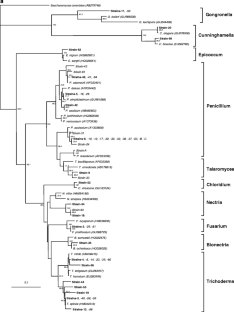 References
Altschul SF, Gish W, Miller W, Myers EW, Lipman DJ (1990) Basic logical alignment search tool. J Mol Biol 215:403–410

Amann RI, Ludwig W, Schleifer KH (1995) Phylogenetic identification and in situ detection of individual microbial cells without cultivation. Microbiol Rev 59(1):143–169

Bhat MK, Bhat S (1997) Cellulose degrading enzymes and their potential industrial applications. Biotechnol Adv 15(3–4):583–620

Bradford MM (1976) A rapid and sensitive method for the quantification of microgram quantities of protein utilizing the principle of protein-dye binding. Biochemistry 72:248–254

Bremner JM, Mulvaney CS (1982) Nitrogen total. In: Page AL (ed) Methods of soil analysis, Pt 2. Chemical and microbiological properties. American Society of Agronomy, Madison, pp 595–624

Buée M, Reich M, Murat C, Morin E, Nilsson RH, Uroz S, Martin F (2009) 454 pyrosequencing analyses of forest soils reveal an unexpectedly high fungal diversity. New Phytol 184:449–456

Da Rocha UN, Van Overbeek L, Van Elsas JD (2009) Exploration of hitherto-uncultured bacteria from the rhizosphere. FEMS Microbiol Ecol 69(3):313–328

Davis KER, Joseph SJ, Janssen PH (2005) Effects of growth medium, inoculum size, and incubation time on culturability and isolation of soil bacteria. Appl Environ Microbiol 71(2):826–834

Esterbauer H, Steiner W, Labudova I, Hermann A, Hayn M (1991) Production of Trichoderma cellulase in laboratory and pilot scale. Bioresour Technol 36(1):51–65

Felsenstein J (1985) Confidence limits on phylogenies: an approach using the bootstrap. Evolution 39(4):783–791

Feng Y, Duan CJ, Pang H, Mo XC, Wu CF, Yu Y, Hu YL, Wei J, Tang JL, Feng JX (2007) Cloning and identification of novel cellulase genes from uncultured microorganisms in rabbit cecum and characterization of the expressed cellulases. Appl Microbiol Biotechnol 75(2):319–328

Ferrari BC, Gillings MR (2009) Cultivation of fastidious bacteria by viability staining and micromanipulation in a soil substrate membrane system. Appl Environ Microbiol 75(10):3352–3354

Ferrari BC, Binnerup SJ, Gillings M (2005) Microcolony cultivation on a soil substrate membrane system selects for previously uncultured soil bacteria. Appl Environ Microbiol 71(12):8714–8720

Ferrari BC, Winsley T, Gillings M, Binnerup S (2008) Cultivating previously uncultured soil bacteria using a soil substrate membrane system. Nature Prot 3(8):1261–1269

Ferrer M, Golyshina OV, Chemikova TN, Khachane AN, Reyes-Duarte D, Santos VAP, Strompl C, Elborough K, Jarvis G, Neef A, Yakimov MM, Timmis KN, Golyshin PN (2005) Novel hydrolase diversity retrieved from a metagenomic library of bovine rumen microflora. Environ Microbiol 7(12):1996–2010

Folan MA, Coughlan MP (1978) The cellulase complex in the culture filtrate of the thermophyllic fungus, Talaromyces emersonii. Int J Biochem 9(10):717–722

Fujii K, Takeshi K (2007) Penicillium strains as dominant degraders in soil for coffee residue, a biological waste unsuitable for fertilization. J Appl Microbiol 103(6):2713–2720

Ghose TK (1987) Measurement of cellulase activities. Pure Appl Chem 59(2):257–268

Gopinath SCB, Anbu P, Hilda A (2005) Extracellular enzymatic activity profiles in fungi isolated from oil-rich environments. Mycoscience 46:119–126

Healy FG, Ray RM, Aldrich HC, Wilkie AC, Ingram LO, Shanmugam KT (1995) Direct isolation of functional genes encoding cellulases from the microbial consortia in a thermophilic, anaerobic digester maintained on lignocellulose. Appl Microbiol Biotechnol 43(4):667–674

Janssen PH, Yates PS, Grinton BE, Taylor PM, Sait M (2002) Improved culturability of soil bacteria and isolation in pure culture of novel members of the divisions Acidobacteria, Actinobacteria, Proteobacteria, and Verrucomicrobia. Appl Environ Microbiol 68(5):2391–2396

Joint I, Mühling M, Querellou J (2010) Culturing marine bacteria—an essential prerequisite for biodiscovery. Microbial Biotechnol 3(5):564–575

Jørgensen H, Mørkeberg A, Krogh KBR, Olsson L (2005) Production of cellulase and hemicellulase by three Penicillium species: effect of substrate and evaluation of cellulose adsorption by capillary electrophoresis. Enzyme Microb Technol 36(1):42–48

Joseph SJ, Hugenholtz P, Sangwan P, Osborne CA, Janssen PH (2003) Laboratory cultivation of widespread and previously uncultured soil bacteria. Appl Environ Microbiol 69(12):7210–7215

Kaeberlein T, Lewis K, Epstein SS (2002) Isolating "uncultivable" microorganisms in pure culture in a simulated natural environment. Science 296(5570):1127–1129

Kim SJ, Lee CM, Han BR, Kim MY, Yeo YS, Yoon SH, Koo BS, Jun HK (2008) Characterization of a gene encoding cellulase from uncultured soil bacteria. FEMS Microbiol Lett 282(1):44–51

Kong H, Shimosaka M, Ando Y, Nishiyama K, Fujii T, Miyashita K (2001) Species-specific distribution of a modular family 19 chitinase gene in Burkholderia gladioli. FEMS Microbiol Ecol 37(2):135–141

Krogh KBR, Morkeberg A, Jørgensen H, Frisvad JC, Olsson L (2004) Screening genus Penicillium for producers of cellulolytic and xylanolytic enzymes. Appl Biochem Biotechnol 114(1–3):389–401

Lane DJ (1991) 16S/23S rRNA sequencing. In: Stackebrandt E, Goodfellow M (eds) Nucleic acid techniques in bacterial systematics. Wiley, Hoboken, pp 115–175

Leonowicz A, Grzywnowicz K (1981) Quantitative estimation of laccase forms in some white-rot fungi using syringaldazine as a substrate. Enzyme Microbial Technol 3(1):55–58

Lynd LR, Weimer PJ, Van Zyl WH, Pretorius IS (2002) Microbial cellulose utilization: fundamentals and biotechnology. Microbiol Mol Biol Rev 66(3):506–577

Mandels M, Weber J (1969) The production of cellulases. In: Hajny GJ, Reese ET (eds) Advances in chemistry, cellulases and their applications. American Chemical Society, Washington, pp 391–414

Martins LF, Kolling D, Camassola M, Dillon AJP, Ramos LP (2008) Comparison of Penicillium echinulatum and Trichoderma reesei cellulases in relation to their activity against various cellulosic substrates. Bioresour Technol 99(5):1417–1424

Marumoto T, Shindo H, Higashi T (1978) Usefulness of simple condenser for determining organic carbon by the method of Tyulin. J Sci Soil Manure Jpn 49(3):250–252 (in Japanese)

Massa C, Clausen MH, Stojan J, Lamba D, Campa C (2007) Study of the mode of action of a polygalacturonase from the phytopathogen Burkholderia cepacia. Biochem J 407(2):207–217

Matsuzawa H, Tanaka Y, Tamaki H, Kamagata Y, Mori K (2010) Culture-dependent and independent analyses of the microbial communities inhabiting the giant duckweed (Spirodela polyrrhiza) rhizoplane and isolation of a variety of rarely cultivated organisms within the phylum Verrucomicrobia. Microbes Environ 25(4):302–308

Mielenz JR (2001) Ethanol production from biomass: technology and commercialization status. Curr Opin Microbiol 4:324–329

Mohana S, Shah A, Divecha J, Madamwar D (2008) Xylanase production by Burkholderia sp. DMAX strain under solid state fermentation using distillery spent wash. Bioresour Technol 99(16):7553–7564

Nilsson R, Kristiansson E, Ryberg M, Hallenberg N (2008) Intraspecific ITS variability in the kingdom fungi as expressed in the international sequence databases and its implications for molecular species identification. Evol Bioinfo 4:193–201

Omura S, Takahashi Y, Iwai Y, Tanaka H (1982) Kitasatosporia, a new genus of the order Actinomycetales. J Antibiot 35(8):1013–1019

Pardo AG, Forchiassin F (1998) Influence of different cultural conditions on cellulase production by Nectria catalinensis. Rev Argent Microbiol 30(1):20–29

Picart P, Diaz P, Pastor FIJ (2007) Cellulases from two Penicillium sp. strains isolated from subtropical forest soil: production and characterization. Lett Appl Microbiol 45(1):108–133

Rasmussen LD, Zawadsky C, Binnerup SJ, Øregaard G, Sørensen SJ, Kroer N (2008) Cultivation of hard-to-culture subsurface mercury-resistant bacteria and discovery of new merA gene sequences. Appl Environ Microbiol 74(12):3795–3803

Reese ET, Mandels M (1989) Rolling with the times: production and applications of Trichoderma reesei cellulase. Annual Rep Ferment Processes 7:1–20

Saitou N, Nei M (1987) The neighbor-joining method: a new method for reconstructing phylogenic trees. Mol Biol Evol 4(4):406–425

Samuels GJ (1996) Trichoderma: a review of biology and systematics of the genus. Mycol Res 100(8):923–935

Sarathchandra SU, Burch G, Cox NR (1997) Growth patterns of bacterial communities in the rhizoplane and rhizosphere of white clover (Trifolium repens L) and perennial ryegrass (Lolium perenne L.) in long-term pasture. Appl Soil Ecol 6(3):293–299

Satomi M, Kimura B, Mizoi M, Satou T, Fujii T (1997) Tetragenococcus muriaticus sp. nov., a new moderately halophilic lactic acid bacterium isolated from fermented squid liver sauce. Int J Syst Bacteriol 47(3):832–836

Singh A, Kumar PK (1991) Fusarium oxysporum: status in bioethanol production. Crit Rev Biotechnol 11(2):129–147

Slyter LL, Weaver JM (1971) Growth factor requirements of ruminal cellulolytic bacteria isolated from microbial populations supplied diets with or without rapidly fermentable carbohydrate. Appl Microbiol 22(5):930–932

Stackebrandt E, Goebel BM (1994) Taxonomic note: a place for DNA–DNA reassociation and 16S rRNA sequence analysis in the present species definition in bacteriology. Int J Syst Bacteriol 44(4):846–849

Stevenson BS, Eichorst SA, Wertz JT, Schmidt TM, Breznak JA (2004) New strategies for cultivation and detection of previously uncultured microbes. Appl Environ Microbiol 70(8):4748–4755

Svenning MM, Wartiainen I, Hestnes AG, Binnerup SJ (2003) Isolation of methane oxidising bacteria from soil by use of a soil substrate membrane system. FEMS Microbiol Ecol 44(3):347–354

Tamaki H, Hanada H, Sekiguchi Y, Tanaka Y, Kamagata Y (2009) Effect of gelling agent on colony formation in solid cultivation of microbial community in lake sediment. Environ Microbiol 11(7):1827–1834

Thompson JD, Higgins DG, Gibson TJ (1994) CLUSTAL W. Improving the sensitivity of progressive multiple sequence alignment through sequence weighting, position-specific gap penalties and weight matrix choice. Nucleic Acids Res 22(22):4673–4680

Voget S, Steele HL, Streit WR (2006) Characterization of a metagenome-derived halotolerant cellulase. J Biotechnol 126(1):26–36

Wang Y, Zhang ZS, Ruan JS, Wang YM, Ali SM (1999) Investigation of actinomycete diversity in the tropical rainforests of Singapore. J Ind Microbiol Biotech 23(3):178–187

Wang F, Li F, Chen G, Liu W (2009) Isolation and characterization of novel cellulase genes from uncultured microorganisms in different environmental niches. Microbiol Res 164(4):650–657

White TJ, Bruns T, Lee S, Taylor JW (1990) Amplification and direct sequencing of fungal ribosomal RNA genes for phylogenetics. In: Innis MA, Gelfand DH, Sninsky JJ, White TJ (eds) PCR protocols. A guide to methods and applications. Academic, New York, pp 315–522

Williams PP, Dinusson WE (1972) Composition of the ruminal flora and establishment of ruminal ciliated protozoal species in isolated calves. J Anim Sci 34(3):469–474

Zengler K, Toledo G, Rappé M, Elkins J, Mathur EJ, Short JM, Keller M (2002) Cultivating the uncultured. Proc Natl Acad Sci USA 99(24):15681–15686

Zengler K, Walcher M, Clark G, Haller I, Toledo G, Holland T, Mathur EJ, Woodnutt G, Short JM, Keller M (2005) High-throughput cultivation of microorganisms using microcapsules. Meth Enzymol 397:124–130

Zhang YHP, Lynd LR (2004) Toward an aggregated understanding of enzymatic hydrolysis of cellulose: noncomplexed cellulase systems. Biotechnol Bioeng 88(7):797–824
Acknowledgment
This study was funded by Grant-in-Aid for Young Scientists from the Japan Society for the Promotion of Science.
Electronic supplementary material
Below is the link to the electronic supplementary material.
About this article
Cite this article
Fujii, K., Kuwahara, A., Nakamura, K. et al. Development of a simple cultivation method for isolating hitherto-uncultured cellulase-producing microbes. Appl Microbiol Biotechnol 91, 1183–1192 (2011). https://doi.org/10.1007/s00253-011-3376-2
Received:

Revised:

Accepted:

Published:

Issue Date:
Keywords
Cellulolytic microbe

Hitherto-uncultured strain

Exocellulase

Endocellulase

Xylanase

Laccase