Abstract
This research investigated the effect of microwave irradiation (MWI) on cell disintegration in municipal secondary sludge (MSS). A representative MSS Gram-positive bacterium (Bacillus subtilis) and Gram-negative bacteria (Acinetobacter calcoaceticus and Pseudomonas aeruginosa) were pure cultured separately and treated using MWI. Compared to untreated controls, MWI significantly increased the soluble chemical oxygen demand (COD) (1.8–4.0-fold), soluble protein concentration (1.1–1.8-fold), and soluble carbohydrate concentration (3.2–14.1-fold), with greater increase in the Gram-negative bacteria. After MSS was MWI-treated with different irradiation times, from 0 to 9 min, soluble COD increased gradually from 0.14 to 2.38 g/L (i.e., 72-fold). Effective disintegration of Gram-negative cell walls and of MSS by MWI was confirmed by scanning electron microscopy. These findings suggest that MWI could be an effective pretreatment method for MSS that is dominated by Gram-negative microorganisms.
Access options
Buy single article
Instant access to the full article PDF.
US$ 39.95
Tax calculation will be finalised during checkout.
Subscribe to journal
Immediate online access to all issues from 2019. Subscription will auto renew annually.
US$ 119
Tax calculation will be finalised during checkout.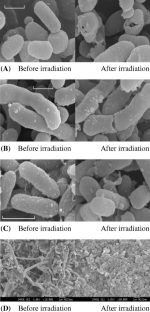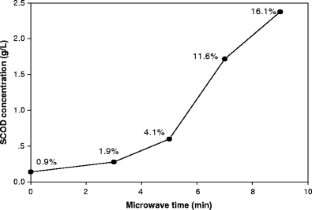 References
Ahn J-H, Shin SG, Hwang S (2009) Effect of microwave irradiation on the disintegration and acidogenesis of municipal secondary sludge. Chem Eng J 153:145–150

Amann R, Lemmer H, Wagner M (1998) Monitoring the community structure of wastewater treatment plants: a comparison of old and new techniques. FEMS Microbiol Ecol 25:205–215

APHA, AWWA, and WEF (2005) Standard methods for the examination of water and wastewater. American Public Health Association, American Water Works Association and Water Environment Federation, Washington

Bougrier C, Carrere H, Delgenes JP (2005) Solubilisation of waste-activated sludge by ultrasonic treatment. Chem Eng J 106:163–169

Climent M, Ferrer I, Baeza MdM, Artola A, Vázquez F, Font X (2007) Effects of thermal and mechanical pretreatments of secondary sludge on biogas production under thermophilic conditions. Chemical Engineering Journal 133:335–342

Dubois M, Gilles KA, Hamilton JK, Rebers PA, Smith F (1956) Colorimetric method for determination of sugars and related substances. Anal Chem 28:350–356

Elliott A, Mahmood T (2007) Pretreatment technologies for advancing anaerobic digestion of pulp and paper biotreatment residues. Water Res 41:4273–4286

Eskicioglu C, Droste RL, Kennedy KJ (2007) Performance of anaerobic waste activated sludge digesters after microwave pretreatment. Water Environ Res 79:2265–2273

Foladori P, Laura B, Gianni A, Giuliano Z (2007) Effects of sonication on bacteria viability in wastewater treatment plants evaluated by flow cytometry—fecal indicators, wastewater and activated sludge. Water Res 41:235–243

Forster S, Snape JR, Lappin-Scott HM, Porter J (2002) Simultaneous fluorescent Gram staining and activity assessment of activated sludge bacteria. Appl Environ Microbiol 68:4772–4779

Garrett RH, Grisham CM (1999) Biochemistry, 2nd edn. Saunders College Publishing, USA

Goris J, Boon N, Lebbe L, Verstraete W, Vos P (2003) Diversity of activated sludge bacteria receiving the 3-chloroaniline-degradative plasmid pC1gfp. FEMS Microbiol Ecol 46:221–230

Ivanov VN, Wang JY, Stabnikova OV, Tay STL, Tay JH (2004) Microbiological monitoring in the biodegradation of sewage sludge and food waste. J Appl Microbiol 96:641–647

Jones DA, Lelyveld TP, Mavrofidis SD, Kingman SW, Miles NJ (2002) Microwave heating applications in environmental engineering—a review. Resour Conserv Recycl 34:75–90

Madigan MT, Martinko JM, Parker J (2003) Brock biology of microorganisms 10th edition. Prentice Hall, Inc, New Jersey

Manefield M, Griffiths RI, Leigh MB, Fisher R, Whiteley AS (2005) Functional and compositional comparison of two activated sludge communities remediating coking effluent. Environ Microbiol 7:715–722

Mehandjiyska L (1995) Microbiological analysis of activated sludge in municipal wastewater treatment plant at "KREMIKOVTZI" holding. Journal of Culture Collections 1:18–22

Müller JA (2001) Prospects and problems of sludge pre-treatment processes. Water Sci Technol 44(10):121–128

Muyima NYO, Cloete TE (1995) Phosphate uptake by immobilized Acinetobacter calcoaceticus cells in a full scale activated sludge plant. J Ind Microbiol Biotech 15:19–24

Nowak O (2006) Optimizing the use of sludge treatment facilities at municipal WWTPs. J Environ Sci Health, Part A 41:1807–1817

Nsabimana E, Bohatier J, Belan A, Pepirr D, Charles L (1996) Effects of the herbicide atrazine on the activated sludge process: microbiology and functional views. Chemosphere 33:479–494

Park B, Ahn JH, Kim J, Hwang S (2004) Use of microwave pretreatment for enhanced anaerobiosis of secondary sludge. Water Sci Technol 50:17–23

Quintela JC, Caparros M, Pedro MA (1995) Variability of peptidoglycan structural parameters in gram-negative bacteria. FEMS Microbiol Lett 125:95–100

Rajan RV, Lin JG, Ray BT (1989) Low-level chemical pretreatment for enhanced sludge solubilization. J Water Pollut Control Fed 61:1678–1683

Rivard CJ, Nagle NJ (1996) Pretreatment technology for the beneficial biological reuse of municipal sewage sludges. Appl Biochem Biotechnol 57:983–991

Shokrollahzadeh S, Azizmohseni F, Golmohammad F, Shokouhi H, Khademhaghighat F (2008) Biodegradation potential and bacterial diversity of a petrochemical wastewater treatment plant in Iran. Bioresour Technol 99:6127–6133

Sidat M, Bux F, Kasan HC (1999) Polyphosphate accumulation by bacteria isolated from activated sludge. Water SA 25:175–179

Toreci I, Kennedy KJ, Droste RL (2009) Evaluation of continuous mesophilic anaerobic sludge digestion after high temperature microwave pretreatment. Water Res 43:1273–1284

Valo A, Carrère H, Delgenès JP (2004) Thermal, chemical and thermo-chemical pre-treatment of waste activated sludge for anaerobic digestion. J Chem Technol Biotechnol 79:1197–1203

Watanabe K, Futamata H, Harayama S (2002) Understanding the diversity in catabolic potential of microorganisms for the development of bioremediation strategies. Antonie Van Leeuwenhoek 81:655–663

Weemaes MPJ, Verstraete WH (1998) Evaluation of current wet sludge disintegration techniques. J Chem Technol Biotechnol 73:83–92

Wennberg M, Ekvall J, Olsson K, Nyman M (2006) Changes in carbohydrate and glucosinolate composition in white cabbage (Brassica oleracea var. capitata) during blanching and treatment with acetic acid. Food Chem 95:226–236

Woo IS, Rhee IK, Park HD (2000) Differential damage in bacterial cells by microwave radiation on the basis of cell wall structure. Appl Environ Microbiol 66:2243–2247
Acknowledgements
This research was supported by the Korea Ministry of Knowledge and Economy (MKE) as a Manpower Development Program for Energy & Resources and by the Ministry of Environment (MOE) as a Human Resource Development Project for Waste to Energy. This work was also supported by the Korea Ministry of Education, Science and Technology (MEST) through the BK-21 program.
About this article
Cite this article
Zhou, B.W., Shin, S.G., Hwang, K. et al. Effect of microwave irradiation on cellular disintegration of Gram positive and negative cells. Appl Microbiol Biotechnol 87, 765–770 (2010). https://doi.org/10.1007/s00253-010-2574-7
Received:

Revised:

Accepted:

Published:

Issue Date:
Keywords
Acinetobacter calcoaceticus
Bacillus subtilis

Cell disintegration

Microwave irradiation

Municipal secondary sludge

Pseudomonas aeruginosa