Abstract
This study presents a new coupon sampling device that can be inserted directly into the pipes within water distribution systems (WDS), maintaining representative near wall pipe flow conditions and enabling simultaneous microscopy and DNA-based analysis of biofilms formed in situ. To evaluate this sampling device, fluorescent in situ hybridization (FISH) and denaturing gradient gel electrophoresis (DGGE) analyses were used to investigate changes in biofilms on replicate coupons within a non-sterile pilot-scale WDS. FISH analysis demonstrated increases in bacterial biofilm coverage of the coupon surface over time, while the DGGE analysis showed the development of increasingly complex biofilm communities, with time-specific clustering of these communities. This coupon design offers improvements over existing biofilm sampling devices in that it enables simultaneous quantitative and qualitative compositional characterization of biofilm assemblages formed within a WDS, while importantly maintaining fully representative near wall pipe flow conditions. Hence, it provides a practical approach that can be used to capture the interactions between biofilm formation and changing abiotic conditions, boundary shear stress, and turbulent driven exchange within WDS.
Access options
Buy single article
Instant access to the full article PDF.
USD 39.95
Price excludes VAT (USA)
Tax calculation will be finalised during checkout.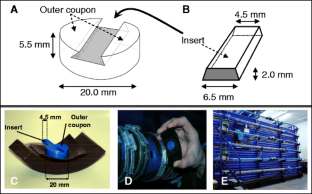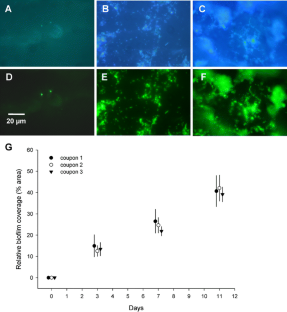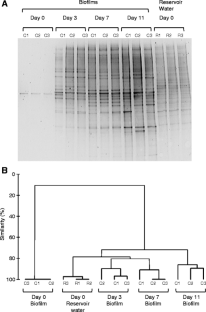 References
Appenzeller BMR, Batté M, Mathieu L, Block J-C, Lahoussine V, Cavard J, Gate D (2001) Effect of adding phosphate in drinking water on bacterial growth in slightly and highly corroded pipes. Water Res 35:1100–1105

Batté M, Koudjonou B, Laurent P, Mathieu L, Coallier J, Prévost M (2003a) Biofilm responses to ageing and to a high phosphate load in a bench-scale drinking water system. Water Res 37:1351–1361

Batté M, Mathieu L, Laurent P, Prévost M (2003b) Influence of phosphate and disinfection on the composition of biofilms produced from drinking water, as measured by fluorescence in situ hybridization. Can J Microbiol 49:741–753

Batté M, Appenzeller BMR, Grandjean D, Fass S, Gauthier V, Jorand F, Mathieu L, Boualam M, Saby S, Block JC (2004) Biofilms in drinking water distribution systems. Rev Environ Sci Biotechnol 2:147–168

Baylis JR, Chase ES, Cox CR, Ellms JW, Emerson CA, Knouse HV, Streeter HW (1930) Bacterial aftergrowths in water distribution systems. Am J Public Health Nations Health 20:485–489

Berry D, Xi C, Raskin L (2006) Microbial ecology of drinking water distribution systems. Curr Opin Biotechnol 17:297–302

Camper AK, Jones JT, Hayes WL (1996) Effect of growth conditions and substratum composition on the persistence of coliforms in mixed-population biofilms. Appl Environ Microbiol 62:4014–4018

Chang YC, Puil ML, Biggerstaff J, Randall AA, Schulte A, Taylor JS (2003) Direct estimation of biofilm density on different pipe material coupons using a specific DNA-probe. Mol Cell Probes 17:237–243

Chu CW, Lu CY, Lee CM (2005) Effects of inorganic nutrients on the regrowth of heterotrophic bacteria in drinking water distribution systems. J Environ Manage 106:1328–1335

Daims H, Bruhl A, Amann R, Schleifer K-H, Wagner M (1999) The domain-specific probe EUB338 is insufficient for the detection of all bacteria: development and evaluation of a more comprehensive probe set. Syst Appl Microbiol 22:434–444

Eichler S, Ghristen R, Holtje C, Westphal P, Botel J, Brettar I, Mehling A, Höfle M (2006) Comparison and dynamics of bacterial communities of a drinking water supply system as assessed by RNA- and DNA-based 16S rRNA gene fingerprinting. Appl Environ Microbiol 72:1858–1872

Gagnon GA, Rand JL, O'Leary KC, Rygel AC, Chauret C, Andrews RC (2005) Disinfectant efficacy of chlorite and chlorine dioxide in drinking water biofilms. Water Res 39:1809–1817

Goeres DM, Loetterle LR, Hamilton MA, Murga R, Kirby DW, Donlon RM (2005) Statistical assessment of a laboratory method for growing biofilms. Microbiology 151:757–762

Husband PS, Boxall JB, Saul AJ (2008) Laboratory studies investigating the processes leading to discolouration in water distribution networks. Water Res 42:4309–4318

Juhna T, Birzniece D, Larsson S, Zulenkovs D, Sharipo A, Azevedo NF, Menard-Szczebara F, Castagnet S, Feliers C, Keevil CW (2007) Detection of Escherichia coli in biofilms from pipe samples and coupons in drinking water distribution networks. Appl Environ Microbiol 73:7456–7464

Kalmbach S, Manz W, Szewzyk U (1997) Dynamics of biofilm formation in drinking water: phylogenetic affiliation and metabolic potential of single cells assessed by formazan reduction and in situ hybridization. FEMS Microbiol Ecol 22:265–279

Kharazmi A, Giwercman B, Hoiby N (1999) The Robbins device in biofilm research. Meth Enzymol 310:207–215

Lane DJ (1991) 16S/23S rRNA sequencing. In: Stackebrandt E, Goodfellow M (eds) Nucleic acid techniques in bacterial systematics. John Wiley & Sons Ltd, West Sussex, UK, pp 115–175

LeChevallier MW, Babcock TM, Lee RG (1987) Examination and characterization of distribution system biofilms. Appl Environ Microbiol 53:2714–2724

LeChevallier MW, Norton CD, Camper A, Morin P, Ellis B, Jones W, Rompré A, Prévost M, Coallier J, Servais P, Holt D, Delanoue A, Colbourne J (1998) Microbial impact of biological filtration. AWWA Research Foundation, USA, p 180

Lehtola MJ, Miettinen IT, Keinãnen MM, Kekki T, Laine O, Hirvonen A, Vartiainen T, Martikainen P (2004) Microbiology, chemistry and biofilm development in a pilot drinking water distribution system with copper and plastic pipes. Water Res 38:3769–3779

Lehtola MJ, Laxander M, Miettinen IT, Hirvonen A, Vartiainen T, Martikainen PJ (2006) The effects of changing water flow velocity on the formation of biofilms and water quality in pilot distribution system consisting of copper or polyethylene pipes. Water Res 40:2151–2060

Lund V, Ormerod K (1995) The influence of disinfection processes on biofilm formation in water distribution systems. Water Res 29:1013–1021

Manz W, Szewzyk U, Ericsson P, Amann R, Schleifer KH, Stenstron TA (1993) In-situ identification of bacteria in drinking water and adjoining biofilms by hybridization with 16S ribosomal RNA directed and 23S ribosomal RNA directed fluorescent oligonucleotide probes. Appl Environ Microbiol 59:2293–2298

Martiny AC, Jørgensen TM, Albrechtsen H-J, Arvin E, Molin S (2003) Long-term succession in structure and diversity of a biofilm formed in a model drinking water distribution system. Appl Environ Microbiol 69:6899–6907

McCoy WF, Bryers JD, Robbins J, Costerton JW (1981) Observations of fouling biofilm formation. Can J Microbiol 27:910–917

Millar MR, Linton CJ, Sheriff A (2001) Use of continuous culture system linked to a modified Robbins device or flow cell to study attachment of bacteria to surfaces. Microbial Growth Biofilms 337:43–62

Möhle RB, Langemann T, Haesner M, Augustin W, Scholl S, Neu TR, Hempel DC, Horn H (2007) Structure and shear strength of microbial biofilms as determined with confocal laser scanning microscopy and fluid dynamics gauging using a novel rotating disc biofilm reactor. Biotechnol Bioeng 98:747–755

Murga R, Forster TS, Brown E, Pruckler JM, Fields BS, Donlan RM (2001) Role of biofilms in the survival of Legionella pneumophila in a model potable-water system. Microbiology 147:3121–3126

Muyzer G, de Waal EC, Uitterlinden AG (1993) Profiling of complex microbial populations by denaturing gradient gel electrophoresis analysis of polymerase chain reaction-amplified genes coding for 16S rRNA. Appl Environ Microbiol 59:695–700

Norton CD, LeChevallier MW (2000) A pilot study of bacteriological population changes through potable water treatment and distribution. Appl Environ Microbiol 66:268–276

Palmer J, Flint S, Brooks J (2007) Bacterial cell attachment, the beginning of a biofilm. J Ind Microbiol Biotech 34:577–588

Parent A, Fass S, Dincher ML, Readoner D, Gatel D, Block JC (1996) Control of coliform growth in drinking water distribution systems. J Chart Inst Water Environ Manage 10(6):442–445

Pernthaler A, Pernthaler J, Amann R (2002) Fluorescence in situ hybridization and catalyzed reporter deposition for the identification of marine bacteria. Appl Environ Microbiol 68:3094–3101

Prévost M, Rompré A, Coallier J, Servais P, Laurent P, Clément B, Lafrance P (1998) Suspended bacterial biomass and activity in full-scale drinking water distribution systems: impact of water treatment. Water Res 32:1393–1406

Sekar R, Pernthaler A, Pernthaler J, Warnecke F, Posch T, Amann R (2003) An improved protocol for quantification of freshwater Actinobacteria by fluorescence in situ hybridization. Appl Environ Microbiol 69:2928–2935

Sharma MO, Bhosle NB, Wagh AB (1990) Methods for removal and estimation of microfouling biomass. Ind J Mar Sci 19:174–176

Szewzyk U, Szewzyk R, Manz W, Schleifer K-H (2000) Microbiological safety of drinking water. Ann Rev Microbiol 54:81–127

Volk CJ, LeChevallier MW (1999) Impacts of the reduction of nutrient levels on bacterial water quality in distribution systems. Appl Environ Microbiol 65:4957–4966
Acknowledgments
This research was funded by a European Union FP6 Marie-Curie Transfer of Knowledge grant "Microbiology of Urban Water Systems" (grant number 42444) awarded to CAB, AMO, and JBB. CAB and JBB would also like to acknowledge the Engineering and Physical Sciences Research Council (EPSRC) for the provision of an Advanced Research Fellowship (EP/E053556/01) and Challenging Engineering award (EP/G029946/1), respectively.
Additional information
P.D. and R.S. made equal contributions to this research.
About this article
Cite this article
Deines, P., Sekar, R., Husband, P.S. et al. A new coupon design for simultaneous analysis of in situ microbial biofilm formation and community structure in drinking water distribution systems. Appl Microbiol Biotechnol 87, 749–756 (2010). https://doi.org/10.1007/s00253-010-2510-x
Received:

Revised:

Accepted:

Published:

Issue Date:

DOI: https://doi.org/10.1007/s00253-010-2510-x
Keywords