Abstract
Co-dominant microsatellite molecular markers were obtained from the Agaricus bisporus cultivated mushroom. Their potential for both the molecular characterisation of commercial strains and the monitoring of the intraspecific genetic variation was demonstrated. The analysis of 673 unique sequences issued from public database and 59 from an enriched A. bisporus genomic library resulted in the development of a total of 33 single sequence repeat or microsatellite (SSR) markers. Their usefulness for genetic analysis was assessed on 28 strains, which include six cultivars representative of traditional lineage, two hybrids and 20 strains originating from wild populations. A. bisporus SSR markers displayed each from two to ten alleles, with an average of 5.6 alleles per locus. The observed heterozygosity ranged from 0 to 0.88. Cluster analysis resulting from SSR fingerprintings was in agreement with published A. bisporus population structure. A combination of only three selected SSR markers was sufficient to discriminate unambiguously 27 out of 28 distinct genotypes. However, the two genetically related hybrids were not distinguishable. Multiplexing was tested, and up to seven loci could be genotyped simultaneously. We are therefore reporting the first development in A. bisporus of a set of microsatellite markers powerful and suitable for genetic analysis.
Access options
Buy single article
Instant access to the full article PDF.
US$ 39.95
Tax calculation will be finalised during checkout.
Subscribe to journal
Immediate online access to all issues from 2019. Subscription will auto renew annually.
US$ 119
Tax calculation will be finalised during checkout.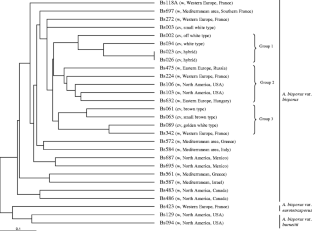 References
Barroso G, Sonnenberg AS, Van Griensven LJ, Labarere J (2000) Molecular cloning of a widely distributed microsatellite core sequence from the cultivated mushroom Agaricus bisporus. Fungal Genet Biol 31:115–123

Bowcock AM, Ruiz-Linares A, Tomfohrde J, Minch E, Kidd JR, Cavalli-Scorza LL (1994) High resolution of human evolutionary trees with polymorphic microsatellites. Nature 368:455–457

Budowle B, Chakraborty R, Giusti AM, Eisenberg AJ, Allen RC (1991) Analysis of the VNTR locus D1S80 by the PCR followed by high-resolution PAGE. Am J Hum Genet 48:137–144

Bueno FS, Romão A, Wach M, Araùjo WL, Azevedo L (2008) Variability in commercial and wild isolates of Agaricus species in Brazil. Mushroom Sci 17:135–145

Butcher PA, Decroocq S, Gray Y, Moran GF (2000) Development, inheritance and cross-species amplification of microsatellite markers from Acacia mangium. Theor Appl Genet 101:1282–1290

Callac P (1994) Prospections pour la recherche d'Agaricus bisporus en France: contexte historique et scientifique, premiers resultants. Bull Soc Mycol 110:145–165

Callac P, Billette C, Imbernon M, Kerrigan RW (1993) Morphological, genetic, and interfertility analyses reveal a novel, tetrasporic variety of Agaricus bisporus from the Sonoran desert of California. Mycologia 85:835–851

Callac P, Imbernon M, Guinberteau J, Pirobe L, Granit S, Olivier JM (2000) Discovery of a wild Mediterranean population of Agaricus bisporus, and its usefulness for breeding work. Mushroom Sci 15:245–252

Callac P, Theochari I, Kerrigan RW (2002) The germplasm of Agaricus bisporus: main results after ten years of collecting in France, in Greece and in North America. Acta Hortic 579:49–55

Callac P, de Haut IJ, Imbernon M, Ginberteau J, Desmerger C, Theochari I (2003) A novel homothallic variety of Agaricus bisporus comprises rare tetrasporic isolates from Europe. Mycologia 95:222–231

De La Bastide PY, Sonnenberg A, Van Griensven L, Anderson JB, Horgen PA (1997) Mitochondrial haplotype influences mycelial growth of Agaricus bisporus heterokaryons. Appl Environ Microbiol 63:3426–3431

Dutech C, Enjalbert J, Fournier E, Delmotte F, Barrès B, Carlier J, Tharreau D, Giraud T (2007) Challenges of microsatellite isolation in fungi. Fungal Genet Biol 44:933–949

Edwards KJ, Barker JH, Daly A, Jones C, Karp A (1996) Microsatellite libraries enriched for several microsatellite sequences in plants. Biotechniques 20:758–760

Fritsche G (1983) Breeding Agaricus bisporus at the mushroom experimental station, Horst. Mushroom J 122:49–53

Goodwin SB, Van Der Lee TA, Cavaletto JR, Hekkert B, Crane CF, Kema GH (2007) Identification and genetic mapping of highly polymorphic microsatellite loci from an EST database of the Septoria tritici blotch pathogen Mycosphaerella graminicola. Fungal Genet Biol 44:398–414

Guan XJ, Xu L, Shao YC, Wang ZR, Chen FS (2008) Differentiation of commercial strains of Agaricus species in China with inter-simple sequence repeat marker. World J Microbiol Biotechnol 24:1617–1622

Hayden MJ, Nguyen TM, Waterman A, Chalmers KJ (2008) Multiplex-ready PCR: a new method for multiplexed SSR and SNP genotyping. BMC Genomics 9:80

Henegariu O, Heerema NA, Dlouhy SR, Vance GH, Vogt PH (1997) Multiplex PCR: critical parameters and step-by-step protocol. Biotechniques 23:504–511

Jany JL, Bousquet J, Khasa DP (2003) Microsatellite markers for Hebeloma species developed from expressed sequence tags in the ectomycorrhizal fungus Hebeloma cylindrosporum. Mol Ecol Notes 3:659–661

Jany JL, Bousquet J, Gagne A, Khasa DP (2006) Simple sequence repeat (SSR) markers in the ectomycorrhizal fungus Laccaria bicolor for environmental monitoring of introduced strains and molecular ecology applications. Mycol Res 110:51–59

Karaoglu H, Lee CM, Meyer W (2005) Survey of simple sequence repeats in completed fungal genomes. Mol Biol Evol 22:639–649

Kaye C, Milazzo J, Rozenfeld S, Lebrun MH, Tharreau D (2003) The development of simple sequence repeat markers for Magnaporthe grisea and their integration into an established genetic linkage map. Fungal Genet Biol 40:207–214

Kerrigan RW (1992) Strategies for the efficient recovery of Agaricus bisporus homokaryons. Mycologia 84:575–579

Kerrigan RW (1995) Global genetic-resources for Agaricus breeding and cultivation. Can J Bot 73:S973–S979

Kerrigan RW, Imbernon M, Callac P, Billette C, Olivier JM (1994) The heterothallic life cycle of Agaricus bisporus var. burnetti, and the inheritance of its tetrasporic trait. Exp Mycol 18:193–210

Kerrigan RW, Carvalho DB, Horgen PA, Anderson JB (1995) Indigenous and introduced populations of Agaricus bisporus, the cultivated button mushroom, in eastern and western Canada: implications for population biology, resource management, and conservation of genetic diversity. Can J Bot 73:1925–1938

Labbe J, Zhang X, Yin T, Schmutz J, Grimwood J, Martin F, Tuskan GA, Le Tacon F (2008) A genetic linkage map for the ectomycorrhizal fungus Laccaria bicolor and its alignment to the whole-genome sequence assemblies. New Phytol 180:316–328

Lim S, Notley-McRobb L, Lim M, Carter DA (2004) A comparison of the nature and abundance of microsatellites in 14 fungal genomes. Fungal Genet Biol 41:1025–1036

Loftus MG, Moore D, Elliott TJ (1988) DNA polymorphisms in commercial and wild strains of the cultivated mushroom, Agaricus bisporus. Theor Appl Genet 76:712–718

Loftus MG, Boutchi-King L, Robles C (2000) Use of SCAR markers for cap color in Agaricus bisporus breeding programs. Mushroom Sci 15:201–205

Mathimaran N, Falquet L, Ineichen K, Picard C, Redecker D, Boller T, Wiemken A (2008) Microsatellites for disentangling underground networks: strain-specific identification of Glomus intraradices, an arbuscular mycorrhizal fungus. Fungal Genet Biol 45:812–817

Moore AJ, Challen MP, Warner PJ, Elliott TJ (2001) RAPD discrimination of Agaricus bisporus mushroom cultivars. Appl Microbiol Biotechnol 55:742–749

Ramirez L, Muez V, Alfonso M, Barrenechea AG, Alfonso L, Pisabarro AG (2001) Use of molecular markers to differentiate between commercial strains of the button mushroom Agaricus bisporus. FEMS Microbiol Lett 198:45–48

Raymond M, Rousset F (1995) Genepop (version-1.2): population genetics software for exact tests and ecumenicism. J Heredity 86:248–249

Royse DJ, May B (1982a) Genetic relatedness and its application in selective breeding of Agaricus brunnescens. Mycologia 74:569–575

Royse DJ, May B (1982b) Use of isozyme variation to identify genotypic classes of Agaricus brunnescens. Mycologia 74:93–102

Royse DJ, May B (1989) Identification and use of three new biochemical markers in Agaricus bisporus. Agric Biol Chem 53:2861–2866

Rozen S, Skaletsky H (2000) Primer3 on the WWW for general users and for biologist programmers. Methods Mol Biol 132:365–386

Selkoe KA, Toonen RJ (2006) Microsatellites for ecologists: a practical guide to using and evaluating microsatellite markers. Ecol Lett 9:615–629

Sonnenberg AS (2000) Genetics and breeding of Agaricus bisporus. Mushroom Sci 15:25–39

Sonnenberg AS, Van Loon PC, Van Griensven LJ (1991) The occurence of mitochondrial genotypes and inheritance of mitochondria in the cultivated mushroom Agaricus bisporus. Mushroom Sci 13:85–92

Squirrell J, Hollingsworth PM, Woodhead M, Russell J, Lowe AJ, Gibby M, Powell W (2003) How much effort is required to isolate nuclear microsatellites from plants? Mol Ecol 12:1339–1348

Staden R (1996) The Staden sequence analysis package. Mol Biotechnol 5:233–241

Staniaszek M, Marczewski W, Szudyga K, Maszkiewicz J, Czaplicki A, Gian G (2002) Genetic relationship between Polish and Chinese strains of the mushroom Agaricus bisporus (Lange) Sing., determined by the RAPD method. J Appl Genet 43:43–47

Xu J, Kerrigan RW, Callac P, Horgen PA, Anderson JB (1997) Genetic structure of natural populations of Agaricus bisporus, the commercial button mushroom. J Hereditary 88:482–488

Xu J, Desmerger C, Callac P (2002) Fine-scale genetic analyses reveal unexpected spatial-temporal heterogeneity in two natural populations of the commercial mushroom Agaricus bisporus. Microbiology 148:1253–1262

Zheng Y, Zhang G, Lin F, Wang Z, Jin G, Yang L, Wang Y, Chen X, Xu Z, Zhao X, Wang H, Lu J, Lu G, Wu W (2008) Development of microsatellite markers and construction of genetic map in rice blast pathogen Magnaporthe grisea. Fungal Genet Biol 45:1340–1347
Acknowledgements
We would like to thank Stéphane Decroocq for his technical assistance for the enrichment process and Olivier Fabreguette and Sylvie Richard-Cervera for their help in microsatellite genotyping. We are grateful to Philippe Callac for his help in the choice of the fungal material. We thank R. Kerrigan, Y. Dyakov and J. Geml for providing strains. This work was supported in part by a grant from the Plant Health and Environment Division of INRA.
About this article
Cite this article
Foulongne-Oriol, M., Spataro, C. & Savoie, JM. Novel microsatellite markers suitable for genetic studies in the white button mushroom Agaricus bisporus . Appl Microbiol Biotechnol 84, 1125–1135 (2009). https://doi.org/10.1007/s00253-009-2030-8
Received:

Revised:

Accepted:

Published:

Issue Date:
Keywords
Agaricus bisporus

SSR

Genetic diversity

Strain typing