Abstract
The objective of this study was to evaluate the effects of Lactobacillus plantarum MA2, an isolate from Chinese traditional Tibet kefir, on cholesterol-lowering and microflora of rat in vivo. Rats were fed on cholesterol-enriched experimental diet, supplemented with lyophilized L. plantarum MA2 powder, with a dose of 1011 cells/day per mice. The results showed that L. plantarum MA2 feeding significantly lowered serum total cholesterol, low-density lipoprotein cholesterol, and triglycerides level, while there was no change in high-density lipoprotein cholesterol. In addition, liver total cholesterol and triglycerides was also decreased. However, fecal cholesterol and triglycerides was increased significantly (P < 0.05) in comparison with the control. Also, L. plantarum MA2 increased the population of lactic acid bacteria and bifidobacteria in the fecal, but it did not change the number of Escherichia coli as compared to control. Moreover, pH, moisture, and organic acids in the fecal were also measured. The present results indicate the probiotic potential of the L. plantarum MA2 strain in hypocholesterolemic effect and also increasing the probiotic count in the intestine.
Access options
Buy single article
Instant access to the full article PDF.
US$ 39.95
Tax calculation will be finalised during checkout.
Subscribe to journal
Immediate online access to all issues from 2019. Subscription will auto renew annually.
US$ 119
Tax calculation will be finalised during checkout.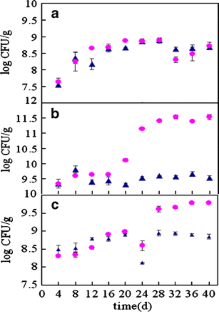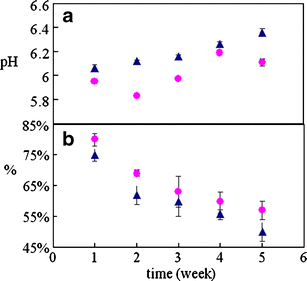 References
Agerbaeck M, Gerdes LU, Richelsen B (1995) Hypocholesterolemic effect of a new fermented milk product in healthy middle-aged men. Eur J Clin Nutr 49:346–352

Akalin AS, Gonc S, Duzel S (1997) Influence of yogurt and acidophilus yogurt on serum cholesterol levels in mice. J Dairy Sci 80:2721–2725

Bazzare TL, Wu SM, Yuhas JA (1983) Total and HDL cholesterol concentrations following yogurt and calcium supplementation. Nutr Rep Int 28:1225–1232

Beena A, Prasad V (1997) Effect of yogurt and bifidus yogurt fortified with skim milk powder, condensed whey and lactose-hydrolyzed condensed whey on serum cholesterol and triacylgtycerol levels in rats. J Dairy Res 64:453–457

Bernardeau M, Vernoux JP, Gueguen M (2002) Safety and efficacy of probiotic lactobacilli in promoting growth in post-weaning Swiss mice. Int J Food Microbiol 77:19–27

Bernet MF, Brassart D, Neesar JR, Servin AL (1994) Lactobacillus acidophilus LA 1 binds to cultured human intestinal cell lines and inhibits cell attachment and cell invasion by enterovirulent bacteria. Gut 35:483–489

Chikai T, Nakao H, Uchida K (1987) Deconjugation of bile acids by human intestinal bacteria implanted in germ free rats. Lipids 22:669–671

Chiu CH, Lu TY, Tseng YY, Pan TM (2006) The effects of Lactobacillus-fermented milk on lipid metabolism in hamsters fed on high cholesterol diet. Appl Microbiol Biotechnol 71:238–245

Corzo G, Gilliland SE (1999) Bile salt hydrolase activity of three strains of Lactobacillus acidophilus. J Dairy Sci 82:472–480

Danielson AD, Peo ERJ, Shahani KM, Lewis AJ, Whalen PJ, Amer MA (1989) Anticholesterolemic property of Lactobacillus acidophilus yoghurt fed to mature boars. J Anim Sci 67:966–974

Delzenne NM, Kok N (2001) Effects of fructans-type prebiotics on lipid metabolism. Am J Clin Nutr 73:456–458

De Smet I, De Boever P, Versteaete W (1998) Cholesterol lowering in pigs through enhanced bacterial bile salt hydrolase activity. Br J Nutr 79:185–194

Dietschy JM (1966) Recent developments in solute and water transport across the gallbladder epithelium. Gastroenterology 50:692–707

Donnet-Hughes A, Rochat F, Serrant P, Aeschlimann JM, Schiffrin EJ (1999) Modulation of nonspecific mechanisms of defense by lactic acid bacteria: effective dose. J Dairy Sci 82:863–869

Fukushima M, Nakano M (1996) Effects of mixture of organisms, Lactobacillus acidophilus or Streptococcus faecalis on cholesterol metabolism in rats fed on a fat- and cholesterol-enriched diet. Br J Nutr 76:857–867

Fuller R (1989) Probiotics in man and animals. J Appl Bacteriol 66:365–378

Gilliland SE, Nelson CR, Maxwell C (1985) Assimilation of cholesterol by Lactobacillus acidophilus. Appl Environ Microb 49:377–381

Grunewald KK (1982) Serum cholesterol levels in rats fed skim milk fermented by Lactobacillus acidophilus. J Food Sci 47:2078–2079

Grunewald KK, Mitchell K (1983) Serum cholesterol levels in mice fed fermented and unfermented acidophilus milk. J Food Prot 46:315–318

Harrison VC, Peat G (1975) Serum cholesterol and bowel flora in the newborn. Am J Clin Nutr 28:1351–1355

Hashimoto H, Yamazaki K, He F, Kawase M, Hosoda M, Hosono A (1999) Hypocholesterolemic effects of Lactobacillus casei subsp. casei TMC 0409 strain observed in rats fed cholesterol contained diets. Anim Sci J 72:90–97

Hepner G, Fried R, Jeor S, Fusetti St L, Morin R (1979) Hypocholesterolemic effect of yogurt and milk. Am J Clin Nutr 32:19–24

Hosono A, Tono-oka T (1995) Binding of cholesterol with lactic acid bacteria cells. Mil chwissenschaft 50:556–560

Ibrahim A, El-sayed EM, El-zeini HSA, HM SFA (2005) The hypocholesterolaemic effect of milk yoghurt and soy-yoghurt containing bifidobacteria in rats fed on a cholesterol-enriched diet. Int Dairy J 15:37–44

Keim NL, Marlett JA, Amundsopn CH (1981) The cholesterolemic effect of skim milk in young men consuming controlled diets. Nutr Res 1:422–429

Liong MT, Shah NP (2006) Effects of a Lactobacillus casei symbiotic on serum lipoprotein, intestinal microflora, and organic acids in rats. J Dairy Sci 89:1390–1399

Liu JR, Wang SY, Chen MJ, Chen HL, Yueh PY, Lin CW (2006) Hypocholesterolaemic effects of milk-kefir and soyamilk-kefir in cholesterol-fed hamsters. Br J Nutr 95:939–946

Mann GV, Spoerry A (1974) Studies of a surfactant and cholesteremia in the Maasai. Am J Clin Nutr 27:464–469

Mikkelsen LL, Jensen BB (1998) Performance and microbial activity in gastrointestinal tract of piglets fed fermented liquid feed at weaning. J Anim Feed Sci 7:211–215

Mott GE, Moore RW, Redmond HE, Reiser R (1973) Lowering of serum cholesterol by intestinal bacteria in cholesterol-fed piglets. Lipids 8:428–431

Nakajima H, Suzuki Y, Kaizu H, Hirota T (1992) Cholesterol-lowering activity of ropy fermented milk. J Food Sci 57:1327–1329

Noh DO, Kim SH, Gilliland SE (1997) Incorporation of cholesterol into the cellular membrane of Lactobacillus acidophilus ATCC 43121. J Dairy Sci 80:3107–3113

Park YH, Kim JG, Shin YW, Kim HS, Kim YJ, Chun T, Kim SH, Whang KY (2008) Effects of Lactobacillus acidophilus 43121 and a mixture of Lactobacillus casei and Bifidobacterium longum on the serum cholesterol level and fecal excretion in hypercholesterolemia-induced pigs. Biosci Biotechnol Biochem 72(2):595–600

Probstfield JL, Rifkind BM (1991) The lipid research clinics coronary primary prevention trial: Design, results, and implications. Eur J Clin Pharmacol 40:S69–S75

Rao DR, Chawan CB, Pulusani SR (1981) Influence of milk and thermophilus milk on plasma cholesterol and hepatic cholesterogenesis in rats. J Food Sci 46:1339–1341

Richelsen B, Kristensen K, Pedersen SB (1996) Long-term (6 months) effect of a new fermented milk product on the level of plasma 1ipoproteins—a placebo-controlled and double blind study. Eur J Clin Nutr 50:811–815

Rossouw JE, Burger E, Van der Vyver P, Ferreira JJ (1981) The effect of skim milk, yogurt and full cream on human serum lipids. Am J Clin Nutr 34:351–356

Schaafsma G, Meuling WJA, van Dokkum W, Bouley C (1998) Effects of a milk product, fermented by Lactobacillus acidophilus and with fructo-oligosaccharides added, on blood lipids in male volunteers. Eur J Clin Nutr 52:436–440

Steinmetz KA, Childs MT, Stimson C, Kushi LH, McGovern PG, Potter JD, Yarnanaka WK (1994) Effect of consumption of whole milk and skim milk on blood lipid profiles in healthy men. Am J Clin Nutr 59:612–618

St-Onge MP, Farnworth ER, Savard T, Chabot D, Mafu A, Jones PJH (2002) Kefir consumption does not alter plasma lipid levels or cholesterol fractional synthesis rates relative to milk in hyperlipidemic men: a randomized controlled trial. BMC Complement Altern Med 2:1–7

Swanson KS, Grieshop CM, Flickinger EA, Bauer LL, Wolf BW, Chow JM, Garleb KA, Williams JA, Fahey GC (2002) Fructooligosaccharides and Lactobacillus acidophilus modify gut microbial populations, total tract nutrient digestibilities and fecal protein catabolite concentrations in healthy adult dogs. J Nutr 132:3721–3731

Taranto MP, Medici M, Perdigon G, Ruiz Horgado AP, Valdez GF (1998) Evidence for hypocholesterolemic effect of Lactobacillus reuteri in hypercholesterolemic mice. J Dairy Sci 81:2336–2340

Thompson LU, Jenkins DJA, Amer MA, Reichert R, Jenkins A, Kamulsky J (1982) Effect of fermented and unfermented milks on serum cholesterol. Am J Clin Nutr 36:1106–1111

Usman HA, Hosono A (2000) Effect of Administration of Lactobacillus gasseri on Serum Lipids and Fecal Steroids in Hypercholesterolemic Rats. J Dairy Sci 83:1705–1711

Van Winsen RL, Keuzenkamp D, Urlings BAP, Lipman LJA, Snijders JAM, Verheijden JHM, van Knapen F (2002) Effect of fermented feed on shedding of Enterobacteriaceae by fattening pigs. Vet Microbiol 87:267–276

Vujicic IF, Vulic M, Konyves T (1992) Assimilation of cholesterol in milk by kefir cultures. Biotechnol Lett 14:847–850
Acknowledgment
This work was supported by a grant from the Science and Technology Supporting Project of China National Eleventh Five-Year-Plan (No. 2006BAD 04A 06).
About this article
Cite this article
Wang, Y., Xu, N., Xi, A. et al. Effects of Lactobacillus plantarum MA2 isolated from Tibet kefir on lipid metabolism and intestinal microflora of rats fed on high-cholesterol diet. Appl Microbiol Biotechnol 84, 341–347 (2009). https://doi.org/10.1007/s00253-009-2012-x
Received:

Revised:

Accepted:

Published:

Issue Date:
Keywords
Lactobacillus plantarum MA2

Kefir

Cholesterol-lowering effect