Abstract
Beauveria bassiana is an entomopathogen widely used to control the coffee berry borer in Colombia, as part of an Integrated Pest Management strategy. Traditionally, the development of fungal insect pathogens as biocontrol agents in crop pests has been oriented towards the selection and formulation of elite clonal strains. Instead, we explored the potential application of genetic diversity in B. bassiana by determining the effect of strain mixtures on coffee berry borer mortality compared to clonal isolates. Genomic DNA from 11 strains was characterized using internal transcribed spacers and β-tubulin sequences as well as amplified fragment length polymorphism markers. Cluster analysis produced three genetic groups and confirmed the low but significant intraspecific genetic diversity present among the strains. Single strain virulence towards the coffee berry borer under laboratory conditions, using 1×106 conidia ml−1, ranged between 89.9 and 57.5%. All the inoculations with mixtures resulted in coinfection events. Combinations of genetically similar strains showed no significant differences when their virulences were compared. However, mixtures of genetically different strains led to both antagonism and synergism. The lowest virulence percentage (57%) was obtained by putting together the most virulent strain of each group, contrary to the highest virulence percentage (93%) that resulted from mixing the three least virulent strains. The results indicate the promising potential of designing strain mixtures as an alternative for the biocontrol of Hypothenemus hampei and other pests and provide tools for the understanding of the ecological dynamics of entomopathogen populations under natural conditions.
Access options
Buy single article
Instant access to the full article PDF.
USD 39.95
Price excludes VAT (USA)
Tax calculation will be finalised during checkout.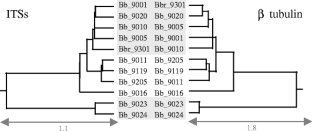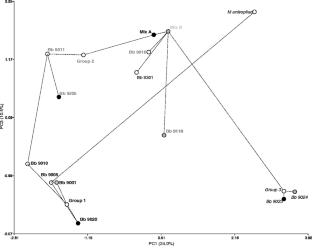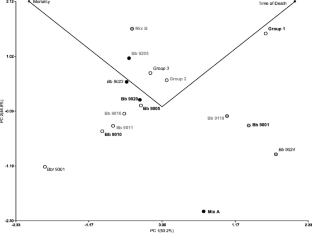 References
Altschul SF, Madden TL, Schäffer AA, Zhang J, Zhang Z, Miller W, Lipman DJ (1997) Gapped BLAST and PSI-BLAST: a new generation of protein database search programs. Nucleic Acids Res 25:3389–3402

Bidochka M, St. Leger R, Roberts D (1997) Mechanisms of deuteromycete fungal infections in grasshoppers and locusts: an overview. Mem Entomol Soc Can 171:213–224

Boucias D, Stokes C, Suazo A, Funderburk J (2000) AFLP analysis of the entomopathogen Nomuraea rileyi. Mycologia 92:638–648

Browning JA (1974) Relevance of knowledge about natural ecosystems to development of pest management programs for agro-ecosystems. Proc Am Phytopathol Soc 1:191–199

Bustillo A, Posada F (1996) El uso de entomopatogenos en el control de la broca del café. Manejo Integr plagas (Costa Rica) 42:1–13

Bustillo A, Cárdenas R, Villalba D, Benavides P, Orozco J, Posada F (1998) Manejo integrado de la broca del café Hypothenemus hampei (Ferrari) en Colombia. CENICAFE Chinchiná, Colombia

Bustillo A, Bernal M, Benavides P, Chaves B (1999) Dynamics of Beauveria bassiana and Metarhizium anisopliae infecting Hypothenemus hampei (Coleoptera: Scolytidae) population emerging from fallen coffee berries. Fla Entomol 82:491–498

Butters JA, Devi KU, Mohan CM, Sridevi V (2003) Screening for tolerance to bavistin, a benzimidazole fungicide containing methyl benzimidazol-2-yl carbamate (MBC), in Beauveria bassiana: sequence analysis of the β-tubulin gene to identify mutations conferring tolerance. Mycol Res 107:260–266

Castrillo LA, Wiegmann BM, Brooks WM (1998) Genetic variation in Beauveria bassiana populations associated with the darkling beetle, Alphitobius diaperinus. J Invertebr Pathol 73:269–275

CENICAFE (2004) Anuario meteorologico cafetero 2003. Chinchina, Colombia

Coates BS, Hellmich RL, Lewis LC (2002) Allelic variation of a Beauveria bassiana (Ascomycota: Hypocreales) minisatellite is independent of host range and geographic origin. Genome 45:125–132

de Jong SN, Lévesque CA, Verkley GJM, Abeln ECA, Rahe JE, Braun PG (2001) Phylogenetic relationships among Neofabraea species causing tree cankers and bull's-eye rot of apple based on DNA sequencing of ITS nuclear rDNA, mitochondrial rDNA, and the β-tubulin gene. Mycol Res 105:658–669

Ferron P, Fargues J, Riba G (1991) Fungi as microbial insecticides against pests. In: Arora DK, Ajello L, Mukerji KQ, Drouchet E (eds) Handbook of applied mycology, human, animals and insects, vol. 2. Marcel Dekker, New York, pp 665–706

Gaitan A, Valderrama AM, Saldarriaga G, Velez P, Bustillo A (2002) Genetic variability of Beauveria bassiana associated to the coffee berry borer Hypothenemus hampei and other insects. Mycol Res 106:1307–1314

Gemma J, Hartmann G, Wasti S (1984) Inhibitory interactions between Ceratocystis ulmi and several species of entomopathogenous fungi. Mycologia 76:256–260

Glare TR, Inwood AJ (1998) Morphological and genetic characterization of Beauveria spp. from New Zealand. Mycol Res 102:250–256

Gongora CE (2004) Transformación de Beauveria bassiana cepa (Bb9112) con los genes de la proteina verde fluorescente y la proteasa pr1A de Metarhizium anisopliae. Rev Colomb Entomol 30:15–21

Gonzalez GMT, Posada FFJ, Bustillo PAE (1993) Desarrollo de un bioensayo para evaluar la patogenicidad de Beauveria bassiana sobre Hypothenemus hampei. Cenicafé 44:93–102

Gower JC (1966). Some distance properties of latent root and vector methods used in multivariate analysis. Biometrika 53:325–338

Higgins DG, Sharp PM (1988) CLUSTAL: a package for performing multiple sequence alignment on a microcomputer. Gene 73:237–244

Ishii T, Takatsuka J, Nakai M, Kunimi Y (2002) Growth characteristics and competitive abilities of a nucleopolyhedrovirus and an entomopox virus in larvae of the smaller tea tortrix, Adoxophyes honmai (Lepidoptera: Tortricidae). Biol Control 23:96–105

Kloepper JW, Rodriguez-Kabana R, Zehnder GW, Murphy JF, Sikora E, Fernandez C (1999) Plant root–bacterial interactions in biological control of soilborne diseases and potential extension to systemic and foliar diseases. Australas Plant Pathol 28:21–26

Leal-Bertioli SCM, Butt TM, Peberdy JF, Bertiolli DJ (2000) Genetic exchange in Metarhizium anisopliae strains co-infecting Phaedon cochleariae is revealed by molecular markers. Mycol Res 104:409–414

Nowak MA, Sigmund K (2002) Super- and coinfection: the two extremes. In: Dieckmann U, Metz JAJ, Sabelis MW, Sigmund K (eds) Adaptive dynamics of infectious diseases: in pursuit of virulence management. Cambridge University Press, Cambridge, UK, pp 124–137

Read AF, Taylor LH (2001) The ecology of genetically diverse infection. Science 292:1099–1102

Rodriguez ML, Gongora CE (2005) Transformación de Beauveria bassiana cepa Bb9205 con los genes pr1A, pr1J y ste1 de Metarhizium anisopliae y evaluación de su patogenicidad sobre la broca del café. Rev Colomb Entomol 31:51–58

Saitou N, Nei M (1987) The neighbor-joining method: a new method for reconstructing phylogenetic trees. Mol Biol Evol 4:406–425

St. Leger R, Allee L, May B, Staples R, Roberts D (1992) Worldwide distribution of genetic variation among isolates of Beauveria spp. Mycol Res 96:1007–1015

Thomas MB, Watson EL, Valverde-Garcia P (2003) Mixed infections and insect–pathogen interaction. Ecol Lett 6:183–188

Tigano-Milani MS, Honeycutt RJ, Lacey LA, Assis R, Mcclelland M, Sobral BWS (1995) Genetic variability of Paecilomyces fumosoroseus isolates revealed by molecular markers. J Invertebr Pathol 65:274–282

Tobar SP, Velez PE, Montoya EC (1999) Evaluación en campo de un aislamiento del hongo Beauveria bassiana seleccionado por resistencia a la luz ultravioleta. Rev Colomb Entomol 24:157–170

Velez PE, Gonzalez MT, Rivera A, Bustillo AE, Estrada MN, Montoya EC (1999) Caracterización de aislamientos de Beauveria bassiana y Metarhizium anisopliae de la colección de Cenicafé. Rev Colomb Entomol 25:191–207

Viaud M, Couteaudier Y, Riba G (1998) Molecular analysis of hypervirulent somatic hybrids of the entomoipathogenic fungi Beauveria bassiana and Beauveria sulfurescens. Appl Environ Microbiol 64:88–93

Wang CS, Li ZZ, Butt TM (2002) Molecular studies of co-formulated strains of the entomopathogenic fungus, Beauveria bassiana. J Invertebr Pathol 80:29–34

Wang C, Fan M, Li Z, Butt TM (2004) Molecular monitoring and evaluation of the application of the insect–pathogenic fungus Beauveria bassiana in southeast China. J Appl Microbiol 96:861–870

Wendland J, Lengeler KB, Kothe E (1996) An instant preparation method for nucleic acids of filamentous fungi. Philipps-University, Marburg, Germany. EMBO J 1:945–951 (http://www.fgsc.net/fgn43/wendlan.html)

White TJ, Bruns T, Lee S, Taylor J (1990) Amplification and direct sequencing of fungal ribosomal RNA genes for phylogenetics. In: Innis MA, Gelfand DH, Sninsky JJ, White TJ (eds) PCR protocols: a guide to methods and applications. Academic, San Diego, pp 315–322

Wicklow D, Bobell J, Palmquist D (2003) Effect of intraspecific competition by Aspergillus flavus on aflatoxin formation in suspended disc culture. Mycol Res 107:617–623

Zehnder G, Murphy J, Sikora E, Kloepper J (2001) Application of rhizobacteria for induced resistance. Eur J Plant Pathol 107:39–50
Acknowledgements
We acknowledge Dr. Esther Cecilia Montoya for the statistical support and Diana Giraldo for the technical assistance during the pathogenicity assays. This research was supported by the National Federation of Coffee Growers of Colombia.
About this article
Cite this article
Cruz, L.P., Gaitan, A.L. & Gongora, C.E. Exploiting the genetic diversity of Beauveria bassiana for improving the biological control of the coffee berry borer through the use of strain mixtures. Appl Microbiol Biotechnol 71, 918–926 (2006). https://doi.org/10.1007/s00253-005-0218-0
Received:

Revised:

Accepted:

Published:

Issue Date:

DOI: https://doi.org/10.1007/s00253-005-0218-0
Keywords
Internal Transcribe Spacer

Amplify Fragment Length Polymorphism

Biological Control Agent

Entomopathogenic Fungus

Coffee Berry