Abstract
The objective of this study was to evaluate the effects of local Lactobacillus strains (NTU 101 and 102) on cholesterol-lowering effects in vivo. Thirty male hamsters were housed, divided into five groups, and fed on a cholesterol diet (5 g/kg diet) to induce hypercholesterolemia. Milk fermented by Lactobacillus paracasei subsp. paracasei NTU 101, Lactobacillus plantarum NTU 102, and Lactobacillus acidophilus BCRC 17010 was administrated for this study. After treatment with different fermented milk, blood was taken and liver was removed for the determination of lipoproteins, including total cholesterol, high-density lipoprotein cholesterol (HDL-C), low-density lipoprotein cholesterol (LDL-C), and triglyceride. Lactobacilli and bifidobacteria decreased (105) in the control group; when hamsters were fed on fermented milk, the number of lactobacilli (107–108) and bifidobacteria (105–107) was increased. Serum and liver total cholesterol levels were significantly reduced by about 26.4, 23.5, and 30.1% and by about 17.7, 15.9, and 13.4% when hamsters were given fermented milk. However, serum HDL-C and LDL-C were also reduced. The results of this study showed that the hypocholesterolemic effect of local Lactobacillus strains was attributed to its ability to lower serum and liver total cholesterol levels. Thus, local Lactobacillus strains could significantly increase probiotic count.
This is a preview of subscription content, log in to check access.
Access options
Buy single article
Instant access to the full article PDF.
US$ 39.95
Price includes VAT for USA
Subscribe to journal
Immediate online access to all issues from 2019. Subscription will auto renew annually.
US$ 199
This is the net price. Taxes to be calculated in checkout.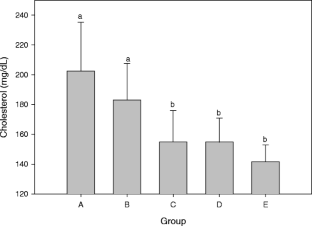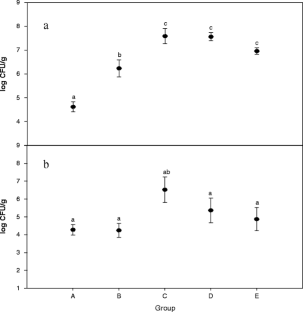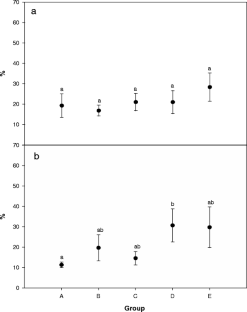 References
American Institute of Nutrition (1977) Report of the American Institute of Nutrition ad hoc committee on standards for nutritional studies. J Nutr 107:1340–1348

Beena A, Prasad V (1997) Effect of yogurt and bifidus yogurt fortified with skim milk powder, condensed whey and lactose-hydrolysed condensed whey on serum cholesterol and triacylglycerol levels in rats. J Dairy Res 64:453–457

Brashears MM, Gilliland SE, Buck LM (1998) Bile salt deconjugation and cholesterol removal from media by Lactobacillus casei. J Dairy Sci 81:2103–2110

Bucolo G, David H (1973) Quantitative determination of serum triglyceride by the use of enzyme. Clin Chem 19:476–482

Chikai T, Nakao H, Uchida K (1987) Deconjugation of bile acids by human intestinal bacteria implanted in germ free rats. Lipids 22:669–671

Danielson AD, Peo ERJ, Shahani KM, Lewis AJ, Whalen PJ, Amer MA (1989) Anticholesterolemic property of Lactobacillus acidophilus yogurt fed to mature boars. J Anim Sci 67:966–974

Fossati P, Prencipe L (1982) Serum triglycerides determined colorimetrically with an enzyme that produce hydrogen peroxide. Clin Chem 28:2077–2080

Frick M, Elo O, Haapa K (1987) Helsinki heart study: primary prevention trial with gemfibrozil in middle-age men with dyslipemia. N Engl J Med 317:1237–1245

Fukushima M, Nakao M (1995) The effect of a probiotic on faecal and liver lipid classes in rats. Br J Nutr 73:701–710

Fukushima M, Nakao M (1996) Effects of mixture of organisms, Lactobacillus acidophilus or Streptococcus faecalis on cholesterol metabolism in rats fed on a fat- and cholesterol-enriched diet. Br J Nutr 76:857–867

Gilliland SE, Nelson CR, Maxwell C (1985) Assimilation of cholesterol by Lactobacillus acidophilus. Appl Environ Microbiol 49:377–381

Grunewald KK (1982) Serum cholesterol levels in rats fed skim milk fermented by Lactobacillus acidophilus. J Food Sci 47:2078–2079

Harrison VC, Peat G (1975) Serum cholesterol and bowel flora in the newborn. Am J Clin Nutr 28:1351–1355

Hashimoto H, Yamazaki K, Arai Y, Kawase M, He F, Hosoda M, Hosono A (1998) Effect of lactic acid bacteria on serum cholesterol level in rats fed cholesterol diet. Anim Sci Technol 69:702–707

Hashimoto H, Yamazaki K, He F, Kawase M, Hosoda M, Hosono A (1999) Hypocholesterolemic effects of Lactobacillus casei subsp. casei TMC 0409 strain observed in rats fed cholesterol contained diets. Anim Sci J 72:90–97

Hepner G, Fried R, Jeor S, Fusetti St L, Morin R (1979) Hypocholesterolemic effect of yogurt and milk. Am J Clin Nutr 32:19–24

Juang IL, Pan TM, Huong HP, Huang CJ (2000) The effect of oligosaccharide beverage on microflora in rats. Chin J Nutr 25:232–242

Keim NL, Marlett JA, Amundsopn CH (1981) The cholesterolemic effect of skim milk in young men consuming controlled diets. Nutr Res 1:422–429

Lin FM, Chiu CH, Pan TM (2004) Fermentation of a milk–soymilk and Lycium Chinese Miller mixture using a new isolate of Lactobacillus paracasei subsp. paracasei NTU 101 and Bifidobacterium longum. J Ind Microbiol Biotech 31:559–564

Mann GV (1977) A factor in yogurt which lowers cholesteremia in man. Atherosclerosis 26:335–340

Mann GV, Spoerry A (1974) Studies of a surfactant and cholesteremia in the Massai. Am J Clin Nutr 27:464–469

McGowan MW, Artiss JD, Strandbergh DR, Zak B (1983) A peroxidase-coupled method for the colorimetric determination of serum triglycerides. Clin Chem 29:512–538

Nielson JW, Gilliland SE (1985) Variations in cholesterol assimilation by individual strains of Lactobacillus acidophilus and Lactobacillus casei from human intestines. J Dairy Sci 68(Suppl 1):83 (Abstract)

Noh DO, Kim SH, Gilliland SE (1997) Incorporation of cholesterol into the cellular membrane of Lactobacillus acidophilus ATCC 43121. J Dairy Sci 80:3107–3113

Pan TM, Chiu CH, Gun YK (2002) Characterization of Lactobacillus isolated from pickled vegetables for use as dietary or pickle adjuncts. Food Food Ingred Japan 206:45–51

Rao DR, Chawan CB, Pulusani SR (1981) Influence of milk and Thermophilus milk on plasma cholesterol levels and hepatic cholesterogenesis in rats. J Food Sci 46:1339–1341

Richmond W (1973) Preparation and properties of a cholesterol oxidase from Nocardia sp. and its application to the enzymatic assay of total cholesterol in serum. Clin Chem 19:1350–1356

Rossouw JE, Burger E, Van der Vyver P, Ferrerira JJ (1981) The effect of skim milk, yogurt and full cream on human serum lipids. Am J Clin Nutr 34:351–356

Suzuki Y, Kaizu H, Yamauchi Y (1991) Effect of cultured milk on serum cholesterol concentrations in rats which fed high-cholesterol diets. Animal Sci Technol 62:565–571

Thakur CP, Jha AN (1981) Influence of milk, yogurt and calcium on cholesterol induced atherosclerosis in rabbits. Atherosclerosis 89:211–215

Usman, Hosono A (2000) Effect of administration of Lactobacillus gasseri on serum lipids and fecal steroids in hypercholesterolemic rats. J Dairy Sci 83:1705–1711
About this article
Cite this article
Chiu, C., Lu, T., Tseng, Y. et al. The effects of Lactobacillus-fermented milk on lipid metabolism in hamsters fed on high-cholesterol diet. Appl Microbiol Biotechnol 71, 238–245 (2006). https://doi.org/10.1007/s00253-005-0145-0
Received:

Revised:

Accepted:

Published:

Issue Date:
Keywords
Cholesterol

Bile Acid

Lactobacillus

Lactic Acid Bacterium

Bile Salt